Real estate trends across Long Beach's residential, commercial and industrial markets seem to be continuing in line with those of 2016. High demand and low supply of residential and industrial properties continue to drive increasing sales and rent prices. The office market continues to improve, and new retail developments are signaling that perhaps it's too soon to seek a post mortem on brick-and-mortar stores due to increasing online shopping trends.
Both single-family and multi-family markets are experiencing high demand and low supply of available homes either to purchase or rent, which is putting a crunch on affordability, according to real estate professionals and economists.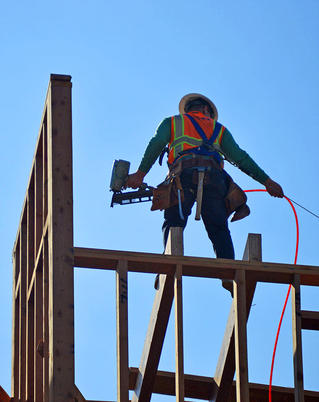 No less than six buildings are currently under construction at Douglas Park, including a dual-hotel project that will provide 143 Hampton Inn rooms and 98 Homewood Suites rooms, the new headquarters for United Pacific (currently located in Gardena) and three spec buildings known as Pacific Pointe East. Construction will begin soon on four office buildings known as The Terminal at Douglas Park by Urbana Development, and today, February 14, groundbreaking ceremonies are being held for the 26-acre Long Beach Exchange retail center at the southwest corner of Lakewood Boulevard and Carson Street. Hundreds of construction workers are on the job at the Douglas Park complex north of the Long Beach Airport. (Photograph by the Business Journal's Larry Duncan)
"I think we are probably looking at a permanently lower average unsold inventory number compared to that long-term history," Robert Kleinhenz, economist and executive director of research for Beacon Economics, said of single-family real estate. Access to websites and apps that make information about listed homes more easily accessible to buyers may be playing a part in lower inventory, he noted.
Many homeowners have not quite recovered equity in their homes lost in the recession and are not able to make large enough profits on them to move into a higher-end property, which may be affecting for-sale inventory, Kleinhenz explained.
Short supply and high demand continue to increase list prices in Long Beach, according to Skylar Olsen, senior economist for the real estate website Zillow. Long Beach's home price appreciation is pacing ahead of the Los Angeles metropolitan area as a whole by about 1.2%, she noted.
Housing affordability has become an issue due to increasing prices and tight home mortgage underwriting standards. In Long Beach, about 40.1% of the population cannot afford a median-priced home in the area, according to Olsen.
Rental rates for apartments are also creating affordability concerns. In Long Beach, rental rates increased by 5.6% from 2015 to 2016, according to Olsen. "The Los Angeles metropolitan area ranks the worst across the country in terms of affordability," she said. Just under half of Long Beach residents cannot afford the median rent in the city, she noted. "That's really very significant."
Construction of multi-family homes is concentrated in Downtown Long Beach, but the rest of the city is mostly built out, Kleinhenz observed. As a result, there won't be enough new housing coming online to stabilize rents, he explained.
Long Beach's industrial market retains one of the lowest vacancy rates in the Southern California region, at around 1%. The South Bay region as a whole has a vacancy of 0.8%, which is unmatched throughout Los Angeles County, according to Kleinhenz.
Container activity at the combined ports of Long Beach and Los Angeles increased last year, a trend Kleinhenz expects to continue. "That ought to drive heightened demand for industrial space," he noted. There is little construction of new industrial space in the area, with the exception of Douglas Park, where a new three-building spec development is underway.
The retail segment of Long Beach's real estate market is experiencing an injection of investment, with a new retail center breaking ground today, February 14, at Douglas Park. Another development is slated to begin construction soon at the corner of 2nd Street and Pacific Coast Highway in the coming months as well. Plus, City Place shopping center is in the midst of an extensive facelift and realignment.
A fourth quarter retail real estate report from CBRE indicated that retail spending is expected to increase by 3% over the next year. "With favorable retail and consumer confidence trends, the Southern California region can anticipate strong retail and spending growth," the report stated.
Although vacancy rates in the regional office market remain higher than other real estate sectors, they continue to fall as industries that use office space experience job growth, according to Kleinhenz. In Long Beach, there has been an increase in medical-related employment, as well as employment in business services sectors, which should drive increased demand for office space, he explained.
The Cushman & Wakefield report for the calendar year ending December 31 indicated a vacancy rate of about 16.5% for the 20 largest office buildings in Dowtown Long Beach. This represents a slight improvement from the previous year.
For the Suburban Long Beach market (everything other than downtown), the Cushman & Wakefield report showed the Long Beach Airport Area ended the year at 91.3% occupancy, the 405/710 Corridor – where the Freeway Business Park is located – was at 93.6%, and the Bixby Knolls/Signal Hill market registered an 85.3% occupancy at year's end, a healthy gain from year-end 2015.
Overall, these trends are expected to continue into the foreseeable future, with stronger improvements possible if the Trump Administration moves forward with pro-business measures regarding tax and regulatory reform and other measures to boost job creation and, therefore, the need for more office space.
Long Beach Single-Family Market Mirrors 2016 Trends
By Samantha Mehlinger
Assistant Editor
Local real estate professionals expect dynamics in the Long Beach single-family market to remain in line with last year's trends, with an inventory of homes for sale that is too low to meet demand. As a result, sales prices are expected to continue to appreciate.
"I think this year is going to be kind of a mirror image of where we were last year," Phil Jones, managing partner of Coldwell Banker Coastal Alliance, told the Business Journal. "And that would be a good year."
Jones said sales activity has remained strong for his firm so far this year. "Although, I am hearing from those outside our company that it's quieter," he said, noting that January is typically a slower month for residential real estate.
In December 2016 (the most recent data available), the inventory of single-family homes on the market would have sold within 1.6 months, given demand at the time, according to Jones. There were 2.3 months of inventory for condos.
The number of days homes are sitting on the market is dropping, Jones observed. "In December, we were down 35%," he said. Homes were sitting on the market 45 days in December 2016, versus 69 days a year prior.
Dorothy Cherney, owner and longtime real estate broker of Red Carpet Coastal Properties, also noted that homes are selling fast. "We're selling everything we touch within less than 30 days," she said. "The last one we had, we sold it and had it through escrow in 26 days. So I think we're very short of merchandise. It's a seller's market, and we really need listings."
Would-be homebuyers are "scrambling," Cherney said. "They don't mess around," she added.
Condominium sales were down by 28% in December, which Jones attributed in part to the current political climate. "I think this election has had impacts far beyond what anyone anticipated," he said. "It's like some [people] have been traumatized by the election. So I am not sure what's going on. December is probably a little fallout from the election based on what I am seeing."
While the median price of a condo in Long Beach dropped by 3% in December, single-family detached home prices are continuing to appreciate. "The median price of single family homes is $589,000 in Long Beach, and that's up 6% over what it was in December 2015," Jones said.
Skylar Olsen, senior economist with real estate website Zillow, estimated that Long Beach's single-family home prices have appreciated by 7.7% year over year. That's a faster rate than the overall Los Angeles metropolitan area, which is experiencing about a 6.5% increase in median home prices, she said.
Although residents living under the flight path have expressed concerns over their property values in public debates about the recently nixed U.S. Customs facility at Long Beach Airport, their home values are actually increasing as well, according to Jones.
"The reason is California Heights and Los Altos [neighborhoods] are the specific areas that we are talking about being the target for most buyers," Jones said, referring to the areas' price points. "In [zip code] 90815, which includes Los Altos, we saw an 8.5% increase in price year over year. The median [price] went from $590,000 to $640,000," Jones said. "And I certainly wouldn't anticipate any change in that."
Although interest rates are expected to rise this year, Jones said they would likely not be rapid increases, which is a positive sign for the market. President Donald Trump's moves toward deregulation, in particular revisiting the Dodd-Frank Act and the Consumer Financial Protection Bureau (CFPB), may also prove beneficial for borrowers, he noted. "Once they pull the reigns back on the CFPB and there is some reform with Dodd-Frank, I think we are going to see underwriting loosen up a little, which is a positive," he said. "I think that will help."
Long Beach Multi-Family: It's A 'Landlord's Market'
By Samantha Mehlinger
Assistant Editor
With a short supply of housing and strong demand from renters, rental rates for Long Beach apartments continue to increase. The combination of low interest rates and increasing rents continues to drive strong demand for these multi-family properties among investors, but a lack of for-sale inventory continues to be an issue, according to local real estate professionals.
"What I am seeing is there is still not a lot to buy, and there are still a lot of people who want to invest in real estate versus other investment vehicles," Steve Bogoyevac, first vice president of investments for Marcus & Millichap, told the Business Journal.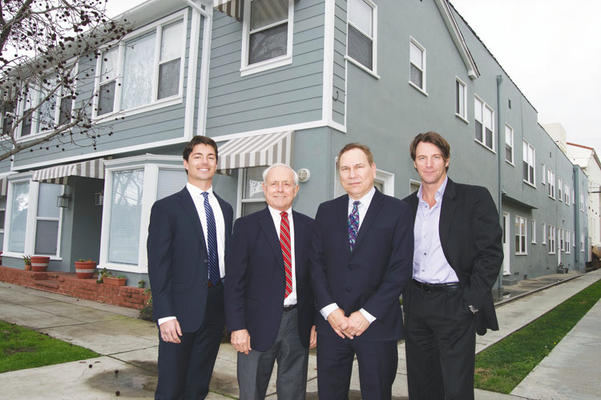 The list price for this 16-unit apartment complex on Coronado Avenue between 3rd and 4th is $4,475,000, according to Redfin.com. Long Beach's multi-family market is increasingly tight, with high demand and low supply driving up prices. This property is one of few to come on the market recently. Pictured is the listing team at Coldwell Banker Commercial BLAIR WESTMAC. From left: Austin Carr, associate; Steve Warshauer, vice president; George Bustamante, vice president; and Cameron Jacques, associate broker. (Photograph by the Business Journal's Larry Duncan)
George Bustmante and Steve Warshauer, vice presidents and multi-family market specialists with Coldwell Banker Commercial BLAIR WESTMAC, pointed out that low inventory is making it difficult for would-be sellers to trade up into other properties. "That's the other thing that is driving sort of a shortage of available properties for sale. Where are they going to move?" Bustamante said.
Owners are also hesitant because if they sold their assets without trading up into other properties, they would be forced to pay high capital gains taxes, Warshauer explained.
"If all of a sudden the IRS changed the capital gains rate . . . you'd probably see a lot of people go, 'Hmm, maybe I should sell,'" Bustamante said. "Many people are sitting on these very significant gains on their properties, and they just don't want to pay the tax."
With few properties listed for sale, Bustamante and Warshauer are seeing a larger share of sales transactions occurring off market.
Buyers are "constantly trying to find off-market deals" because it removes competition from the process, Bogoyevac noted. "It's a great move if you're a buyer. It's not a great move if you're a seller," he said.
There are plenty of older buildings in Long Beach with below market-rents, and these are particularly attractive to investors, Bogoyevac noted. "That's where a lot of investors are going to see some opportunity: where they can pick up a building that has got low-market rent and then be able to improve the building, improve the rents and get the yield they need," he said.
Although interest rates increased slightly at the end of 2016, there has not been much of an impact on the multi-family market, according to Bogoyevac. "It hasn't really affected getting deals done," he said. Sales price appreciation seems to be stabilizing somewhat, however, he added.
"It is a landlord's market right now, not a tenant market," Bustamante said, pointing to high demand for housing and low supply. Warshauer agreed. "We have been under producing housing for 10 years or more. And that is really starting to catch up to us," Warshauer said.
Bogoyevac believes that a strong component of rent increases are being driven by properties that have had under-market rents and were then sold to investors who made improvements and raised rents to at-market rates.
All three agreed that the market is likely to retain these dynamics in the foreseeable future.
Optimistic Business Atmosphere Indicates
Continued High Commercial Real Estate Demand
By Brandon Richardson
Senior Writer
With the Dow Jones Industrial Average closing at 20,000 points for the first time in history, the overall business climate seems optimistic. Robert Garey, senior director at Cushman & Wakefield's Long Beach office, said this optimism would lead to companies and businesses starting or expanding, which creates more jobs and increases demand for commercial real estate.
"I do think that there's a general positive outlook from a business perspective," Garey said. "Businesses think this new environment that we're going to be in is going to be a positive thing from a business standpoint, which will help fuel business and higher profits."
Office
For office space, Garey said the absorption rate is generally slow but steady. He explained that any policies coming out of the Trump administration that stimulate job creation will only fuel the demand for office space.
Garey did acknowledge that it remains to be seen what will become of Molina Healthcare and its more than 1.2 million square feet of office space in the city should the Affordable Care Act be dismantled. However, he said regardless of the decision, he doesn't think it will lessen any health care company's presence in Long Beach.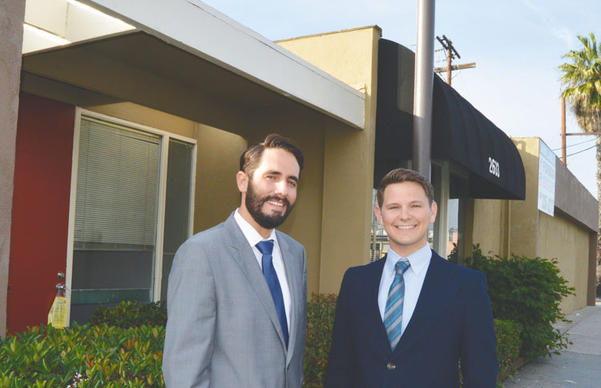 Roy Gaut, left, and Patrick Michel, associates at Coldwell Banker Commercial BLAIR WESTMAC, recently finalized a lease transaction with Good Life Pharmacy for 5,000 square feet of retail and office space at 2633 Atlantic Ave. (Photograph by the Business Journal's Larry Duncan)
"The forecast, I think, is going to be steady and upward. Leasing demand will continue. Vacancy will shrink," Garey said. "Rental rates will continue to increase. Investor appetite out there is still healthy and office buildings are still selling."
Becky Blair, president of Coldwell Banker Commercial BLAIR WESTMAC, said she has continued to see a desire for leases and sales of smaller office spaces by doctors, lawyers and other professionals. She explained that a year and a half ago, the company took over the leasing of the building at 3939 Atlantic Ave., and her team has taken the vacancy rate from around 40% to less than 10%. Three of the leases have been signed in the last two months.
"I think the office leasing is still continuing to come back," Blair said. "It doesn't seem to be coming back quite as strong as it did during the last recession, but I think that's just because people are using space differently. There's less space per person that business owners are considering, and flex space is a lot more popular too."
Anticipated changes to federal tax laws could have an effect on the market, as well as California's split tax roll, which Blair said is a big concern for real estate investors. However, barring any unpredictable political action that would negatively impact business, Blair said the market should remain strong.
"I think the commercial market is slightly down in some areas, but we're still robust. And there's still a lot of investors looking for long-term transactions that they can purchase and hold on to," Blair said. "Long Beach seems to be a very favored area. Investors seem to be very focused on this area."
Industrial
Brandon Carrillo, a principal at Lee & Associates Commercial Real Estate Services Inc., said vacancy for industrial real estate continues to fall well short of the high demand for space. According to Carrillo, the vacancy rate increased slightly, from 0.9% in the third quarter of last year to 1.1% in the fourth quarter. One impact he sees coming for industrial space is an influx of demand from the marijuana industry.
"One of the interesting things that [is] throwing off values is the whole [Long Beach] Measure MM and people in the medical marijuana industry chasing after product right now," Carrillo said. "Because of the negative stigma from 2010 . . . a lot of landlords have steered away from leasing [to them]. They don't want the liability because it is still a federal concern."
Carrillo said the Trump presidency could have negative impacts on the industrial real estate market with recent actions taken on immigration, a potential trade war with China and the proposed tariff on imports from Mexico. However, at the moment, Carrillo said all indicators are showing the market will continue to be strong, and any negative impacts on business and the market remain to be seen.
Low vacancy rates are not localized to Long Beach and the South Bay, according to Lance Ryan, senior vice president of marketing and leasing for Watson Land Company. He explained that record low vacancy factors are a national trend.
"While we're very familiar with the West Coast and some of the East Coast markets, it's really across the entire country that we're seeing this phenomenon," Ryan said. "When you get into the markets in Southern California in particular and close into the ports, we're seeing some of the lowest vacancies really ever on record."
Even with millions of square feet of development taking place in Long Beach, the South Bay and the Inland Empire, Ryan said the supply is still not meeting demand. With more development taking place in the Inland Empire, Ryan said it is unlikely an impact would be felt in the Long Beach and South Bay markets.
Being near the port, Ryan said Long Beach and the South Bay are safe from companies relocating entirely to the Inland Empire because it is beneficial for them to be near cargo entry points.
"It's easier for them to get the product off of the docks and out to the consumer," Ryan said. "We have seen more dual-locations where a third-party logistics company may have a presence . . . near the ports where they have products that they handle closer in. At the same time, they may have an Inland Empire facility where they are handling product either that's going out . . . nationally to a distribution center or has a longer sit time in the warehouse."
Retail
Doug Shea, president of INCO Commercial, said he believes there is a lot of false information about the death of retail. He explained that announcements regarding Sears, Kmart and Macy's store closures are being attributed to the rise of Internet sales, which he said is not the case.
"Today, 90% of all purchases are done through a brick-and-mortar store," Shea said. "Everyone is saying Amazon is taking over, but 90% of all sales – that's a pretty big percentage."
Large box retailers such as Target, Nordstrom and T.J. Maxx are still going strong on the retail side, according to Shea. He also said that with the closing of Sport Chalet and Sports Authority, he has noticed a gap in certain sporting gear, namely ski equipment.
As far as restaurants, Shea said he is still seeing a lot of movement in certain areas of the city, with second-generation space being more sought after than space that needs to be built out.
"I just see optimism in the market. I don't see any negative in the market," Shea said. "With Trump being a businessman first and a politician second, I see more optimism than I do pessimism."
Mitchell Hernandez, an associate at CBRE Southern California, said he and his company do not see an impact on the retail market from the Trump presidency or the forthcoming medical marijuana dispensaries. He said he views the retail world independently of those types of issues.
The market is very good and continues to improve with more projects coming online and being approved, Hernandez said. He explained that diversity and a drive toward urbanization to meet daily consumer needs with better quality and more options, rather than a one-size-fits-all approach, is pushing the city forward.
"We're happy with what opportunities there are in Long Beach. It's just so diverse. It really is a great breeding ground for businesses," Hernandez said. "It's also a market that's extremely localized, and people have a lot of pride in Long Beach."