Single Family Homes
Pending and closed sales of single-family homes in Long Beach have decreased in recent months, but it's not for lack of demand, according to local real estate professionals. Rather, there are two issues at play. One is that the inventory of low- and mid-priced homes – those highest in demand among homebuyers – is quite low right now. Instead, high-priced homes are making up more of the inventory. The other issue at hand has been political uncertainty due to the presidential election.
"September showed a dramatic drop in both pending sales and closed sales," Phil Jones, owner and CEO of Coldwell Banker Coastal Alliance, told the Business Journal. "The pending sales were down 38% from September of 2015, and closed sales were down 14.3%."
In general, the inventory of homes is too low to meet demand, Jones said, estimating that if no new listings were put on the market in Long Beach, the current number of homes for sale would sell out within 2.8 months given current demand.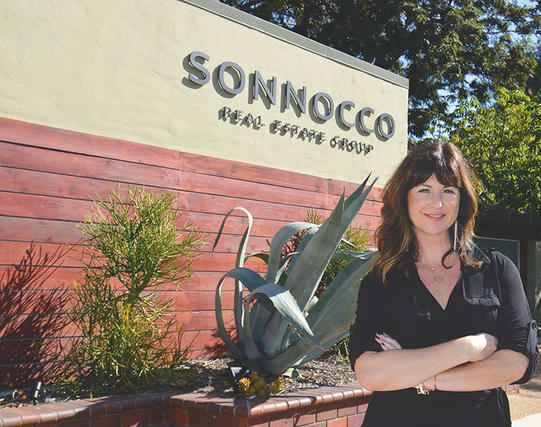 Kelsea Mazzocco, a realtor at Bixby Knolls-based Sonnocco Real Estate Group, has noticed slowing sales transactions of single-family homes in Long Beach in recent weeks. She partially attributes the slowdown to election jitters. (Photograph by the Business Journal's Larry Duncan)
Geoff McIntosh, owner of Long Beach-based Main Street Realtors and the new president of the California Association of Realtors as of November 8, said what inventory there is has lately been dominated by high-end homes. "We still have no inventory in the sweet spot, which is anything up to $700,000," he said. "But things over $700K, we're seeing significantly longer holding times."
Due to the higher number of more expensive homes on the market, the median price of homes in Long Beach increased by about 9.4% year over year from September 2015 to the same month this year, Jones said. "There wasn't an unusually higher number of sales, but I think that the upper end of the market probably had an inordinate number of closings in September," he explained.
The current median sales price of single-family homes in Long Beach is about $600,000, according to McIntosh.
McIntosh observed that uncertainty surrounding the presidential election might also be behind slow sales. "People are momentarily paralyzed waiting for the outcome of the election," he said. "We go through this every four years, and we never seem to remember it until it's on us again."
Jones, too, thought the presidential election might be behind slowing sales. "This is just conjecture, but I believe that the uncertainty around the election is causing people to pause before they act," he said.
Kelsea Mazzocco, a real estate agent with Bixby Knolls-based Sonnocco Real Estate Group, agreed. "There is so much going on with this being an election year and historically how that always creates a bit of a hold in our market," she said.
Pending sales for condos in Long Beach are also down. From September 2015 to September 2016, "Pending sales in the condo market were down 35%, and closed [sales] were down 10.3%," Jones said. The median price of condos is about $317,500, which hasn't changed much since the same time last year, he said, adding that the inventory of condos for sale has actually increased slightly year over year.
Long Beach is currently a seller's market, according to Mazzocco. "If your home looks good and you put it on at a good price, it sells within the first two weeks," she said. "I would say Alamitos Heights is one of the hottest communities in Long Beach right now," she said. Rose Park and areas near downtown are popular with the Millennial/hipster set, she noted.
Home prices in Long Beach haven't quite hit pre-recession highs, but they are getting closer, Mazzocco observed. "I think we're at the beginning of something turning," she said. "I don't know that it's ever going to be that jack knife that we saw before." Rather, the market will steadily become more balanced so sellers don't have quite as strong an upper hand, she explained.
Jones said he expects prices of homes in Long Beach to continue increasing next year because more Millennials are entering the market, which will further increase demand while inventory remains low. "They make up such a large demographic of the overall population," he pointed out.
McIntosh said he anticipates similar market dynamics moving forward. "The market is good, and it will continue to be good. And I don't see anything that's going to shake that up," he said.
Jones cautioned that tax reform issues coming up next year could put a pin in the market, to an extent.
"Looking into next year, we know there is going to be tax reform," he said. "And all of the proposals that we have seen can have an impact on the benefits of homeownership if they were to pass." Jones serves on the taxation committee of the National Association of Realtors' board of directors.
He added, "We have real concerns about these plans eliminating the tax benefits of homeownership."
Multi-Family Properties
Sales transactions of Long Beach multi-family properties have slowed in the past month or so, with low inventory and perhaps some reticence about the presidential election as the likely causes, according to local real estate professionals. Still, demand to buy remains strong, and when properties do hit the market, they sell quickly.
"I'll just say only in the last month, and this is just anecdotal . . . it seems to have slowed down just a tiny bit," George Bustamante, vice president of Coldwell Banker Commercial BLAIR WESTMAC, told the Business Journal. "I think part of that is just that we have an election, [and] there is a little bit of uncertainty." Rising sales prices of multi-family properties might also be causing potential buyers to pause, he noted.
Steve "Bogie" Bogoyevac, first vice president of investments and senior director of the National Multi Housing Group for Marcus & Millichap, also observed fewer sales transactions in recent weeks. With interest rates for loans still historically low and local rental rates on the rise, the demand to buy multi-family properties in Long Beach is still high – there just aren't that many on the market, he explained.
"It's probably the lowest inventory I think I may have ever seen in Long Beach," Bogoyevac said. As of the first week of November, there were only 15 properties with five or more units listed for sale in Long Beach, and some of those may be in escrow, he said.
Inventory is likely low because property owners are seeing good returns on their investments, according to Bogoyevac. "Rents have been increasing. People's loans that they have on the properties are good," he said. "So why sell?"
Properties that do hit the market sell fast – if they're priced right. "I listed two properties last week, a six-unit and eight-unit in Long Beach, and within 48 hours I had a half a dozen offers on each one of them," Bogoyevac said.
Both Bogoyevac and Eric Christopher, senior investment associate with INCO Commercial, pointed out that some property owners are motivated to sell to trade up into larger properties or properties that are easier to manage with a steadier income flow.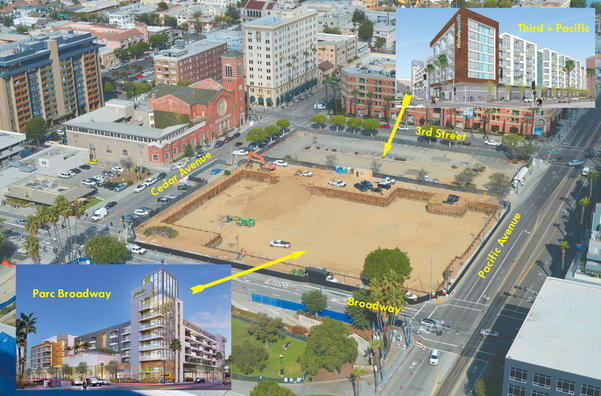 The block that encompasses Broadway to the south, Pacific Avenue to the east, 3rd Street to the north and Cedar Avenue to the west in Downtown Long Beach is the site of two residential developments with a combined 385 units – primarily apartments. Parc Broadway, with 222 units, is underway and includes ground-floor retail space, an art gallery and a "bike kitchen." The development, across the street from city hall, includes townhomes, lofts, studios and one- and two-bedroom units. To its north is the recently approved Third + Pacific project by developer Sares-Regis. As previously reported, the unit mix includes 17 studios (all 537 square feet), 92 one-bedroom flats (644-835 square feet), 28 one-bedroom lofts (860-901 square feet), 30 two-bedroom flats (969-1,200 square feet), five two-bedroom lofts (1,216-1,385 square feet) and five two-bedroom townhomes (all 1,300 square feet). The 17 studio apartments are below the minimum unit size permitted by the city; however, requests can be made by developers to reduce the size of up to 15% of units to no less than 450 feet. (Photograph by the Business Journal's Larry Duncan)
"We are seeing more 1031 exchange activity. That really gets the market rolling," Christopher said. A 1031 exchange allows a property seller to invest in a new property and defer capital gains taxes.
"A lot of the sales that I have been doing have been for people who have been moving out of the multi-family product," Bogoyevac said. "For example, they have got a 10-unit apartment building in Long Beach, and they sell it and buy, like, a retail property – we call them single-tenant net leased properties." Often, these buyers are looking for a fast-food restaurant or a pharmacy to purchase, he added. "The tenant will pay for the taxes, the insurance and all the maintenance and repairs on the property. . . . These are just way more passive, way less management intensive."
Rent increases are "in full swing" and, as a result, are one of the biggest drivers of demand to purchase multi-family properties, according to Christopher. "Right now, we're in a place where most landlords are feeling pretty good about pushing through some rent increases," he said. "And what that does, is it kind of trickles down to allowing values to increase in lockstep."
Bogoyevac estimated market rental rates have increased by about 5% to 7% in the past year. "What's happening, though, is you've got some people who weren't at the market a year ago," he said. "And a new buyer comes in and buys the property and takes out all the linoleum and the old carpet and fixes them up. So their rents increase 20% to 25%."
Bogoyevac, Bustamante and Christopher all expected rental rates to continue to increase into 2017. That trend is causing concerns among tenants about housing affordability, Christopher said. "There is a little bit of a blowback coming from the structure of the rents in the market, where now there is a lot of public outcry about people having to relocate because they can't afford to live here," he explained.
Bustamante said the issue of housing affordability for renters might start coming more into play next year. "You can't continue these kinds of increases for a sustained or a long period of time," he said.
An increase in interest rates could cause demand to cool off for a couple of months, but otherwise, Bogoyevac predicts the multi-family market in Long Beach will remain strong going in to 2017.
"It's kind of a weird – you always say it's a sellers' market or it's a buyers' market," he said. "With where rents are going and with where interest rates are at, it's a great time to be buying stuff. And, yeah, we've got such great prices that if you were thinking of selling, it's a great time to be a seller."