The way people shop and consume is an ever-shifting environment. In the United States, Main Streets took a big hit in the mid-1950s when mall culture was born. Malls and large shopping centers were bolstered in the early 1960s when big-box stores entered the scene. Today, malls and big-box stores are feeling the pressure with the drastic increase of Internet shopping.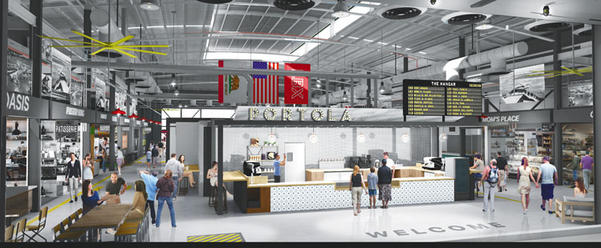 The Hangar will open around September at Burnham-Ward Properties' Long Beach Exchange near the corner of Lakewood Boulevard and Carson Street. As the focal point of the retail center, The Hangar will be home to 14 local food and retail vendors. The space will also host community events. (Rendering courtesy of Burnham-Ward Properties)
"People can find a lot of products online for cheaper. They are becoming comfortable enough that they are going into stores, trying stuff on, then going online, waiting a few days and paying a lot less," Joshua Cool, president, owner and design director of Long Beach-based Innovation & Design In Architecture (IDA), a firm specializing in branding and concept development, said. "The old retailers that don't have the online presence are now losing that sale because there is no reason to buy it in the store."
The online shopping boom has forced businesses to rethink their brick-and-mortar stores and how they are utilizing space. Cool said that many retailers, particularly those with a focus on apparel, will begin to expand their offerings to services such as makeup application, nails and other experiences to draw in customers.
Stores such as Best Buy will not get phased out because people still need to experience technology before they buy it, Cool explained; however, they will likely shrink their footprints and carry fewer units. The retail model of showcasing items, educating customers and allowing them to use the product is most observable at Apple Stores, he noted. Interactive displays, in-store audience education formats and lounge-type environments are going to be utilized more and more, he added.
The reverse is true of online retailers and their attempts at connecting with new customers, Cool said. In order to allow customers to try on or test items before purchasing, he explained that previously online-only retailers are opening small, experiential stores in major metropolitan areas. In these stores, retailers will often not stock items for in-store sales but will customize and deliver them to customers at a later time.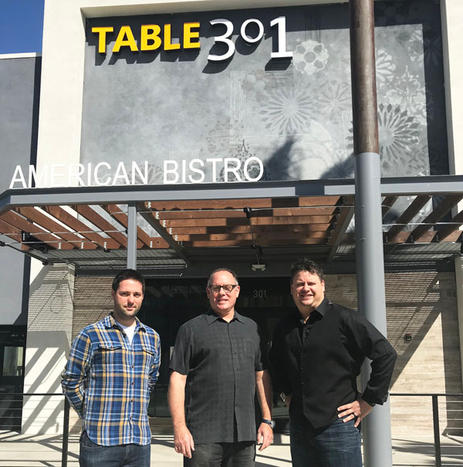 Table 301, a restaurant preparing to open in Downtown Long Beach, features a sunken bar to create a more experiential dining atmosphere, according to Joshua Cool, president, owner and design director of Long Beach-based Innovation & Design In Architecture (IDA). Pictured from left: Kellen Spafford, senior design manager for IDA; Dave Solzman, general manager of Table 301; and Cool. (Photograph by the Business Journal's Anne Artley)
"There are certain retailers that will start to infill in place of the past retailers that were prevalent," Cool said. "In malls today, you'll notice that many retailers are starting to leave and we are now doing restaurants in those spaces. The mix between retail and restaurants in malls is completely changing."
The team at IDA is doing 80% restaurant work, according to Cool, a complete flip from 10 years ago. He noted that speed to market has increased from four or five new concepts per year, to multiple new concepts per month. Inside restaurants, impacted seating is being replaced by bar and lounge space to enhance the dining experience. Beer, wine and liquor are also more prevalent at restaurants than in the past, Cool added.
Along with the increasing emphasis on food and beverages, communal space for patrons to eat, drink and socialize is becoming popular, according to Michael Bohn, senior principal and design director at Studio One Eleven. The architecture firm recently designed two parklets near the corner of 4th Street and Pine Avenue at The Streets in Downtown Long Beach.
While parklets themselves are not a brand-new concept, Bohn said that in the past they have been paid for and utilized by a single business. However, these two new parklets will each be shared by several eateries and were paid for by Shooshani Developers, the owner and operator of The Streets. Studio One Eleven is designing another Pine Avenue parklet that will be in front of Groundwork Fitness for workout uses, making it the first training parklet in the country, Bohn said.
Another development trend pushing the idea of communal space is the rise of food hall-style projects. SteelCraft, an outdoor food court made from shipping containers, opened on the southeast corner of Atlantic Avenue and East Bixby Road in January of last year.
"As soon as it was finished, other cities saw how successful it was and went to the operator, saying they wanted one in their downtown," Bohn said. "What draws you there and allows you to stay there for a while is that the project is designed in such a way that it creates a sort of community living room and the operators have . . . programmed events that are cultural or arts related so that it's more than just going there to eat."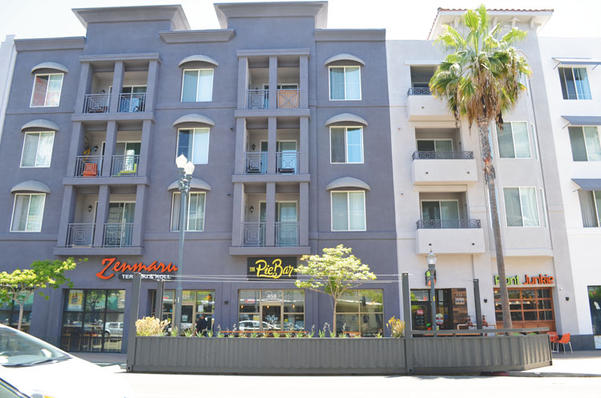 Restaurant parklets in the past have been paid for and utilized by a single operator, according to Michael Bohn, senior principal and design director at Long Beach-based Studio One Eleven. However, the Studio One Eleven-designed parklets on Pine Avenue (pictured) and 4th Street were paid for by The Streets' owner and developer, Shooshani Developers, and will be utilized by multiple eateries. (Photograph by the Business Journal's Pat Flynn)
While Studio One Eleven did not design the Long Beach SteelCraft location, the firm did design its second and third developments in Bellflower and Garden Grove. The new SteelCraft locations will be larger than the first, Bohn said. These sorts of communal projects are and will continue to be a means to revitalize Main Street retail now that malls and big-box stores are struggling, he added.
Even when it comes to large-scale retail center developments, the trend for communal space centered around food and beverage is being emphasized, as is seen in Burnham-Ward Properties' Long Beach Exchange (LBX). While several businesses are already open at the southwest corner of Lakewood Boulevard and Carson Street, completion of the project's focal point is still several months out – a large, indoor space with common seating, dubbed The Hangar, which will include 14 small, local vendors who will sell food, beverages and goods.
"The idea is that food is a catalyst for bringing people together. It's one of the things that technology can't really take from us – that innate desire to commune," Burnham-Ward Partner Bryon Ward said. "Food is the best way we know to do that. And it's really that fast casual food experience that is doing the best. That is exactly the category group that lives in these types of projects."
In 2016, for the first time, away-from-home food sales exceeded at-home food sales, Ward said. When developing malls and retail centers, food used to be a very small component; however, today it can comprise upward of 30% of a project, he noted. This shift has also led grocery stores to change their business models, which includes an increase in more prepared food options and even partnerships with outside food vendors. The driving force behind this trend is the Millennial generation and the rise of foodie culture, Ward said.
At the city's other large retail development, 2nd & PCH, food and grocery are also a focus, according to developer Jean Paul Wardy, president of CenterCal Properties LLC. In tandem with the rise in foodie culture, Wardy said people are busier and more health conscious.
"Food offerings are becoming healthier. Ten years ago, we didn't have as many high-quality restaurants that were healthy and convenient," Wardy said. "Also, if you look at a typical person's life nowadays, everyone is busier and people are eating out a lot more than they have historically."
Aside from tenant mix, Wardy said developers are rethinking how space is utilized at retail centers. In the past, developers would maximize leasable area to generate more revenue, but open space is becoming an important feature to attract customers from surrounding communities. Wardy said the design of 2nd & PCH was meant to encourage visitors to stay for the day to enjoy food, shopping and the outdoor common areas with water features and views of Alamitos Bay.
A similar thought process went into the design of LBX, Ward explained. "At LBX, we did not have to provide the amount of open space, green space and people space that we did. That was elective on our part," Ward said. "Philosophically, we need to make room for those kinds of spaces because that is what provides the experience that most people desperately want.
"We're kind of working with a proven ancient model where a central market is a focal point of a community," Ward added. "This is where people gather, not just to buy food, but for entertainment, cultural events, wine tastings, farmers markets and ways to experience the arts."