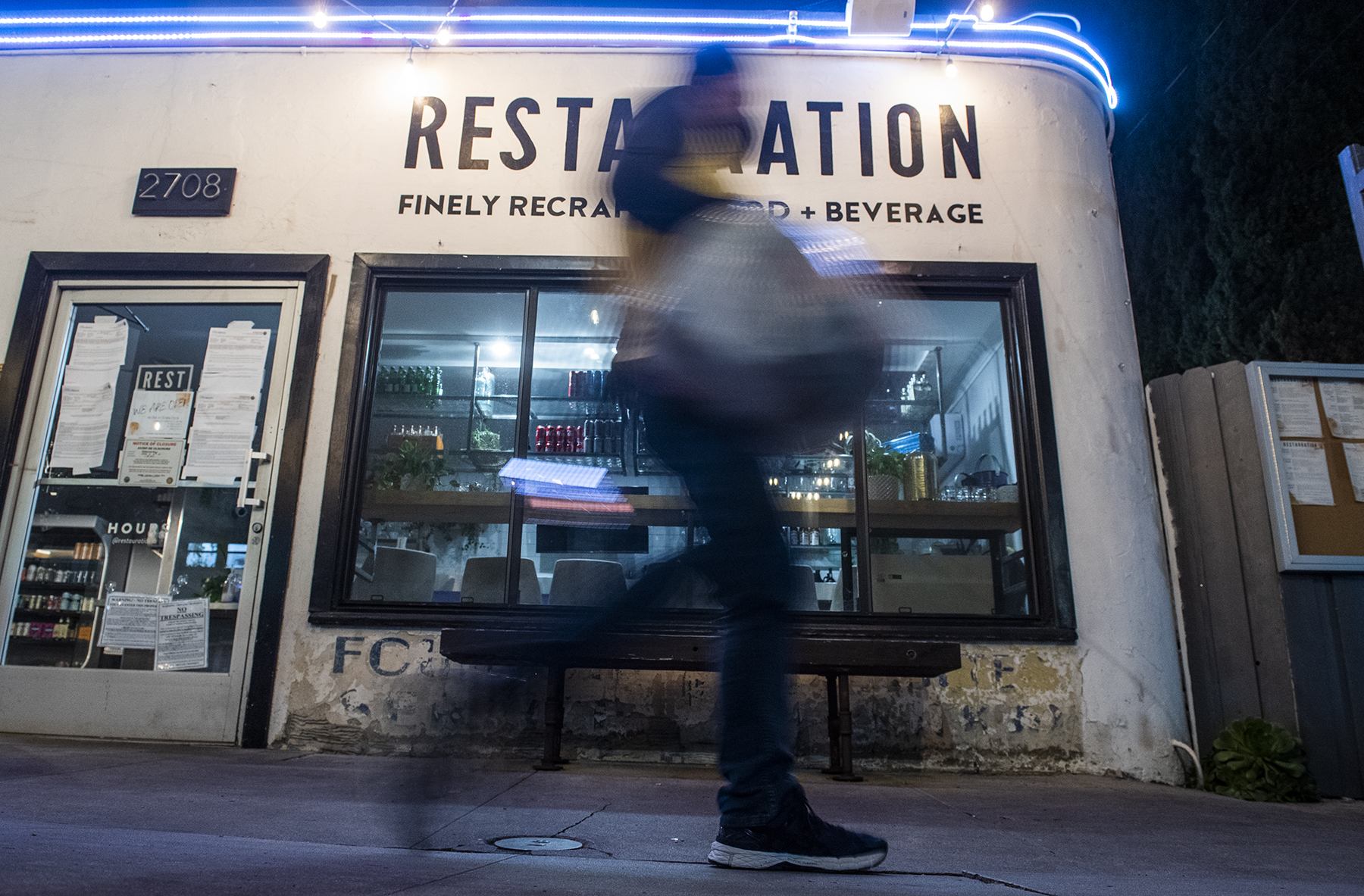 Long Beach says it spent nearly $30,000 building a criminal case against a restaurant owner who refused to close during one of the worst parts of the COVID-19 pandemic, and a judge is now considering whether she should be required to reimburse that money in order to avoid misdemeanor charges now pending against her.
The question stems from an epic feud between Long Beach officials and Dana Tanner, the owner of now-closed Restauration on Fourth Street.
Her case began roiling the city last year when Tanner's plans for a New Year's Eve party at Restauration went public. At that point, on-site dining was banned while health officials tried to fight the winter surge of COVID-19 that pushed hospitals to the brink as thousands of Long Beach residents tested positive for the virus each week.
Over the next several months, officials repeatedly tried to shut down Restauration, even cutting off gas to Tanner's kitchen, but she refused to comply. Tanner encouraged other businesses to violate coronavirus rules and, at one point, she ran a pirated gas line that caused a leak in the neighborhood, officials allege.
The Long Beach City Prosecutor's Office eventually filed 20 misdemeanor charges against Tanner, but that investigation came at no small cost. In court documents Friday, City Prosecutor Doug Haubert said it took hundreds of hours of work performed by two dozen employees in the police, code enforcement, gas and health departments. That totaled $28,471.30 of staff time, he said.
That's on top of more than $50,000 it cost the city to levy administrative penalties and then process Tanner's appeals for actions like revoking her health permit and removing her gas meter, Deputy City Attorney Art Sanchez said.
Long Beach Superior Court Judge Christopher J. Frisco, who is handling the criminal case, has said he'll consider dismissing the charges if Tanner pays the city back for its "investigative costs," according to court documents. But he signaled he wants to focus only on the costs of the criminal case—not the over $50,000 in administrative costs. (The city isn't trying any other avenue to recoup that money, Sanchez said: "All the city wanted to do was gain compliance.")
The situation is in Frisco's hands because Tanner has asked for judicial diversion, essentially asking him to intervene pretrial and do away with the case as long as Tanner complies with specific terms he imposes. In the meantime, she's pleaded not guilty to the charges and denies any involvement in the pirated gas line.
Tanner previously said the situation has already taken a toll on her, including sparking abuse and harassment online. And when she shut down Restauration in April, she donated its $50,000 worth of kitchen equipment to a Long Beach nonprofit, according to her attorney, Bryan Schroeder.
In court Friday, Schroeder didn't dispute how much the city spent on Tanner's case, but he told the judge he doesn't believe Long Beach is entitled to reimbursement on the costs of a criminal investigation.
Frisco is set to consider Tanner's request for diversion at a Jan. 11 court hearing.
Editor's note: This story was updated to clarify Long Beach did not request the reimbursement. The number was provided at Frisco's request.
Buy a bit of controversial history: Restauration site for sale at $2.3 million