In late June, local investment firm Pacific6 purchased the Long Beach Post, immediately doubling its newsroom – in part by snagging staff from the Press-Telegram – with the intention of providing daily, expanded coverage of the goings-on in the City of Long Beach. Pacific6 co-founder John Molina felt that Long Beach – a city with a larger population than Atlanta, Miami and St. Louis – has lacked the daily news coverage it deserves, and he wanted to see that change. So he did something about it.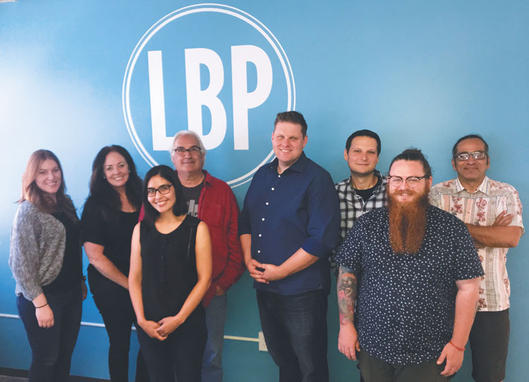 Under the new ownership of Pacific6, the online news outlet Long Beach Post has expanded its staff. The Post's leadership intends to create a sustainable model for local journalism.      Pictured are some of the staff, which includes 12 full-time reporters and counting. From left are: Valerie Osier, reporter; Andrea Estrada, advertising manager; Stephanie Rivera, diversity and immigration; Tim Grobaty, opinion editor; David Sommers, publisher; Jeremiah Dobruck, breaking news editor; Dennis Dean, director of operations; and Thomas Cordova, visuals editor. (Photograph by the Business Journal's Samantha Mehlinger)
In a new office at 211 E. Ocean Blvd. (where Pacific6 is also based) the Long Beach Post now boasts 12 full-time reporters, and counting. They are faces known in Long Beach for having covered the city for years both at the Post and the Press-Telegram, and, as Publisher David Sommers pointed out, they come from different generations, backgrounds and work environments. At the Post, they now benefit from health plans, a 401K plan that kicks in after six months, and steady coverage opportunities. Sommers and Molina intend to land on a sustainable financial model to keep those opportunities alive by rethinking the traditional way news publications have been funded.
The model of the Press-Telegram is one that is rolled up into that of Southern California News Group (SCNG), its owner Digital First Media, and parent company Alden Capital, a hedge fund. That model, by many accounts documented throughout the country and here in Long Beach, has been to cut back newsroom staff and cross-pollinate content across regional publications, resulting in a reduction in local coverage. Seeing what this model had done to the Press-Telegram, a historic paper in Long Beach, got Molina thinking.
"When I saw that they kept laying people off and laying people off, I had a cup of coffee with Tim [Grobaty] . . . in February or March," Molina said in an interview with Sommers at the Post's new office. Grobaty was a 42-year columnist with the Press-Telegram, and jumped ship with co-workers Jeremiah Dobruck and Melissa Evans to join the Post. They left behind a newsroom with one reporter left standing, according to Grobaty.
Molina asked Grobaty if he thought the owners of the Press-Telegram would sell it to him. He made an overture, but never received a return phone call. His next move was to assemble a team of individuals – Grobaty, Dobruck, Evans and Sommers, who had been doing communications work for Pacific6. They ultimately decided that, rather than starting a new publication, having an existing platform to work with would be better. Molina approached Cindy Allen, president of advertising firm ETA Agency and then-publisher of the Long Beach Post, and they made a deal.
"I cannot say enough good things about Cindy Allen," Molina said. "First of all, she shepherded the Post through a lot of ups and downs, especially in the beginning when she took over. The handoff and the way she treated her employees through the transition was great."
The deal was finalized on Friday, June 15. The Post debuted under new ownership the following Monday with Sommers at the helm as publisher. The Post staff stayed on under the new ownership, and the three former Press-Telegram writers joined the team as well. Former Long Beach Post Executive Editor Brian Addison, who had been running his own blog, Longbeachize, also joined the team. Others followed in the coming weeks, and more are still to come, according to Sommers.
Sommers has a long history in journalism and personal ties to the Post. He studied journalism and government at California State University, Sacramento, where he became friends with Shaun Lumachi, who eventually co-founded the Post with Mayor Robert Garcia before Garcia entered local politics.
As a journalism student, Sommers covered a football game during which a man was arrested. He was subpoenaed by the man's attorney for his photos and notes, and was held in contempt of court for six months for not complying. "I was 19 years old. And I was one of the youngest journalists to ever be held in contempt," Sommers said. He received free representation from the California News Publishers Association, and won recognitions from the Society of Professional Journalists.
Sommers went on to work for various NBC affiliates for years before moving into communications as former Los Angeles County Supervisor Don Knabe's director of communications. He then worked at Molina Healthcare until last year when John Molina and his brother, Mario Molina, were asked to leave the company as CFO and CEO. Others were let go as well. Sommers took an exit package rather than stay on.
"The personal part of this for me is Shaun Lumachi was my best friend," Sommers said. Lumachi was killed when a truck driver fell asleep at the wheel and struck his vehicle in 2011. "I officiated his wedding. He was the best man at mine. He was one of the first people to hold my son. I had to call Deziré [Lumachi's wife] and his parents when he was killed because [City Manager] Pat West called me and said, 'Will you do the next of kin notification?'" Sommers recalled. "One of the things that is most exciting to me about this is to help bring my best friend's vision full circle. The Post was started in his kitchen at his apartment on 2nd Street. And here we are now."
The new ownership and leadership of the Post said they have a responsibility to provide a good work environment to their employees. "This is a challenging industry. And this work is not cheap, so we're not going to cheapen the work by providing an environment that is anything less than a place for reporters to shine, to grow, to be mentored," Sommers said.
"I think it has been working very well, particularly considering that the week after we acquired it we were right in the middle of the worst tragedy to hit this city in many years," Sommers reflected, referring to the murder of Long Beach Fire Capt. David Rosa.
"We need to create a new model for local journalism. The sort of old model where it's a newspaper and you sell ads doesn't appear to be sustainable," Molina said. Sommers indicated that, in addition to selling advertising, the Post may venture into holding community forums and events with opportunities for sponsorships. The Post has also continued to operate a donation system on its website, which started under previous ownership earlier this year. "We have several hundred people who are now recurring patrons, like monthly contributors," he noted.
Before landing on a new financial model, the first priority is to grow the outlet's audience, according to Sommers. "This isn't cheap, what we're doing," he said. "But by making such an investment in it and seeing the digital audience follow, there are new revenue streams that we are bringing online that will hopefully fill that gap."
In terms of coverage, the Post is focusing on breaking news, arts and culture, underrepresented neighborhoods and city hall, Sommers noted, adding that he expects to add more city hall-dedicated reporters in coming weeks. Investigative reporting will also be a focus. "Cities need watchdogs. And that's where we can help, and we will," he said.
Pacific6 and John Molina have other investments in the City of Long Beach that the Post will have to report on. Molina is a part of another group that intends to take over Community Hospital Long Beach, and Pacific6 is redeveloping the Ocean Center and Breakers buildings in downtown. Molina said that, while he may occasionally give ideas to the Post and its staff (with no mandate to follow through), he would never tell the Post not to pursue a story related to him or any of his investments in the city.
"Before a single story was written, an extensive ethics policy was developed that every single person here has signed. And it talks about the relationship between Pacific6 and the partners and us," Sommers said. "We have a higher burden to the public trust to make sure the people understand that, just because we have a corporate owner, that doesn't mean that they are in here dictating coverage. That doesn't happen."
Reflecting on his staff, Sommers said, "This is a crazy team of individuals. These are people who could go off and make a lot more money doing a lot of other things. But they are here with us on this journey because they are passionate about this city and their work."
Stephanie Rivera and Dennis Dean are two of the Post staffers who have transitioned under new ownership. Both expressed excitement at the ability to pursue more opportunities due to the expanded staff and funding.
"Knowing the potential that it would mean for the residents and the community, and them being really covered in a way that we haven't been able to do before, that just kind of made me excited even more," said Rivera, who is dedicated to covering diversity and immigration.
"Obviously, the old Post people and the old SCNG people have kind of two different styles of doing things," Dean, director of operations, said. "So kind of pulling those strengths from each and figuring out how that all works together is really exciting."
Addison, who has been his own boss as the producer of Longbeachize, said he was happy to be back in a newsroom. "It's wonderful. That's the essence," he said. "Hearing this converging of all these different minds and ideas actually makes for better news, on every level: whether it's cultural, whether it's breaking."
Grobaty and Dobruck expressed that they had both loved working at the Press-Telegram and had no issues with their immediate management, but that, ultimately, joining the Post was a better opportunity than continuing to work for the shrinking paper. Dobruck said that the faceless, corporate ownership of Alden Capital was bad for morale at the Press-Telegram. "It's exciting to be somewhere where I feel like what we're doing is valued," he said.
Grobaty said that the prospect of a raise at his former paper had become laughable. "Here, this morning, we were talking about the Christmas Parade. And I was like, 'You know, it costs $500 to sponsor a band.' It was like, 'No problem,'" he recounted. "We're not here to raid John Molina's bank account, but it's part of getting involved with the community. Certain things cost a little bit of money. And John wants to make a really good paper out of this," he said.
While Grobaty corrected himself about calling the Post a paper – as it is now solely online – Molina said he does intend to start a print version in the future.
"We're trying to map all of this out," Sommers said. "Going from an initial idea in February to having a publication in July, it's kind of amazing."