This season, violinist Roger Wilkie is celebrating his 25th anniversary as concertmaster (first violin) for the Long Beach Symphony. With a career ranging from participation in a quartet, a trio, chamber music groups and as concertmaster for many film scores by John Williams, Wilkie said his time with the Long Beach Symphony represents his home for major orchestral music performances.
"It has been very rewarding," Wilkie said of his experience in the Long Beach Symphony. "I have been fortunate in my career in that I have had a great amount of variety, more than most [musicians] in a way, because I am doing a little bit of many different things."
(Photograph by Chaz Curry)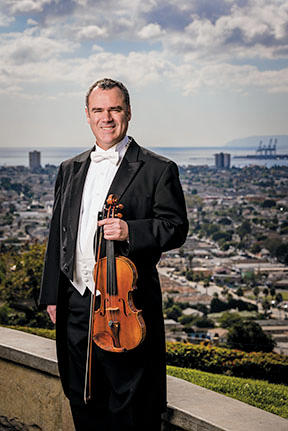 As a child, Wilkie was inspired to become a violinist by listening to well-known pieces of music prominently featuring the instrument. "I would listen to them over and over again, and that in- spired me to want to play," he said. "A childhood hero of mine is Jaspha Heifetz. He is one of the greatest violinists who ever lived," Wilkie reflected. "Today, listening to and learning different music that is new to me also inspires me."
"When I first joined the Long Beach Symphony, it was a very exciting thing for me," Wilkie recalled. Serving as concertmaster is more than a prominent position – it is also one with crucial duties to the orchestra. "You set the tone in a way, and you do that by the way you play. You have to play with a certain authority because it influences the people around you," Wilkie said. "A very simple example would be if the violin is supposed to come in with a strong entrance. And if the person that is sitting in the first chair is hesitant, every- body around will become hesitant. So in a way, it is a real responsibility," he explained.
"I try to be expressive," Wilkie said of his style. "The ultimate goal is to deliver a perform- ance that is true to what a composer wants. . . . But then also something of yourself has to come through because there is always emotion in the music, and that something has to come from you," he reflected. His father, a singer, used to say that music allows you to express emotions you cannot communicate by speaking. It's a concept Wilkie still finds truth in today.
In addition to serving as concertmaster for the Long Beach Symphony, Wilkie is also a member of the Pacific Trio, which also features a pianist and a cellist. He was asked to join the trio in 2000 when the group needed to replace its violinist. Prior to that, the trio had existed for about 20 years, Wilkie noted. "We have recorded, done many concerts and toured Europe a few times," he said.
A standout career moment for Wilkie was about 10 years ago, when the composer John Williams – perhaps best known for his scores written for the "Star Wars" and "Indiana Jones" films – asked him to serve as concertmaster for his future film work. Wilkie's first Williams' film was "Memoirs of a Geisha." He is currently recording music for "Star Wars: The Force Awakens."
Moving forward, Wilkie wishes to continue pursuing his current endeavors, and may one day record music on his own. "I am very lucky," he said. "I am doing what I enjoy."