In 2018, Long Beach and Los Angeles County residents safely disposed of more hazardous waste at the EDCO Environmental Collection Center than in any previous year. In fact, the Long Beach Public Works Department reported that more waste is being collected at EDCO every year, with total tonnage increasing more than 35% from 2015 to 2018. "To put it into perspective, in 2018 people dropped off about 420 tons of materials at the facility," Deputy Director of Long Beach Public Works Diko Melkonian told the Business Journal.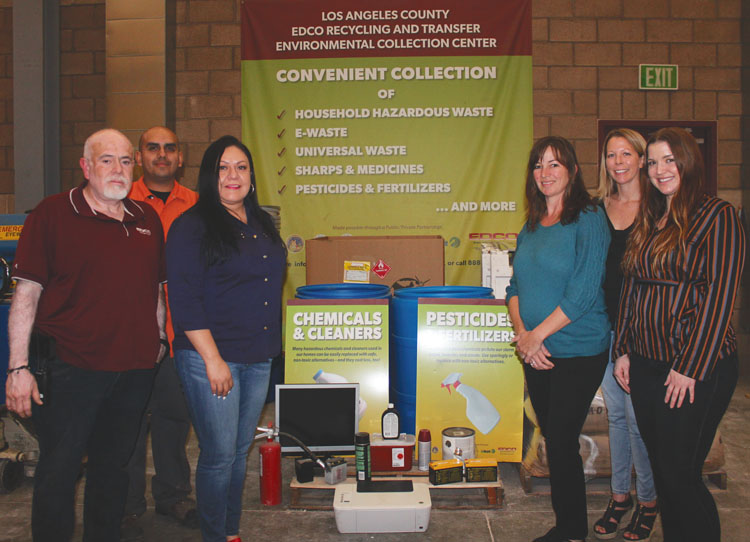 EDCO, a waste collection and recycling company, has partnered with the City of Long Beach to facilitate bi-monthly collection events of both electronic waste and household hazardous waste (HHW) at its Signal Hill facility. These events were doubled in August 2017 to the second and fourth Saturday of each month, from 9 a.m. to 2 p.m. Waste Diversion and Recycling Officer Erin Rowland said the program hit capacity with just one event per month, prompting the change. Only so many people could move through the line, she added. "L.A. County worked closely with us and EDCO to expand it to the fourth Saturday as well."
What Is Household Hazardous Waste?
HHW includes items that should not be disposed of in your garbage can. "Really, it's the stuff that you find in your garage that you never know what to get rid of," Rowland said. Examples of HHW include:
Paint and paint thinners
Cleaners with acid or lye
Used motor oil and filters
Pool chemicals
Turpentine
Expired pharmaceuticals
Batteries
Car batteries
Weed killer/pesticides
Metal polishers
Waste anti-freeze
These materials are considered hazardous because they contain chemicals that contaminate the environment and endanger human health. "Proper disposal of this material ensures that it's not getting into our city streets," Rowland said. "We really want to make sure that we're not having excessive toxins released from these products and going into our stormwater system."
Electronic waste, or e-waste, is another classification of hazardous material that may contain lead, copper and other heavy metals or toxic substances that should not be dumped in a landfill. Examples of e-waste include:
Cell phones
Computers
Hairdryers
Scanners/printers
Televisions
Computer monitors
DVD, CD or VCR players
Other computer peripherals
Radios
Alarm clocks
Computer mice and keyboards
"Home-generated sharps," such as needles, syringes and lancets, may also be disposed of at the EDCO center. Additionally, the center accepts used tires, with a maximum limit of nine tires per person.
More Waste Disposal Means A Cleaner Long Beach
Once upon a time, Long Beach residents had only two opportunities per year to conveniently dispose of their hazardous waste. That was back when the city held its waste roundups at Veterans Stadium at Long Beach City College. Melkonian recalls more than a thousand cars lining up to drop off their trash. "Most cities got one roundup, but because of Long Beach's size and participation, we got two roundups per year," Melkonian said. When the participation rate did not diminish, the city pursued funding for a more efficient system.
The California Department of Resources, Recycling and Recovery awarded the city a grant of about $400,000 to develop its own disposal facility, Melkonian explained. Fortuitously, EDCO was already building such a facility near the Long Beach Environmental Services Bureau's office. "We just happened to be having a conversation with them and they said, 'Well, we're building a little section here for household hazardous waste drop-off,'" Melkonian said. Striking up a partnership with EDCO, the public works department reallocated its grant funds to make architectural revisions to the HHW facility and to assist in purchasing equipment. "That allowed us to get started much faster."
The bi-monthly collection events are made possible by the coordination of several public and private entities, including the City of Long Beach, the City of Signal Hill, the Los Angeles County Department of Public Works, the Sanitation District of L.A. County and EDCO Disposal. The handling and transportation of the waste from the EDCO facility is overseen by Clean Harbors Waste Disposal Services, a waste management company that contracts directly with the county.
Reducing waste is a primary goal of the Sustainable City Action Plan, adopted by the city council in 2010 to help guide environmentally sustainable operational, policy and financial decisions in Long Beach. This means cutting down on waste and taking a more proactive approach to recycling. "Environmentally responsible management of waste . . . combines the efforts of both government and residents," the report states.
According to public works staff, residents have shown their commitment to this goal by participating in HHW collection in ever-increasing numbers. "People in Long Beach and the surrounding communities are utilizing this," Melkonian said. Since expanding its collection events from once to twice per month, the household hazardous waste (HHW) program has recorded a 12% increase in participation, from 7,798 cars visiting EDCO in 2017 to 8,767 cars in 2018.
"Having proper disposal of hazardous waste is really a key component to long term sustainability," Rowland said. The ultimate goal is waste prevention and identifying alternative products with less toxic byproducts, she added. "But we recognize that it's going to be a long time before we have all of those options easily available to folks, so in the meantime our highest priority is making sure that all material is disposed of properly."
Long Beach residents can also request special collections for oversized or "odd-sized" items, such as televisions, refrigerators and other appliances. The city provides each resident with four free special collections annually. "It's part of what you're already paying for," Melkonian explained. There are limitations on what items qualify, as well as regulations for the amount of material that may be collected at one time. For more information, contact the Long Beach Environmental Services Bureau by calling 562-570-2876, or visit their webpage on special collections at longbeach.gov/lbrecycles/refuse/special-collections/request-a-special-collection/.