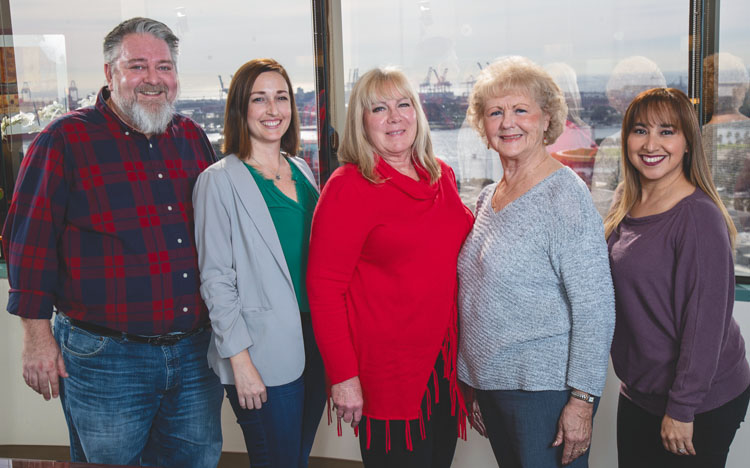 Housed in one of Long Beach's tallest buildings, the Shoreline Square office tower, the Long Beach Area Convention & Visitors Bureau has a stunning view of its domain. Nineteen floors above the glistening harbor, a small team works behind the scenes to bring ashore millions of dollars for the city's hospitality industry, with cash flows rippling far beyond its ocean view hotels.
The CVB's five sales coordinators are tasked with marketing the city to potential clients across the country, wrapping all its amenities and attractions into one irresistible package. "We're promoting Long Beach," Gary Waters, who has been with the CVB for almost 12 years, summed up as his team's mission.
After a client contacts the CVB to request a proposal that showcases Long Beach as the ideal location for an event, the sales coordinators put together a "bid book," which outlines everything the client needs to know: hotel capacity, prices, transportation, meeting spaces and any other requested amenities. "Our bid book is part of our marketing. It's giving the clients an overview in regard to what we can offer within the city for their clients," Pauline Taylor, who has been with the CVB for over 12 years, explained.
The sales coordinators work on tight deadlines, handling projects that may bring in millions in commercial revenue and occupancy taxes. "If they screw something up, we could be out $25 million at the snap of a finger," Bob Maguglin, the CVB's director of public relations, said. "It's really important, really vital work."
The added challenge of working with clients and sales directors in different time zones means there's never a dull moment. "There isn't really a typical day, every day there's something new happening," Waters said. "There's nothing boring about the job."
Despite the intense pressure and responsibility their position entails, the team has an impressive retention rate. Even factoring in the newest addition to their team, who joined a year ago, the average member has been with the CVB for almost nine years. The supportive work environment and recognition they receive both from inside their office and from the city goes a long way, Sales Coordinator Kathy Ford said. Presenting the CVB's annual report to the city council and showcasing a year's worth of hard work to city leadership is an especially emotional moment for Ford. "It almost makes me want to cry, it makes me really proud whenever I get to see that," she said. "It's a beautiful thing."
To turn around leads for the CVB's sales directors and proposals for clients on often tight deadlines, each sales coordinator has to rely on a well-nurtured network of contacts in the city's visitor-facing industries, such as hospitality, entertainment and transportation. "They know their pets' names, they know spouses, children, who had a new baby. They really know these people," Loren Simpson, the CVB's director of digital communications, said.
Most members of the team have previously held positions at Long Beach hotels, an experience that has groomed them for their daily negotiations with hotel staff on behalf of potential clients. "We've been here for so long and we all come from hotels," Sales Coordinator Lillian Olguin said. "We just start meeting them, building relationships." The team works so closely with hotel staff that they often feel like colleagues or even extended family, Ford added.
These close and positive relationships are a noticeable benefit to clients, Sales Coordinator Shannon Yates said. Yates joined the sales coordination team last year, after interacting with the CVB on behalf of the EEM Longines Masters Series horse jumping event for several years. "The CVB really creates a family atmosphere," Yates said. "They're able to create an all-encompassing experience for the people who come here."
One event from Yates' time with the Longines Masters shone a particular spotlight on the all-hands-on-deck approach the CVB takes to pleasing clients. When EEM organized a scavenger hunt that featured a large, red horse statue, the CVB used their social media accounts to help spread the word and even organized a forklift from the Aquarium of the Pacific to move the statue. "They're super on board with that mentality of making sure that the people who do business in the city are part of the Long Beach family," Yates said. "We didn't get that white-glove, red carpet service when we were in other cities."
Members of the team said they see their mission and that of the CVB as one that exceeds the transactional nature of proposals, bids and sales. "We support the charities in the city," Ford said, pointing to the CVB's donations of time and money to the Long Beach Ronald McDonald House and the city's homeless shelters. Waters pointed to the city's partnership with the organizers of POW! WOW! Long Beach, an international series of art festivals, which was initiated in part by the CVB and has brought dozens of murals and visitors to the city in the past five years. "We're excited to tell people about these things," Waters said. "I don't know a lot of cities you can say that about, that you're excited to sell the city that you work for."
Having observed the development of Long Beach over the past decade, the team's most senior members said they see the impact their work has made. "Long Beach has exploded," Taylor said. "Long Beach used to be kind of a sleeper, and it's not anymore. We are very competitive throughout the United states with what we can offer here in Long Beach."
By helping sell the idea of Long Beach as a destination for professional meetings and conventions, the team believes they've helped spark that development, most noticeably the renovations of the Hotel Maya, the Breakers Hotel, and the construction of new hotels in the city. "These people are willing to build brand new hotels and invest in Long Beach, because we'll be able to fill those hotels," Waters pointed out. "It's such a cool thing to see how much we do impact all of Long Beach."