After being put on the private market and fetching multiple offers, the first major batch of former redevelopment properties in Long Beach have been spoken for, with most sites going to the highest bidders, and receiving asking or above asking price.
A majority of buyers have expressed interest in submitting plans for new development, according to city officials. Proposals so far include the possibility of a new hotel and small residential projects in downtown along with an innovative commercial endeavor being proposed in North Long Beach.
Larger-scale properties categorized as "future development," totaling 25.47 acres, however, are being sold off through requests for proposals (RFPs). As of the end of July, the city had released six RFPs.
One request includes a site, long been proposed for a hotel, at Ocean Boulevard and Pine Avenue above the historic Jergins Tunnel in downtown. The city is currently seeking proposals for a "high rise mixed use" development at the site, according to an RFP document.
Michael Conway, director of economic and property development for Long Beach, told the Business Journal in a phone interview that the city made amendments to its long-range property management plan (LRPMP) earlier this year.
The changes included putting 11 properties on the market for sale instead of holding them for government use or future development, bringing the city's for-sale properties to a total of 37 sites, encompassing 61 parcels.
The city council, which acts as a successor agency to the former the Long Beach Redevelopment Agency, has approved the sale of 21 sites so far. Most of the transactions, involving 18 sites, were approved on July 21, after which they were forwarded to the agency's oversight board for approval on August 3 (refer to chart listing each property, location, buyer, sale price and future use).
The only property sale that wasn't approved by the successor agency last month was for a site at 635 E. South St., which was put back on the market since the highest offer of $265,000 was more than 25 percent below asking price.
While the California Department of Finance (DOF) must eventually sign off on all property sales, the city may open escrow and begin a due diligence period once the oversight board grants approval, Conway said. He said all sales would likely become final about four months after receiving DOF approval.
In some cases, property ownership is just changing hands, such as in the case of the Dolly Varden Hotel, where owners are now taking full possession of the hotel's parking lot.
Other buyers, however, have plans to submit development proposals. For instance, CV Communities, a subsidiary of Irvine-based City Ventures, is purchasing a 7,500-square-foot site at 239 Elm Ave. for $325,000 for a new residential development.
Scott Choppin, founder and CEO of Urban Pacific Multi-Housing, LLC, which purchased a 3,750-square-foot duplex at 325 Daisy Ave. to be developed into rental housing, said the timing couldn't be better for properties to hit the market as demand for real estate in Long Beach is high.
His company, which has a history of urban residential developments, with the CityPlace Lofts and the Sixth Street Lofts (currently under construction), is seeking more residential projects in downtown, as well as industrial prospects, he said.
Though the state mandates that for-sale properties be sold at "highest and best use," the city does have some flexibility to take lower offers if, for instance, the potential buyer has prior Long Beach development experience. In some cases, the city has "reactivated" negotiations to carry on goals of redevelopment, he said.
"We've been trying to continue to pursue the objectives of the redevelopment agency as we dispose of these properties," Conway said.
Several of the properties are currently vacant and used as public parking lots, but he explained that wasn't always the case, adding that many of the sites were once occupied by hotels and liquor stores that attracted criminal elements.
With redevelopment assistance, the city obtained the properties and demolished them, leaving empty lots that have been temporarily used for parking, but the long-term goal was for new development to enhance the community and raise property values, among other objectives, Conway said.
"A lot of these properties had blighted uses on them and were beacons of crime," he said. "The intent all along was to utilize these properties for new development consistent with the strategic guide for the project area. It's not necessarily that we're eliminating parking. It's that we're pursuing the long-range goal of new development on those sites."
As for future development properties, bids for the six RFPs already released are due by September 3. Conway said the city is releasing five more RFPs next month and another five in December.
Uptown Renaissance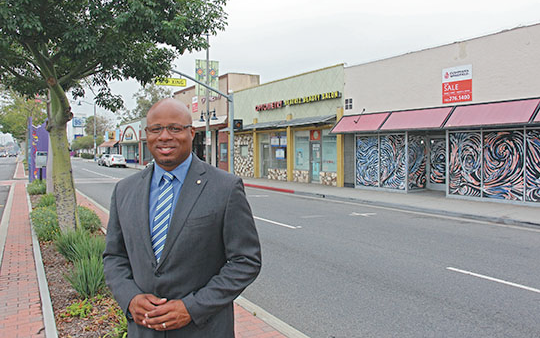 (Eighth District Councilmember Al Austin stands on a median along Atlantic Avenue where Lab Holding, Inc. has purchased more than 68,000 square feet of former redevelopment property)
Many of the city's former redevelopment properties that have been approved for sale are located in North Long Beach or "uptown," where redevelopment was just taking off before it was abolished by the state. In fact, 12 sites recently approved by the successor agency for sale are located in the 8th Council District.
Lab Holding, LLC, known for its innovative, socially conscious and environmentally friendly shopping districts in Orange County, has been selected to acquire most of those properties. The developer is responsible for the Anaheim Packing District as well as the Lab Anti-Mall and the Sobeca (South on Bristol, Entertainment, Culture and Arts) District, which includes The CAMP, in Costa Mesa.
Considered the antithesis to formulaic retail shopping centers, the projects have garnered international attention for targeting a younger demographic and creating a synergy among musicians, artists, boutiques and restaurants alike, according to Lab Holding's website.
The developer has been selected to acquire nine individual small sites in North Long Beach that are worth a combined $2.8 million. The sites add up to more than 68,000 square feet, spanning nearly 2.5 miles along the "north village" corridor on Atlantic Avenue from just south of Bixby Road to just north of East Market Street.
The corridor is anchored by a new North Neighborhood Library, currently under construction on former redevelopment property kept for public use, and includes the 8th Council District field office, which is being moved to the Expo Arts Center.
In a phone interview with the Business Journal, Shaheen Sadeghi, founder of Lab Holding, said he was drawn to purchase the sites after noticing an assemblage of properties. Whether or not it will work, however, depends on how many other properties along the corridor will be able to be assembled as well, he said.
"If we cannot assemble anymore [properties], it's probably not a project that we can execute all the way through," Sadeghi said. "We work with a lot of smaller operators, and we want to make sure that the platform is large enough so we can create a mass that it becomes a destination."
If the proposal proceeds, however, the development would draw on the "fabric of the neighborhood" along with the needs and culture of the community, he said.
"We like the challenge," Sadeghi said. "There is something exciting for us as a company to go into an area like this and really make a change, make a difference and embrace the community."
In an e-mail announcement, 8th District Councilmember Al Austin praised Lab Holding's desire to purchase the properties, adding that the new commercial development would bring "retail success" to the north village, which for years has struggled to fill empty storefronts.
"This is great news for the community, and we will finally see some new, motivated property owners work to improve these properties, many of which have been vacant for several years since the state abolished redevelopment," he said.
Meanwhile, plans are moving forward to seek development proposals in the 9th Council District, where a majority of the city's future development properties are located. However, the city is seeking proposals in a much different way than in other areas.
According to 9th District Councilmember Rex Richardson, the city plans to issue one big request for qualifications (RFQ) for a team of developers to take on nearly 10 acres of former redevelopment property in North Long Beach along or adjacent to the Atlantic Avenue corridor.
He said the city has already hired a consultant to conduct focus groups of property owners to help draft the RFQ, which Richardson expects to be released in November. After the city conducts a development conference and selects the team, the proposal should be ready to move forward early next year, he said.
The hope is that coordinating development of all the properties in the area together will have a broader economic impact, transform the character of the community and create an "urban center" in North Long Beach, Richardson said.
"This is our biggest and best opportunity to bring in amenities that might be missing, such as neighborhood-serving restaurants, a coffeeshop or a bank," he said. "It's going to be the heart of the uptown renaissance."
Property Sale Proceeds – Where Does The Money Go?
City officials estimate that the for-sale properties will generate net proceeds of about $9.7 million and the city is expected to receive approximately 21 percent, or about $2 million, of that total, according to a June 19 memo obtained by the Business Journal.
City officials have said that most sale proceeds likely won't be realized until next fiscal year. Also, the city is expected to receive additional proceeds from the sales of future development properties.
On November 11, 2014, the city council directed city staff to create a policy that would ensure 75 percent of the city's portion of sale proceeds would be invested back into the geographic area of the related former redevelopment project areas in North, Central, West and Downtown Long Beach. The other 25 percent of the sale proceeds are to be invested into programs with a citywide impact.
According to the memo, the 75 percent portion of for-sale proceeds, totaling about $1.5 million, may be used for "blight removal, maintenance of properties, ongoing economic development efforts, business incentives, public infrastructure improvements or revolving loans."
Examples include additional funding for the city's façade improvement program, targeted business loans, land acquisition, improvements to public right-of-ways, public parks and public lots. Such funds are nonrecurring and all related expenses, including maintenance, must also be nonrecurring, the memo states.
The central project area is expected to receive the most funds, with $751,928, while the west project area is expected to receive the least, with $165,760.
As for the 25 percent portion of sale proceeds, totaling $513,199 for citywide programs, city staff recommends spending: $200,000 on branding and marketing for economic development purposes; $100,000 on developing an economic strategic plan; $30,000 on implementing Open Counter software and other technology; and $183,000 on creating a citywide façade improvement program, according to the memo.