For the last 15 years, the San Pedro Bay Ports complex has been working toward ambitious environmental goals to drastically reduce emissions. Now, the U.S. Environmental Protection Agency is praising the ports' Clean Air Action Plan as a "groundbreaking program."
The plan is a partnership between the ports of Long Beach and Los Angeles, collectively known as the San Pedro Bay Ports, to reduce emission from all sources, including container ships, harbor craft, trucks, terminal equipment and locomotives.
"The Clean Air Action Plan is an excellent example of what can happen when port operators work with neighboring communities to develop and implement a robust plan, leading to positive impacts on air quality and emissions," EPA Administrator Michael Regan said in a statement. "While there is still lots of work to be done in San Pedro Bay, this trailblazing effort can serve as a model for the rest of the country to follow."
In Long Beach, the CAAP already has greatly reduced emissions compared to 2005 levels. Sulfur oxide has been reduced 97%, diesel particulate matter 88%, nitrogen oxide 58% and greenhouse gases 19%, according to the port's 2019 air emissions inventory. Data for 2020 will not be available until the fall.
The reductions have already met multiple milestones of the program. For example, the port aimed to decrease diesel particulate matter 77% and sulfur oxides by 93% by 2023. The port is just 1% shy of its goal to reduce nitrogen oxides 59% by 2023.
These emissions reductions were made while container throughput at the port increased 14%.
In 2017, the ports revisited program, providing updates and revisions based on the work already completed. The revised CAAP is focused on greenhouse gas emissions reductions—a 40% decrease by 2030 and an 80% decrease by 2050 compared to 1990 levels.
Other goals include the capture of 100% of at-berth vessel emissions by 2030, zero truck emissions by 2035 and fully zero-emission terminal equipment by 2030.
"I remain optimistic that we will meet those goals. Challenges still remain—from technology to infrastructure to funding," said Matt Arms, director of environmental planning for the Port of Long Beach. "We're starting to overcome those challenges but … we're going to have to continue to check in as we go."
The EPA case study noted the ports' plan presents useful best practices and lessons learned that other port authorities and near-port communities across the country could look to as a guide when developing similar plans. In particular, the EPA noted the ports' collaboration with surrounding communities, their annual emissions inventories, setting quantified emissions targets, supporting technical innovation and developing partnerships with industry and government.
Environmental justice was a focal point of the EPA study, which noted nearby communities were able to elicit change by participating in environmental agency deliberations and cultivating relationships with local elected officials to "elevate port air quality issues to city, county and state political discussions."
"Overburdened communities near the San Pedro Bay Ports have borne the most direct air quality impacts of port operations," the study reads. "Communities in Southern California successfully drew attention to their concerns and accelerated the development and implementation of the CAAP."
In the way of advancing technology, the ports have received nearly $150 million in grant funding to demonstrate near-zero emission equipment, which represents half the total cost of those projects, Arms said. In all, the port will ultimately have 65 pieces of zero-emissions equipment in operation at its terminals, including electrified rubber-tyred gantry cranes.
Nine of the container yard cranes are being operated by SSA Marine at Pier J, funded in large part by a $9.7 million California Energy Commission grant. The port, the commission and Southern California Edison have partnered to bring 25 zero- or near-zero emission vehicles, including cranes, trucks and yard tractors, to Long Beach terminals to test their performance in a real-world setting.
"[The cranes] are notable because that's taking an existing piece of equipment … and making it pure zero emissions," Arms said, noting they have a particularly high emissions profile. "Until this project, people weren't sure it would work."
Updated infrastructure, such as improved electrical grids and rail systems, also is necessary to meet emissions goals. The port's energy initiative is still underway, with the agency actively exploring the use of micro grids in partnership with SoCal Edison to make the electrical grid more resilient as additional electric, zero-emissions equipment is introduced.
The largest infrastructure upgrade underway at the port is its Pier B on-dock rail project, which aims to significantly increase the number of containers transported by train rather than truck. Planning for the $870 million project—part of the port's $1 billion rail capital improvement program—began over a decade ago, with the first new tracks expected to be operational in 2024 and more to come in phases through 2031.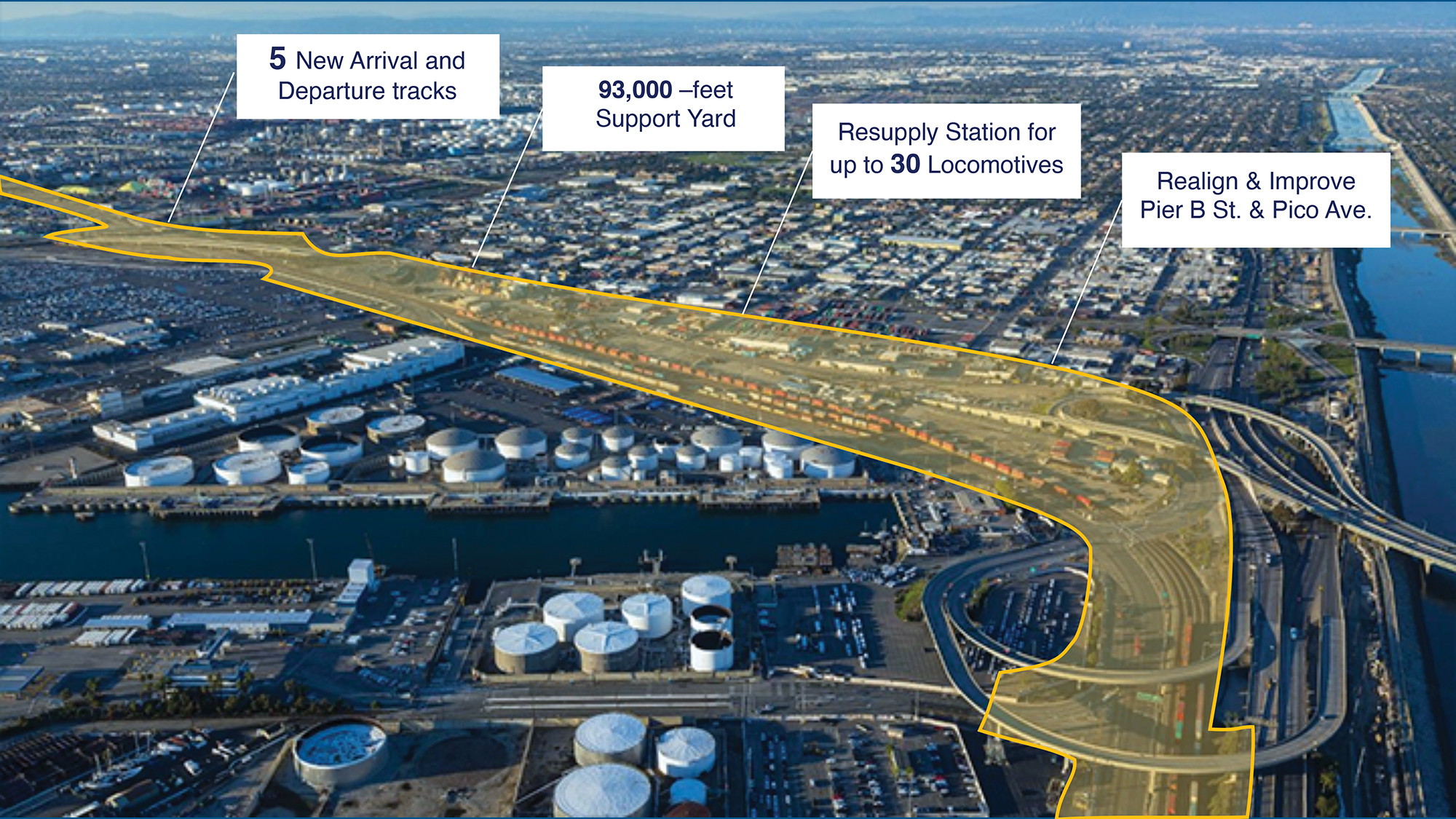 Currently, 28% of cargo is transported in and out of the port on rail but the Pier B project aims to increase that to 35%, eliminating 750 truck trips for each full train, according to port estimates.
For the trucks that remain, the port has already begun implementation of its clean trucks program. In 2018, the port required any truck entering drayage service to be a 2014 model engine or newer.
"Since that time, we have had over 5,000 trucks registered that are now 2014 model or newer and 65% of trucks are 2010 or newer," Arms said, noting that newer models produce less emissions. "It's a big accomplishment."
In March 2020, the ports implemented a $10 per 20-foot equivalent unit fee for trucks that do not comply with emissions standards. The move was criticized by clean air advocacy groups who said the amount was too low to be an effective deterrent.
The fee also met with opposition from truckers who drive natural gas-fueled rigs, which are cleaner than traditional diesel engines. The drivers felt they should benefit from the same exemptions as zero-emission trucks powered by electric batteries or hydrogen fuel-cells, which are not yet on the roads en masse. Exemptions for low-emissions trucks are under review by the port, Arms said, and the fees are not yet being collected.
The San Pedro Bay Ports are drafting the groundwork for the next steps of the clean trucks program, laying out strategies to ensure reaching their 2035 goals, Arms said. The draft is expected to be released for public comment in the coming months, he added.
The California Energy Commission and the California Air Resources Board recently announced a joint solicitation for a large-scale demonstration of a zero-emissions truck fleet, a concept previously published by the San Pedro Bay Ports. Arms said the ports have submitted to receive grant funding to host the demonstration and that he hopes to hear soon if they have been selected.
The San Pedro Bay Ports' plan has been voluntary since its first iteration in 2006, Arms said. While he was reluctant to say it has spawned similar plans by other agencies, Arms said he has at the very least seen spin-offs of specific programs that can be traced back to the Southern California port complex.
"When the CAAP was adopted, we were definitely ahead of the state and everybody else," Arms said. "We stepped ahead to get those early emission reductions. Then, not only did state regulations start to catch up, but now other states and ports are starting to adopt some of those programs and some of those goals. We throw down the target … and it's our hope and desire that other people follow."
Editor's note: This story has been updated with the amount of grant funding the ports have received.