Fresh out of the Great Recession, speculative development was scarce, especially on a scale as large as what would become the 261-acre Douglas Park. After failed proposals for housing at the former aircraft manufacturing site along Lakewood Boulevard in East Long Beach, a master plan was developed by Boeing, which owned the land, in partnership with the City of Long Beach.
In the early days of the master plan, Nexus Development purchased land from Boeing. The company closed on 4.5 acres in 2011 and began construction of the Courtyard by Marriott Long Beach Airport and a small strip center that is now home to Starbucks, The Habit Burger Grill, The Flame Broiler and more.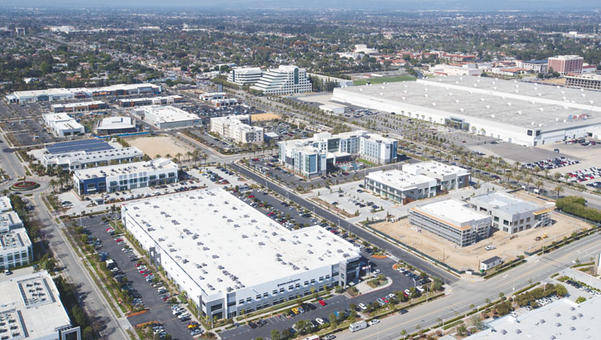 Center foreground is the home of Universal Technical Institute, a national private sector post-secondary school for automotive, diesel, marine, motorcycle and other vehicular technical fields, that opened at Douglas Park in 2015. The cluster of four 25,000-square-foot buildings to the right is The Terminal at Douglas Park, which includes creative offices for sale or lease. Phase I is sold out, with several businesses moved in. One building of Phase II is in escrow; the other has space available. Phase II construction is expected to be completed third quarter of this year. North of The Terminal is the recently opened Hampton Inn and Homewood Suites.Right center is the western region sales and services operation for Mercedes-Benz USA. (Business Journal photograph by Matt Fukushima, April 26.)
"We didn't know early on that we were going to have that retail. It was more hotel only. But as I spent more time up there, I realized there was a shortage of retail, especially food, for the people working nearby," Nexus President Cory Alder said. "So, we saw it as an opportunity and we were able to get the two retail pads approved. The tenants came in quickly and they are doing extremely well."
Later in 2011, Boeing decided to sell off a larger chunk of the property. Enter: Irvine-based property development and management company Sares-Regis Group. The company purchased 11 acres from Boeing and began construction on several speculative buildings. Shortly thereafter, Sares-Regis won a second competitive bid process for another 20 acres at Douglas Park along the southern edge of the property, on which the company constructed several more speculative buildings.
In 2012, Boeing decided to sell off the remaining 160 acres of Douglas Park and, once again, Sares-Regis came out on top. When all was said and done, the company purchased more than 190 acres of master-planned land from Boeing that included industrial, office and retail space.
"We loved the location, we loved the master plan and we took the risk to build these buildings without tenants and hoped for success," Larry Lukanish, senior vice president of Sares-Regis, said. "We took the long-term approach and it worked out for us. The real estate market has only gotten better in five years."
The Courtyard and retail center opened in 2013, when the rest of Douglas Park was still in its infancy, with Sares-Regis only beginning to delve into the massive site it had purchased the year prior. Alder said Nexus submitted a proposal for the 26 acres on the southwest corner of Lakewood Boulevard and Carson Street that had been designated for retail use, but that site ultimately went to Burnham-Ward Properties to develop what is now Long Beach Exchange.
Ultimately, Nexus acquired land just south of its Marriott hotel where it constructed the duel Hampton Inn & Homewood Suites by Hilton Long Beach Airport, which opened in December of last year. Alder said both development experiences – working with Boeing, Sares-Regis and the city – were positive and seamless, thanks to the detailed master planning that went into the site prior to any development.
"It was master planned with a great zoning code specific for that area that laid out exactly what the expectations were," Urbana Development Principal Richard Lewis said. "I'm proud of it. It's exciting to drive through and see buildings that you helped put there and to think of all the people there with jobs – we had a hand in helping the economy to grow."
Urbana developed about 100,000 square feet of medical office buildings in the early stages of Douglas Park, having begun negotiations for the land purchase with Boeing but ultimately finalizing them with Sares-Regis in 2012. Since then, Urbana developed a build-to-suit headquarters for Nautilus International Holding Corp. and is nearing completion on a four-building, 100,000-square-foot office condominium complex called The Terminal. The first phase of the complex, two 25,000-square foot buildings, is completely sold out. The second pair of buildings is scheduled for completion in the next two months and has interested buyers, according to Lewis.
Today, Douglas Park is home to several corporate headquarters, including Virgin Orbit, a branch of Sir Richard Branson's Virgin Group, two different firms named United Pacific, Rubbercraft, Turbo Air, Shimadzu Precision Instruments and more. The site is also home to numerous offices and industrial buildings, as well as Long Beach's largest experiential retail shopping center and a Universal Technical Institute of California Campus. (See Pages 24-25 for a complete list of businesses.)
Sares-Regis signed the largest lease ever done in Southern California, according to Lukanish, when Mercedes-Benz USA took up residence in a 1.1 million-square-foot hangar in 2014 as its West Coast headquarters for a 15-year term.
"The hardest piece was the retail because it was 26 acres. It was hard to find a retail developer that wanted to come here and build," Lukanish said. "Retail development wasn't coming back in 2012, 2013 or 2014. And then Burnham-Ward Properties said they had a concept for it that was open and experiential. It looks great and it's a great amenity to anchor this whole project."
Future Development
In January, Sares-Regis announced the last major development to take place at Douglas Park: Pacific Pointe Northwest. The project includes four corporate headquarter buildings ranging from 75,000 square feet to 135,000 square feet, and totaling 390,000 square feet.
Pacific Pointe Northwest's buildings are speculative and will not be marketed until construction begins around July or August, Lukanish said. However, with Virgin Orbit already expanding its presence in Douglas Park into a second building this year, Lukanish thinks the final project could provide room for expansion for other companies that already call Douglas Park home.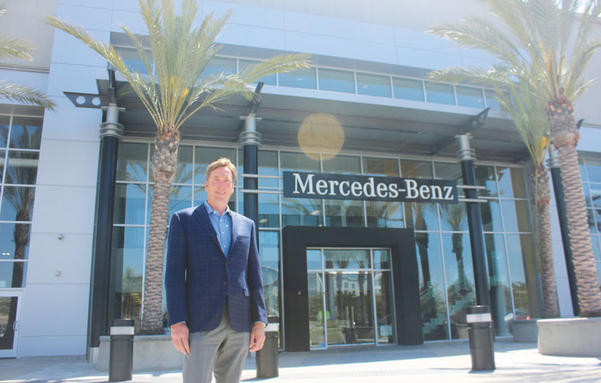 Irvine-based property development and management company Sares-Regis Group is nearing completion on the development of 194 acres in Douglas Park, which the company purchased from Boeing in 2011 and 2012. Larry Lukanish, pictured, senior vice president of Sares-Regis, said the 1.1 million-square-foot, 15-year lease with Mercedes-Benz USA is the largest lease ever closed in Southern California. (Photograph by the Business Journal's Brandon Richardson)
"There is not a lot of new space for these companies to be efficient in. At some point, they'll run out of space for their business growth and that's when they'll pack up and move," Lukanish said. "But if there is space, they'll pay more money to stay local if they can. We'd love to keep delivering product for tenants to grow because they are job generators."
Aside from possible expansions within the park, Lukanish thinks South Bay companies needing more space are the likely future tenants of Pacific Pointe Northwest. He noted that most of Douglas Park's tenants have come from the South Bay area and that not a single company is a transplant from Orange County. Pacific Pointe Northwest is expected to be completed by the beginning of the second quarter next year.
Signal Hill-based 2H Construction owns one of the only other sites that has not yet been developed. The company recently closed a deal to construct the core and shell of a new 22,000-square-foot headquarters for Turelk, a tenant improvement contractor that currently houses its 100 employees at 3700 Santa Fe Ave. in West Long Beach.
According to Lee & Associates' Jeff Coburn, 2H will begin construction of the building by the end of the year and retain ownership upon completion. Turelk is handling the design and construction of the interior of the building, which is expected to be completed by the second or third quarter of next year.
Architecturally, Douglas Park has a consistent aesthetic throughout due to the fact that DRA Architects had its hand in the designs of about 85% of the site, according to principal and co-owner Carrie Hoshino. The firm first got involved in Douglas Park in 2009 working on building designs with LD Products, which ultimately opened its LEED (Leadership in Energy and Environmental Design) Platinum-certified headquarters and warehouse in 2012.
Within Douglas Park, DRA has designed corporate headquarters, office and industrial buildings, and even designed the Long Beach Exchange retail center. Hoshino described the theme as contemporary combined with historical elements that reference Boeing and McDonnell Douglas through the use of metal panels and concrete, materials that happened to make projects more economical.
"We feel very fortunate and very blessed to have had this opportunity. We have many other industrial developers outside the area that now use Douglas Park as a reference point. It's like a datum that they refer to and it's the level people have to meet now," Hoshino said. "It is a great model and mixture of different uses and how that all blends together and increases the value and aesthetic of the area."
Sares-Regis recently purchased the 117-acre former Toyota campus in Torrance (which DRA is doing design work on) and already has several 100-plus-acre developments under its belt in areas like Ontario and Moreno Valley. However, totaling approximately four million square feet on the more than 190 acres, Douglas Park is Sares-Regis' largest-scale project to date. Between Sares-Regis and various other developers, Lukanish said $1 billion will have been invested in Douglas Park when the project is completely built out.
Prior to Douglas Park, Sares-Regis – which was formed in 1993 – did not have a presence in the City of Long Beach. However, since purchasing the land and beginning its development, the company's residential arm has embarked on three separate projects in Downtown Long Beach. Boeing still owns land adjacent to Douglas Park, as well as the former C-17 manufacturing site on the other side of the airport at Cherry Avenue and Wardlow Road. These properties are likely to be sold for redevelopment similar to the work that Sares-Regis has nearly completed at Douglas Park.
"It's kind of bittersweet to be at the end of a seven-year run. When we built the first phase, we had a slight vision of what could go on here. Now, when you drive through and see it all as a built-up park – yeah, it's exceeded expectations," Lukanish said. "You never know when the next phase will become available, but we'd love to work on it. We have loved the experience working with Long Beach and would like to keep going."