At Seaport Tire Company, what's old is new – and maybe even better.
The Long Beach-based tire retreading company, a certified elite dealer for Oliver Rubber Company (a wholly-owned subsidiary of Michelin North America), specializes in remanufacturing tires with tread wear that might otherwise end up in landfills or garbage dumps.
"There's just as much engineering that goes into a retread product as there is that goes into a new tire – in fact, sometimes almost more," says Seaport General Manager Bill Kroah. "We've done evaluations . . . on retreads versus new tires, versus different types of rubber and compounding, and the Oliver rubber has outperformed everything – even brand new major brand tires – by 10%."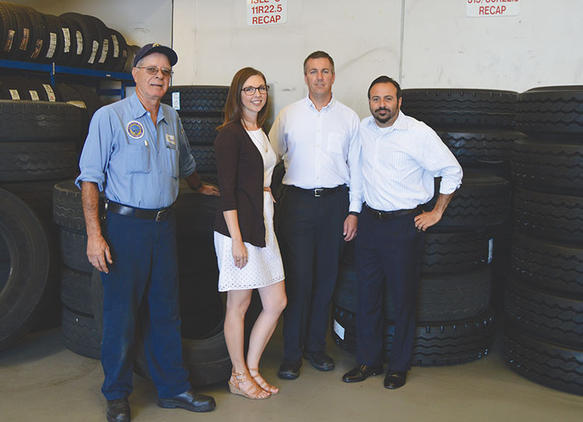 The City of Long Beach, through its environmental services and fleet services bureaus, has developed a novel program that recycles the tires from city vehicles. First, the city ships its worn down tires – such as those pictured at left – to Seaport Tire in West Long Beach which retreads them and sends them back for use – such as those pictured at right. Tires can be reused numerous times with this process, saving the city money. Once tires can no longer be used on city vehicles, they are converted into ground rubber and used as playground and other surfaces throughout the city. City employees pictured from left are: David Hernandez, tire shop technician; Leigh Behrens, recycling specialist; Sean Van De Ven, fleet services supervisor; and Diko Melkonian, general superintendent of the environmental services bureau. (Photographs by the Business Journal's Larry Duncan)
The self-described "green" company retreads roughly 10,000 to 11,000 tires per month and is the retread provider for the City of Long Beach, which currently uses retread tires on approximately 120 of its vehicles, including trash trucks, street sweepers and dump trucks.
In addition to the City of Long Beach, the company's clients span various business sectors and include the Port of Long Beach, which comprises roughly 80% of its customer base, as well as steamship lines, support vehicles, tractor trailer fleets, independent truckers, and the U.S. Postal Service in Southern California, spanning Bakersfield to San Diego.
According to the California Department of Resources Recycling and Recovery (CalRecycle), there are more than 44 million reusable and waste tires generated each year. For a city like Long Beach, that equates to roughly 475,000 waste tires annually, says Leigh Behrens, recycling specialist for the City of Long Beach.
"For the particular types of tires that we're doing for the City of Long Beach, in my past experience, we've retreaded tires in that type of application up to eight times," Kroah says. "So we've got five or six years' worth of retreads out of those types of tires on trash trucks."
In addition to the environmental benefit of diverting tires from landfills, extending the life of tires also impacts the bottom line by offering lower operating costs.
The cost of a retread for an independent trucker is roughly a third the cost of a new tire, says Seaport Operations Manager Larry Odell, who describes the company as "an arm" of new tires, rather than a competitor, noting that many major brand tire companies guarantee retread potential as a selling point to buyers.
"The reason why a retread is cheaper than a new tire is not because it's inferior," Odell stresses. "The rubber is high, high, high quality made by Michelin. But you're saving by having your original tire buffed down, [so] you're just paying for the rubber, not the whole tire."
Seaport's retread process includes an initial inspection for structural integrity, followed by rubber removal and repairing any deficiencies or small injuries, such as cuts or nail holes. New rubber is applied, and the tire is cured for 210 minutes at 250 degrees. (Seaport operates five curing chambers that each hold 23 tires.) Once the curing process is complete, the tire is re-inspected to ensure that the retread is properly cured.
Tires that are not able to be retread by Seaport are sent to BAS Recycling, which recycles tires into ground rubber for playground surfaces, sports fields, rubberized asphalt and other products.
Kroah notes that many large companies across the country use retread tires, despite it not being mandated. "When you're running a fleet of 50 big rigs, you have two major costs – fuel and tires," Kroah says. "And what we do is look at cost per mile."
"They have had retread programs for years," he says of large companies such as UPS, FedEx and Penske. "They know the math."
What About Passenger Tires?
As Kroah notes, passenger car tires are typically not manufactured to be retread. So the City of Long Beach offers free options for residents to safely dispose of their tires.
The city receives two grants from CalRecycle that fund programs allowing residents to dispose of tires for free. One of those programs is a monthly Household Hazardous Waste Collection Event, where residents can recycle up to nine passenger car tires every month. The event is held on the second Saturday of every month in partnership with EDCO Disposal, the City of Signal Hill and L.A.County Department of Public Works.
Long Beach residents also have the option of having their tires picked up by the city's trash service, which offers free pickups of up to eight bulky items twice a year.
"Tires that are illegally dumped are a huge problem in our community," Behrens says. "They're highly flammable, so if they catch fire, the smoke emitted is highly toxic. If they're stored outdoors incorrectly, they can collect standing water which mosquitoes breed in, so that's a public health hazard. And they cause blight in our community when they're dumped illegally."
In 2014, the City of Long Beach collected 52.75 tons of tires – or the equivalent of roughly 5,200 passenger tires – via collection events and cleanups, Behrens says. All collected tires are recycled at CRM Rubber in Rancho Dominguez, where they are ground up and recycled into various products.
For more information about the City of Long Beach's tire recycling programs, visit www.longbeach-recycles.org.