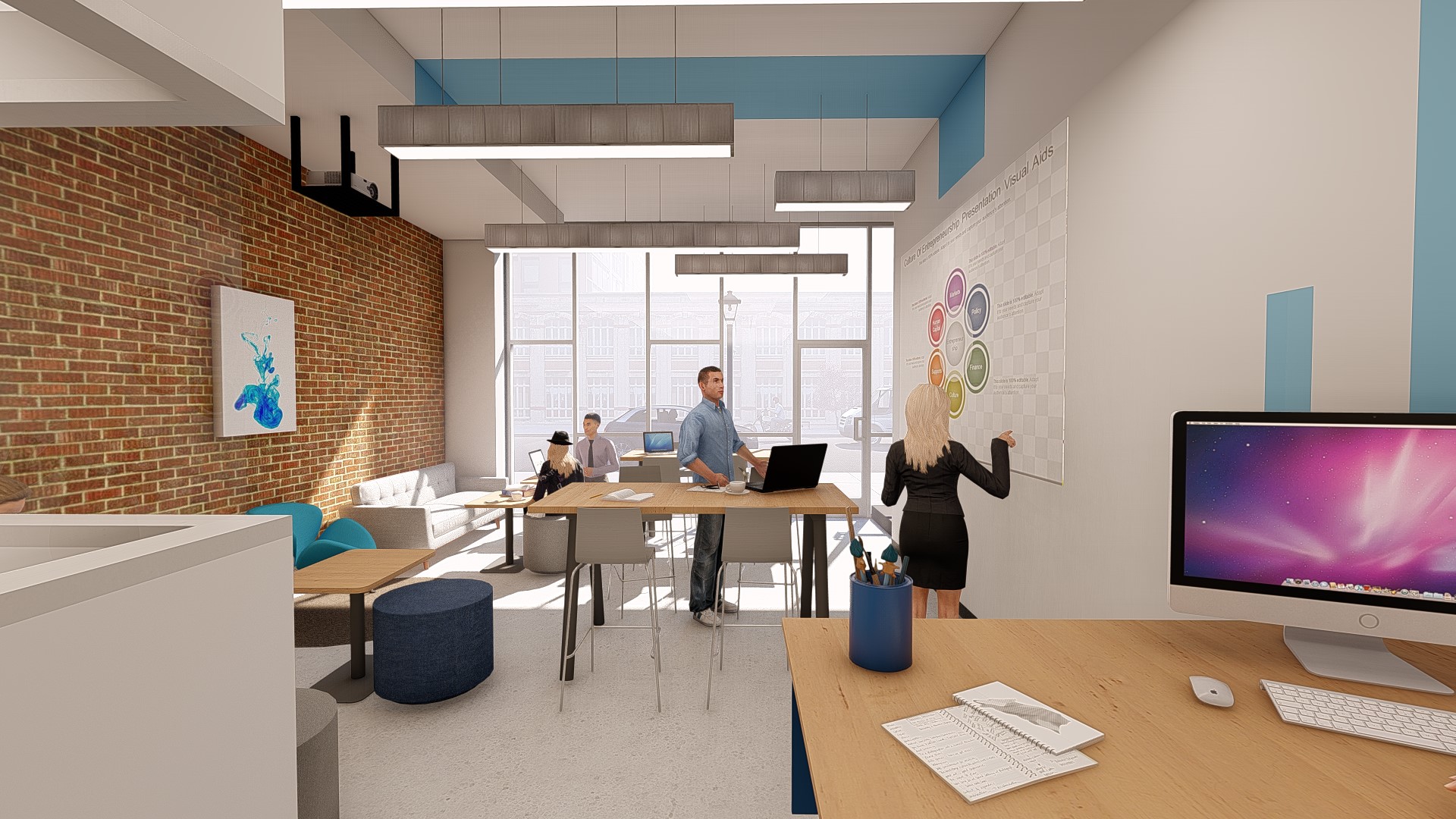 After years of planning and construction, the Shaun Lumachi Innovation Center is finally slated to open later this month in Downtown Long Beach.
The folks behind the center—which will operate as a partnership between the city of Long Beach, Long Beach City College and the private co-working company BLANKSPACES—hope it will become a hub for entrepreneurship in Long Beach.
"We're bringing together the government, an educational institution and the private sector to provide an actual physical space for entrepreneurs and startups," Long Beach's Economic Development Director John Keisler said by phone. "And through that space, we'll not only build the infrastructure for entrepreneurship but also provide the technical assistance and access to capital. So that's the big context here. This is what makes it unique."
Long Beach owns the building, at 309 Pine Ave., and it will be used day-to-day as a BLANKSPACES co-working site. Long Beach City College's Small Business Development Center will also provide programming, one-on-one consultation and other support for small businesses at the center.
The site is named in honor of the late Shaun Lumachi, a well-known entrepreneur and small business advocate in Long Beach who co-founded the Long Beach Post in 2007. Lumachi died in a car crash in 2011.
The center bearing his name does not yet have an opening date, but officials are confident it will start welcoming workers and entrepreneurs later this month.
The opening has been a long time coming. The Long Beach City Council first approved a lease agreement that formalized the partnership in late 2017, and the idea at the time was to open up the center the following year. But construction issues caused delays, and then the COVID-19 pandemic hit.
"It's been a long stretch—two years for [a request for proposals], four years from pre-construction to construction, so it's great" to finally be opening, BLANKSPACES' founder Jerome Chang said in a phone interview. "But just like everyone else, opening a location or business during the pandemic—I have some concerns or anxieties, but I also have optimism."
If there were ever a time to open a center dedicated to supporting entrepreneurship, though, the post-recession era of a pandemic, when restrictions are finally easing, may be ideal.
"Post-COVID, the office market has changed," Keisler said, "and we're learning that we're fitting into that really nicely. It's perfect."
Specifically, Keisler pointed to the fact that many companies are moving away from the traditional large office space and instead providing more flexibility for employees. For workers who prefer to work in an office, or who want a space to meet with clients outside of their own homes, Keisler said renting out a desk in a place like BLANKSPACES can be much cheaper for companies while still meeting employees' needs.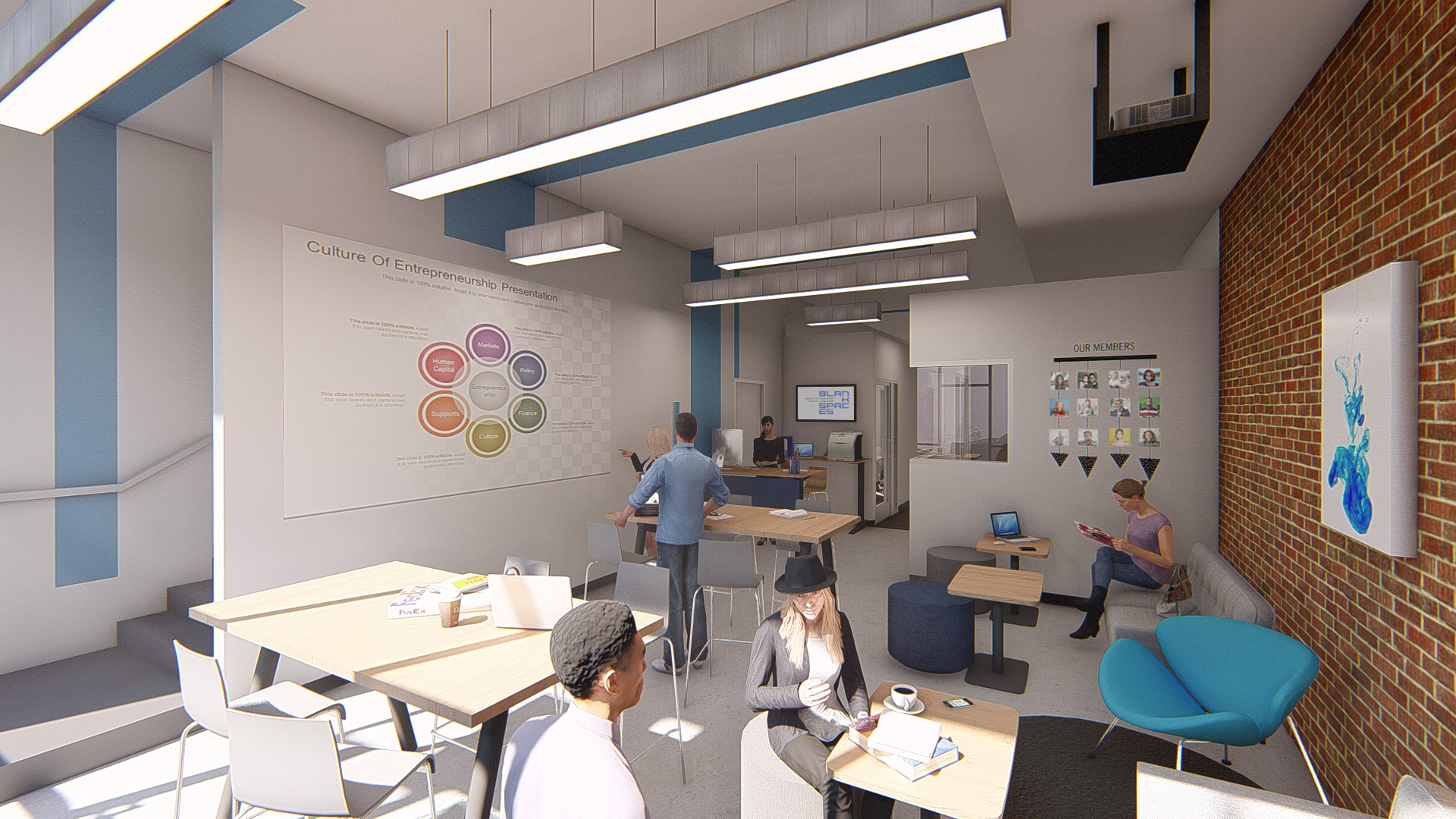 Part of the reason the partnership made sense even before the pandemic, Keisler and Chang said, was that research indicated many companies were already moving toward more virtual operations. COVID-19 only accelerated that momentum.
Chang pointed to a paper that real estate services firm JLL published in early 2019 that predicted that flexible space like co-working sites would comprise 30% of the office market by 2030.
"Since the pandemic, a lot of the industry folks and real estate folks have believed that we might hit that 30% faster," Chang said. "We actually think this is a windfall for us."
While the co-working space will benefit large established companies as well as small business owners, the programming provided by Long Beach City College's Small Business Development Center will be geared toward entrepreneurs who are finding their footing.
Pat Nye, the director of Long Beach City College's Economic Development Division, said it will be a place where small business owners can get hands-on training for everything from how to access capital to drawing up a business plan.
"For everything you might imagine a small business experiencing, we have experts that can sit down and coach them one-on-one," Nye said.
The SBDC will also likely offer workshops and other programming at the center as needed.
As for what the Shaun Lumachi Innovation Center will mean for the Long Beach economy more broadly, Keisler said he hopes it will both spur innovation and encourage entrepreneurs to set up shop here and stay for good.
"It's a place for nascent, early-stage startups to come out of our universities and community colleges and to have a place in Long Beach," he said. "It's going to be a massive, massive help for us post-COVID, not only to attract new talent but to retain the talent that's already here."