Partnerships between local educational institutions and companies have helped narrow the gap between employers' needs and the skills of current applicants in recent years, but a shortage of qualified engineers still persists and more graduates in science, technology, engineering and math (STEM) disciplines are needed to meet demand, business and university leaders told the Business Journal.
The concern for decades across the nation has been whether there will be enough skilled applicants to fill positions left by retiring senior-level engineers. More recently, growing companies are seeking prospective engineers to heed the call of making sure the United States remains a leader in technology and innovation.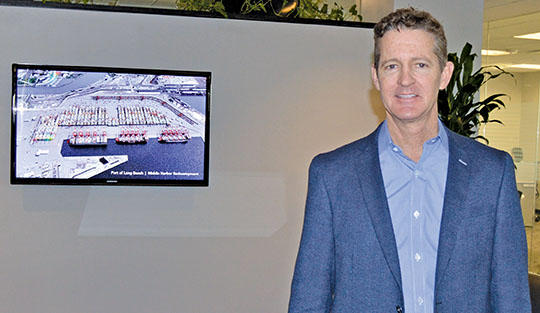 Kevin Peterson is president of Long Beach-based P2S Engineering, which provides electrical, mechanical and construction management engineering consulting services for a number of local projects, including the Middle Harbor redevelopment at the Port of Long Beach. (Photograph by the Business Journal's Larry Duncan)
While progress has been made in bridging the so-called "skills gap," many companies continue to experience challenges with recruiting enough qualified applicants in a wide variety of disciplines, including mechanical, electrical, environmental, aerospace, civil and manufacturing engineering fields.
Forouzan Golshani, dean of the College of Engineering at California State University, Long Beach (CSULB), said in recent years the Long Beach Unified School District and local community colleges have made strides in building a "pipeline" of students seeking engineering and sciences as a profession.
In fact, the number of engineering graduates produced through CSULB's College of Engineering has doubled over the past eight years, increasing from about 430 graduating engineers in 2007 to more than 1,000 graduating engineers last year, he said.
"We have taken the message that we should not overlook STEM disciplines and that we should prepare students for success in these areas that are the backbones of successful study in engineering or sciences," Golshani said. "Because of that, we have been able to increase our enrollment . . . We are producing an astounding number of engineers who are successful in the regional workforce . . . We are very active and we continue our work to do what we can to help solve the nation's problems."
Still, with many engineering industries expected to grow over the next decade, and as more senior engineers retire, there are still concerns that there aren't enough qualified applicants coming out of universities to meet the projected demand in the United States, which competes with highly skilled applicants in other countries, he said.
"It is not so much that we are completely out of qualified engineers for various jobs," Golshani said. "It's that the potential for this country is so great that we need to be producing many, many more engineers to keep up with the global competition that has started in the past decade and a half."
He added that other countries are gaining in technology and innovation, and the only way the U.S. can maintain its "sovereignty and superiority" that has lasted over a century is to produce enough talent that can support the country's "innovation engine."
Golshani noted that many engineering students come from other countries to study in the U.S., adding that, if more students locally aren't entering STEM fields, companies in an increasingly global economy may be forced to look elsewhere to find talented applicants.
"We definitely want to give preference to U.S. born individuals, except that, if they're not going to go into these disciplines, then you have to rely on transplanted individuals to come and study," he said.
In addition, there has been more focus on encouraging women to enter engineering fields, Golshani said, adding that, unlike other professions such as medicine and law that enjoy gender parity, engineering continues to be "lopsided" with an 80 percent male and 20 percent female workforce.
"Women have not participated as strongly as we would like them to in this field," he said. "Part of the solution is to tell the young women that this is a great career for them and that they can make great contributions to a field that directly impacts the quality of life for people."
Golshani pointed out that, despite the loss of Boeing's C-17 production plant, the aerospace company continues to hire engineers in Southern California, which still has a large base of suppliers. He said the industry locally is shifting from manufacturing to more technically oriented positions.
Boeing's operation in Seal Beach is expected to grow to over 2,000 engineers in the foreseeable future, adding that the company hired 1,000 new engineers last year, Golshani noted.
"Boeing has changed its workforce here," he said. "It is not completely gone. The manufacturing and building of whole airplanes have left Southern California with the C-17 shutting down, but engineering work is coming from Boeing because they recognize the talent pool that exists here. It's just that the nature of the work that they do has changed and will continue to evolve in the foreseeable future."
Nationally, however, there is still a great need for engineering in manufacturing, although the type of engineers needed in today's workforce have changed from decades ago, according to industry experts.
While many companies have offshored manufacturing jobs to other countries with lower labor costs, many of those jobs are now returning to the United States, such as the automotive industry, albeit more related to working with automation and technologically advanced equipment.
The national Manufacturing Institute, considered an authority on the attraction, qualification and development of world-class manufacturing talent, issued a report in 2015 stating that over the next decade nearly 3.5 million manufacturing jobs, including engineering jobs, will likely need to be filled. The skills gap is expected to result in 2 million of these jobs going unfilled, the report states.
"The situation is definitely a reality, and it's only going to get worse," said Jeannine Kunz, director of Tooling University for the Society of Manufacturing Engineers (Tooling U-SME), which is based in Ohio and is considered an industry leader in the United States for online manufacturing training and working on comprehensive programs.
She said the shortage of skilled applicants has already caused manufacturers in the United States to have trouble with meeting customer demand and has forced companies to run a second shift because they don't have the people to run the job.
"It hasn't gotten better," Kunz said. "The challenges and issues the manufacturers are facing continue to be repeated in the research . . . It's pretty prevalent among manufacturers that the issue exists."
Over the last five years, many companies have been challenged with developing programs to attack the skills gap problem, she said.
Kunz said the main focus of Tooling U-SME is to help supplement curriculum for students at schools across the country while working on developing partnerships between educational institutions, local communities and employers to address the situation. In many cases, employers are providing funding to schools through an education foundation to bolster such programs.
Locally, many engineering firms have become more proactive in working with local educational institutions, such as at career fairs, in order to help address the issue and recruit talented applicants.
Kevin Peterson, president of P2S Engineering, which has been based in Long Beach for 25 years and which provides electrical, mechanical and construction management engineering consulting services, said the company has grown over the last three years, adding about 50 new employees.
He said the company sees no shortage of people applying for jobs, noting that the company receives about 1,000 to 2,000 applications for open positions. From that pool, the company interviews about 100 applicants. However, many of the applicants lack the experience needed for the job, Peterson said.
"From an industry perspective, the skills gap still exists," he said. "I don't think it's been narrowed quite yet."
Peterson said the impact on the industry is that companies have become more efficient and in some cases have acquired other firms in order to obtain experienced, qualified talent.
Still, he said that the curve is going back up in engineering schools, such as at CSULB, as universities have recently taken major steps to increase the number of engineering graduates that had been on the decline across the nation.
He said the company has also been more proactive in strengthening ties with local universities in an attempt to recruit more engineers while implementing workplace practices to boost employee retention.
Brian Kundert, senior vice president of human resources for Arcadis, an international design and engineering consultancy firm that has offices in Long Beach, said there still remains a shortage of engineers across the country and the world, adding that the need is interdependent on location.
"I don't know a time when there wasn't a shortage of engineers and it's still true today," he said, adding that the company does its best to hire entry level engineers to grow the skills of individuals within the company. Kundert said that the shortage persists primarily for engineers with experience.
Julio Nuno, vice president of environmental services for Long Beach-based SCS Engineers, which provides engineering services related to landfills, said the company has recently seen longtime engineers retire, leaving a void.
He said that the number of qualified engineers has somewhat increased from about a decade ago, but the biggest problem is finding mid-level engineers with "specialized" experience.
"I think the biggest problem we have is finding those mid-level people with the right experience and demeanor to be in the consulting business to be able to provide the services that we need," Nuno said. "We will get a fair number of applicants whenever we do have a position that's available. It's just trying to find the right person with the right experience."