It's safe to say that meeting planners and conventioneers rarely find urban meeting places in the United States where the waterfront is their backyard and the sky is their ceiling. And when they choose the City of Long Beach for a site visit, the sky is the limit.
That's because the Long Beach Area Convention and Visitors Bureau (CVB) is thoroughly prepared to promote the city and its amenities, offering an interactive and comprehensive tour that caters to the unique needs of every client, says CVB National Sales Director Mary Jane Myers.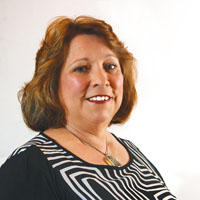 Mary Jane Myers, national sales director for the Long Beach Area Convention & Visitors Bureau (CVB), places an emphasis on getting to know clients so that once they make site visits to the city, the CVB is able to make them feel right at home. It's just one strategy in a detailed process aimed at booking business for the city. (Photograph provided by the Long Beach CVB)
The process of getting a client to visit the city to experience its amenities, however, can be quite arduous. It can take more than a year, beginning with sending initial information about the city and its events to intrigue potential clients, followed by a series of conversations and proposals. In the process, the CVB is also competing with other cities, making it critical for staffers to become aware of and knowledgeable about what its competitors have to offer.
Once clients make it to Long Beach, however, the payoff is clear. "It takes a long time, but it's so worth it," Myers says. "Once we get the client to Long Beach, it's pretty easy to sell them because it's an amazing city."
"The convenience of the hotels to the convention center, how compact the city is and its walkability lends to people connecting when they're in town, which gives them the ability to collaborate with one another, and that builds a stronger sense of community within the organization," Myers adds. "And clients love that."
While many clients may have already been introduced to the City of Long Beach through prior video and presentations, the in-person site visit typically seals the deal.
"I tell them you will feel this welcome – the feeling of home," Myers says of the city's ambiance. "It's a community feeling you won't get anywhere else, and I think they feel that even before they get to the city. So they're not surprised when they get here, but they are pleasantly welcomed, and they really love what they see."
Site visits to the city typically last for a day and a half to two days, with a detailed and thorough schedule in place that is highly coordinated amongst the CVB, hoteliers, restaurants and political leaders. For instance, information is sent to all of the hoteliers involved with housing the group on what's important to the client, challenges they see with coming to the city, and how the city can overcome those challenges.
"When a meeting planner comes into town, they will envision their meeting happening in this city and how convenient it will be," Myers says. "And we help convince them that this will be the right choice."
Prior to the visit, the CVB develops a comprehensive client profile that paints a picture of the client's interests, including their favorite food and drinks, favorite sports teams, hobbies, and if they have children and pets, among other things. VIP gifts are then placed in the client's hotel room according to their preferences.
While Myers says developing a client profile is standard at most CVBs, Long Beach is distinguished by its strong hospitality.
"I have had multiple clients say that their site visit to Long Beach was the best they've ever had," she says. "[They talk about] how fun it was and how much they felt cared for. I once had a client say, from the mayor to the bellboy, everybody made them feel so welcome."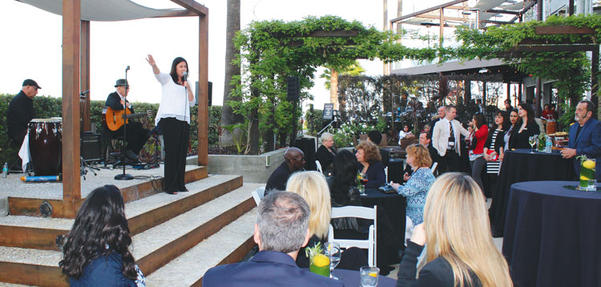 Kristi Allen, vice president of hotel operations for Ensemble Real Estate, whose portfolio includes the Hotel Maya, a DoubleTree by Hilton Hotel, welcomes potential clients and meeting planners to Long Beach. (Photograph provided by the Long Beach Area Conventon & Visitors Bureau)
A client's visit often begins with breakfast at a local hotel, where the general manager and director of sales/marketing are waiting and ready to greet the client with a special beverage, followed by a personalized sit-down conversation.
"Everybody's ready to go when we get to the hotel," Myers says. "And that speaks volumes over and over and over again – at every hotel and at the convention center."
The CVB then hosts a special lunchtime hospitality reception that convenes general managers and directors of sales from hotels involved with hosting the client's event, key members of the CVB, and many times city leaders such as the mayor.
"Everyone focuses on that client and their needs," Myers says. "They're the center of attention. That is so appreciated by the client because they feel really special and [enjoy] being in the beautiful waterfront location and having excellent hotels and hoteliers who go out of their way to truly make them feel welcome."
Myers notes that the city's hoteliers also work together well in marketing the city. "They understand that it really takes the city to make this happen, so there's not that competitive edge going on," she explains. "There's a welcoming and a coming together in Long Beach."
Dinner is arranged at another local restaurant, oftentimes in a different part of the city to showcase Long Beach's unique neighborhoods, Myers notes, adding that fun excursions such as boat rides or a water taxi to the Queen Mary are also incorporated into the client's visit.
Special requests, such as fireworks and customized food tastings, are also accommodated. "We once had someone who wanted a tasting of comfort food, but they didn't define what comfort food meant," Myers recalls. "The convention center did a taste testing and it was off the charts. They did an amazing job. The client loved it and they ended up booking."
Catering to client needs is key when it comes to a successful site visit, Myers says.
"We focus in on paying close attention to client needs and the needs of the meeting," Myers explains, "and showing them under no uncertain terms how they will have an amazing and successful meeting in Long Beach."