Signal Hill is home to numerous corporate chains, including Best Buy, Costco, Office Depot, Home Depot and In-N-Out, and small, local businesses such as Curley's Cafe, Marketink XL and LB Walker Automotive. Because much of the city's budget relies on sales tax revenue, retail, food and service businesses are a backbone of the Signal Hill economy.
The city is known for its business-friendly environment, according to local business owner and Signal Hill Chamber of Commerce President Melissa Guy.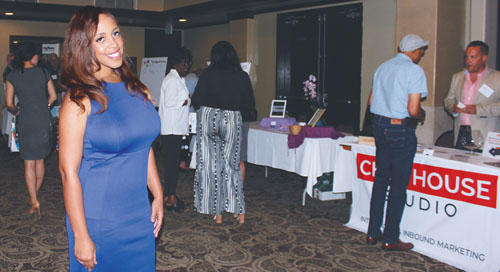 Signal Hill business owners have told Melissa Guy, president of the Signal Hill Chamber of Commerce, that they enjoy conducting business in the city because there is no red tape. Guy and her husband own Asset Media Group, a video production firm. (Photograph by the Business Journal's Brandon Richardson)
"The business climate in 2018 has continued to grow. Honestly, the attitude of the business owners is very optimistic," Guy said. "They are receiving great results. We all generally have the consensus that doing business in the City of Signal Hill is one of the reasons that we're all succeeding."
Low crime, easy accessibility off the 405 Freeway and its location at the heart of Long Beach between Los Angeles and Orange counties are great advantages for businesses in the area, Guy said. Continued development in Long Beach and surrounding areas is also a boost for the Signal Hill business community, she added.
Within Signal Hill, numerous development projects were recently completed, are underway or are planned. These developments include retail, office and industrial space, as well as at least 320 residential units. These projects will bring new residents and workers to the city, which should increase business, Guy said.
"I'm finding that many people who are opening businesses here are looking to move here. Because the business experience is so great, they want to live here," Guy said. "And vice versa – folks that are residents moving into the city who are [already] business owners are looking at the business opportunities within Signal Hill at future developments."
As president of the chamber, Guy speaks with many business owners about their experiences working with other city governments. She said businesses that have relocated to Signal Hill from other cities note that the city has less red tape, allowing them to open up shop quicker, and thrive.
The Signal Hill Chamber of Commerce has nearly 300 members, and its mailing list has grown to 700 subscribers, Guy said. The city has in the neighborhood of 1,200 businesses, she noted, which equates to around an impressive 25% business participation rate for the chamber.
"I believe that one thing our business owners pride themselves on is active engagement in our community," Guy said. "If you look at the percentage of active members in our chamber and compare it to other local chambers, some cities have about a 3% to 5% engagement rate. Those are the high-performing chambers. Typically, it's around 2% for the average chamber."
Service Businesses
Sal Lombardi, owner of LB Walker Automotive, said business has been booming all year, with not a single slow day. This year's success is a continuation of a strong 2017, he noted. In addition to his basic car services, Lombardi said his fleet services and classic car restoration business continues to be strong.
"Our classic car business has just gone through the roof. Not a lot of people like working on [their cars] because it takes a lot of time, and parts are hard to find," Lombardi said. "I just embrace it. Right now I've got a '54 Cadillac, a '51, a '39 and it keeps on going. I have at least one or two a month. I'm living the American dream right now."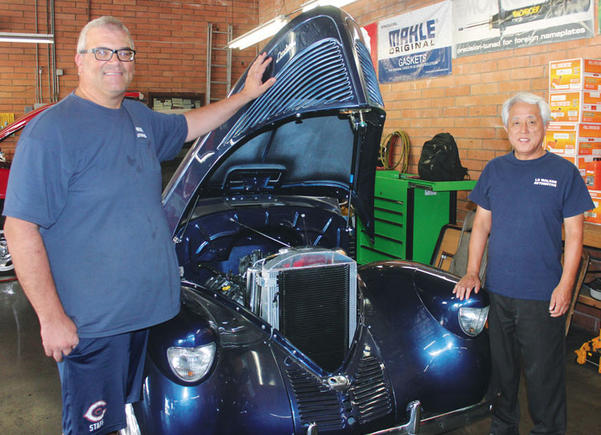 Sal Lombardi, left, and Brian Lee, owners of LB Walker Automotive on Wardlow Road and California Avenue, said they hope to open a second shop within the next year to keep up with business growth. (Photograph by the Business Journal's Brandon Richardson)
The auto shop recently added its third fleet service account, Emerald Metal Products Inc., which is joining C.S.I. Patrol Services Inc. and B&I Construction. Lombardi said he would like to open a second shop within the next year.
Business for PIRTEK Long Beach, a hydraulic hose maintenance company, has been up, according to owner and principal Paul Martin. The strong economy has led to increased infrastructure spending, development, and oil operations, all of which utilize hydraulic systems, Martin explained.
"The first six months this year [revenues] were up approximately 15% over last year. It's been nice and steady, and things are looking up," Martin said. "I don't see any real problems arising in the next 12 to 18 months, but once you get that far out it gets a little hazy."
Trade conflicts could have a negative impact on his business if operations slow down at the Port of Long Beach or if construction declines as material costs increase, Martin said. But for now, the business outlook is good, he said.
Much of Martin's business is delivered to clients in the field, be it replacement hoses or maintenance on existing hoses. Signal Hill's central location between L.A. and Orange counties, as well as its proximity to the 405 Freeway and the port, are extremely beneficial for business, Martin noted.
For Ship & Shore Environmental Inc., an industrial air pollution capture and control system design firm, Signal Hill's proximity to the Long Beach Airport is convenient for clients flying to the area, President and CEO Anoosheh Oskouian said.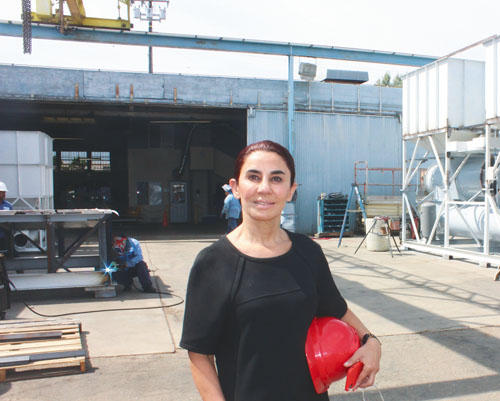 Ship & Shore Environmental is in the process of establishing a permanent presence in China and expanding operations to the Middle East, according to President and CEO Anoosheh Oskouian, pictured at the firm's Signal Hill headquarters. The company designs industrial air pollution capture and control systems. (Photograph by the Business Journal's Brandon Richardson)
Recently, Ship & Shore diversified to include services related to groundwater and soil remediation. Despite ever-present concerns about the Trump administration's stance on environmental issues, Oskouian said her business is likely to be unaffected.
"The states, as well as the local agencies, are still staying on top of the important [environmental] issues," Oskouian said. "That gives us opportunities to constantly come up with new ways to handle these issues and increase our workforce as a result."
Business growth has been between 10% and 15% for the last couple of years, Oskouian said, adding that she expects this year to be about the same. Oskouian is in the process of forming a joint venture under the Ship & Shore banner with a Chinese company. In the past, Ship & Shore has worked on projects in partnership with the Chinese firm, but a joint venture would give her business a permanent presence in China, Oskouian explained. The firm is also working to expand to serve the Middle East, she added.
Ron Kleijn, owner of Rossmoor Pastries since April 2016, said business is up double digits over last year. Kleijn's business comprises three divisions: a retail shop, a cake studio and a wholesale operation. The wholesale division serves A-list customers in L.A. and Orange counties, he said.
"From our perspective, the business is healthy, it's vibrant, it's growing. We're investing heavily in it and will continue to do that," Kleijn said. "Our wholesale business is accelerating at a faster pace, and that speaks to a couple of trends happening in the market: there are fewer suppliers producing fresh baked goods; there are fewer skilled people, making it harder for food service companies to make their own products; and the labor market is getting tighter and tighter."
Rossmoor Pastries' product portfolio is reevaluated and tweaked every year to keep it fresh and new. Recently, the company launched a new website for its wholesale business under its parent company name, Matt & Nat Bakery Group. The retail shop will continue operating as Rossmoor Pastries, while business-to-business sales will be conducted under the Matt & Nat name.
After completing a major expansion last year, Encore Welding Supply is pushing almost 30% growth year over year, according to President Ben Anderson. With growing business comes a growing staff, which now consists of 24 employees, Anderson said. In 2019, the company is expanding to additional cities and states, which Anderson said are to be announced at a later date.
Encore produces and distributes around 50,000 cylinders of welding and specialty gases annually, Anderson said. The total cubic feet of gas depends on the size of the cylinders, he noted. The Encore executives enjoy operating in Signal Hill, which is evidenced by the fact that they opened their second location just blocks away from the first.
"Signal Hill is just an extremely user-friendly place to operate. I recently prompted another company [Louisiana-based Specialty Welding and Turnarounds] to do a long-term lease of a building here because of that," Anderson said. "They wanted to open a West Coast office, so they asked me where, and I said, '100%, Signal Hill.'"
Mitch Kron, CEO of Big Studio Custom Apparel, said business has increased about 8% over last year, which has been an ongoing trend for several years. Kron has offered screen printing services in the area since 1988 and has operated out of Signal Hill for the last 19 years. Today, the company offers screen printing and embroidering services for apparel and accessories. In the past year, Kron has hired several employees, bringing the total to 30.
"We have what I would call a very eclectic mix of clients. We do some national accounts, but we still cater a lot to local business," Kron said. "Our school business in and around the Long Beach area is growing really fast."
Big Studio screen prints items for Longfellow Elementary, as well as Hughes and Rogers middle schools and Lakewood, Polytechnic and Wilson high schools. According to Kron, 60% of his business is local, while 40% comes from national accounts.
Business for Marketink XL, which specializes in large format and events graphics production, has been strong and steady, according to owner and Principal Mercedes Sepko. The company's growth rate peaked last year, but business from existing clients continues to swell, accounting for a large percentage of increased revenue.
"As a Latino woman-owned small business, we are all too familiar with pushing through the hard times, and are definitely grateful for the improved economy that we are currently experiencing in Signal Hill," Sepko said in an e-mail to the Business Journal. "Last year's growth led us to expand our floor space to twice its size [and] invest in upgrading our printing equipment with newer technology, which allowed us to improve product quality, offer additional services to our customers, and continue defending our position in the local market as its fast and reliable resource for large graphics."
Sepko is in the process of hiring two more employees, and noted that both Signal Hill and Long Beach have a great talent pool to pull from. She explained that she prefers to hire local, as it allows for an overall better experience and quality of life through shorter commutes, better work and family balance and a "higher sense of camaraderie."
Inclement weather at the start of the year slowed business for Allied Refrigeration, according to CEO Robert Nichols. However, during the spring, business began to pick up. Record-setting heat this summer gave the company its two most successful months ever in June and July, with business up 20% year over year.
Nichols' great uncle moved to Long Beach from Iowa in 1912 and founded Allied Electric in 1914. In 1934, the company formed the refrigeration division. At the end of World War II, the company dropped its electric division to focus on Allied Refrigeration. The company had three locations in Long Beach before moving to Signal Hill in 1970. The Signal Hill location was at the site of the 1958 Hancock Oil Co. refinery fire, which killed two and injured eight, making Allied the first company to move to the site following the blaze.
"[The reason] we moved there was to escape the bureaucratic entanglements of the City of Long Beach," Nichols said. "Signal Hill is much more business friendly, and we enjoy being here. I'm born and raised in Long Beach. I still live there. I love Long Beach, but Signal Hill is great for business."
Food Establishments
Curley's Cafe has been a Signal Hill institution since 1932, and John Toman has owned the restaurant and bar for more than six years now. Toman said business has been solid, with a strong breakfast, lunch and dinner crowd. The eatery is currently working on a new dinner menu that will include steaks, fish and chicken options, as well as more greens and fruits for its health-conscious patrons, Toman said. But patrons needn't worry about the demise of Curley's favorites, such as its chili, he added.
The dinner menu items will be served up in a newly remodeled back room, which is currently in the planning stages, Toman said. Menu changes and renovations will not lead to price increases, he noted.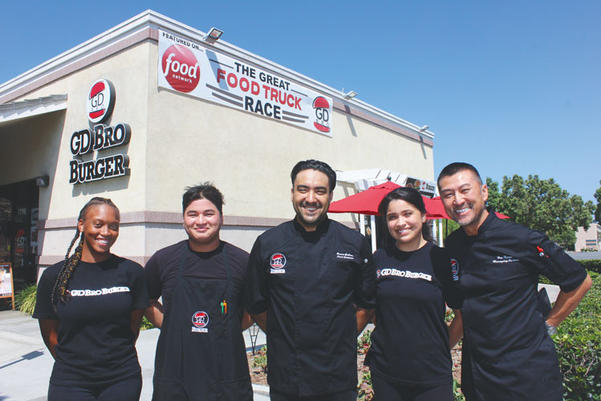 GD Bro Burger is approaching its third year operating in Signal Hill, having opened in early 2016. The concept began in 2013 as a food truck in Orange County. Pictured from left: Harmony Harp, cashier; Kirk Casem, line cook; Bruno Galvan, lead captain; Vanessa Escareno, cashier; and Managing Partner Hue Nguyen. (Photograph by the Business Journal's Brandon Richardson)
"Curley's has great bones. No matter what we do and remodel, we always try to keep Curley's, Curley's, so when the old timers who have come here for generations walk in it's still the same friendly place on the hill," Toman said. "I love Signal Hill and we're looking for somewhere to expand in the city."
Toman said there are a couple of different restaurant concepts he and his wife have in mind. They are hoping to take over an existing restaurant site and to keep on that establishment's existing staff.
GD Bro Burger opened its doors in February 2016 in Signal Hill. The concept began in 2013 as a food truck in Orange County, and placed third on the sixth season of Food Network's "The Great Food Truck Race" in 2015. After the first year and a half of business in Signal Hill, managing partner Hue Nguyen said business has dropped off slightly. To combat business decline, Nguyen said the company has been making efforts to reach out to the community in Signal Hill and the surrounding Long Beach area.
"We've been working with a lot of festivals . . . to keep our brand awareness out there. Not only in L.A. County and Long Beach, but Orange County as well," Nguyen said. "We've definitely had to continue to hustle to keep our brand out there. If we continued to keep marketing just for folks coming to our storefront, it'd be challenging. I've spent a great amount of time focusing on adding value to our community and being entrenched in all activities in Signal Hill."
Nguyen is a member of the Signal Hill Chamber of Commerce and is on the advisory board of Signal Hill Rotary. He said he is working to bridge the gap between organizations and business so that owners are not operating in silos, but are instead collaborating and enriching the community together. Nguyen has also partnered with Browning High School's culinary program to garner support in preparing future chefs for the real world, he said.
Retailers
Fernando Goncalves, store manager of Home Depot at Signal Hill Town Center East, said business has been great and continues to grow since he took over the position about one year ago. Prior to becoming store manager, Goncalves was working at the same location for five years.
When the economy is strong, residents and business owners are more likely to undertake renovation projects at their homes or businesses, Goncalves explained. Signal Hill and surrounding areas are currently experiencing a high number of projects, which is boosting business for his Home Depot location and its sister store in northwest Signal Hill, he said.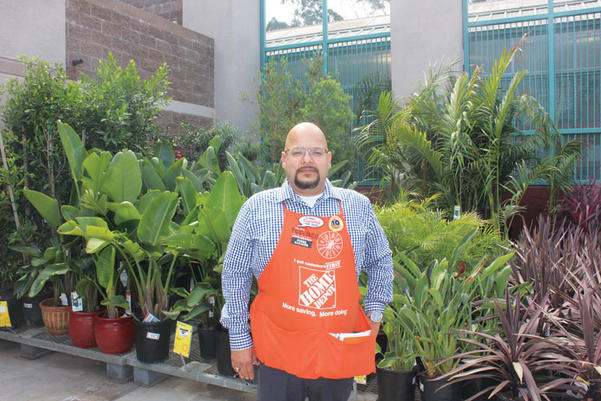 Fernando Goncalves assumed the role of store manager at Signal Hill Town Center East's Home Depot location about one year ago. He said the location gets a lot of repeat customers and that he views it as a mom-and-pop Home Depot. (Photograph by the Business Journal's Brandon Richardson)
"We get a lot of repeat customers, a lot of homeowners who are here daily, and we know their faces. This a neighborhood store. I like to consider our store a mom-and-pop Home Depot," Goncalves said. "We help people with problems or issues that they're having at home, and they come back to show us pictures, show us solutions, progress, their gardens – there are a lot of relationships that we created."
Home Depot also receives a lot of business from local contractors and property management companies. The current development and renovation boom in Downtown Long Beach, specifically, has brought a lot of businesses to the store, Goncalves said.
Ryan White, retail manager of Liberty Coin in Signal Hill, said continued uncertainty in the financial markets has caused his business to perform well. He explained that gold and silver are traditionally "safe-haven commodities," meaning that, even if the U.S. economy declines, metals retain their value.
"The physical location is great. We're central to the South Bay, Orange County, Long Beach and Lakewood. People come here from as far away as Manhattan Beach and Costa Mesa," White said. "In addition, there's a large coin show three times a year that takes place in Long Beach, so we get a lot of customers coming through Signal Hill for that as well."
White said most of his interaction with the City of Signal Hill is through the police department. He added that the department is always prompt, courteous and helpful, which is important to business owners.
Business growth for Batteries Plus Bulbs, which opened two years ago, has been in the single digits but is steady every month, owner Tim Quinlan said. Fifty-five percent of sales come from residents, with 45% coming from commercial contracts, according to Quinlan.
Word of mouth is important to business growth, Quinlan explained, because batteries and bulbs are the types of products no one thinks about until they need them. Much of the business Quinlan does is for batteries – from AAAs to batteries for cell phones, boats or cars, the store has batteries to power just about anything. Quinlan's franchise location also does more cell phone screen repairs than any of the company's other 750 locations nationwide, he said.
"Signal Hill is a very comfortable place. We have steady traffic, good neighbors and we're conveniently off the 405 Freeway, which helps," Quinlan said. "I'm very happy to be here in Signal Hill and I'm very bullish on it."