Speaking at a December 2016 victory rally in West Allis, Wisconsin, then President-elect Donald Trump announced that his new administration would work to "eliminate all wasteful job-killing regulations" in the energy industry.
"[W]e will cancel the restrictions on the production of American energy," he vowed, "including shale, oil, natural gas, and clean beautiful coal." Two years later, the U.S. has unseated Saudi Arabia as the world's largest oil producer and shale gas production is on the rise. However, according to experts in the energy field, global and domestic politics have prevented Trump from carrying out the full scope of his energy agenda.
Promoting Energy Independence
Trump began his deregulatory campaign on the first day of his presidency with Executive Order 13771, or "Reducing Regulation and Controlling Regulatory Costs." The aim of 13771 was to require agencies to eliminate two regulations for every new one issued, and limit the total cost of all new regulations to $0 for the 2017 fiscal year.
Days later, Trump signed executive memos to enable TransCanada to construct the Keystone XL pipeline, which would transport oil from Alberta, Canada, to Nebraska, and for Energy Transfer Partners to complete the Dakota Access pipeline. The move was hailed by the energy industry as a motivator for further development in Canada's oil sand operations and to help reduce U.S. dependence on oil from the Middle East.
"What this country needs is more jobs, and that is why I have always been a proponent of the Keystone XL Pipeline and was an original cosponsor of legislation approving the Keystone XL Pipeline project," Senator Joe Manchin of West Virginia said in a statement. "With a majority of Americans in support of the Keystone XL pipeline's construction, I'm glad we are finally moving forward with this important project."
EO 13771 was reinforced with a February order requiring designated officers to oversee the implementation of regulatory reform initiatives. Altogether, Trump's administration would pursue hundreds of deregulatory actions in 2017, including 41 from the Environmental Protection Agency, 54 from the Department of Health and Human Services and 83 from the Department of Transportation.
In March 2017, Trump issued his "energy independence" executive order that called for an immediate review of "all agency actions that potentially burden the safe, efficient development of domestic energy." The order defined "burden" to mean "unnecessarily obstruct, delay, curtail, or otherwise impose significant costs on the siting, permitting, production, utilization, transmission, or delivery of energy resources."
The energy independence order put several regulatory rules into review and revoked or rescinded a number of executive orders and memorandums issued by Trump's predecessor that focused on climate change and climate action.
In late 2017, a portion of the Arctic National Wildlife Refuge in Alaska was opened up for drilling when Congress passed legislation to overhaul the tax code. Alaskan Senator Lisa Murkowski had tacked on a measure to the tax bill to allow drilling in a portion of the refuge set aside for drilling in decades old, long debated legislation. A statement from Murkowski's office following the vote read, "The combination of developing more of our natural resources and stimulating America's economy through tax cuts will create opportunities for our nation and put more dollars back into the pockets of hard-working Americans."
The Alaska Oil and Gas Association issued a statement following the passage of the tax bill lauding the inclusion of Murkowski's oil exploration provision. The association called the action, "welcome news for the 70 percent of Alaskans who have supported development in the area specifically set aside for oil and gas, the '1002 area,' for decades."
In June of this year, the Trump administration said that in preparation for future drilling, it was allocating $4 million to improve facilities in the Arctic refuge, including, according to an administration official in a Reuters story, "six projects designed to improve and construct existing outbuildings, facilities and research operations." The administration also announced that it would push for an oil lease sale next year.
Though domestic oil production has increased under the Trump administration, this is not the immediate effect of deregulation in the environmental or energy sectors, according to Chris Lafakis, a director at Moody's Analytics. Lafakis told the Business Journal that technological innovation was the real impetus for the current boom in U.S. petroleum.
"U.S. oil production nearly doubled from 2005 to 2016," he said. "A large part of that was under President Obama's watch. Hydraulic fracturing proliferated while Obama was president, and so did horizontal drilling, and there weren't restrictions by the government to slow down the pace of development there."
In 2014, domestic crude production increased to 8.7 million barrels per day. The U.S. Energy Information Administration reported that it was "the largest volume increase since recordkeeping began in 1900."
Before the widespread implementation of horizontal drilling and hydraulic fracturing (fracking), oil trapped in shale rock formations was difficult and expensive to get to. As the price of crude rose in the mid-2000s, these techniques became cost competitive. Oil drilling in the U.S. was given further incentive in December 2015, when Congress agreed to end a 40-year ban on domestic crude exports as part of a bipartisan budget deal. In exchange for lifting oil exports, Congressional Republicans agreed to extend tax subsidies for wind and solar energy into 2020.
Because of these actions, this year the EIA forecasts domestic crude oil production will reach 10.7 million barrels per day (up from 9.4 million in 2017) and will rise to 11.8 million barrels per day in 2019. Domestic dry natural gas production is forecast to average 82.7 billion cubic feet per day (up by 7.9 from 2017) and continue to rise in 2019.
International Complications
International affairs have at times impacted domestic production. In March, Trump ordered a 25% tariff on imported steel from most countries, later adding Canada, Mexico and the European Union to the list in July. The tariffs, meant to encourage U.S. production and job growth, were criticized by the American Petroleum Institute, the largest U.S. trade association for the oil and gas industry, for threatening the production of oil, natural gas and natural gas liquids and potentially raising energy costs for businesses and consumers.
In a statement, API President and CEO Jack Gerard said the association was "deeply discouraged by the administration's actions to impose tariffs on our three closest trading partners" and viewed it as "a step in the wrong direction."
According to Lafakis, steel is in high demand in the petroleum-rich Permian Basin, the home of the southwestern shale boom. Producers can't get the oil out of the basin fast enough, he said, which has led to a bottleneck in oil and gas transportation while new pipelines are being built.
Willie Chiang, executive vice president and chief operating officer for Plains All American Pipeline, testified to Congress that the tariff would impose a "punitive tax of approximately $40 million" on PAAP's 550-mile Cactus II pipeline, a $1.1 billion project.
Concerned that their wholesale product prices would rise as a result of the steel tariffs, American manufacturers appealed to the U.S. Department of Commerce (DOC). Upon hearing public comments, the DOC has thus far heard 8,400 requests for exclusions from the steel tariffs and granted 5,300, according to a Financial Times report.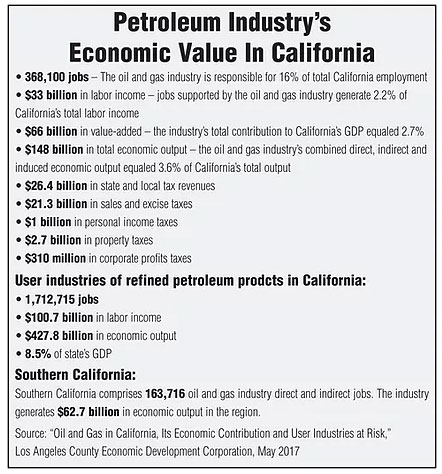 Whether the steel tariffs prove to be an obstacle or a mere inconvenience, Moody's Lafakis expects the Permian bottleneck to affect domestic production well into 2019. Of more concern is the potential drop in global crude supply as represented by new Iranian sanctions, Lafakis said.
In May, Trump announced that he was withdrawing the U.S. from the Iran nuclear deal, a controversial 2015 agreement that postponed the country's nuclear program in exchange for lifting sanctions. Trump declared that he would impose the "highest level" of sanctions against the country. The day of the announcement, oil prices spiked to their highest level in three-and-a-half years.
Prior to the nuclear deal, U.S. sanctions on Iran constituted a 20% reduction in oil imports. President Trump has called for a 100% reduction in Iranian oil to the U.S. and requested other countries to do the same within six months. Those that do not may face secondary sanctions.
Even if fewer countries comply with Trump's sanctions than those of previous administrations, Moody's forecasts a global loss of between one and two million barrels of Iranian oil per day. "Even if it's 1.5," Lafakis added, "even if it's 1.2, that's a significant amount of oil that comes offline and needs to be replaced by somebody."
The three likeliest sources of those additional barrels, according to Lafakis, are the U.S., Russia and OPEC. There is a risk that these major oil producers will not be able to compensate. Lafakis also pointed out that "substantial amounts of Saudi oil" are needed to offset Iranian oil imports. This could be jeopardized, he noted, by current diplomatic tensions between the U.S. and Saudi Arabia spurred by the disappearance and purported murder of Saudi Arabian journalist Jamal Khashoggi.
"The U.S. really needs Saudi Arabia," Lafakis said, "especially at a time when it's asking, or demanding, all other countries reduce their Iranian crude oil imports. If you don't have substantial amounts of Saudi oil to offset that, or if Saudi oil exports are sanctioned by the U.S., then you get into a serious situation on oil prices that could really jeopardize the strength of the recovery in the U.S."
Speaking on behalf of the Termo Company, an independent oil and gas producer with 107 wells across the U.S., Ralph Combs said that U.S. oil production and energy independence may neutralize the longstanding impact of Saudi oil on the market. "Thus far, the markets seem to have shrugged off the potential political turmoil and are focused on the growth in supply from U.S. production," he told the Business Journal.
Combs, the manager of regulatory, community and government affairs at Termo, added that "Saudi turmoil" may have a bigger effect on California because of its ongoing reliance on imported oil, some of which comes from Saudi Arabia. "Coupled with our declining state production and market isolation from the rest of the oil producing states, we are more susceptible to market shocks," Combs said. "This hurts the consumer, although we will see higher than WTI prices for our California produced oil."
Trump Policies And California
David Slater, executive vice president and COO of Signal Hill Petroleum, has praised Trump's regulatory rollbacks as a boon for the industry, particularly in the mid-continent area of the U.S. For the areas of Signal Hill and Long Beach, and the state as a whole, the impact has been less pronounced. "The Trump administration has had very little impact on the regulatory environment in California, if any," Slater told the Journal.
"California regulations have always been far above the rest of the country," Combs said. "The primary effect is on the federal land side of things, so there has been some very minor changes in our Wyoming operations where we operate on federal minerals and BLM [Bureau of Land Management] land."
California's strict emissions standards are more demanding than in the rest of the country, and its petroleum operations are tightly supervised. To maintain the state's stringent policies, lawmakers on both sides of the aisle have moved to preempt Trump's deregulatory actions.
In April 2017, President Trump ordered the Interior Department to review sites for offshore energy development along the U.S. coastline. Nine months later, the National Outer Continental Shelf Oil and Gas Leasing Program (National OCS Program) proposed to make over 90% of OCS acreage available for exploration and development.
The OCS Program would lease federal waters, which are located three nautical miles beyond the continental coastline. Within those three miles, California has refused to offer new offshore drilling leases since the 1969 Santa Barbara Oil Spill. Federal leases were included in that moratorium from 1984 to 2008. To outmaneuver the proposed OCS leases, Gov. Jerry Brown signed two bills (Senate Bill 834 and Assembly Bill 1775) that prohibited new construction of oil-drilling infrastructure, including pipelines, within state waters. This was done by the State Legislature to prevent oil rigs located in federal waters from extending pipelines into California's jurisdiction.­
According to Bob Dowell, director of the Long Beach Energy Resources Department, the language in the two bills needed to be worded carefully so as to not interfere with the operations at the Wilmington Oil Field, which has generated billions of dollars for California and Long Beach over the past 80 years.
"People overlook that there are currently activities in those very same state lands," Dowell said. "So, when trying to block or stop any new projects, what we have to be careful of is that existing projects in place aren't impacted." The city, as trustee for the state in the Wilmington Oil Field, had clarifying language added to the bills to ensure there were no impacts to existing oil operations on state-owned land.
The Bureau of Land Management is currently compiling an environmental impact report on fracking mineral estates in Central California counties, a precursor to potentially opening over a million acres of land to new oil leases. In August, the White House proposed a freeze for anti-pollution and fuel-efficiency standards that would revoke California's ability to set stricter pollution standards than the federal government.
Catherine Reheis-Boyd, president of the Western States Petroleum Association, who is broadly in favor of Trump's oil policies, commented on the unique difficulty that pro-petroleum administrations face in the Golden State. "The more they push, the more that California digs in," Reheis-Boyd told the Journal. "So [California] actually becomes more stringent, less open to conversation, more combative. We love the open thinking of some of the energy policies, but in California there is such a dynamic political backdrop that we work within."
This is unfortunate, Reheis-Boyd added, because she believes that California's petroleum operators have a sterling record of environmental safety. "Can we responsibly produce oil offshore in California?" she asked. "Of course we can. The resources offered California are large. Would that help our energy independence in California? Absolutely. Would that help our market volatility? You bet it would. Would the consumers benefit from that? Absolutely. Are we going to do it? Probably not."