There's no way around it: small business is the backbone of our economy, whether you're looking from the locally small or the nationally large scale.
According to the U.S. Bureau of Labor and Statistics' latest report, firms with one to 49 employees accounted for 40 percent of total net job growth in the third quarter of 2013, basically mirroring the 41 percent share that large firms with 500 or more employees con­­tributed. When isolating the local economy, small businesses contribute to the growth and innovation of the community they serve.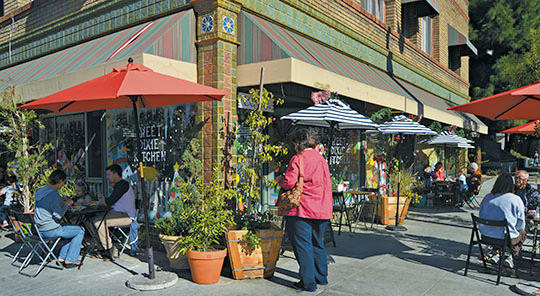 Sweet Dixie Kitchen is located at 401 E. 3rd St. (Photograph by the Business Journal's Larry Duncan)
In downtown, revamped spaces like the Pike Outlets and the soon-to-be repositioned City Place Mall development offer nationally and internationally recognized brands for nearby conventioneers and locals alike. But when it comes to having a little more local flair, it's areas like the East Village Arts District and Shoreline Village, made up almost entirely of small businesses, that help Downtown Long Beach (DTLB) "keep it Long Beach" for shoppers seeking to take a break away from the big box stores and brands.
Take, for example, the East Village, which goes beyond staples like Berlin and Fingerprints Music. The Academy welcomes Long Beach's first top-down clothing boutique thanks to brother team Bonal and Vizal "Sam" Samreth – meaning all clothes are made in-house and sold at the same place. What The Academy has offered for years, bringing in clients from Silver Lake to Belmont Shore, is high-end apparel that's quite literally tailored for you. They measure you, they make for you – and even though L.A. has enticed them with its clientele, the pair refuses to leave DTLB.
"As both tailors and makers, we're fortunate to receive the best in apparel," Sam said. "There's this constant flow of discovering new designs, construction, fit and taste. . . . And the people of Long Beach get that."
Joining The Academy is 1897LB, an apparel store dedicated to all things Long Beach (and whose owner, Jose Cordon, has built up an impressive following on Instagram); ELEV8, whose owner Patrick Santa Ana made "buy local" a philosophy long before it was cool; Anneise, filled with rare and handmade jewelry; MAKE Collective, filled with new and vintage furniture, decor, and knick-knacks . . .
"The East Village continues to be a tight-knit community," Santa Ana said. "We all understand that it's working together, doing things like the Makers Mart [an event where 1st Street is entirely closed to traffic to make way for over 40 crafters and makers offering their goods] or group events, that will make us all succeed."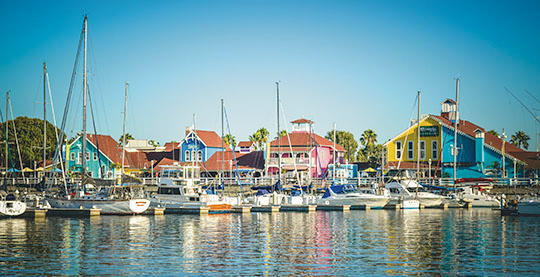 (Photograph of Shoreline Village provided by the DLBA)
Of course, Fingerprints isn't the only DTLB place offering a local spin on music: North Pine has its own secret weapon by way of Toxic Toast Records. North Pine, now experiencing its own mini-renaissance thanks to bourgeoning business and the massive 6th-to-7th block takeover along Pine by Molina Healthcare, welcomed the record shop last year and now serves a part of Pine that was once desolate and practically pedestrian-free.
Owner Andy George has created a unique world filled with Japanese vinyl that have escaped the milk crates and landed on shelves at 8th & Pine.
Perhaps what Toxic Toast represents for North Pine is what is representative of small businesses' influence throughout DTLB. The aforementioned East Village wasn't always booming and Shoreline Village along the waterfront has the misconception of being corporate when, in fact, nearly all of its tenants are local small business owners.
From Louisiana Charlie's – one of the few places to get true New Orleans cuisine, the kind of stuff along the lines of alligator bites and crawfish étouffée – to Queen Mary Couture – one of the tenants kicked off the Queen Mary and now using Shoreline as its home – Shoreline Village is a harbor of locals looking to play with the area's kitschy-but-fun decor and stellar views.
All in all, it's hard to escape the shop-small ideal in DTLB because so many locally-owned businesses pervade all corners of the downtown.