Third Eye Records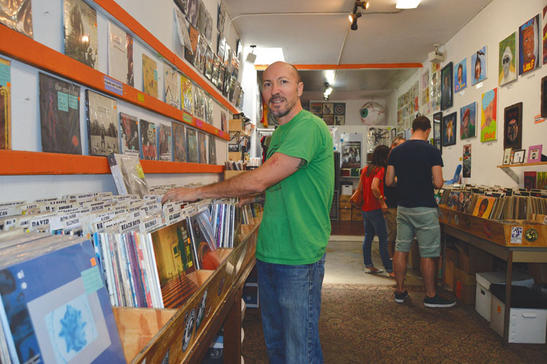 In 2002, Gary Farley began pursuing his dream of owning a record store. He opened up shop in Costa Mesa but ultimately closed down. Farley began selling records in the back of a Long Beach women's boutique clothing store owned by a friend in 2012. After over a year, he got his own space on 4th Street near Temple Avenue, where he stayed for almost three years until the building was sold. "As luck would have it, I happened upon my current location, which has been great," Farley said. "I've always wanted to have a shop, and I knew that if I found the right location I could make it work. It took a while and some patience, but it's all come together in the spot I'm at now." Third Eye Records has been located at 2234 E. 4th St. for more than one year. Farley said he focuses on underground music – '60s and '70s psych, garage, punk, jazz and anything else not stocked at a typical record store. He said the atmosphere of his shop is that of an old school record shop, right down to the smell, which is in line with 4th Street's Retro Row. "The fact that a lot of younger people are getting into records has been really great to see," Farley said. "People here just embrace music in such a way that we need record stores." For more information, call 562/472-4366 or visit www.thirdeyerecordshop.com.
Moxi Roller Skate Shop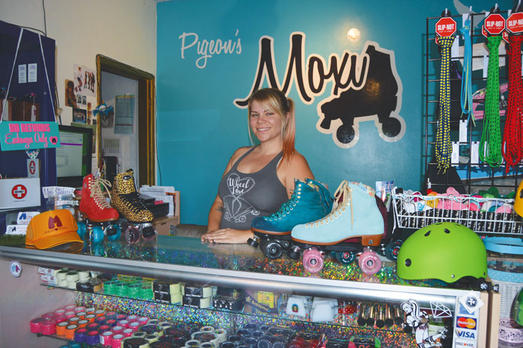 Michelle Steilen opened Moxi Roller Skate Shop at 2132 E. 4th St. nine years ago. In 2013, in order to focus her attention on marketing the Moxi brand, Steilen sold the shop to former science teacher Shayna "Pigeon" Meikle who has been running it with her husband ever since. "There were people offering her three times as much as what I could pay her. But she didn't want it because she saw me in the shop. She knew I was going to be the one," Meikle said. "So she took a little cut of what the shop was worth so I could afford it." Since taking over the shop, Meikle said sales have quadrupled and the roller skating community is stronger than ever. According to Meikle, Moxi is the only roller skating shop in Long Beach and the South Bay area, which is important for the league she also owns and operates, Beach City Roller Derby. "My favorite aspect is seeing how roller skating positively influences people's lives. We see them walk by the shop a couple times and look in and dream," Meikle said. "Then they finally make the jump to having the skates, and you see them living their life and having the best time with the wind in their hair." For more information, call 562/434-8488 or visit www.moxilongbeach.com.
Past & Present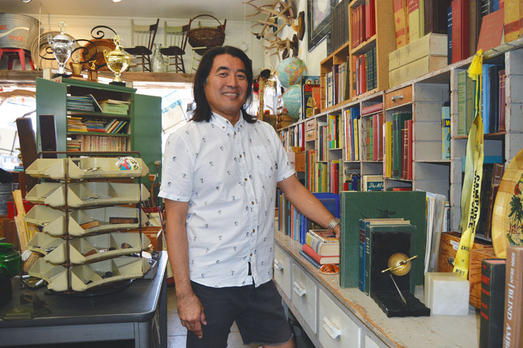 For the past two and a half years, Long Beach native Gary Oda has owned and operated Past & Present at 2001 E. 4th St. Oda first entered the world of vintage and antiques in 2010 when he formed retroda, a business that grew to have space in four antique malls, including space at Urban Americana that Oda still occupies. "I started doing a little bit of vintage on my free time. I had time to hunt and sell," Oda said. "I started selling at the Long Beach Flea Market at Veterans Stadium once per month." He explained that his first love of anything vintage was Christmas ornaments. From there, he focused on vintage kitchen and home decor from between the 1950s and 1970s. Today, the shop is far more eclectic, including everything from industrial and man cave sections to vintage men's and women's clothing. According to Oda, Long Beach is known as a destination for all things vintage, which is why being located on 4th Street's Retro Row was so important to him. "I call myself a matchmaker. I go out and find all these things that I think are great from the past, and we can pair these things with somebody who is going to love and appreciate them in a new life. We like to see things repurposed beyond the literal use." For more information, call 562/434-6464.
We Love Yoga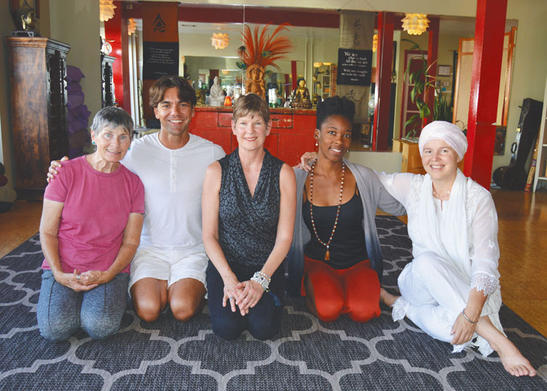 The nonprofit organization New Being Project has had a yoga and healing studio presence in Long Beach since 1999. The group's latest business, We Love Yoga, opened at 2038 E. 4th St. in 2012 with Murshida Kadre serving as director. "I think yoga is really important to have in a community in order to help people address personal issues," Kadre said. "It's a safe space to start dealing with those things, transforming obstacles that hold them back in life, and to be able to learn how to use stillness in order to restore in the midst of turmoil and this very busy and fast-paced world." The studio has 10 teachers and six healers that work as independent contractors within the space. Kadre said the studio focuses on the healing aspects of yoga utilizing various techniques, including the Feldenkrais Method, Hatha, Kundalini, foundation and restorative. Improving the quality of life for special needs children and the elderly is another focus within the studio. "When people walk by, they can glance inside and see what we're doing. They can even come in and sit on our green couch and observe a class," Kadre said. "I really like to expose those kinds of activities rather than keeping them behind closed doors. I think yoga should be more open, available and directly in the community activity." For more information, call 562/396-4230 or visit www.weloveyogalb.com. Pictured from left: Instructors Susan Jones and Nickels Sunshine; Director Murshida Kadre; and instructors Vanessa Renee and Premdev Kaur.
Seventh Wave Surf Shop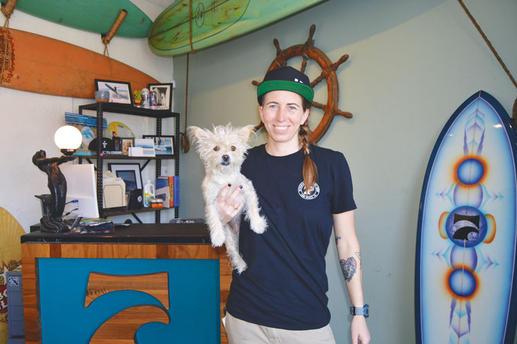 Kelli Koller began surfing at age 12, taught by her father in the Seal Beach area where she grew up. In 2013, Koller opened Seventh Wave Surf Shop, Long Beach's only surf shop, which is also the only woman-owned surf shop in Los Angeles County. "Even though we don't have any waves, we have one of the richest surf histories in the United States. The first ever surf contest on mainland U.S. was held here in 1938 before the breakwater," Koller said. "A lot of surfers live here. A lot of surfers and a lot of people in the industry were born here." Located at 2714 E. 4th St., Seventh Wave is owned and operated solely by Koller, who also designs and helps build her own line of boards. Mike Minchinton, head shaper for Robert August ("Endless Summer") Surfboards, hand shapes Koller's line. Occasionally, Koller said groms (young surfers) will help her around the shop if things get too hectic for her to handle alone. The shop also sells custom and used boards, as well as Seventh Wave apparel, and does board repairs. Koller prides herself on being community oriented. "I meet a lot of people in the community, and I know their needs," Koller said. "A lot of shops won't let you do layaway for a used board that's like $200. But if it's some kid that's coming in that's trying to make money doing chores, I'm going to try to help him out." For more information, call 562/433-6500 or visit www.seventhwavesurfshop.com.
Anandamide Psychedelicatessen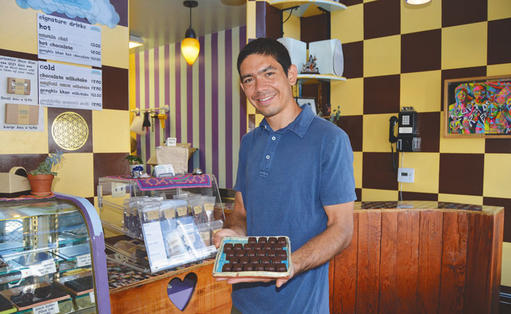 Located at 2040 E. 4th St., Anandamide Psychedelicatessen has been serving up organic, raw, vegan chocolates to Long Beach residents since January 2013. "We don't want to just be selling a product without people being at least mildly interested in what it's made out of and where it comes from," co-owner Justin Hansohn said. "We encourage people to ask us questions and engage in conversation with us about the food we make and what we're doing here." Hansohn said the city is still witnessing a burgeoning interest in food quality that is not yet fully expressed and is very elementary. He explained that bringing the philosophy of paying attention to what is in food and asking questions is an important role of the shop. The original chocolate and dessert recipes are made with unconventional, high-quality ingredients imported from Ecuador and Peru. The two main ingredients are cacao (the purest form of chocolate a person can consume, from which the more common cocoa is derived) and coconut. "I've had lots of bakers and other chocolatiers come in here, look at my ingredient set, and they are completely baffled at how we are able to do this," Hansohn said. "We're constantly getting questions about how this is even possible. That's also a fun part of the recipe creation and also just using the high-quality sources as the inspiration to even make these things." For more information, call 562/438-1427 or visit www.anandamide.us.
Lil Devils Boutique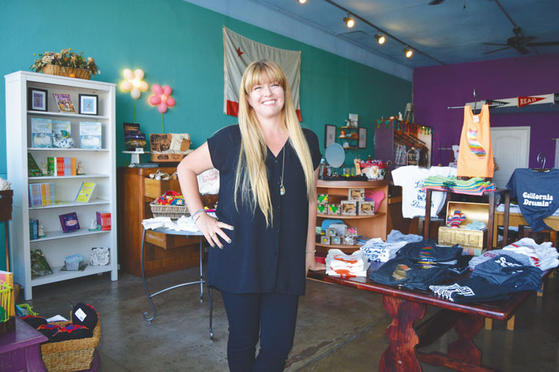 Over drinks at the Queen Mary's Observation Bar, longtime friends and Long Beach natives Sarah Benton and Pete Toulios conceived a store concept, which would become Lil Devils Boutique. Located at 2218 E. 4th St., the partners opened their children's apparel and gift store in August 2008. "We were talking about all our friends having kids and how it was hard to find unique things that were good quality," Benton said. "If you buy something blindly off the Internet, you don't really know what you'd get until it was in your hands." In 2010, Toulios passed due to heart issues. Being in their 20s at the time, Benton said the loss was completely unexpected and left her in shock and unsure if she could continue the store on her own. Fortunately, Toulios' brother, John, stepped in to help run the shop and continue his brother's legacy. Benton said the store always has Long Beach apparel in stock – shirts, onesies and hats – as well as "Star Wars," music and other eclectic items. "I think we're really fortunate. We have a really amazing and loyal customer base, which has been great for us," Benton said. "People in Long Beach love to shop independent. They love handmade and unique things. They like to give gifts that are interesting and different." For more information, call 562/439-0555 or visit www.lildevilsboutique.com.