Flatline Art Gallery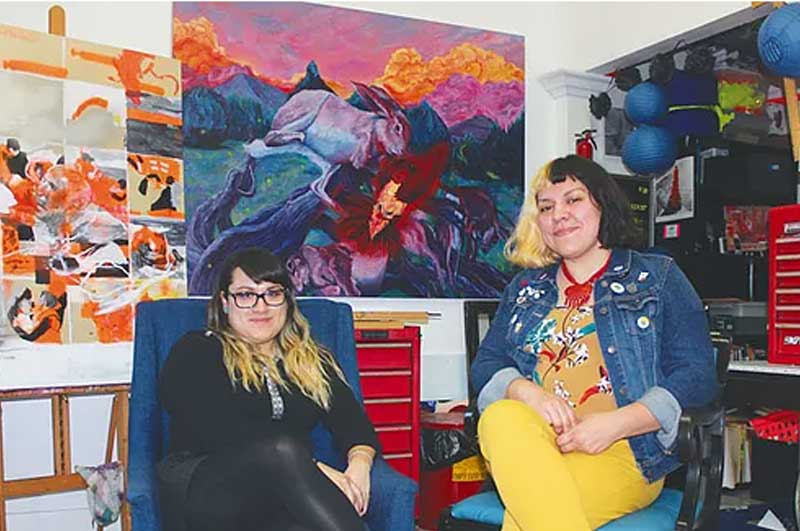 Artist Cynthia Lujan opened Flatline Art Gallery with her co-director, Elizabeth Munzon, last year. Both Lujan and Munzon had experience in putting on exhibitions in alternative spaces before opening the art gallery. Each month, either Lujan or Munzon curate a show at Flatline Art Gallery to exhibit visual art from the Long Beach community. The gallery showcases photography, painting, sculptures, digital media and more from Long Beach artists. One of the important aspects of the gallery is to link art with education by showcasing former or current Long Beach university students, both at the undergraduate and graduate level. "Our mission is to connect Cal State Long Beach students, alumni and local artists to the Greater L.A. arts community," Lujan said. Artists showcased in the gallery's exhibitions may also be people who are involved with the local arts community but do not live in the area. "The communities [in North Long Beach] are really invested in the work that they do for each other, and I feel really special to be a part of that," Lujan said. "I think North Long Beach is really vibrant with the arts, and it's going to continue to grow." Flatline Art Gallery's next show, curated by Munzon, begins November 10 for the Uptown Business Improvement District's annual Veteran's Day festival. Flatline Art Gallery is located on 6023 Atlantic Ave. For more information, call 562/513-8536 or visit instagram.com/__flatline.
Elations Extension Lounge & Elations Hair Collection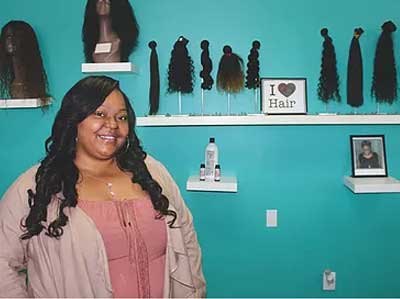 After noticing a need for quality hair extensions and wigs in the area, Tina Obaid left her job in finance and opened Elations Extension Lounge & Elations Hair Collection three years ago in North Long Beach. The business offers customers products made from real human hair. "I knew I had quality [products] and I knew it was something I wanted to bring to the city," Obaid said. North Long Beach was the perfect location for her business due to the amount of foot-traffic it offered as well as its proximity to other cities. One side of the business is a store for buying wigs and hair extensions, and the other is for hair styling services, such as getting braids. "There are a lot of beauty supplies in the city and they don't sell real human hair, but the cost is just as high," Obaid said. Customers tell Obaid how they enjoy buying quality products for a reasonable price. "We don't try to rack up the price. That way people can afford to keep coming in and getting their hair done and still look the way they want to look for a cheaper cost," she said. Obaid now looks forward to giving back to the community by working with local hospitals in the area to donate her products to cancer patients. Elations Extension Lounge & Elations Hair Collection is located at 6088 Atlantic Ave. For more information, call 562/283-3261 or visit elation.ecwid.com.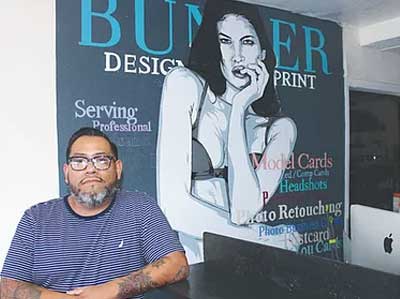 Gus Luna's business, Bunker Design & Print, has been providing specially designed and printed comp cards, which are business cards specific to the modeling and acting industries, as well as headshots, since 1997. Before the emergence of e-commerce, Bunker Design & Print was located in Hollywood, where Luna saw more walk-in customers. As the digital age changed how many businesses operate, most of Luna's Hollywood clients began working with him online. "What models and actors do is they upload their images to our website, and what I do is design the cards and then I print the cards," Luna said. After living in Long Beach for five years and experiencing many of his Hollywood clients switching to online orders, Luna said it made sense to move his business location to Long Beach. Luna's shop now offers more services beyond those for his usual clientele from the modeling and acting industries. "I want to provide different types of printing service for the North Long Beach community . . . so I do want to offer more of business card, postcard and poster [services] as well for local residents here in Long Beach," he said. As the company's operations expand, Luna also plans to offer more design services such as retouching photos, designing fashion look books, creating apparel designs and more. Bunker Design & Print is located at 6062 Atlantic Ave. For more information, call 323/463-1070 or visit bunkerprints.com.