The Broadway Corridor stretches nearly two miles from the edge of downtown on the west to Belmont Heights on the east. The On Broadway Business Association separates the corridor into six villages: Alamitos Village (Alamitos to Orange avenues); Falcon Village (Orange to Hermosa avenues); Bixby Park Village (Hermosa to Lindero avenues); Temple Village (Lindero to Orizaba avenues); Heights Village (Orizaba to Euclid avenues); and Belmont Village (Euclid to Belmont avenues. For more information, visit: onbroadwaylb.com
The Bicycle Stand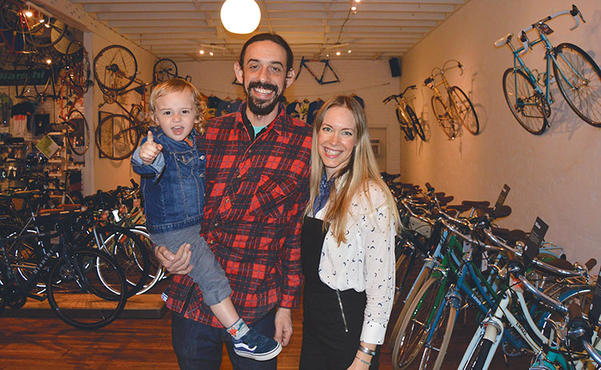 In 2011, husband and wife Evan and Nicole Whitener founded The Bicycle Stand, a vintage bike store with repair services. The longtime cyclists never planned to be business owners, but their desire to provide services to the local cycling community and to share their love of foreign, vintage bicycles led them to scrap a trip to Europe and use their savings to start up the store on Broadway instead. "We took a gamble and set up our first shop at 1824 E. Broadway and stayed there for three and a half years through many trials and tribulations," Evan Whitener recalled. "Then in 2014, we were able to move down the street about a mile and establish our new residence at 2740 E. Broadway. We got to keep all our local clientele, and we got to expand our footprint, which was a dream come true." The Bicycle Stand specializes in foreign, handmade steel bicycles. "I think that people in Long Beach have a certain appreciation for that older sort of more durable, robust good [bike] than maybe a different area that might be more prone to the latest and the greatest, or the flash in the pan," he said. The shop also offers standard bicycle services like tire changes and tune-ups, as well as restoration and repairs.
Hot Java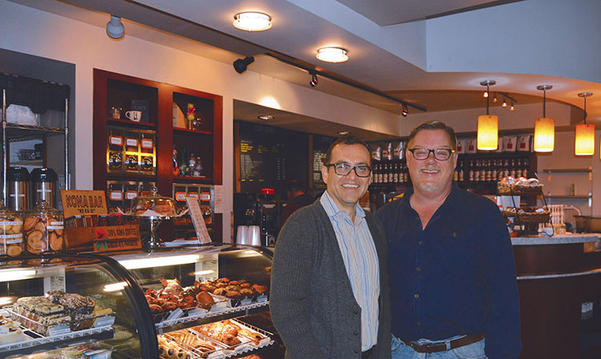 On March 1, Sergio Macias, left, and Ken Davis will celebrate their 12th anniversary as co-owners of Hot Java, a coffee shop located at 2101 E. Broadway. The pair purchased the business after the previous owner asked all interested buyers to write a letter about their vision for the coffee shop. "Sergio and I were very committed that it stays part of the community and that it's a place for people to come and find a home away from their own," Davis said. To set itself apart from other community coffee shops, Davis said Hot Java strives to help people "find what they love." The shop carries more than 40 syrup flavors and its signature Flaming Sauce (yes, a spicy sauce they will add to any drink order), which allows them to create an endlessly customizable coffee experience. Open 6 a.m. to 11 p.m. every day, the shop also employs a chef and sous chef who serve up paninis, breakfast burritos, lox and bagels, and avocado spread toast on organic, whole-grain bread. The shop also showcases art, literary and comedy events. "I think, for both of us, it's really our passion for people and great coffee, and . . . we are just in love with our community and our customers."
Babcock & Cooke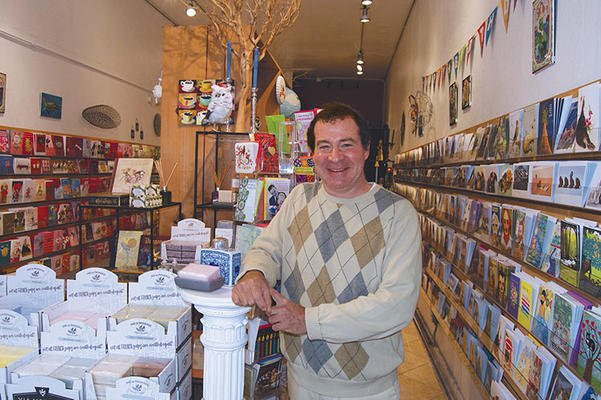 Card shop and gift store Babcock & Cooke has been a fixture of the Bluff Heights Village of the Broadway corridor since it first opened in 1983. Since then, the shop has moved storefronts multiple times on the block between Redondo Avenue and Newport Avenue, and it now resides at 3405 E. Broadway. Current owner Michael Davis started out at Babcock & Cooke as an employee in 1989, when he was about 20 years old. A recent transplant from Ohio at the time, he was simply looking for employment. But over the years, he stayed on because of the tight-knit family vibe of the staff and of the business corridor. "Even just yesterday I was ringing up a woman, and she has been shopping here that whole time," Davis said. "This little corner is such a nice community," he added, noting that he has watched the area become a bustling place for business in recent years.  The founder of Babcock & Cooke had to close down its larger location a few doors down when he was diagnosed with Lou Gehrig's disease in 2012. He transferred ownership of the name to Davis, who reopened the smaller gift shop at its current location. "The lofty goal is to somehow grow space-wise and to continue to keep the store a part of the community for as long as I can," Davis said.
Studio 1021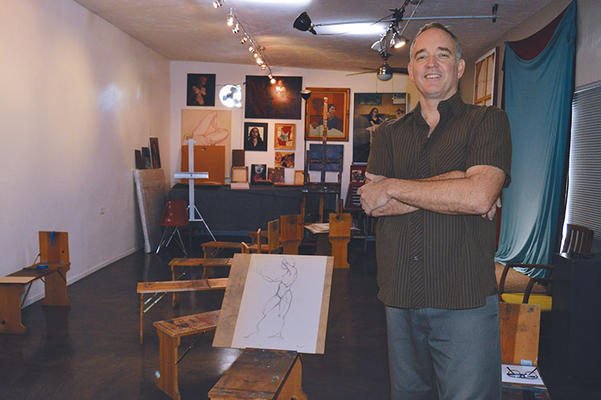 Specializing in the human form and oil painting, Studio 1021 owner Patrick Farrand has been offering workshops and private art lessons in Long Beach for about six years. The self-taught artist moved to the city from Pasadena in 1986 to attend Cal State Long Beach. While at college and after graduation "life happened," and he said he took a detour away from art. "Then at one point, I was going through some tough times." Farrand said. "And I thought, 'What is it that made me happy when I was young?' It was an easy answer: art." Eventually, he found himself doing traditional animation and cell painting for Disney and other companies. He then transitioned to 3-D animation when it was introduced but disliked the hours and atmosphere. So eight years ago, he bought his studio at 1021 E. Broadway, first using it as his personal studio before introducing the business element. Now, workshops are every Wednesday from 6-9 p.m. and Friday mornings from 9 a.m. to noon, while private lessons are by appointment. Private lessons can be in oil painting, acrylics, multimedia, watercolor and all dry mediums, including charcoal and graphite. When he is not teaching, Farrand still utilizes the space as his personal art studio.
Long Beach Autohaus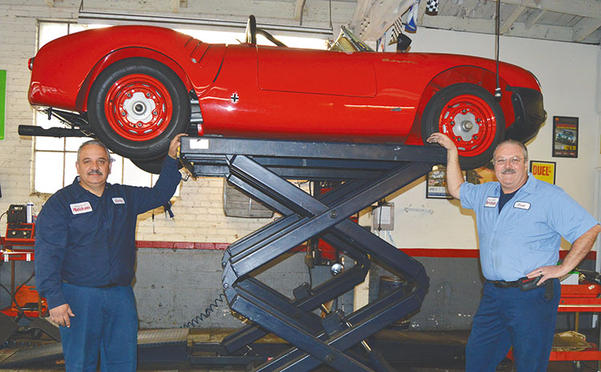 Long Beach local Scott Parsons opened Long Beach Autohaus, a German car repair and service shop, at 3925 E. Broadway in 1986, and he has been running the shop there ever since. When he started the business, he was just 23 years old. At the time, an auto shop at the site had gone belly up after about 18 months in business. Parsons tracked down the original investor, who agreed to loan him $5,000 to start up Long Beach Autohaus at the site. "When we opened the doors, we had a whopping $442 in the bank," Parsons recalled. It took about a year before the business began making money. Today, Long Beach Autohaus specializes in German brands like BMW, Mercedes-Benz, Volkswagen and more, and it does about $1.5 million in business each year. The shop's location in the Belmont Village of the Broadway corridor is ideal due to the area's demographic. As Parsons put it, "You know, you basically can't throw a cat without hitting a German car in Belmont Shore." Parsons, pictured far right, hopes to transfer ownership of the shop to his business partner, Carlos Venegas, pictured, in the next few years. Venegas, a Mexican immigrant, worked his way up from janitorial duties to partner in the business. "He is kind of the American dream," Parsons reflected.
Mineshaft Bar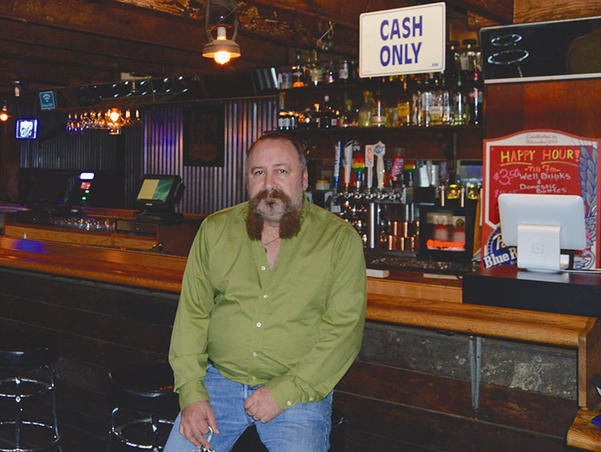 Uncle Jimmy purchased a straight biker bar at 1720 E. Broadway 40 years ago and transformed it into the Mineshaft Bar, a prominent gay bar in the heart of Long Beach's gayborhood in the Alamitos Beach area. "Being a gay man himself, I think [Uncle Jimmy] was looking for a place that kind of fit his personality. That was back in the heyday in Long Beach, where the gay Broadway corridor was really coming into its own," Jeff Darling, manager of Castro Group, which operates all the family's businesses, including bars, apartment complexes and retail buildings, said. At one time, Jimmy owned five bars in the city, according to Darling, but eventually whittled it down to Mineshaft and The Brit less than a block away. Darling said the cash-only bar is often busy, which he attributes to its large, open floorplan and the consistent staff – one bartender has been with the bar for 38 years. "We've kept the bar very similar to the way Jimmy had it when he was here," Darling said. "I've tried to honor his memory by keeping it a little more old school." He said most patrons live in the surrounding community, often within walking distance, and described them as tight-knit and accepting of people and their lifestyles.
Pictured: Robert Perkins, general manager of Mineshaft and The Brit.