Umberto's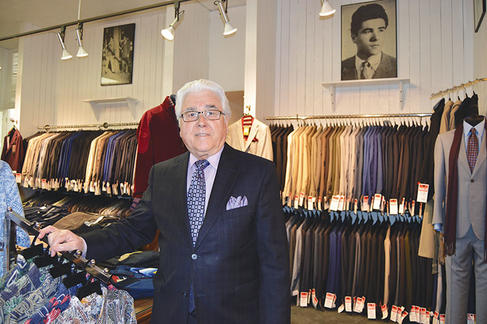 In 1956, Umberto Autore immigrated to Long Beach from Italy where he was schooled as a tailor in Milan. One year later, Autore opened Umberto's in Los Altos, which was moved to its current location at 2141 N. Bellflower Blvd. in 1970. After 60 years of business in Long Beach, Autore still enjoys his work. "It's the design, the creation – it keeps me young and busy," Autore said. "I'd rather do this than play golf. I love it. It's not the money – it's my life, it's enjoyment. I love to create style and make people happy." His shop provides custom suits and tailoring from scratch for men and women, as well as ready-made suits. Autore said he is now serving third-generation customers, with some driving from as far as Reno and San Francisco. Autore explained that what sets his shop apart is that he is part of the old school of tailoring, skills that can't be found much in the United States. He forgoes computers and continues to do all his designs by hand. "We have everything in the store. If you come here, you don't have to go anywhere else," Autore said. "We can dress you up from the bottom to the top." For more information, visit umbertosmenswear.com.
E.J. Malloy's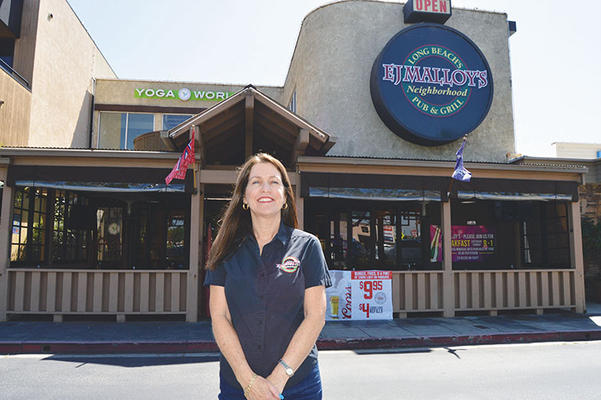 Janine and Dave Ritter have been friends with E.J. Malloy's founder Brent Brakebill for years. "Our kids grew up together playing soccer," Janine said. Sixteen years ago, Brakebill decided to open a second E.J.'s in addition to his original Broadway location, and Janine became the manager. After managing the second E.J. Malloy's in Bixby Knolls for 14 years, Janine and her husband went into business with Brakebill to open the third location in Los Altos. "We had heard the Fish Tale was closing, and so Brent and my husband discussed that this location would be a good opportunity because there is really nothing around here as far as a sports bar," she said, referring to a longtime restaurant at 5506 E. Britton Dr., where E.J. Malloy's is now located. "Being that I managed for so long, and all the hours that go into it and the heart and soul, I figured it would be nice to be an owner and do the same thing," she said. In addition to being located close to her home, Ritter said she likes the location because of its family-oriented atmosphere. "It's still a very family neighborhood pub, which is great," she said. "It's very casual. People are very friendly." For more information, visit: ejmalloyspub.com.
Copyco USA Inc.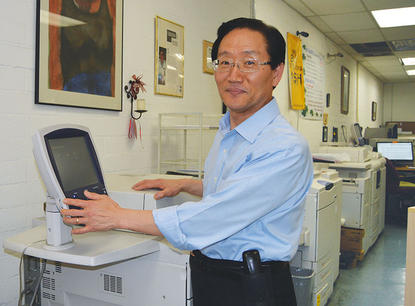 After moving to Irvine from Dallas to pursue new opportunities, Albert J.J. Kwon took a chance on a small copying business in Los Altos. He purchased Copyco USA Inc. at 2155 Bellflower Blvd. in 2004, despite not having any experience in the industry. "But my wife thought that I could do it," he recalled. When he bought Copyco from the previous owner, it was struggling. But Kwon learned the trade and built upon the business. "It was a good opportunity. . . A challenge, in a way," he said. "I try [to provide] the best service, you know, at a reasonable price. I think our prices are the best in town," Kwon said. In fact, he hasn't raised prices in more than a decade, although he may do so soon due to rising costs. Still, he is determined to keep prices low. "Our location is pretty good because Bellflower Boulevard has a lot of traffic, and a lot of students pass by," Kwon said. "Actually, a lot of professors recommend it to other professors." Many of his customers come from California State University, Long Beach, but he also serves local public schools, churches and small businesses. Services range from copying to bookbinding to printing blueprints and more. "We do everything," Kwon said. For more information, visit: copycousainc.net.
Ecco's Pizza Restaurant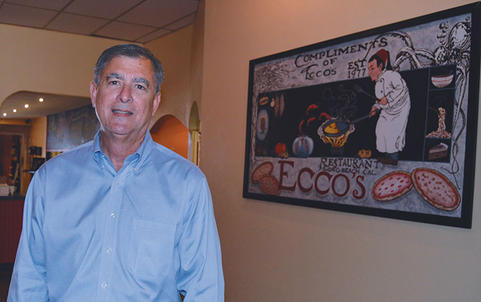 Though Jim Xanthos has owned Ecco's Pizza restaurant for nearly 25 years – since 1993 – the establishment has been a Long Beach staple since 1977. Located at 2123 N. Bellflower Blvd., Xanthos said he is planning a 40th anniversary event for early fall and hopes for city involvement. "I love Long Beach. It's a great city," Xanthos said. "We've had some pitfalls here, as far as the recession. I don't think we have come back quite as strong as I would have hoped. But we're still a family atmosphere restaurant." Xanthos owned another pizza business in Westwood prior to purchasing Ecco's. He said he sold that business in 1995 because of the commute. Ecco's currently has 24 employees, many of whom are Cal State Long Beach students. The cook has been with the establishment for all 40 years. The restaurant's bestseller is the Ecco's Special – a pepperoni, sausage and mushroom pizza – according to Xanthos. He said the space has new patio seating and more changes are in the works, including the possibility of offering a limited brunch on weekends. "But right now, our customers are pretty much creatures of habit. They don't like a lot of change. So whatever we do, we have to be very careful because they notice everything." For more information, visit myeccospizza.com.
Tattered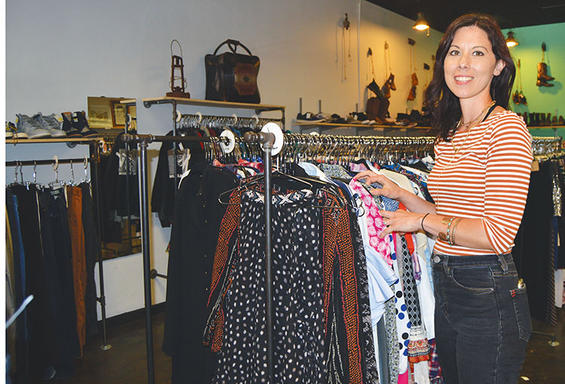 In 2013, longtime thrifter Leah Zahn opened Tattered, a secondhand clothing store located in the Los Altos Market Center North, to pursue her love of fashion in a way that would allow her to interact with others. Zahn studied fashion design at Long Beach City College. After graduating and working for various companies as an assistant fashion designer, she realized she preferred interacting with others to working at a desk. "I kind of went on this journey where I went back to retail, loved it a lot, and loved being around people," Zahn said, referring to her experience managing a Buffalo Exchange secondhand clothing store. "I always liked the concept of secondhand clothing," Zahn said. "Recycled fashion is great for the environment." Zahn chose the location at 5555 E. Stearns St., Ste. 106 for Tattered because she recognized the center as a shopping hub for the local community. "I live in Belmont Heights, but I find that my family always comes to this area for whatever reason – to go to Target, go to Trader Joe's," she said. Tattered purchases popular brands and vintage clothing to sell and also offers accessories and gifts made by local artists. For more information, visit: tatteredtrading.com.
Sushi Kinoya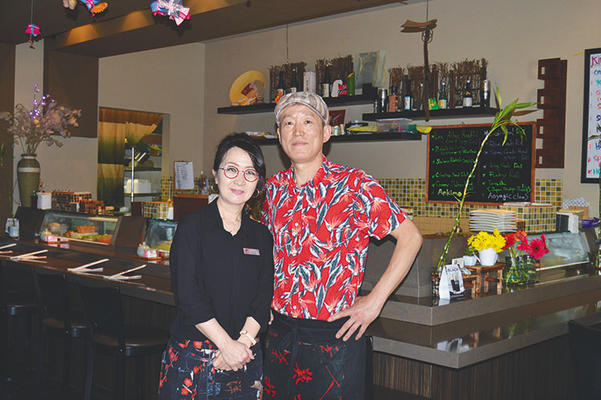 Iris and Martin Gi have owned Sushi Kinoya, which translates to house of happiness, at 5521 Stearns St. for nearly nine years. The couple immigrated to the United States from South Korea about 25 years ago, at which time Iris' brother began teaching Martin the art of sushi. After years of working in various sushi restaurants, Martin decided to branch out on his own. He and Iris opened their first restaurant in the Riverside area. After a couple of years, the pair decided to move the business and spent a year trying to find the perfect location. "We were looking for a good location everywhere. But one day we just drove by and suddenly saw this shopping center, and both of us were like, 'This is it,'" Iris said. "We are so lucky to be in this area." Iris explained that the area appealed to the couple because of the good weather and its proximity to the beach. She said the restaurant has 10 employees, including her and Martin, and about 70 regular customers. "The regular customers are very loyal," Iris said. "We're like a family. The best part [is that] if something happens, they tell me, and we share together the happiness or the sorrow. And we're all here." For more information, call 562/598-8169.