Dirty Paws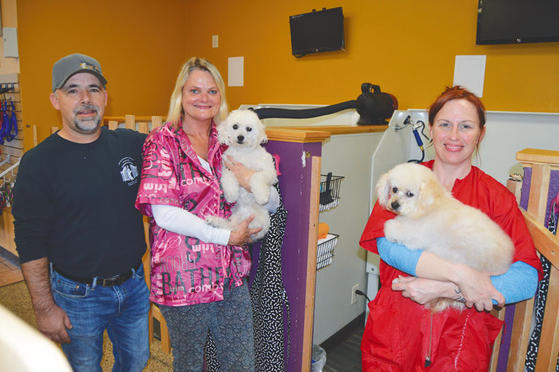 After years as a paralegal, Sharon Liberty decided it was time to spend her life doing something she was truly passionate about – working with animals. With support from her husband, Richard, she began studying animal grooming. After earning a certificate in the field, she and Richard set out to open their own pet grooming business in the Norse Way retail corridor in Northeast Long Beach. With experience in the grocery and construction industries, Richard helped build out the shop at 4501 E. Carson St. and set up the retail aspect of the business, which sells pet treats and accessories.
Dirty Paws opened in 2013. "Now as far as my part is, I come out and help once in awhile and make sure the retail is moving along and kind of handle things on the back end as she grooms the dogs and handles the front end," Richard said. "It's a friendly community, I am really happy with it," he said of Norse Way.
"Every year we have increased our business by 50%," Richard said. Dirty Paws offers full service grooming, as well as self-service stations for those who prefer to bring in their dogs to bathe. "We do cats and dogs," Richard said. "I think my wife is the only one who does the grooming on cats. They are kind of rambunctious."
Pictured from left are owners Richard and Isabel Liberty, and Amy Moore, master groomer.
Miss Priss Cupcakes & Such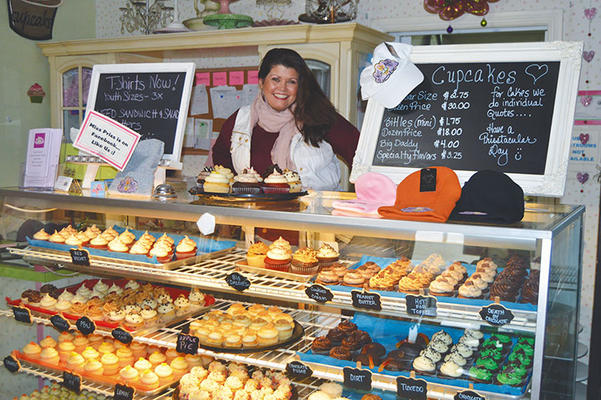 With the encouragement of friends, Karie Foster left a 10-year career in real estate to open Miss Priss Cupcakes & Such at 4131 Norse Way in 2008. She had baked cupcakes and cakes for friends' events for years, but after a particularly successful birthday party her friends urged her to open a shop.
"I was on a shoestring budget," Foster recalled. "I didn't have a lot of money and all of the retail spaces were very expensive." She was just about to give up when she drove past a space for lease at a reasonable rate on Norse Way. She called the number on the sign and immediately rented it. Within three months, she opened up shop. "I love Norse Way. It's such a neighborhood street," Foster said, comparing it to Mayberry from the "Andy Griffith Show."
Over the past nine years, Foster has developed quite the following, with customers driving from as far as Lake Arrowhead and San Diego for her cakes and cupcakes. She regularly caters in Hollywood, as evidenced by a gallery on her website featuring the likes of Jay Leno and Adam Carolla. In addition to cupcakes and cakes, Foster also serves deli sandwiches with Boar's Head meats. In the future, she hopes to open a drive-through shop offering cupcakes, deli food and coffee.
Stein Fillers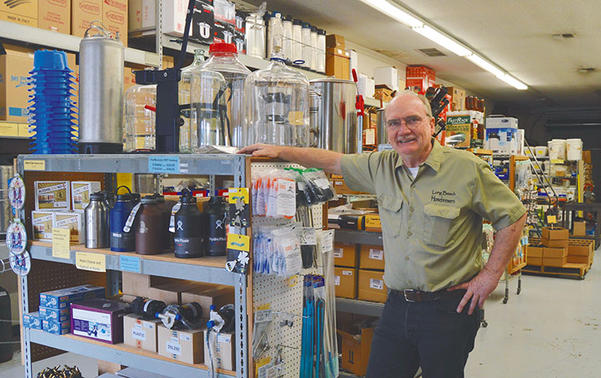 After his wife bought him a beer homebrewing kit for Christmas many years ago, Rick Adams said he was hooked. For more than 16 years, Adams has been a co-owner of Stein Fillers, a beer and wine homebrewing supplier.
Stein Fillers has been in Long Beach for 22 years, originally located on Viking Way near the intersection of Carson Street and Bellflower Boulevard. When the original owner decided to move out of state in 2000, he left the business in the care of five new co-owners. That same year, the shop was relocated to its current address at 4160 Norse Way.
"Business at that particular time wasn't doing real well. So he just gave it to us because he knew we'd take it over and continue running the store," Adams said.
Along with prepackaged kits to make no less than 13 different beers and ingredients for do-it-yourself beers and wines, Stein Fillers sells all the equipment necessary to brew adult beverages at home. The only thing not sold at the shop, according to Adams, is the juice needed in winemaking. He said this is because wine products only make up about 5% of sales.
When asked what he enjoys most about co-owning the shop, Adams said, "When I'm there, I really enjoy dealing with folks. I'm the type of person that likes chatting, and usually those that come in have a lot of questions. And I really enjoy answering them."
Math Hive
Ben Hilberg and his colony of math tutors are new to the education scene, having opened the doors to Math Hive only eight months ago. Located at 4501 E. Carson St., Suite 108, the math tutoring center focuses on homework support, filling in gaps in a student's knowledge and enrichment, including coding, robotics and more.
"We're not one-on-one tutoring, we're a membership. Parents drop off their child, and they receive tutoring from anyone who is available at that moment, any one of the tutors on the floor," Hilberg explained.
Currently, Math Hive has six tutors – seven counting Hilberg who will tutor during busier hours – for its roughly 30 enrolled students. The center tutors students in grades 2 through 12, with each membership costing $250 per month. Math Hive is open five days per week, and each student may attend up to two hours for every day the center is operating. For ambitious parents and students, this could sometimes mean up to 40 hours per month, making the cost a nominal $6.25 per hour.
"What is most rewarding for me is the fact that we have an extremely high retention rate, which means people are satisfied with the work we are doing. So I figure if we keep doing a good job, parents will talk about it. They'll leave some type of review somewhere. And next thing you know, other students come," Hilberg said.
Hojas Tea House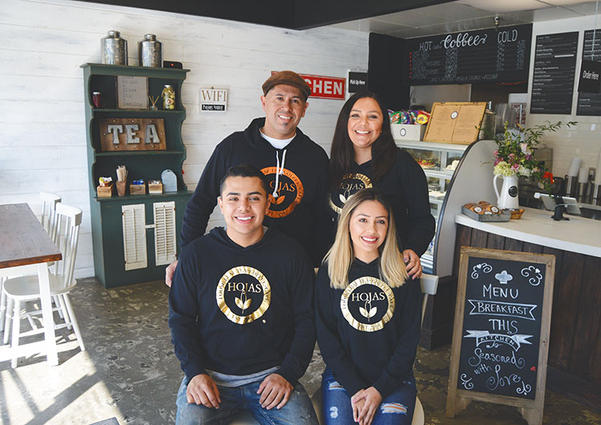 After having found success in Wilmington and San Pedro, in November Alma and Ignacio Ortiz opened the third location of their business, Hojas Tea House, at 4501 E. Carson St. in the Norse Way business corridor.
"About 15 years ago I started drinking green tea as a preventative means for my own health," Alma said. "The more I learned, the more passionate I became about it." Ortiz's father died of cancer when he was just 37, and several other family members have battled the disease. After learning about the various types of tea, Alma envisioned opening a teahouse and place of gathering for the Wilmington community. At the time, she was working for the Los Angeles Unified School District as a special education assistant. "When I approached my husband he immediately said yes. And he said, 'I will definitely support you in whatever way I can,'" she said. "He has definitely been the backbone of the business."
Hojas Tea House serves a variety of healthy tea drinks based on Chinese medicine, as well as coffee, salads, pastries and more. "What we created were drinks not just to taste good but to make a difference in your health," Alma said. The Ortiz's hope to partner with nearby Long Beach City College for community fundraising events in the future.
Pictured are Ignacio and Alma Ortiz with their children Andrew and Amanda, who are actively involved in the family business.
Long Beach Woodwinds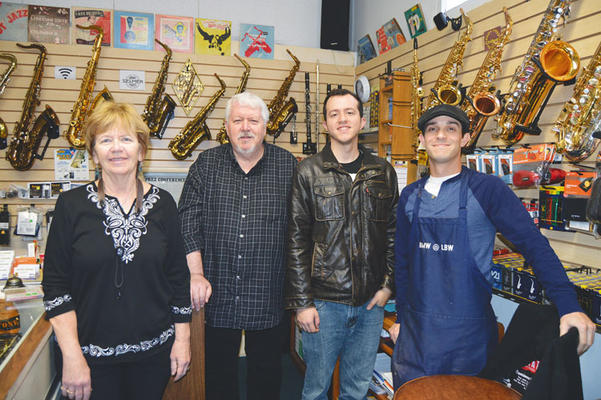 With nearly 50 years in the music industry, including playing saxophone for Les Brown's Band of Renown and Captain & Tennille, Rusty Higgins opened Long Beach Woodwinds in 2003 to share his knowledge, expertise and enjoyment of woodwind instruments with the community.
Higgins' shop, located at 4412 E. Village Rd., sells and rents woodwind instruments, as well as accessories and sheet music, mostly to students from local school districts. "All the band directors around know us. And I would say that most of the kids in the Long Beach, Los Alamitos, Cypress, Cerritos area, they come to us because our prices are the best and we have the best selection," Higgins said.
Aside from sales and rentals, the shop offers world-class instrument repairs, according to Higgins, including brass instruments, even though they are not sold at the store. Higgins and his wife also teach dozens of private lessons each week at the store – from beginners to some of the best players in the area, Higgins said.
Outside of running his store, Higgins has been a saxophone teacher at Azusa Pacific University since 2002 and still receives work at recording studios. He has recorded or performed with artists such as Ray Charles, Frank Sinatra, Johnny Cash, Barbra Streisand and Aretha Franklin, to name a few. "I work for big names, but I'm not a big name," Higgins added modestly.
Pictured from left: Georgia Higgins, owner and instructor; Rusty Higgins; Edgar Guadiana, repair technician; and Bryan Whitaker, repair manager.