Soul Purpose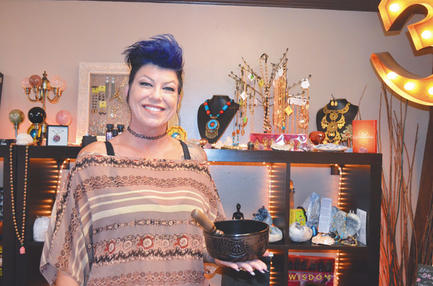 Michelle Armor, the owner of Soul Purpose, described herself as an "intuitive." "I don't need any information; I'm just able to tap in and see your whole life," she said. This is a talent, Armor explained, that she has possessed her entire life. "I could see into other people's lives when I was three or four years old. I didn't know I was different. I was able to read adults when I was very young and they would kind of trip out." At Soul Purpose, Armor offers both in-person and virtual intuitive sessions, where she guides her clients to the right path for them. She specializes in couples' therapy and helping clients overcome addictions. Armor estimated that she has about 5,000 clients worldwide, some of whom speak to her through a translator. Armor employs six healers and plans to add on three more by the end of this month. "We have hypnotists, tarot card readers, herbal healers, reiki masters – we all do something different," she said. Armor described reiki as a form of healing in which practitioners move their hands over a client to clear blocked energy. In addition to various therapies, Soul Purpose also sells crystals, candles, sage, jewelry and incense. "In just over two years of business, I've only sold one thing," Armor remarked. "I've probably given away about $20,000 worth in products. I believe in paying it forward." Soul Purpose is located at 1032 Redondo Ave. For more information, visit soulpurposelongbeach.com or call 714/745-5322.
Thai Curry Pizza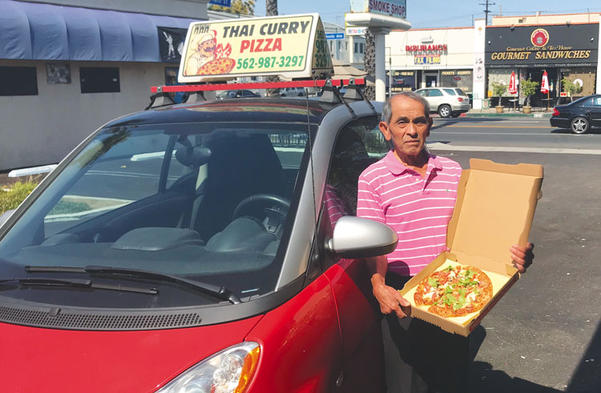 Sam Vanavi, the owner of Thai Curry Pizza, moved to Los Angeles from Bangkok, Thailand, when he was 24. Although he had already earned a graduate degree in Thailand, he obtained another degree at a business college in L.A. "I had to start all over," he said. After a string of odd jobs, he opened Indra Thai Restaurant in Glendale in 1975, which his son now manages. Vanavi's wife, Sue, a co-owner of Thai Curry Pizza, suggested merging her native cuisine with pizza to appeal to more customers. "The pizza is good for the kids," Vanavi said. Customers are "crazy about" the Thai Curry Tofu Pizza and Tom Yum Pizza, which are Sue's original recipes. Curry sauce replaces the traditional tomato spread on the Thai Curry Tofu Pizza, and toppings include basil, onions, bell peppers and tofu. The Tom Yum Pizza is made up of hot and sour Tom Yum Thai sauce, mushrooms, tomatoes, cilantro and chicken. The rest of the menu offers mixed cuisine such as wonton soup, a selection of Thai salads, buffalo wings and hamburgers. Although there is only one Thai Curry Pizza location, Vanavi's goal is to open two others: one near the Wat Thai Temple in North Hollywood, and the other in Thai Town, a neighborhood in East Hollywood. The Wat Thai Temple is the largest Thai Buddhist Temple in Los Angeles. Thai Curry Pizza is located at 929 Redondo Ave. For more information, call 562/987-3295.
Royal Cup Café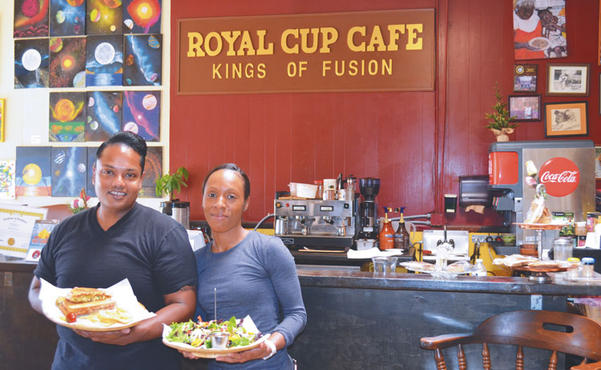 Raj Weerakkody, the general manager of the Royal Cup Café, started his business to escape the structure of the corporate world. "I wanted to do something different," he said. "But the restaurant business is not easy. There's lots of competition, and if you don't evolve with the competition, you're going to go under." According to Weerakkody, the fusion of cuisines from different cultures is what sets his eatery apart. "I wanted different textures and tastes," he said. Weerakkody draws from American, Hispanic, Cuban and Sri Lankan influences. Royal Cup Café offers breakfast all day as well as fruit smoothies, baked goods, salads and a wide selection of sandwiches. Weerakkody said the salads and paninis are his bestsellers. "They're super different," he said. "Nobody has what we have." He uses a set of main ingredients and mixes them together in different combinations. Some of his staples include chutney, pesto, sundried tomatoes, oven-roasted turkey and salami. The café has two other locations: one in Torrance and the other in Santa Monica. "I was a businessperson, but I loved food, so I surrounded myself with really good people," he said. "All of my staff has been with me for 10 to 15 years." Weerakkody's favorite part of the business is the people. "I love the interaction and having them enjoy our food. That's the whole goal as a service business." Weerakkody is pictured at left with manager Yona Elias. Royal Cup Café is located at 994 Redondo Ave. For more information, visit: royalcupcafe.com or call 562/987-1027.