The Funnel House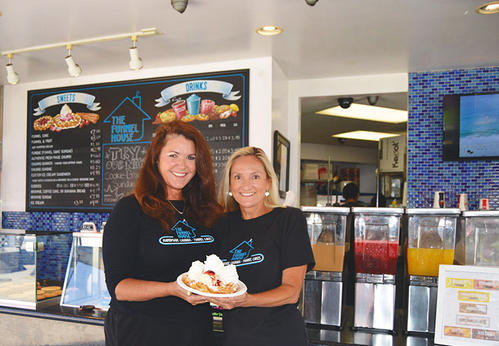 Bridget Thordarson, left, and Patty Wirth first met in kindergarten. In their 20s, the pair reconnected and, in 1987, purchased an ice cream and frozen yogurt shop at Shoreline Village. Wirth explained that being small business owners was ideal for the pair, who each had two sons and could work around each other's schedules. "People kept on asking us if we sold funnel cakes. I think they were smelling our cones," Wirth said. "So we thought maybe we should start selling funnel cakes." In 2005, a space became available next door, and they jumped at the chance to form The Funnel House. Wirth and Thordarson created each recipe, and each funnel cake is baked from scratch. The main baker has been at the Long Beach location for a decade, adding a sense of consistency to the product. The Long Beach location currently employees about 15 people. The partners also have a location on Main Street in Huntington Beach and are gearing up to open a third location at the Northridge Fashion Center in the fall. "[The most rewarding part] is the satisfying look when you hand over a delicious-looking funnel cake or ice cream sandwich. They are so excited," Wirth said. For more information, visit www.thefunnelhouse.com.
Louisiana Charlie's BBQ & Cajun Cuisine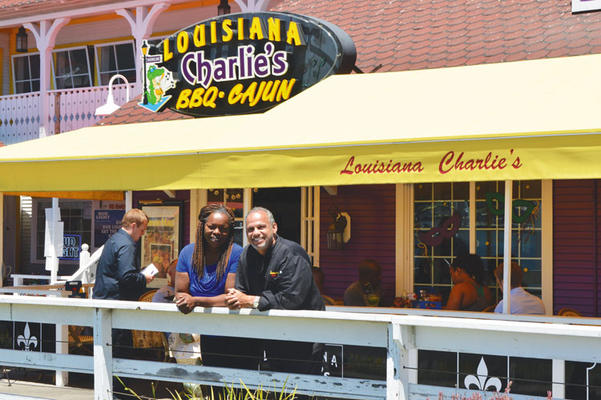 Shanda and Eric Laurent have been in the restaurant business since the 1980s but decided to venture into familiar territory for their latest venture, Louisiana Charlie's BBQ & Cajun Cuisine at Shoreline Village, which opened four years ago. "This time we wanted to specialize in our family's heritage with the type of food they eat," Shanda said. "Charlie is my dad. He's from Wilson, Louisiana. My husband's family, they are all from Louisiana as well. Out of both of our families, my dad was the one that passed, so we named it after him." Eric said that after two years of searching, as soon as the Shoreline location became available, they snatched it up. The restaurant specializes in Cajun seafood, having alligator meat and live crawfish flown in weekly from Louisiana. Top-selling dishes include gumbo nachos and fries, crab and shrimp fajitas (jumbo shrimp and snow crab sauteed in Cajun seasoning) and their four-pound and up baby back ribs. "When we get a lot of people that are from Louisiana and they are surprised that they can get authentic Cajun food in California – that, to me, is the most rewarding." For more information, visit www.louisianacharlies.com.
Queen Mary Couture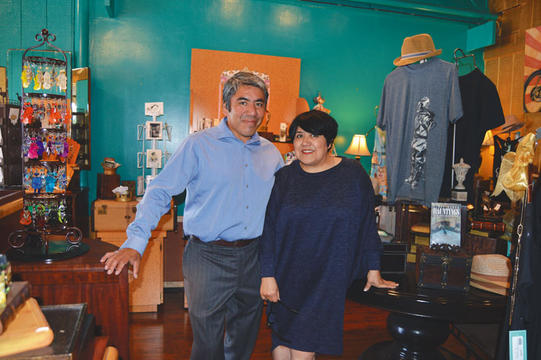 Martha Chacon, pictured with her husband, Ernesto, began working aboard the Queen Mary in the merchandising department in 1984 as a cashier. She worked her way up to manager and, in 2003, was offered the opportunity to buy two retail stores aboard the ship. In 2005, Chacon's son, Ernie Chacon Jr., decided to lease his own space aboard the ship, creating Queen Mary Couture. "He just had a vision for a modern store with a twist of the vintage of the Queen Mary," Martha said. Ernie was killed in an auto accident in 2007, but his parents carried on his vision. In 2014, the ship operators opted to lease retail space to a corporation, giving the Chacon family three months to vacate its three stores. The family carried on Ernie's legacy by relocating Queen Mary Couture to its current location at Shoreline Village. Martha said it's the perfect location – across the water from the Queen Mary. Martha said the store continues to focus mainly on local- and USA-made handmade items. "I strive to create an eclectic but really fun experience for the locals and the tourists that walk through my door," Martha said. "I get a lot of compliments and a lot of 'oohs' and 'aahs.' I love that." For more information, call 562/491-7833.
Hot Licks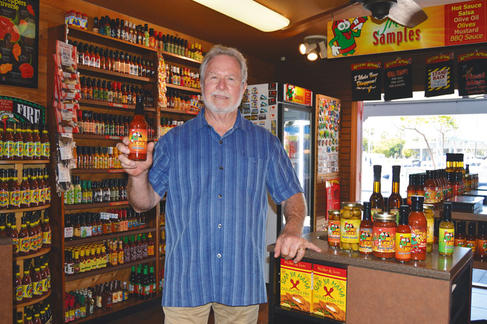 Having operated retail businesses in San Diego since 1976, Craig Lerner visited Boston in the late 1980s and was intrigued by a store that specialized in hot sauce. "I've always been a fan of spicy food since I was a teenager, and the business just came along," Lerner said. In May 1994, Lerner opened a Hot Licks cart at San Diego's Seaport Village, where he already had several retail stores. One year later, Lerner expanded Hot Licks to a second location at Shoreline Village in Long Beach. The Shoreline location currently has four employees, including the manager who started when the store first opened more than a decade ago. Lerner further expanded his business to Pier 39 in San Francisco. Lerner said developing new products is his favorite part of owning the business. Aside from about seven hot sauces, three types of stuffed olives, two salsas and two barbecue sauces, the stores carry hundreds of local brands. "We try to carry every flavor profile in every category that we are aware of. We try to carry every heat level from mild to extremely hot," Lerner said. "We have hundreds of different products other than the Hot Licks brands." For more information, visit www.hotlickssauces.com.
Just Got 2 Have It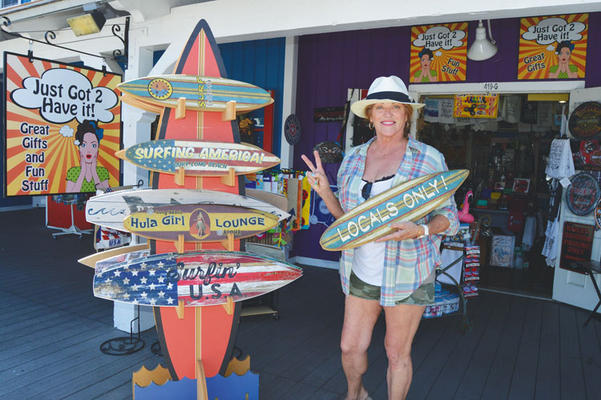 Dona Quinones has operated Kitchen Gadgets Plus at the Orange County Marketplace for 32 years. After experimenting with carrying gift items, she decided to open Just Got 2 Have It at Shoreline Village in June 2016. "The theme of the store is 'great gifts and fun stuff,'" Quinones said, whose manager, Cynthia Bovee Bos, is pictured at left. "There's a lot of very funny, sarcastic kind of signs and a lot of play on words and hard-to-find gift items. Everything from garden flags to the newest craze of fidget spinners. Just great gifts." Originally from New York, Quinones has lived in Long Beach for the past 16 years and said she wanted to own an unfiltered, funny store similar to those she left behind on the East Coast. Quinones said she stocks unique gifts not found at big-box stores, including items to cater to the city's flourishing gay community. "I really love meeting my neighbors. I meet a lot of tourists and I meet a lot of convention people, but . . . I'm trying to get to the urban dwellers," Quinones said. "My store totally has that feel for gifts for Downtown Long Beach. It's nice because I've really been connecting, and to me, that's the best part of it." For more information, call 714/235-0622.
Tugboat Pete's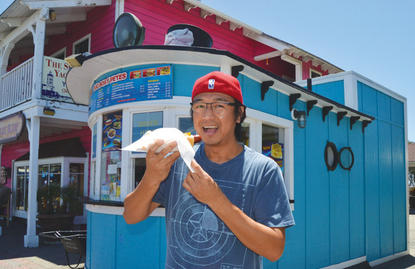 Tugboat Pete's first opened at Shoreline Village in 1982 selling ice cream, cookies and popcorn. It was sold in 1990 and transitioned to specialize in hot dogs, corn on the cob and lemonade. In July 2003, Romeo Herrera purchased the establishment and reworked it to what it is today. Herrera, a 31-year employee of ADP, said he purchased the business as a way to earn extra cash. "It's small. It's really manageable since it's such a small place," Herrera said. "It just so happened that my sister used to work for the people I bought it from. It was a husband and wife, and they moved to Las Vegas and sold it to me." Today, the location's best-selling dish is its Killer Nachos, along with the classic, all-beef hot dogs and burgers. Herrera explained that locals and tourists alike are charmed by the small, tugboat-shaped eatery, often taking pictures in its porthole windows. "A lot of times, the kids pass by on the boardwalk and see hot dogs, and they yell, 'Hot dogs! Hot dogs!' at the top of their lungs. And that gives me great joy," Herrera said. "And the pride of owning your own business." For more information, call 562/436-4919.