Michael Levy Gallery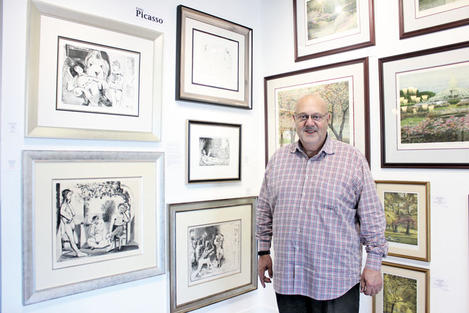 After growing up in an artistic household, his father a fashion designer and his mother a pattern designer, Michael Levy started in the art business nearly 40 years ago, later opening his gallery in 1983 in Belmont Shore. He relocated to Downtown Long Beach and then Naples before settling in his current location at 6226 E. Pacific Coast Hwy. "For the first 15+ years I was representing emerging artists," Levy said. "Then, by accident, I fell into this niche of doing estate work for banks, insurance companies and estates in probate liquidating blue chip collections, which I have found more satisfying because you never know what's going to come in." Entire blue chip collections, including artists such as Picasso, Chagall and Dali, are given to Levy's gallery to sell and Levy keeps a commission on each sale. At any given time, the gallery has several hundred pieces, from paintings to prints to sculptures, even some glass and woodwork. Levy also allows any piece to be returned to the gallery by customers to be used as credit for another, regardless of how long ago the original purchase was. "I always suggest that people go look at a lot of art. Because it's just like anything else, the more you look at, the more mature your taste becomes," Levy said. " I love when people see a piece and react to it and are not sure why. But they allow that to happen. To me, that's the fun part." For more information, call 562/856-9800.
Hawkes & Smythe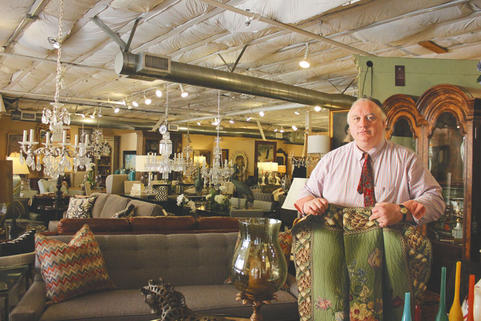 For nearly 18 years, Richard Smythe has owned and operated Hawkes & Smythe, a fine furniture and interiors store, at 6346 E. Pacific Coast Hwy. adjacent to the movie theater at the Marina Pacifica Mall. "I got into it in the late '80s. You've got to really be on your toes now," Smythe said. "It's a wonderful business and I'll be in it until I die." He explained that he very rarely carries antiques. Rather, the high-end furniture store carries new, handcrafted pieces. The majority of Smythe's merchandise is made in the United States, Italy, England and France. When it comes to upholstery, he explained that the U.S. can't be beat, with other countries ordering American. However, he noted that Italian inlays and hand-painted pieces are incredible. Smythe said that the general public is smart and sophisticated, making trust and integrity crucial in the business of selling furniture for thousands of dollars apiece. Though he currently has two part-time employees, Smythe said he has run the business himself since opening. "I love furniture. It's a disease, really. It's true, you get hooked and you're done for. I live, eat, breathe furniture, fabrics, window treatments. You become like an addict – things stacked everywhere: paintings, lamps, fabrics," Smythe said. "This is a business that's a passion. You have to love it in order to survive and you have to know what you are doing." For more information, call 562/342-9782 or visit www.hawkesandsmythe.com.
Cesar's Bistro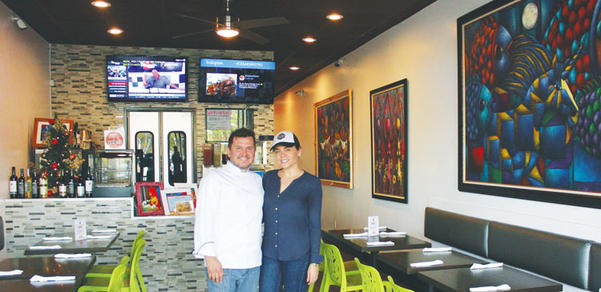 On December 2, Colombian immigrants Luz Torres and Cesar Villarreal celebrated the three-year anniversary of their restaurant, Cesar's Bistro, located at 6240 E. Pacific Coast Hwy. "In 2013, we came to visit [the U.S.] – San Francisco, Los Angeles, San Diego – and Cesar liked Long Beach so much," Torres said. "He always wanted to open a restaurant here in the U.S. At the time, he saw it as an opportunity and the perfect time. So we decided to come the next year to start the project." The married couple currently has six employees who help them serve up what they dubbed "new Latin American cuisine," which is a mix of South American and Caribbean flavors. Villarreal studied the culinary arts in Argentina and has worked as a chef in Peru, Brazil and Colombia, where the couple still owns a catering business. Torres explained that the most important fact about the bistro's food is that everything is made from scratch, fresh and made to order. "When you build relationships with customers, they come and just become friends and family here," Torres said. "We don't have family here, so when customers come and give us a hug and they appreciate what we do, that's the best part. To know that we are doing something good for people who appreciate it." For more information, call 562/494-1000 or visit www.cesarsbistro.com.
Long Beach Waterbikes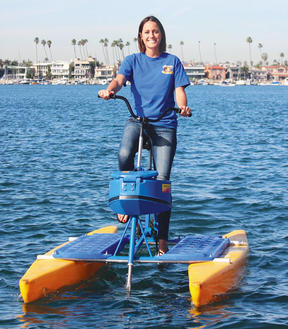 Long Beach natives Melissa and Michael Almquist grew up on Alamitos Bay. The two met while working as gondoliers in the Naples canals and even got married on the sands of the Alamitos Peninsula. In January, the pair purchased Long Beach Hydrobikes, located at 110 N. Marina Dr. on the docks behind Ballast Point Brewing, renaming the business Long Beach Waterbikes. "When we got the business, we purchased it with 13 bikes and they were in pretty bad condition," Melissa, pictured here, said. "Over the past year, we've been working so hard to bring the waterbike rentals up to par. We ended up with a fleet of 30, which is the largest hydrobike rental fleet in the world." Essentially, a waterbike is a bicycle on two pontoons. The waterbikes can be ridden around the bay and through the Naples canals during the day and at night beginning in January when the business begins moon-glow cruises, in which LED lights are attached to the bikes with a black light on the dock to guide riders back. The couple offers free rentals to active military and veterans every day, as well as to their entire family on Veterans Day. "Before people even get on the bikes they are intrigued because it's literally a bicycle on floats and you're riding a bike on the water," Melissa said. "And then they come back having experienced the area and how pretty it is and how beautiful the weather is here and they are so happy it's contagious." For more information, call 562/546-2493 or visit www.lbwaterbikes.com.
Purple Yoga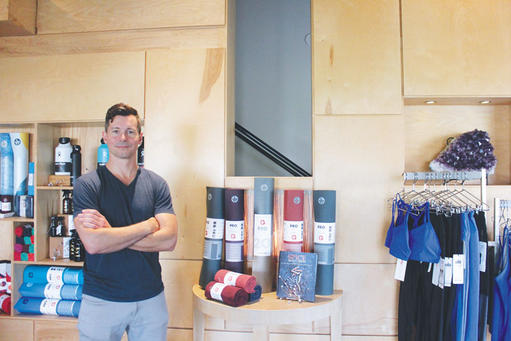 After selling his ad agency in 2000, Joe Vogt spent several years soul searching for what was next. "I was looking for a new career path," Vogt said. "I thought back to my yoga experience – I dabbled a little bit in the mid 1990s – and thought it might be a place that I could apply my skill set and I started to pursue it. The rest is history." While living in Downtown Fullerton in 2005, Vogt opened his first Purple Yoga studio. He eventually moved to Long Beach and decided to open a second location in his new hometown. Purple Yoga's Long Beach location opened at 6535 E. Pacific Coast Hwy. in 2010. Vogt describes the studio as a full-service center, which includes two yoga rooms, a locker room, showers and a boutique store to satisfy all yogi needs. He explained that he has between 25 and 30 instructors at the Long Beach studio, which offers hundreds of classes per week, including the popular hot yoga, yoga teacher training and workshops. "Fitness in general is important but I find that what yoga offers is exercise evolved. It's addressing a couple of needs that people might not even understand they are missing," Vogt said. "You can look at it as meditation in motion.  If you come in, I'm going to give you a great workout. But I'm also going to help you exercise your mind and help you understand and appreciate that the physical and mental development are very closely intertwined." For more information, call 562/596-5700 or visit www.purpleyoga.org.
Belmont Shore Veterinary Hospital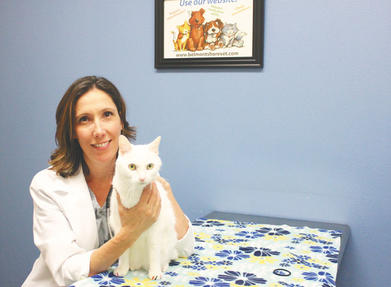 The Belmont Shore Veterinary Hospital has been caring for residents' pets since the 1970s. Originally located on 2nd Street, the business now occupies the property at 6222 E. Pacific Coast Hwy. Doctors Rachel Sitler and Elyse Frank will celebrate their 11th anniversary of owning the practice in April. "Elyse and I decided that we wanted to give it a try with our main goal to have truly excellent patient care and to have a place where you like coming to work," Sitler said. "Where the staff enjoyed being there and where we worked a lot on the psychology of the practice and making sure people were happy and kind to one another." The practice has about 20 employees, including six registered veterinary technicians, which Sitler said is uncommonly high. Sitler said she is licensed as a general practitioner and often refers patients to specialists for more specific treatments. She explained that her practice's level of customer service, including longer-than-usual appointment times, sets it apart from other veterinary offices. "We are fortunate to work in an area where people treat their pets like family. That person-animal bond is unbelievable and being part of people's family and being included in that is pretty spectacular. The back wall of my office is covered floor to ceiling and all across with cards from people." For more information, call 562/961-0028 or visit www.belmontshorevet.com.