Lakeview Lock Shop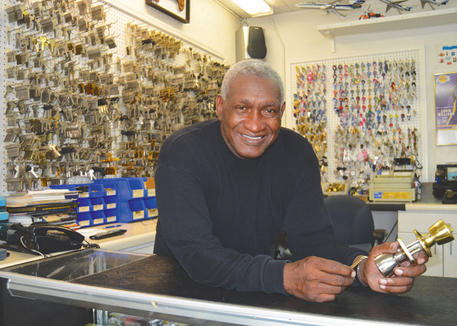 Solomon Barnes started Lakeview Lock Shop at 913 E. Wardlow Rd. in 2000, and spread the word by canvassing the neighborhood with a backpack full of flyers. Now, after 17 years in business, he is well known in the community. "I know most everybody in the neighborhood and everywhere I go, somebody knows me in Long Beach," Barnes said. "It's like a home away from home," he reflected. "I am part of the community now, I have been around here so long." Barnes previously worked in the employee assistance program at McDonnell Douglas. He stumbled into the locksmith trade by happenstance when he went to get a key made and formed a connection with the owner, whom he helped join a substance abuse program. Barnes took a liking to the locksmith field and interned with the business. "Then McDonnell Douglas sold to Boeing and they said I had to have a degree for that position I had, so I said, 'I might as well open me a shop,'" he recalled. "Business has been good to me," Barnes said. Barnes has been good to the community, too. He is well known in the community for his charitable work distributing toys at Christmastime, as well as his work with substance abuse programs, he said.
Roxanne's Cocktail Lounge & Latin Grill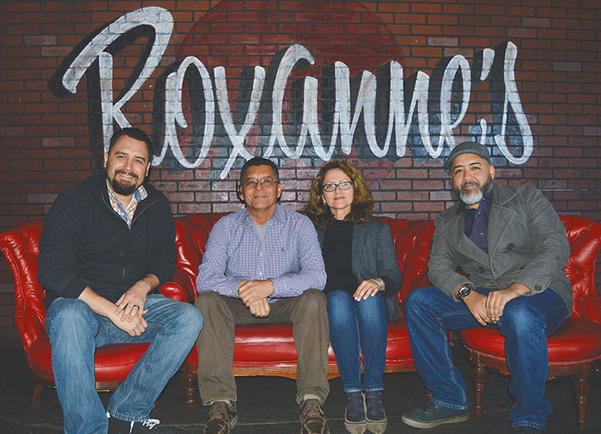 Roxanne's Cocktail Lounge & Latin Grill first opened at 1115 E. Wardlow Rd. six years ago when the Molina family – who had previously tried other business ventures – decided they wanted to create Long Beach's next go-to hang out. The concept was centered on a passion for cocktails, according to co-owner Roberto Molina. "It's a complete passion and art, just like food," he said of cocktail making. Roxanne's menu is influenced by the family's roots in Central America, Molina said. "For example, we have our really popular famous wings are the tamarindo wings," he said. The menu also features other small plates like sliders and empanadas. "We also made it so we are a night life spot. . . . We have an entertainment license and a dancing license as well," Molina said. A secret door inside Roxanne's leads to a hidden bar called The Exhibition Room – a venture the Molina's started to appeal to clientele entrenched in the spirits scene of Long Beach. The Exhibit Room also serves as a mini museum to Long Beach bar history. Last year, Roxanne's began operating a "bar on wheels" at events around the city. Molina also hopes to soon open another concept within Roxanne's.
The Molina family, pictured from left: Chris, Roberto, Mirna and Robert.
Choice Medical Supplies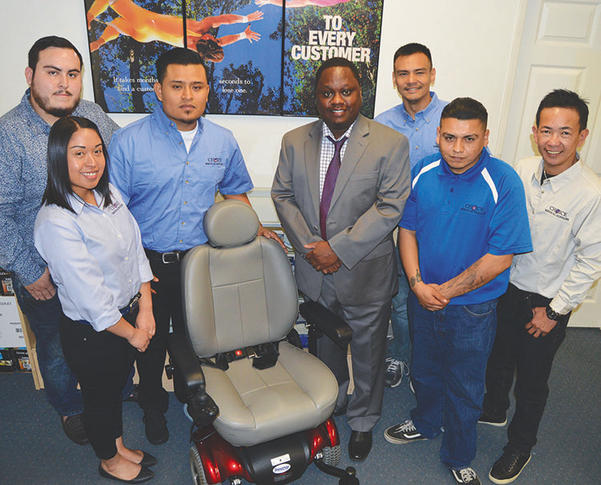 Charles Ume established Choice Medical Supplies, a full-service durable medical equipment company, in Inglewood in 2001. In June 2005, he relocated the business to 800 E. Wardlow Rd. in Long Beach. "[We moved because] Long Beach is a much better business environment and also because Long Beach was the center of our insurance and patient population," Ume said. "It's been terrific because we've grown year after year, and Long Beach makes it a lot easier for us to do business because of the access to the freeways." The store sells medical supplies, big and small, from hospital beds to catheters. Doctors refer patients to Choice Medical when they are discharged and need supplies for their homes and everyday living. Mobility needs are common, according to Ume, who said the store carries all types of wheelchairs and can even customize them. Many of the store's clients are referred by doctors at Long Beach Memorial Medical Center and through Seaside Health Plan. St. Mary Medical Center has also recently begun referring more patients, according to Ume. "We're really excited about the work we do. We have a lot of phenomenal doctors in Long Beach that trust us to take care of their patients," Ume said. "We are looking to stay in Long Beach and do a lot more and grow."
Pictured from left: Ricardo Angulo, patient services coordinator (PSC); Margarita Melchor, biller; Emanuel Sanchez, PSC; Colin Mativo, vice president and chief operating officer; Gilbert Aquino, PSC; Kevin Ortiz, technician; and Bing Parungao, lead and government services.
Mac's Barber Shop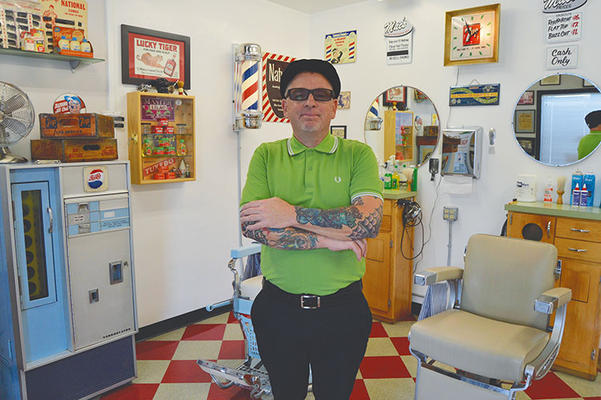 After being laid off from his Job at McDonnell Douglas, Mac McCormack decided to become a barber. "An old friend of mine was barbering, and he had a shop in Orange, Jake's Barbershop," McCormack said. "I liked what he was doing, so I ended up going to school and got my license." In 1996, McCormack began cutting hair at Cameron's Barbershop in Long Beach's California Heights neighborhood. The next year, he found a space for lease around the corner at 915 E. Wardlow Rd. and decided to open up his own shop. Mac's Barber Shop opened on January 5, 1998. McCormick is the only person who works at the one-chair shop, which he said has customers from all walks of life. He explained that he's had a consistent clientele, losing some when companies such as Boeing or Toyota moved operations but gaining new clients throughout the years. "I love the area. It's great. Back when I worked at the other barbershop and was looking for a place, it had that old-time feeling of a small community, like Mayberry," McCormick said. "I love what I do. I love the customers that come in. I appreciate past and present customers that have supported Mac's Barber Shop."
L.B. Walker Automotive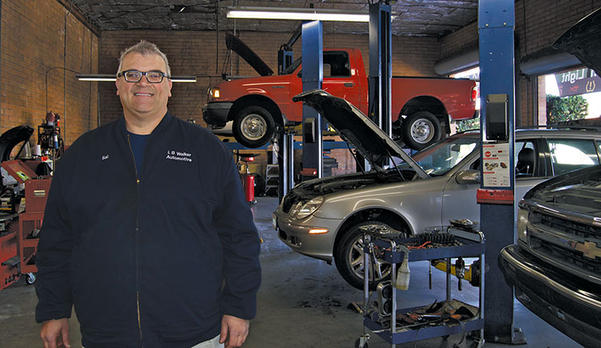 The auto repair industry is in Sal Lombardi's blood. In 1978, at the age of 14, he moved with his family from Montreal, Canada, to Southern California, where his father owned a 76 gas station in Long Beach until 1992. Following a string of jobs and several moves, Lombardi was diagnosed with non-Hodgkin's lymphoma. After several rounds of chemotherapy, Lombardi found himself in remission and reinvigorated by the auto repair industry, which ultimately led him to opening L.B. Walker Automotive at 1000 E. Wardlow Rd. in Long Beach at the beginning of 2015. "This area is really very quiet, great people. It's friendly, never an issue with any customers," Lombardi said. "It feels like when we were in business at the 76 station. People have that trust with you. It's great. I just love it." The shop has four employees, including Lombardi, and offers a range of services from car restorations to oil changes. Lombardi prides himself on customer service but said it's not the only thing that sets his location apart from others. "[We offer a] clean shop and good, honest repairs. Customers tell us our work is done right the first time and that they feel at home each time they come here," Lombardi said. "I love that. That's why we have a good customer base."
Chiropractic Neurology Center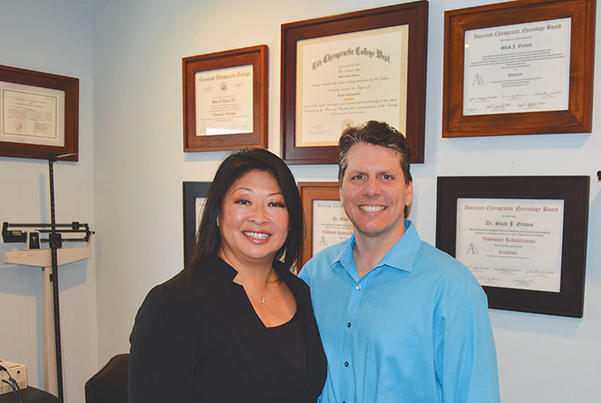 Chiropractic Neurology Center (CNC) opened the doors to its new digs at 1225 E. Wardlow Rd. in January after moving from their previous location in Bixby Knolls. Married couple Dr. Shad Groves and Dr. Karin Kim first opened their business in 2000 after moving from the Bay Area. Both are chiropractors, with Groves specializing in chiropractic neurology and Kim in family health and overall wellness. The two moved to Long Beach in 2000 after Groves, an Army veteran, finished his education. "We didn't know anything about Long Beach when we moved here," Groves recalled, noting that the two considered locations all over Southern California. "I ended up choosing the Long Beach office. . . .  And it was very low rent and right off the freeway," he recalled. The two also loved the "big city, small town" vibe Long Beach is known for. "For the first couple of years in practice we had to advertise because nobody knew us," Groves said. "We had to go out to the public and meet them. . . . Now we have a small enough reputation where we just generate referrals." In addition to offering chiropractic services, CNC employs two massage therapists and an acupuncturist also rents space within the office. Groves is often referred unique neurological cases due to his specialty.