Shoreline Comics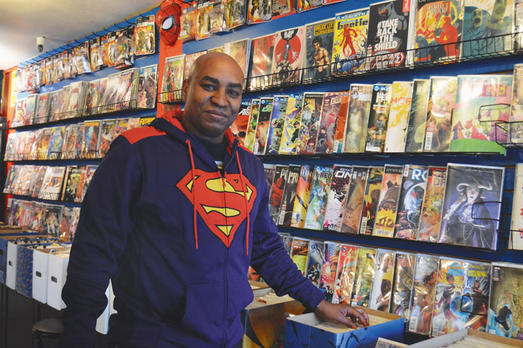 The newest "superhero" for comic fans in Long Beach might just be Shoreline Comics – home to a vibrant, colorful space adorned with comics, memorabilia and collectibles. Opened in September 2015, the comic shop is also home to a real-life adventure for owner Feon Cooper, a former EMT and reserve firefighter who has brought his lifelong love for animated characters to life for many happy customers. "This is probably the best job I have ever had," Cooper, whose fascination with comics and toys dates back to his younger five-year-old self, says of opening his shop.
Located inside the Shoreline Village shopping center at 419-N Shoreline Village Dr., the specialty shop offers an array of comic and fantasy books, toys, collectibles, anime and movies, along with character appearances inside the store. In addition to comic books, the shop's most popular sellers are Funko Pop! Figurines, "blind bags" containing mystery figurines (a hit among the younger kids), and, of course, anything Pokémon, Cooper says. "It's been a wonderful experience," Cooper says of his experience as a small business owner in Shoreline Village. "I've gotten a lot of support from the community – the mayor has been fantastic and Shoreline Village has been fantastic. It's just a great area, great atmosphere, great community . . . It was one of the best decisions I could have ever made."
Ahimsa Vegan Cafe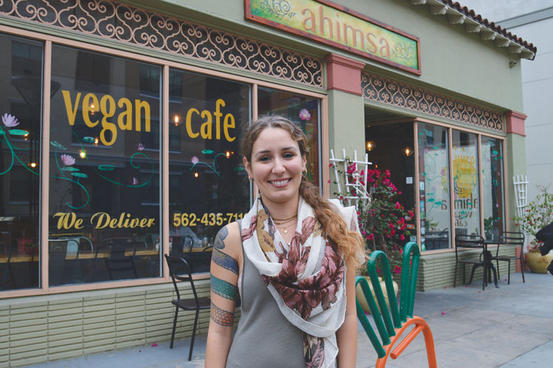 In the Hindu, Buddhist and Jain traditions, "Ahimsa" is commonly translated to mean non-violence – a fitting name for Downtown Long Beach's popular vegan and vegetarian eatery, Ahimsa Vegan Cafe. The family-owned business was opened three years ago by lifelong Long Beach resident Ashley Jade Mullery and husband-and-wife team Tukaram and Radhika Garvey. "We wanted to have a place where we could serve our community clean food, healthy food and ethical food," Mullery says, "and have a space where people could nourish themselves on the inside."
Tempeh Reuben served with sauerkraut and fresh arugula on toasted rye, avocado jalapeno cheeseburger, Hippy Kale Bowl with organic tempeh and seasonal veggies, and authentic samosas are but a few crowd favorites at Ahimsa Vegan Cafe, located at 340 E. 4th St. The international menu features vegetarian and vegan fare, catered toward the highly diverse clientele in the International City. "The type of people that come into a vegan restaurant are usually really open-minded, so we get to meet cool people all the time," Mullery says. "There's always good conversation happening here between strangers." But the staff of 12, Mullery says, are anything but strangers. "We've built a family here," she explains. "Everybody is on the same page as far as wanting to give back to our community in a way that aligns with our morals. It's been a really satisfying experience."
Great Society Cider & Mead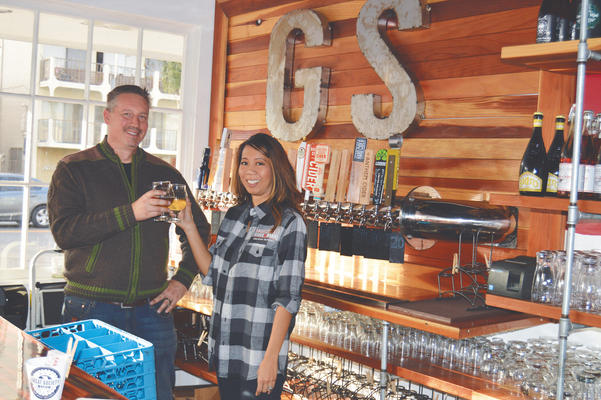 Within the first week of its opening in August 2016, Great Society Cider & Mead doubled its staff to accommodate the overwhelming curiosity among patrons to Southern California's only all-cider tap house. The pub, located at 601 E. Broadway, is owned by husband-and-wife team Brenda and Otto Radtke, who saw downtown as the perfect location for their "passion project." "We love the city," Otto says. "It's just a vibrant area down here in the East Village . . . and it's just the kind of city where it's relaxed, yet people are interested in a lot of alternative things. That's what we sell – an alternative that most people haven't been exposed to in any significant manner." Great Society offers 20 ciders and meads on draft and more than 100 bottles, including a popular Danish Viking mead called "Viking's Blood," a "Tipsy Buddha" infused with Matcha green tea and yuzu, and classics such as a beautiful French brut cider that Otto likens to fine wine.
The couple – who both hold jobs outside of Great Society (Otto runs an employee benefits insurance business, while Brenda is a marketing consultant) – have their hands full with ever-evolving offerings. Great Society recently added a brunch menu and has made the bottled beverages available for purchase. In recognizing their own successes, the longtime Long Beach residents say they would encourage other businesses to look at the city as a place for growth. "The community here is completely supportive of small business," Brenda says. "The community has been absolutely fantastic about checking us out and helping us survive in the neighborhood – and thrive. It's been a really good feeling being where we're at, and I couldn't imagine us opening up anywhere else."
Minuteman Press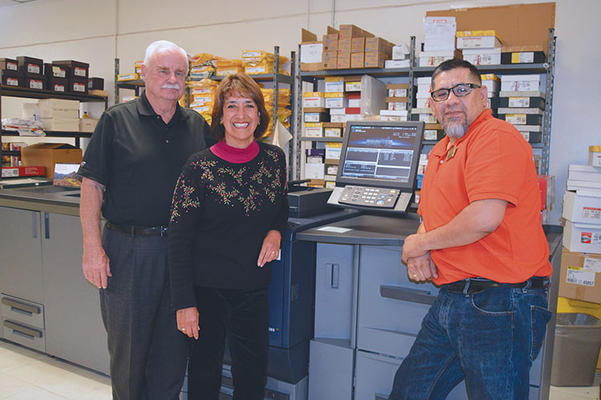 David Rigby and Hilda Sanchez, owners, and Robert Perez, operations manager *
When asked how long she's been in the printing industry, Hilda Sanchez says with a laugh, "Oh, since the day we opened our doors." Prior to opening Minuteman Press with her husband, David Rigby, in 2002, both Sanchez and Rigby had long careers in technology. "I lost my mind," she says jokingly of her decision to transition from corporate America to becoming a small business owner. After researching business-to-business opportunities, the couple decided to open a Minuteman Press franchise. "We jumped in, even though on day one our customers knew more about printing than we did," Sanchez recalls.
Today, nearly 15 years later, the Long Beach residents run a successful company at 137 W. 5th St. Minuteman Press offers full-service printing and marketing services, including direct mail and promotional products, with a specialization in quick turnarounds. Rigby's artistic background lends itself to creative designs for clients, while the company's state-of-the-art equipment helps the business keep up with the latest trends and customer demand, Sanchez says. With years of expertise under their belt, the couple confidently guides client projects from concept to completion, striving to deliver high-quality products and services on time and within budget. The bulk of Minuteman's customer base is small- to medium-sized businesses in Long Beach and surrounding communities. The couple's leap of faith in 2002 has certainly paid off, according to Sanchez. "It's been great," she says of being a small business owner. "I wouldn't trade it for anything."
Mark Schneider Fine Jewelry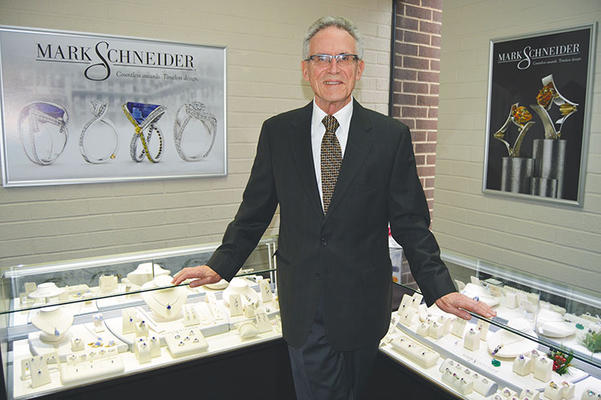 Unlike many, Mark Schneider knew from a young age what he wanted to do when he grew up. The third-generation jeweler, owner of Mark Schneider Fine Jewelry at 245 The Promenade N, heads up one of the oldest family-owned businesses in Long Beach, maintaining a strong tradition that began in 1945 right in Downtown Long Beach. "I've seen so many changes and the evolution of Downtown Long Beach," he reflects. "It's a great place to work and live."
The award-winning designer and Long Beach native – a graduate of California State University, Long Beach, where he studied art and jewelry design – specializes in contemporary, custom designs and is known nationally for his bridal line. Schneider holds the unique distinction of being one of the few living designers to have a piece of jewelry – a stunning 12.11-carat, trillion cut tanzanite ring – on permanent display at the Smithsonian Institution. Schneider enthusiastically dives into his projects with a vision to create jewelry designs as wearable art – and he also creates many smiles along the way. "I enjoy designing jewelry and sitting down with a customer and making something that absolutely reflects their wishes," he says. "We deal with very happy people." In addition to custom design, Mark Schneider Fine Jewelry boasts a large repair department, and its downtown location is home to manufacturing, wholesale and retail divisions. All of the company's jewelry is made in the United States, using re-refined gold and ethically minded gemstones, from diamonds to colored stones, Schneider notes.
Ay Que Vintage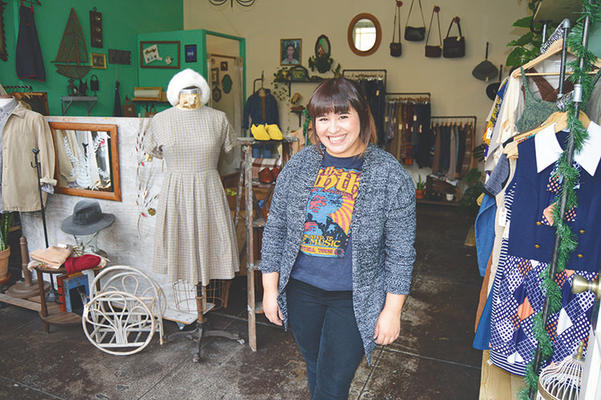 Shoppers looking for one-of-a-kind pieces can look no further than Ay Que Vintage in the East Village Arts District, a vintage clothing shop offering unique pieces from a variety of eras – with a contemporary flair. "We have only one of everything in the shop," says owner Lizette Suarez, a lifelong fan of vintage clothing. "One of the things that we try to do here is to meet current trends. So, even though it's vintage, we try to find items that you can see someone wearing every day."
Suarez originally opened her shop in the Bluff Park area of Long Beach in April 2010, and relocated to Downtown Long Beach (105 Linden Ave #A) four years ago. The South Bay native says she was attracted to Long Beach for its potential. "Long Beach is known for small business opportunities, so I chose to come and open a business in Long Beach because I really believe in the potential that it has," Suarez explains. "I've always wanted to showcase the stuff that I love and be able to have this for people to come shop locally." Ay Que Vintage caters to the spectrum of age ranges, with its diverse clientele ranging from high school students to baby boomers. An added bonus, Suarez says, is the competitive pricing on all of its unique items.
Cuppa Cuppa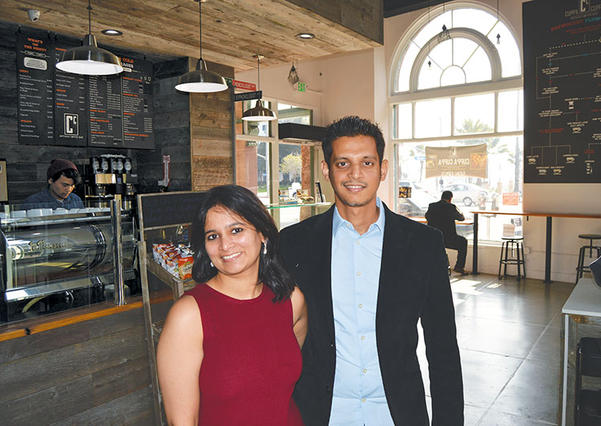 Radhika and Dhiraj (Raj) Chougule's passion for coffee began while living on the East Coast, where they engaged in creative, at-home experiments with different types of brewing equipment. Their eventual move to California – and their mission to learn as much as they could about third wave coffee and business theory – became the launching pad for turning their passion into a thriving local business. In September 2016, the couple opened Cuppa Cuppa, a modern, yet rustic, café in the historic Cooper Arms Building at 455 E. Ocean Blvd.
Cuppa Cuppa's specialty brewing methods include Aeropress' Pourover' Syphon and Chemex, and the artisan coffee bar offers espresso, black coffee, lattes, filtered coffee, fresh brews, tea, as well as breakfast items, sandwiches and wraps. The Chougules continue to add to the menu and have expanded their operating hours to 6:30 a.m. to 7 p.m. daily, seeking to offer a welcoming gathering place for the community. Long Beach, the Chougules say, was an attractive city for them due to its rich diversity. "At Cuppa Cuppa, we're not only all about providing our customers with the rich coffee experience along with delicious food servings, but it's also about getting people together and enjoying each other's company," Raj says. "We believe that we can bring people together to create a more caring and inclusive community."
Mabel's Gourmet Pralines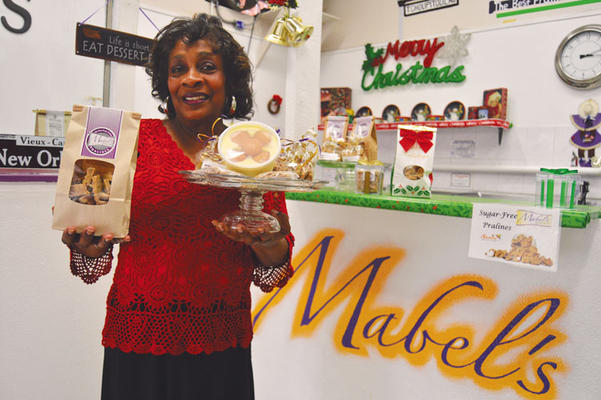 Since 2006, Saundra Christmas has been gifting the community with a Southern favorite. The Louisiana native opened Mabel's Gourmet Pralines in Downtown Long Beach 10 years ago, drawing on her Southern roots and a family recipe that has been passed down through many generations. The shop, located at 625 Pine Ave, is named after Saundra's mother, who taught Saundra how to make pralines when she was just a seven-year-old girl who loved gathering pecans from her backyard and waiting anxiously in the kitchen for a taste of the delicious treats as the aroma of fresh pralines filled their home.
Christmas says she is proud to share her family recipe, especially with the close-knit community in Long Beach. "My customers – and the relationships I've developed with them over the years – are the greatest, and they are what I enjoy most about doing business in Long Beach," she says. Prior to starting her business, Christmas worked in the legal field – a vast difference from being a small business owner, she says. Unlike her previous life as a paralegal, "when my customers come, they come happy and they leave happy," she says. In addition to a selection of pecan, peanut and chocolate pralines, Mabel's Gourmet Pralines offers a Southern style banana puddin' – another family recipe with a twist – that's made fresh daily using all-natural ingredients.
The Potholder Cafe Too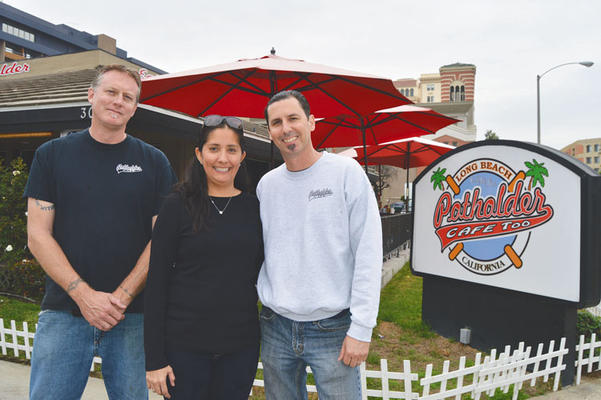 Owners Rich Rowan, Mercedes Pittsey and Kevin Pittsey
Looking for a breakfast challenge? Try finishing an 18-inch pancake, two eggs, and two pieces of bacon or sausage. Finish this "Mac Daddy" challenge at The Potholder Cafe and you'll be one of the brave who go home with not only a full stomach but also a T-shirt to mark your achievement. Or, try the aptly named crowd favorite, "The Couch," which serves up eggs, pancakes or French toast, bacon, sausage and "super spuds" (potatoes with cheese, avocado, sour cream and mushrooms). "It's called The Couch because that's where you'll end up after eating it," says owner Kevin Pittsey. Kids (and kids at heart) can treat their taste buds to the popular Flintstone French Toast, dipped in Fruity Pebbles. Or perhaps you'd enjoy the bottomless mimosas on Saturdays. With more than 30 different egg dishes and unique breakfast items, The Potholder Cafe remains a favorite breakfast destination for Long Beach residents more than 40 years after opening in 1973 at 3700 E. Broadway.
The Potholder Cafe Too, the restaurant's downtown location at 301 W. Broadway, opened in 2012 after Pittsey sought to expand the business and accommodate the growing customer base. Then, in 2015, came The Potholder at 2246 N. Lakewood Blvd.
Pittsey, a Long Beach resident, has grown with the business, having started as a kitchen manager in 1993 and the owner in 2003. "We're definitely not a cookie-cutter place – we have items that you just can't get anywhere else," he says, adding that the restaurant's introduction of a gluten-free, vegan and vegetarian menu has taken off as well.
L'Opera Ristorante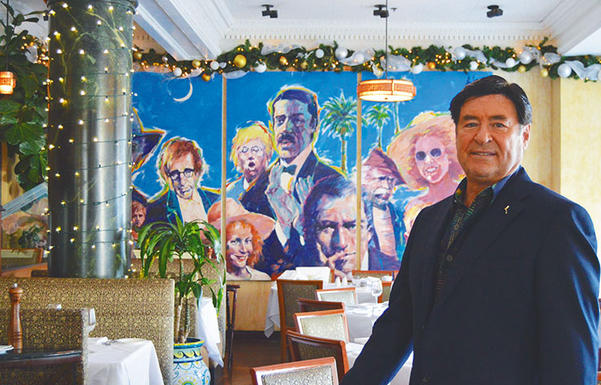 Long Beach landmark L'Opera Ristorante not only houses floor-to-ceiling windows, beautiful marble columns and renowned artwork, but also a rich history in Downtown Long Beach. The critically acclaimed dining destination – recognized for 23 years with the coveted Golden Sceptre–5 Star Award from the prestigious Southern California Restaurant Writers Association – opened its doors in April 1990. Having been at the frontline of the downtown evolution, owner Terry Antonelli says he sees great promise for Long Beach. "I feel the city is on the right track with its development," says Antonelli, also a member of the Long Beach Convention & Visitors Bureau's Board of Directors. "I believe they are doing a wonderful job displaying and selling the city throughout the country . . . All of these buildings are only going to enhance [our] image and bring the business community into town."
L'Opera, located at 101 Pine Ave., recently completed a two-year, roughly $400,000 remodel that Antonelli says is poised to carry the restaurant forward for another two decades. The journey hasn't always been smooth, Antonelli admits, recalling the struggles of the "Great Recession" that had widespread impacts on many industries. Riding the wave of ups and downs over the past nearly 27 years, the long-time restaurateur credits consistency as the key to his success. L'Opera's 47 employees include more than 20 who have been with the restaurant for 26 years or longer, and the award-winning food is ever-evolving, with menus changing every six months to feature new, farm-to-table options. Customer favorites include calamari, Cappellacci di Zucca (homemade butternut squash and ricotta cheese ravioli) and Lasagna di Pollo, and crowds are flocking to the restaurant's happy hour. The restaurant makes all of its breads, pastas and desserts on site.
The Den Salon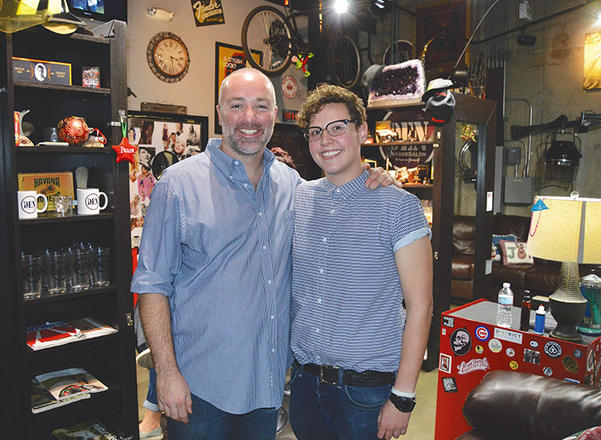 The first designs for The Den Salon were sketched on a cocktail napkin as husband-and-wife team Andy and Allison Kripp dreamed of opening their own small business in Allison's hometown. In January 2009, their longtime dream was realized when the couple opened their doors at 300 E. Ocean Blvd. It was a trying time for the couple – getting married, opening a business and becoming pregnant all within a three-month time period in the midst of the "Great Recession." The couple ate loads of ramen and watched a lot of Seinfeld for comic relief, Allison Kripp says jokingly, noting that the lessons learned during that time have served the couple well. The couple's guerilla marketing and intensive outreach to other local business owners resulted in a successful venture in The Den Salon, now home to six artists – including Allison's husband, Andy, a nearly 20-year industry veteran – who serve a diverse clientele and specialize in cuts, color and customer service. "We really wanted to bring back the art and also what the clients really wanted – sitting in the chair and having us listen to them," Allison says. "We wanted to bring back true customer service."
Coming from a long line of small business owners with family roots in Downtown Long Beach, opening The Den Salon was a natural fit for Allison. In fact, Allison notes that the couple is looking forward to expanding soon, with hopes of opening another location in their beloved Downtown Long Beach.
*All photographs by the Business Journal's Larry Duncan