Your smartphone allows you to check your e-mails, listen to your workout playlist and, lest we forget, make the occasional call. Forgot to turn off the lights in your smart home? Don't worry, there's an app for that. As the world of smart devices continues to grow, local governments and private companies alike have begun to wonder: how can our cities become "smarter?"
As of recently, Long Beach has become one of the many municipalities to join a smart city movement that has picked up steam in recent years. On October 22, the Long Beach City Council approved a request by Mayor Robert Garcia to kick off the development of a smart city initiative, asking the Office of the City Manager to report back by the end of April 2020.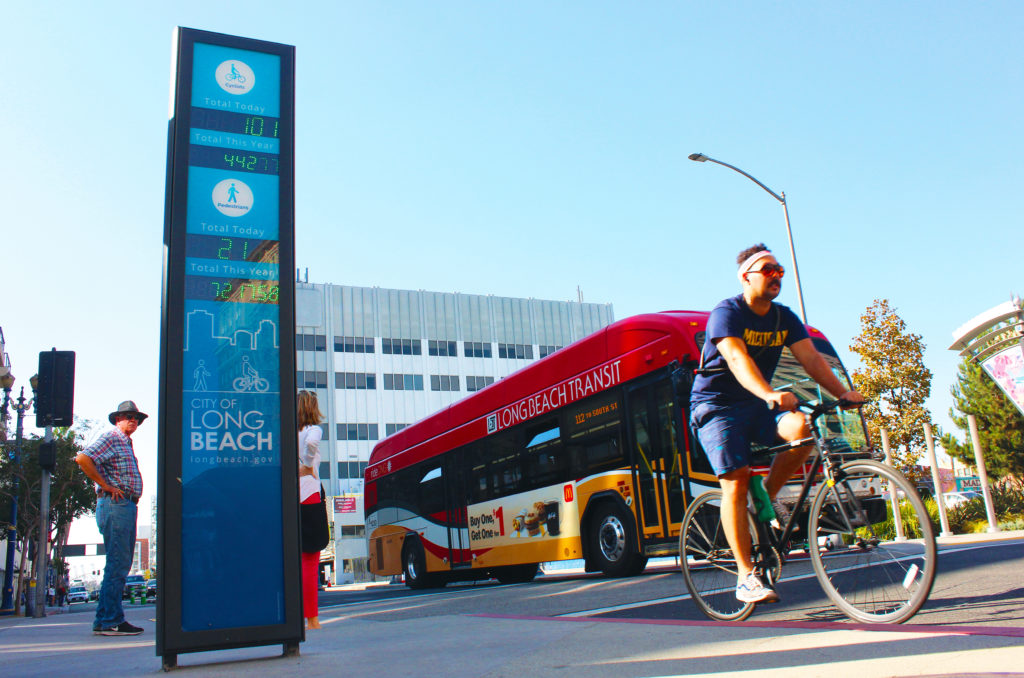 So what exactly makes a city "smart?" According to tech marketing company TechTarget, "a smart city is a municipality that uses information and communication technologies (ICT) to increase operational efficiency, share information with the public and improve both the quality of government services and citizen welfare."
In his letter to the city council, Garcia wrote that "through a smart city strategic initiative, Long Beach will develop a more coordinated approach to propose, design, and pilot smart city solutions that address existing City challenges." Further, the letter stated, "this approach will prioritize improving residents' quality of life through both technological and non-technological solutions while also protecting residents' privacy and digital rights."
What exactly the use of information technology for the public good will look like is still heavily debated. Proponents of the smart city movement have touted its potential to identify opportunities for public-private collaboration, combat inequities in digital access and increase civic engagement. Skeptics have characterized talk of smart cities as a mere marketing ploy at best and a roadmap to a tech surveillance state at worst.
In his book, "The Smart Enough City: Putting Technology in Its Place to Reclaim Our Urban Future," Harvard doctoral candidate Ben Green warns of the adverse effects and unintended consequences that can accompany the use of advanced information technology in a municipal setting. Green's work in applied mathematics focuses on algorithmic fairness, municipal governments and the criminal justice system, and he is currently completing fellowships at New York University's AI Now Institute and the university's Technology Law and Policy Clinic.
Green uses examples such as the LinkNYC network of free Wi-Fi stations across New York City and predictive policing as examples of the perils of technologies under the smart city umbrella. The LinkNYC network is operated by Sidewalk Labs, a subsidiary of Google parent company Alphabet, and made profitable through the sale of data that users share with the individual Wi-Fi stations. Predictive policing software, which relies on data indicating where police have observed and prosecuted crimes in the past, poses the risk of perpetuating racial bias by over-policing communities of color, Green argues.
"We are promised that the benefits of these technologies – and the 'smart cities' they help create – will be tremendous," he writes. Instead, he argues, "the smart city threatens to be a place where self-driving cars have the run of downtowns and force out pedestrians, where civic engagement is limited to requesting services through an app, where police use algorithms to justify and perpetuate racist practices, and where governments and companies surveil public space to control behavior."
Despite such criticism, the concept has caught on. The 2016 Smart Cities Survey, prepared by the United States Conference of Mayors and London-based research firm IHS Markit, counted nearly 800 smart city projects in the 54 U.S. cities surveyed.
Raj Pannu, co-founder of Smart Cities NYC, the country's largest conference on the topic by its own account, acknowledged concerns over data privacy, corporate use of citizens' personal data and potential government surveillance. Asked what the ideal smart city looks like, Pannu first outlined what it isn't.
"It's not a place where data and information flow is the dominant theme. It's not a place where every transaction is logged, every human movement is catalogued as a piece of data, a techno-surveillance state," he explained. "I don't think that's what a smart city is." Instead, he argued, smart city initiatives should explore the needs of the community and bring local government up to speed on the newest technologies, allowing staff and elected officials to make informed decisions about the partnerships they enter into in their pursuit of public tech solutions.
"Cities need to become more digitally engaged and there needs to be more expertise. They need to up their game," Pannu noted. By facing technological challenges head-on and educating themselves on solutions, cities can become equal partners to technology companies in providing residents with the products and services they desire, he explained.
The alternative, Pannu pointed out, is a public sphere dominated by tech companies and start-ups seeking to disrupt existing infrastructure in favor of new technologies and services, often with unintended or undesirable consequences for the community. "We, as a society, have tried to undermine the basic institutions that have been very helpful to us. We've reached a crisis point where disruption is now becoming very destructive," he explained, citing the suicides of several New York City taxicab drivers, whose city-issued medallions lost value due to the arrival of ridesharing apps, as an example. Here's where smart city initiatives come into play. "It's really about substituting collaboration for disruption, as a way for society to move forward," Pannu said.
One example of Long Beach's preceding forays into smart city territory is the city's e-scooter program. Kicked off as a pilot program in August 2018, the city worked with vendors of the suddenly omnipresent scooters to usher in the new technology, while incorporating concerns about the impact their improper use could have on pedestrians. In May, the city council approved a permanent ordinance on e-scooters, limiting the number of scooters to be deployed in the city and erecting a digital fence that automatically slows down and eventually stops the devices in zones where scooters are prohibited.
The city plans to continue on this cautious path toward tech innovation, Ryan Kurtzman, smart cities project lead for the City of Long Beach, told the Business Journal. "The last thing we want to do is implement different technologies or pilot projects based exclusively on a fear of missing out or trying to get the next big technology into Long Beach, not really thinking about what need it actually meets," he explained.
The Long Beach Technology and Innovation Commission will be highly involved in any formal smart city initiative, Kurtzman noted. "We'll be working with that commission to develop data privacy guidelines that really articulate some of the big concerns and initiatives that we want to keep in mind as we're thinking about these technologies," he said, pointing to the use of facial recognition technologies or the sale of user data as examples.
In addition to some of the public tech that has come online in Long Beach in recent years, including public Wi-Fi, self-dimming LED streetlights and counting poles along two of the cities bike paths, the city has been working behind the scenes to become more efficient and accessible through digitization and automation.
Long Beach-based software developer Laserfiche has assisted the city in improving both its public-facing digital presence and its behind-the-scenes technology. "As cities like Long Beach are required to reduce program development times, continuously improve services and comply with strict regulations without significantly increasing spending, the innovative use of technology becomes ever-more important," Brigitte Meiselman, solutions manager at Laserfiche, told the Business Journal.
For example, the move into the new city hall called attention to the need for digitization of city records, Meiselman pointed out. "That was really the catalyst behind this larger project that we just started at the beginning of this calendar year," she explained. Since the beginning of the year, Laserfiche has been working with several city departments to digitize records, automate internal processes and create digital platforms for residents to access public data and submit requests.
"A lot of these are digital initiatives are, at first, in the background. But what the implementation of these technologies really does is identify relationships between departments, between [government] practices, between the city and its constituents, that maybe aren't always easily identifiable," Meiselman explained. "The development of these standardized digital processes will help every department become more efficient."
Public-facing products to be developed as part of the project include an platform making restaurants' health inspection records readily available online, a digital request form for police ride-alongs, a revamped application system for civic employment opportunities and a digital request form designed to make the reservation of spaces in public facilities, such as the new Billy Jean King Main Library, more convenient.
But despite the focus on technology, smart city initiatives can and should include much more than just products and services, Pannu pointed out. "It's not about technologies, it's about people," he said. "My idea of a smart city would be that it enriches people's lives and [does] not limit them." This, he argued, can be achieved by making smart policies, not just smart technology, part of the equation.
Kurtzman agrees. "Smart cities are not just about the public right of way, infrastructure and the built environment, it's also about being smart as a city, as a city hall, and making things easier and faster for city staff to receive efficiencies in how we operate," he said. "A lot of these projects are empowering folks across the city to be more civically involved and engaged, and give them the tools and resources they need to participate and thrive within the systems that we've created in the city."