Long Beach Airport is expected to almost double the number of passengers it serves annually in 25 years, according to a report from the Southern California Association of Governments (SCAG), a regional metropolitan planning organization.
The SCAG report, which is updated every four years as a long-range transportation planning tool for the six-county region, estimates that up to 5 million passengers a year will travel through Long Beach Airport by 2040, nearly twice the airport's current annual passenger count.
According to airport staff, the airport's peak year was in 2012 with 3 million passengers; however, commercial airline activity has declined since then. In 2014, the airport served 2.85 million passengers. This year, the airport is projected to see 2.6 million passengers.
Airport officials said they are comfortable with SCAG's projections, adding that Long Beach Airport would be able to handle the passenger growth since the airport is currently operating at about half its maximum capacity under the city's noise ordinance that allows 66 total airline slots.
In addition, the forecast takes into account that commercial airlines would likely have larger, quieter and more fuel-efficient aircraft in the future because of anticipated advancements in aviation technology, allowing for more passengers per flight.
In an interview with the Business Journal, Long Beach Airport Director Bryant Francis confirmed that the airport would be able to handle 5 million annual passengers, which is the airport's full capacity under the noise ordinance if all 66 slots (41 air carrier and 25 commuter) are utilized at full levels.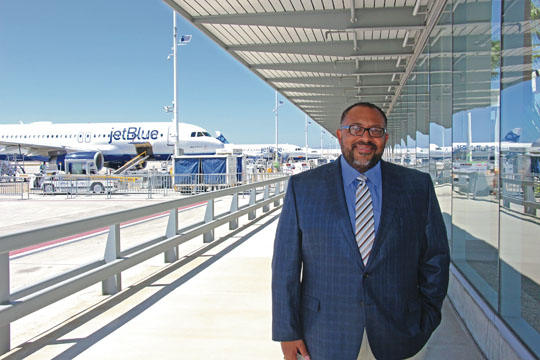 (Byrant Francis, who took the helm as director of the Long Beach Airport in January, said the facility can accomodate the five million annual passengers projected for it by 2040 in a recent report from the Southern California Association of Governments. Photograph by the Business Journal's Evan Patrick Kelly)
"If all 66 of those slots were being utilized at near-maximum levels, then we certainly could see that level of activity in the future," he said. "We were comfortable with that number."
Francis said airport staff provided input to SCAG to produce the resulting projection for passenger traffic and made sure the noise ordinance was taken into account.
"We did have some input, and we made sure [SCAG was] aware of the noise ordinance that is in place and has been for 20 years, and what that means in terms of the slot allocation that is in place here," he said.
SCAG estimates that, for the region, which includes Los Angeles, Riverside, San Bernardino, Orange County, Ventura and Imperial counties, air travel demand will increase approximately 55 percent, rising from 88 million annual passengers reported in 2013 to a projected 136.2 million annual passengers in 2040.
Hasan Ikhrata, executive director of SCAG, told the Business Journal in a phone interview that the airport passenger projections are based on the fact that Southern California is anticipated to see an increase of 3 million people by 2040, which will add more demand for airport and ground travel.
Another factor taken into account is that Southern California, the 14th largest economy in the world, will continue to be an economic powerhouse well into the future, he said.
"Based on the population growth [and] on the fact that we are very high up in the world [as] a favorite destination for a lot of people, the forecast is that demand for airport travel will go up," Ikhrata said.
Still, the projections are lower than in previous forecasts, the SCAG report notes. In 1998, for instance, it was projected that there would be 157 million annual passengers for the region by 2020. In 2004, SCAG forecast that there would be 170 million annual passengers by 2030.
Projections for air travel demand are lower, he said, because the forecast for population growth has dropped as the birth rate has declined nationally while the region is no longer a destination choice for immigrants. In addition, ramifications from the 9/11 terrorist attacks and the recession have also caused air travel demand to decline.
The report, officially approved by SCAG's transportation committee on August 6, is the aviation element of a draft regional transportation plan (RTP), which is being prepared for circulation in October, eventually requiring state and federal approval.
Ikhrata said each airport in the region was given a range for projected passenger traffic mainly to allow airports the opportunity to apply for federal funding to pay for infrastructure projects in order to meet projected demand.
An earlier report for Long Beach Airport had projected a range of 5 million to 6.2 million annual passengers by 2040. The report also shows that, without any noise ordinance or constraints at all, the airport's airfield has a capacity to handle more than 9 million passengers annually, he said.
However, SCAG has since updated its forecast to a maximum of 5 million annual passengers.
Francis said the SCAG report didn't take into account the possibility of a U.S. Customs federal inspection services (FIS) facility that would allow international flights at Long Beach Airport, since research was already well underway before the Long Beach City Council agreed on July 7 in a 6-3 vote to move forward with studying the option.
Still, the possibility of a U.S. Customs facility, which has been pushed primarily by JetBlue Airways, likely wouldn't have changed the airport's projection, he added, since all airlines must comply with the noise ordinance and slot restrictions regardless if they have domestic or international flights.
A request for qualifications (RFQ) on the study of a U.S. Customs facility is expected to be released by the end of the month, Francis said, adding that the city expects results of the study to be brought back by the first quarter of next year.