Air freight and cargo to Southern California remains centered around Los Angeles International Airport (LAX), despite long-standing congestion issues and a recent decision by the airport's operator, Los Angeles World Airports (LAWA), to delay a planned expansion of its cargo facilities.
LAWA announced its decision to defer the Century Cargo Redevelopment project, a multi-tenant air cargo complex along Century Boulevard, at a town hall meeting hosted by the Airforwarders Association and the Los Angeles Air Cargo Association (LAACA) on September 24. According to LAACA President Peter Landon, the project will be delayed for at least 18 months. The airport's operator has not made a public announcement on the issue and did not respond to a request for comment, but has shared media reports of the delay on its website.
"LAX's facilities are pretty old and very congested," Alan Hedge, the principal of aviation consulting firm Hedge & Associates, told the Business Journal. "The warehouses on site are not keeping up with the amount of cargo and there's a lot of road delays for trucks to load and unload." Meanwhile, the amount of cargo handled at LAX has increased, earning it 10th place for most cargo tonnage processed in the Airports Council International's 2019 annual ranking. Last year, the airport handled a total of 2.2 million metric tons of cargo, a 2.4% increase from the previous year.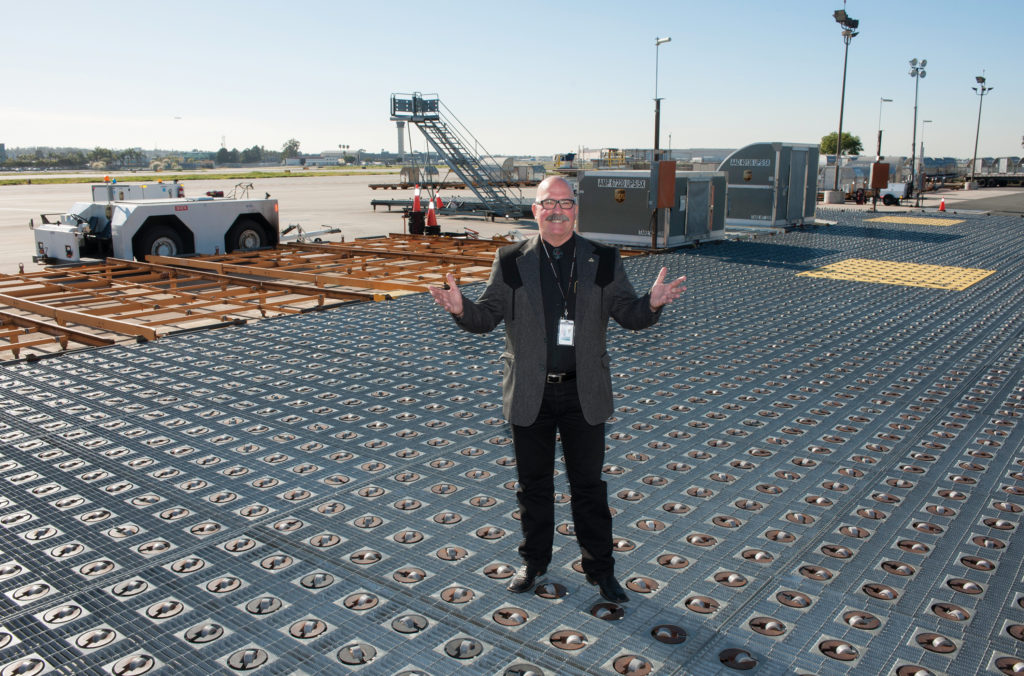 According to industry experts, alternatives to LAX are slim. "The [smaller] airports are trying, but it's hard to break the hub system," Landon explained. Large airports like LAX have long served as local hubs for international and domestic cargo. From there, the cargo is transported to local warehouses.
Ample surrounding warehouse space and cheap land have allowed some smaller airports such as Ontario and San Bernardino to grow their air cargo business, Hedge noted. United Parcel Service (UPS) established its West Coast Air Hub – which handles an average of 52 flights per day – in Ontario in the 1980s, according to the company's Vice President of State Government Affairs Bruce MacRae. In 2018, the airport secured a contract with China Airlines, bringing in international cargo and passengers. In November of that year, ahead of new trade tariffs imposed on Chinese goods imported to the U.S., the airport reported a 16.8% year-to-date increase in freight handled compared to the previous year. In August 2019, the airport reported a continued – albeit lower – increase of 3.6% compared to the year-to-date tonnage of August 2018.
Meanwhile, Long Beach Airport is unlikely to grow its share of the air freight market despite LAX's shortcomings, Hedge noted. "Long Beach doesn't offer a lot of alternatives, because you're very unlimited in the number of aircraft departures and arrivals that are permitted and the facilities are pretty small," he explained. The airport currently handles two cargo slots – consisting of arrival and departure – per weekday, one operated by UPS and the other by FedEx. MacRae said UPS has no plans to expand its Long Beach operations at the moment. "There's no need for us to expand," he told the Business Journal.
Cargo at Long Beach Airport is dominated by smaller parcels, which are transported by the two major parcel services, FedEx and UPS, or in the bellies of passenger planes operated by Southwest and Alaska airlines. Both offer express delivery service through their Next Flight Guaranteed (NFG) and GoldStreak programs. "When you're putting packages in the air, that's the most expensive thing you can do," MacRae explained. "That means you need it the next day."
Express delivery is a major source of cargo traffic for Long Beach Airport, according to spokesperson Kate Kuykendall. "Long Beach Airport is particularly valued for its ability to ship last-minute packages on a quick turnaround," she said. While noting that cargo volume by weight has been down in recent years, Kuykendall said she's confident that the airport will maintain its two daily cargo slots. "We expect cargo activity to remain fairly stable and consistent with the current allocation of two flights per day every weekday," she said.