Long Beach Airport
Claudia Lewis, interim director of Long Beach Airport, said airline traffic is projected to hit 3.6 million passengers this year, up from the airport's average of 3.1 million over the past 10 years, but below last year's record high of nearly 4 million.
Lewis attributed the forecasted decrease in airline traffic to JetBlue Airways' underutilization of supplemental flight slots, but said the numbers will go back in 2020 when the slots are permanently reallocated and accounted for in the full calendar year. Long Beach Airport recently released airline traffic data for May 2019 that showed an 11.7% decrease compared to May 2018.
Cargo traffic is also expected to increase, Lewis said. Projected 2019 cargo landings are expected to total 532, compared to last year's 530, and cargo weight is expected to reach 22,897 tons, up from last year's 21,635 tons. In the airport's recent report, May 2019 numbers were up by 2.8% compared to May 2018. 
Lewis' short-term priorities for the airport involve a smooth transition to new director Cynthia Guidry, who begins work on July 29. Long-term developments include the Phase II Terminal Area Improvements project, which includes a new ticketing facility, baggage claim area and pre-security concessions. It is scheduled for completion in 2021.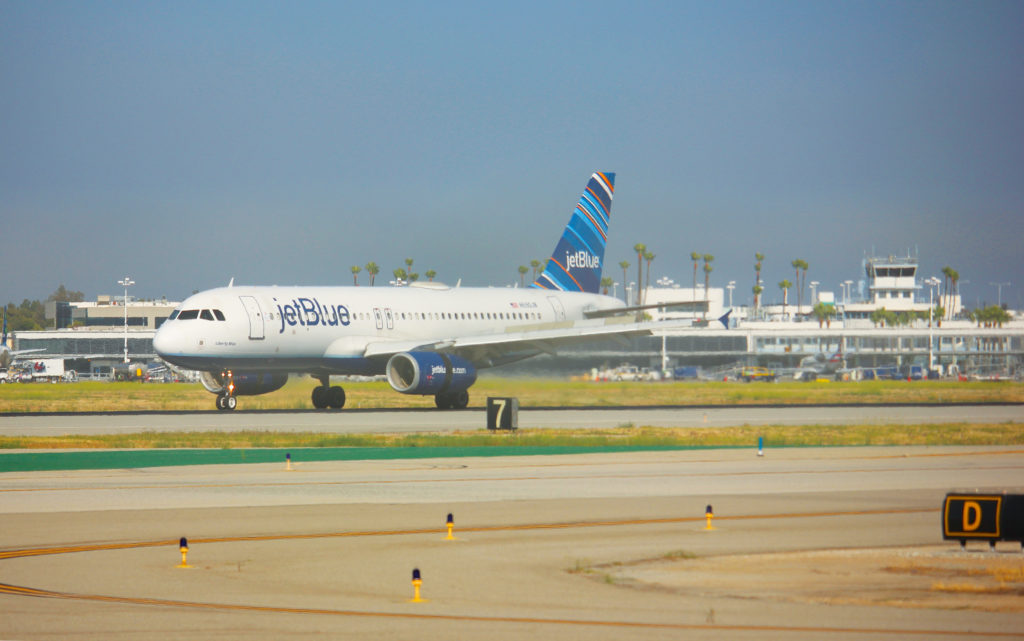 Aeroplex/Aerolease
Curt Castagna, president and CEO of Aeroplex/Aerolease Group, said business aviation firms continue to excel nationally. His group's focus for the second half of 2019 is set on developments at Van Nuys Airport and out-of-state facilities to promote economic growth and sustainability efforts.
Part of the firm's priorities for sustainability programs involve utilizing solar power and alternative jet fuel. Castagna said Aeroplex/Aerolease has led sustainability efforts in Van Nuys, where the Los Angeles Department of Water and Power provides "great incentives for such a private-public partnership."
Castagna said the redevelopment of airport-adjacent Douglas Park and, eventually, the defunct Boeing C-17 manufacturing facilities will provide a welcome and "continued evolution of the Long Beach economic base." He added, "[They will] bring a new corporate presence that will result in business-aircraft operations for those private equity and Fortune 500 operators who use business aircrafts and will wish to utilize Long Beach Airport."
Boeing
On June 17, at the Paris Air Show in France, Boeing officials released the company's market outlook, indicating that the international aerospace and defense market will be valued at $8.7 trillion over the next decade, up from last year's projections of $8.1 trillion.
Boeing's Commercial Market Outlook also projected that commercial airplane fleets worldwide will be able to sustain a high need for aviation services. The global airplane market is currently valued at $9.1 trillion. If strong demand continues, Boeing officials said the total commercial market opportunity can reach an estimated amount of $16 trillion through 2038.
Rudy Duran, site manager at Boeing, said this projected growth will spur high demand for talent in Southern California, since the need for manufacturing will increase. "We are aggressively pursuing new hires across the board to meet not only needs for 2019, but beyond, as well," Duran said. "Overall, Boeing in Long Beach is an active, very busy location."
Duran said the Boeing teams in Long Beach and Southern California also support engineering design work and provide global customer support and services for airline customers.
Gulfstream
Home to nearly 900 employees, the Gulfstream Aerospace Corporation's site at Long Beach Airport anchors the company's West Coast operations, according to Thomas Anderson, vice president and general manager of Gulfstream Long Beach.
In 2018, the site added nearly 100 employees, many of whom were hired to eventually be transferred to Gulfstream Van Nuys, which is scheduled to begin operations in the third quarter of 2019. Anderson said the goal is to maintain work progress in Long Beach while preparing the soon-to-open location in Van Nuys.
Anderson said Gulfstream Long Beach also provides mobile response technicians to Van Nuys Airport and Hayward Executive Airport in their respective locations of Southern and Northern California, in addition to Seattle's Boeing Field. These technicians make up the field and airborne support teams for those areas.
While Gulfstream Van Nuys will focus on typical aircraft maintenance, Gulfstream Long Beach will handle "more involved" support. The Long Beach site includes a sales and design center and completion area, focusing on exterior painting and interior installation work, for the corporation's flagship aircraft, the Gulfstream 650ER and the Gulfstream G650.
"Gulfstream Long Beach is also the home of a service center and supports all in-service Gulfstream aircraft, which number more than 2,750 worldwide," Anderson said. "In May, the site began regular sales of sustainable alternative fuel to operators who bring their aircraft in for service."
Anderson said the aircraft company is focused on continuing the success of the Gulfstream G500 – which entered service in September 2018 – and the certification of its sister ship, the Gulfstream G600.
Hawaiian Airlines
Brent Overbeek, senior vice president of Hawaiian Airlines, said community response to the implementation of direct flights from Long Beach to Honolulu on June 1, 2018, has been positive. Overbeek said the airline has flown 100,000 passengers since it began its non-stop service between Long Beach and Honolulu.
"Our load factors have been in the low 80% [range] during our first year, and we are encouraged by increased demand leading up to the start of the summer season and beyond as more travelers become aware of our service," Overbeek said. Load factors indicate an airline's average passenger occupancy.
Hawaiian Airlines' main priority is to expand its service between Hawaii and the U.S. mainland and other international locations by the end of 2020, Overbeek said.  "We recently announced our intention to launch new service between Fukuoka in Japan and Honolulu starting in November, expanded service between San Francisco and Honolulu starting in October and received approval to operate additional service between Haneda [Tokyo] and Honolulu – which we plan to begin next spring."
Ross Aviation
Greg McQueary, general manager of Ross Aviation, said business has fared well, specifying that fuel uplift – the amount of fuel transferred from trucks or tanks to aircrafts – has increased by 28% compared to this time last year.
"Fuel prices have become volatile over the last month due to issues with refineries," said McQueary, who said the problems included issues like fires and loading-dock issues. However, he said Ross Aviation is working with its suppliers to mitigate the issues and keep fuel prices stable.
Ross Aviation's focus for the rest of year will be on capital investments and infrastructure developments, specifically work on a new hangar. "[We're] improving our leasehold by demolishing some of the oldest hangars on the airfield and replacing them with one larger hangar," he said. "By investing in the new hangar, we will create a better image for the area, but also expand the available space private and corporate aircrafts have to park at the Long Beach Airport.
McQueary projected an increase in sales of fuel and rented space at the airport, but could not provide an exact projection or timeline for the hangar project by press time.
Southwest Airlines
Southwest Airlines is expected to continue its business expansion at Long Beach Airport after garnering additional flight slots earlier this year, said Adam Decaire, Southwest Airlines' vice president of network planning. The airline offers 16 departures a day to five cities out of Long Beach Airport, per a fact sheet emailed to the Business Journal.
According to Brad Hawkins, Southwest's senior advisor of communications, the airline has published a Long Beach and systemwide flight schedule through early January, but is not able to discuss projected numbers of passengers carried or future pricing. However, Decaire did express optimism for the airline's business.
"We're grateful for the successes our Southern California customers have facilitated at Long Beach Airport, allowing us to grow the amount of foundational service through additional slots," Decaire said.