As an event planner who ran tradeshows around the world, Long Beach resident Lilly Rocha was no stranger to work stress.
On a September day in 2008, she was sitting in her Long Beach office after just returning from a trip overseas. She began feeling pain in her arm, jaw and chest. She had also been feeling exhausted, which a doctor's visit in June had determined was related to stress.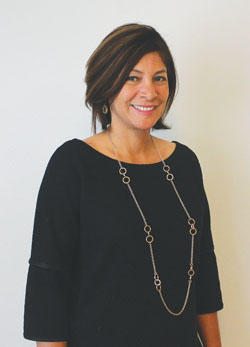 Long Beach Resident Lilly Rocha suffered a heart attack in 2008 that caused her to reexamine her lifestyle. Rocha has since stopped eating meat and started her own business, Space 67 Productions, which allows her more control over her time and stress levels. (Photograph by the Business Journal's Brandon Richardson).on Richardson)
A co-worker suggested she was having a heart attack, but she didn't believe him. A heart attack survivor himself, he insisted on driving her to the hospital. It turned out he was right, and she was shocked to discover the seriousness of her condition, according to her profile on the American Heart Association's (AHA) Go Red For Women website.
"Looking back, all the symptoms were there," Rocha told the Business Journal. "But you don't expect to have a heart attack at 37."
According to cardiologists and heart specialists, Rocha's story is all too common. Heart disease is the leading cause of death among American women, killing one in three every year, according to the AHA. The reasons stem from a lack of awareness, both among women and the medical community, as women can present different heart attack symptoms than men.
Dr. Gregory Thomas, medical director of MemorialCare's Heart & Vascular Institute, said there are two types of symptoms that indicate a heart attack. The victim may exhibit the classic symptom of sudden pain in the chest. But other, more subtle, changes in the body are more often experienced by women, including milder pain that lasts from one to five minutes anywhere from the bellybutton to forehead.
"The brain can interpret pain as coming from a nearby part of the body when it's really emanating from the heart," Thomas said. "We don't have many nerves to the heart so, when it's in trouble, our pain perception is very imprecise. There can be other symptoms that women have more than men: nausea, shortness of breath, sudden fatigue, sudden onset of weakness and an overall feeling of malaise."
Thomas said that a woman's risk for blocked arteries increases at a faster yearly rate than in men after reaching menopause, typically around age 52.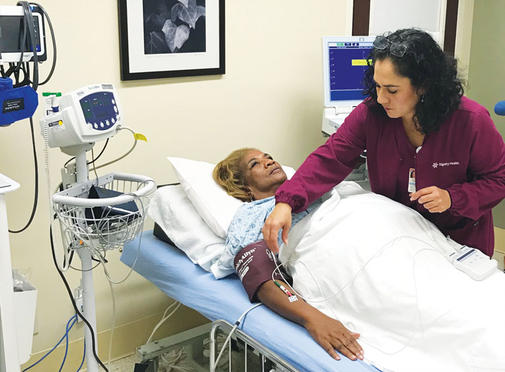 A nurse at St. Mary Medical Center gives a woman an electrocardiogram (EKG) in this staged photograph for the Business Journal. An EKG tests and records the speed of a patient's heartbeat, whether the rhythm is irregular and the strength of the electrical impulses passing through the heart. This test can detect signs of heart disease, which kills one in three American women every year. (Photograph by the Business Journal's Anne Artley.)
"Men will gradually get blockage throughout their life, and women will get little of it until menopause, but then the rate is faster than it is for men at that age," Thomas said. "Men get heart attacks earlier, but women catch up."
Omid Vahdat, medical director of Lakewood Regional Medical Center's Heart & Vascular Center, said the prevalence of heart disease is also a by-product of longer life expectancy for both men and women.
"One hundred or [even] 50 years ago there were other leading causes of death, like infectious diseases," he said.
In Rocha's case, her heart condition was genetic. She knew that her grandfather had died of a heart attack, but she did not know it had happened when he was 37, the same age she was when she had her heart attack. Heart specialists said that knowing family history is important for prevention, as well as maintaining a healthy body weight, exercising and managing stress.
According to Dr. Janki Shah, a cardiologist at UCLA Health and a member of the AHA Board of Directors, a sedentary lifestyle has become more common in recent decades, which increases risk of heart disease.
"Obesity is becoming a bigger epidemic in the U.S.," she said. "Two-thirds of adults are overweight or obese. With general poor health overall, the risk factors are magnified." Shah said these factors include high blood pressure, high cholesterol, diabetes, aging and smoking.  "The most important thing young people can do is not smoke," she said.
Dr. Mark Lee, the director of the Electrophysiology Lab at St. Mary Medical Center, said that smoking cessation, even for just one year, decreases the risk of heart disease by about 50%. Also, walking daily for 30 minutes reduces heart attack and stroke risk by about 30%.
Thomas agreed, clarifying a misperception that one must exercise vigorously to reap the full benefits. "We tend to think of this 'no pain, no gain,' old-time perception that's not accurate," he said. "If you want to exercise mildly, you get a significant benefit. Parking further away from where we're driving to and walking short distances can be helpful." Thomas recommended that adult Americans maintain a body weight closer to that of their high school or college days.
Rocha had always kept a healthy body weight, but after her heart attack she decided to cut meat from her diet. She also started her own business so she could have more control over her work and make time for hobbies such as yoga, rock climbing and kayaking. Instead of organizing 150 events worldwide every year, Rocha now runs about 10 or 12 in California and the U.S.
"I had always been on an upward trajectory in regard to my job," Rocha said. "I felt like my body betrayed me and it took me a few years to get over it. Now, my perspective has changed. I'm not a workaholic like I used to be."
Rocha is now serving as an ambassador for the AHA's Go Red For Women heart disease awareness and prevention campaign. AHA's goal is to "improve the cardiovascular health of all Americans by 20 percent while reducing deaths from cardiovascular diseases and stroke by 20 percent by 2020."
"The most remarkable thing about heart disease is that 80% of it is preventable," Rocha said. "A lot of times women take care of others before they take care of themselves."
Hispanic and African-American women are at an increased risk, according to Lee. They are more likely to develop heart disease about 10 years younger than other populations, and only one-third are aware that a heart condition is the biggest risk to their health.
According to the AHA, African Americans may possess a gene that makes them more susceptible to the effects of salt, which then increases their chances of developing high blood pressure.
The risk factors, such as diabetes, obesity, high blood pressure and high cholesterol, are also prevalent in the African American and Hispanic communities, according to information from the AHA and from Scripps Health, a nonprofit health system in San Diego. Hispanic women are also three times more likely than Caucasian women to lack health insurance.
"Women of low socioeconomic status who perhaps don't have access to high-quality preventative care, may heighten their risk of developing a heart condition," SCAN Health Plan Chief Medical Officer Romilla Batra said.
Since SCAN serves senior citizens, Batra said heart disease is a "big deal" to the organization. SCAN is participating in Million Hearts, a national initiative co-led by the Centers for Disease Control and Prevention and the Centers for Medicare and Medicaid Services to combat cardiovascular disease. The ultimate goal is to prevent at least one million heart attacks or strokes by the year 2022.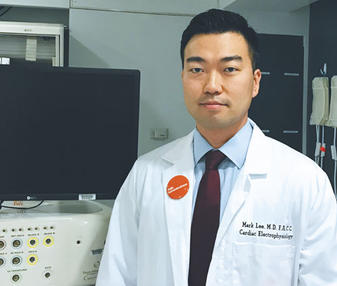 Dr. Mark Lee is the director of the Electrophysiology lab at St. Mary Medical Center. Lee said that smoking cessation, even for just one year, decreases the risk of heart disease by about 50%. Also, walking daily for 30 minutes reduces heart attack and stroke risk by about 30%. (Photograph by the Business Journal's Anne Artley.)
Batra said that, although women are aware of the risk of heart disease, they think of it as more of a male condition, when in fact men and women develop it at the same rate.
According to an AHA survey, only half the female respondents recognized that heart disease was their greatest health risk, UCLA Health's Shah said.
"I think the breast cancer advocacy groups have done such a great job getting women to go in for mammograms every year, but [women are] so much more likely to die of heart disease," Shah said. "Heart disease kills more women than all forms of cancer combined. I still don't think they're hearing it enough, how prevalent and preventable it is."
Thomas remarked that women may express more concern about cancer since heart disease is more likely to occur later in life. But, he said, the preventative tips for heart attacks are the same for cancer as well. These include eating a low-fat, low-cholesterol diet, and exercising.
AHA statistics show that one out of 31 women die from breast cancer compared to the one out of three killed by heart disease. In addition to lack of awareness, Shah said gender bias can also play a role in late diagnoses of heart conditions. "Women are less likely to be offered aspirin or aggressive therapy or given a stent when they come in with a heart attack than men [are], statistically," she said. "They get diagnosed with reflux and anxiety rather than a heart problem."
From Vahdat's perspective, awareness has improved from 20 years ago, in part due to the media as well as a new generation of doctors who are more vigilant in detecting symptoms. Lee expressed agreement. "I'm glad we're talking about it more," he said. "I still think we're not there yet, but it's better than 20 years ago."