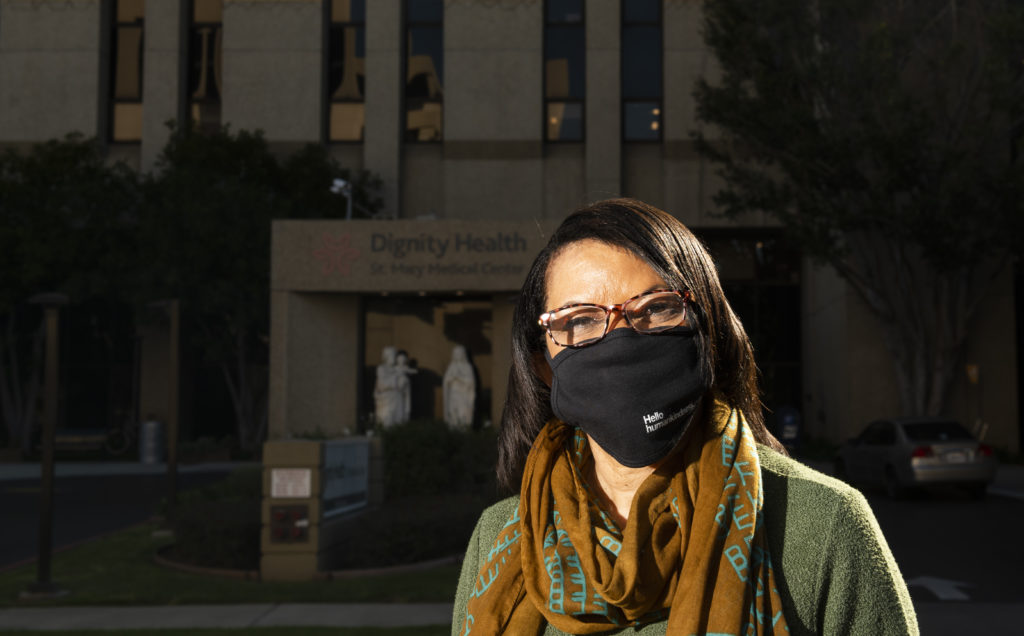 For about three and a half years, Carolyn Caldwell has served as president and CEO of St. Mary Medical Center in Long Beach. But her journey to leading one of the area's largest hospitals—before and during one of the worst health crises in modern American history—was a long one spanning decades and multiple states.
An only child, Caldwell was born in 1961 and raised on a farm in Camp Hill, Alabama, a small rural town with a population that has never exceeded 1,650 people.
"My father couldn't write and my mom had an eighth grade education but they were very proud people who instilled that sense of pride in me," Caldwell said. "They were also very passionate about helping others."
Caldwell's father worked at a local dairy farm caring for cows while her mother worked at a local Playtex facility. Eventually, her father began working with forestry and wildlife graduate students at Auburn University's Piedmont Research Station in Camp Hill. Because of his farming skills, he was recommended to assist the research students.
From kindergarten through her undergraduate work, Caldwell was educated entirely in her home state. She earned a bachelor's degree in zoology with a minor in chemistry from Alabama A&M University in 1983. Caldwell said she has always enjoyed science and, having grown up on a small farm, loved animals.
"While I was in college, there was an amazing [grant] program for minorities in the sciences," said Caldwell, who is Black. "I was able to qualify, so my job as an undergrad was to work and support graduate students doing their research."
After graduation, Caldwell underwent a year of clinical training as a medical technologist and then landed a job in the laboratory of Dallas Southwest Medical Center. She worked in the department for 13 years, six of them as the Texas hospital's lab director.
During her tenure as a lab tech, Caldwell met Daniel—the brother of one of her laboratory colleagues—on a blind date. The two married in 1989 and had two kids, Monique, now 35, and Jonathon, 30.
As a full-time working mom in 1994, Caldwell began pursuing a master's degree in health care administration at the Texas Woman's University in Dallas.
"Because I had worked kind of on the front lines, I felt I could really make a difference," Caldwell said of her decision to transition to the administrative side of healthcare.
With a year left in her master's program, the hospital where Caldwell was still lab director had been without a chief operating officer for months. The hospital's chief executive officer, James Warren, called her into his office.
"'We've not had a COO for the last six months and I'm having a hard time with everything,'" Caldwell recalled Warren saying. "'So what would you think about getting into administration?' And I'm like, 'OK, sure.'
"I get back to my office, still not really grasping what happened," Caldwell said. Her subsequent call with the human resources director left no doubt that she had just been named chief operating officer.
"I don't think that could happen today because there are so many training and fellowships and residencies that people have to go through now," Caldwell said. "But that was my story. That's how it happened."
Because he'd gone out on a limb for her, Warren made Caldwell promise that she'd finish her master's degree. One year later, in 1997, she kept that promise, graduating once again.
"When I graduated, [son Jonathon] was graduating from kindergarten," Caldwell said. "There is a picture where we both have our caps and gowns on."
Caldwell worked as COO under Warren for three years. When he left the hospital in 1999, the highly regarded Caldwell was named interim CEO—a position she held for 15 months before she transferred to a larger facility, where she served as COO from 2000 to 2003.
From there, Caldwell took her CEO experience on the road. She headed two Missouri hospitals from 2004 to 2012. Then Caldwell and her husband moved to Palm Springs, where she served for five years as CEO of Desert Regional Medical Center.
"It was a wonderful opportunity," Caldwell said of the move to California. "Our kids were adults, and that is where we plan to retire."
But Palm Springs would have to wait. Some refocusing and downsizing within the company meant at least one more move for the Caldwells, though they still own their Palm Springs home. In 2017, she accepted the position of CEO at St. Mary Medical Center in Long Beach. Back then, she said, the only thing she really knew about the city was that it was home to the Queen Mary.
Caldwell said St. Mary is the first faith-based organization she has worked for and admires its commitment to its deeply rooted mission, especially given Long Beach's diverse community.
For nearly two years, Caldwell largely stayed out of the public eye despite heading up one of Long Beach's largest hospitals. But in February 2019, St. Mary physician leaders publicly accused Caldwell and her administration of cutting them out of decisions involving patient care.
In a letter, physicians accused the administration of retaliation by threatening to eliminate contracts the hospital has with physician groups, effectively firing doctors.
"Change is never easy and I recognize that," Caldwell said. "Even though it may be a change that's better for the overall organization, if it's impacting someone and they are not seeing that betterment, then you can have some challenges."
A lawsuit filed last year by physicians against Caldwell and the corporation that owns St. Mary is pending and is expected to be heard in June, according to a doctor familiar with the case, who asked to remain anonymous for fear of retaliation. The case and the incidents leading up to it cannot be discussed until then, they added.
But Caldwell's greatest challenge—like many others in her position—came from the COVID-19 pandemic, which she likened to the AIDS crisis of the 1980s and early '90s, during her medical laboratory days.
"When the pandemic initially started, everyone at the time was thinking, 'Oh, there is a virus, nothing we've not done or seen before,'" Caldwell said. "But when it continued, when our hospitals became overburdened with the number of patients we were seeing… We have been a year into this and it's just the sheer exhaustion."
With the vaccine slowly being administered throughout the country, Caldwell said the hospital's staff is cautiously optimistic that the end of the threat is drawing nearer with every shot. But while infection rates and case numbers have decreased rapidly, daily deaths continue, with the city well beyond 800 coronavirus-related deaths and the country exceeding 500,000.
While hospital staff are accustomed to dealing with death, Caldwell said the heartwrenching circumstances around COVID-19—watching patients die alone because their families cannot visit—have made the experience much harder.
As the stress on hospitals brought on by the winter surges of COVID-19 eases, Caldwell prepares to step into a new leadership role in the city: board chair of the Long Beach Area Chamber of Commerce, a position she will assume on July 1.
"She will use her executive leadership experience to lead our membership and the Long Beach community through a significant economic recovery period," said Jeremy Harris, president and CEO of the chamber. "I am looking forward to working alongside Chair-elect Caldwell to support the businesses that fuel our local economy and champion our city."
Looking back over her career, Caldwell said that being a female hospital executive in a profession dominated by men has, at times, only added more challenges to an already difficult job. According to 2019 data from the American Hospital Association and the American College of Healthcare Executives, nearly 90% of hospital CEOs were white men.
"Going back to the '90s, when people weren't talking a lot about diversity like they do now, I was often the only woman, the only minority at the table," Caldwell said. "But when I walked in the room, when I took that seat at the table, I felt like I deserved to be there. I never allowed myself to feel like I shouldn't be there or let others treat me as if I shouldn't be there."
Caldwell recalled one instance in her early CEO days when she was leading a construction project with an all-male crew and leadership team. After her first meeting, Caldwell recalled, a consultant on the project—also a woman—told her she did not handle herself well.
"She said, 'You're writing the checks, this is your project,'" Caldwell said. "That experience stuck with me all these years. You have to sometimes demand respect."
"No one would ever tell you they didn't hire you or give you a promotion because you are a woman," Caldwell said. "But I know my value. I don't let it define me."