(2:56 p.m.) – Dignity Health St. Mary Medical Center has announced it has retained a new president and CEO, Carolyn Caldwell, who is slated to start in June. She is replacing former CEO Joel Yuhas, who left the hospital to head up two hospitals in Colorado late last year.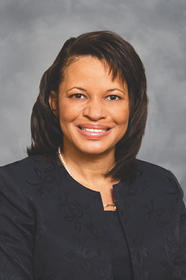 Caldwell hails from Desert Regional Medical Center, a 385-bed acute care Tenet Health facility in Palm Springs. The hospital is a designated Level II Trauma Center.
"Carolyn is innovative and focused on accomplishing exceptional results with a proven track record of leading highly functional teams," a press release from the hospital states. "She has extensive knowledge of campus improvement projects and capital expansions, which will benefit St. Mary as it embarks on its plans to nearly double the emergency department from the current 26 beds to 47 beds."
Caldwell has 30 years of health care industry experience, 20 of which were in executive roles at hospitals, according to St. Mary Medical Center. She holds a master's degree in health care administration from Texas Woman's University and is a fellow of the American College of Healthcare Executives.
(image of Caldwell courtesy of Dignity Health St. Mary Medical Center)