Formed in 1988, Seal Beach-based The Olson Company is celebrating 30 years of providing affordable housing in urban areas. Since it was founded, the company has built more than 400 walkable, transit-oriented communities in more than 100 cities.
Founder and Chairman Steve Olson had a varied career before he decided to start The Olson Company, having specialized in investment banking and later working for an aerospace firm that was eventually sold to an international corporation. Upon the sale of that company, Olson formed a board of directors to strike out on his own and, after conducting some market research, decided to form a firm dedicated to building affordable communities.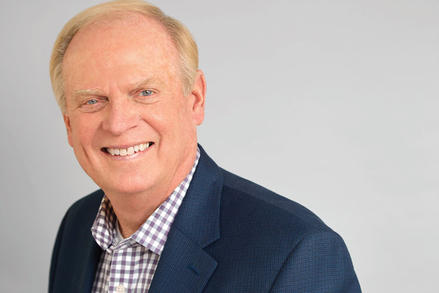 Steve Olson, founder and chairman of The Olson Company, is greatly concerned that California is turning into a community of room rentals due to the affordable housing crisis. His firm has been building affordable communities in the state for 30 years. (Olson Company photo)
In the 1970s and '80s, homebuilders were focused on creating master-planned communities in areas with abundant land such as the Inland Empire and San Fernando Valley, Olson recalled. "If you went to places like Glendale, Pasadena, places in the San Gabriel Valley [or] even places in Central Orange County, we did not have any of those activities taking place," Olson recalled.
"We had recognized a need in housing in urban and metropolitan areas, and that there were opportunities that were not being met to provide housing," Olson said.
These opportunities came with a series of challenges: familiarity with cities' general and specific plans, which denote allowed land uses and building types; getting entitlements; and understanding the unique needs of each community, Olson explained. Recognizing these challenges, the firm initially hired employees who in many cases had worked for municipal governments.
The Olson Company's first project was a few duplexes on Balboa Island in Newport Beach. Following that, the company built its first affordable community in Fountain Valley in the early 1990s. "We actually had a complete sellout of that particular community in one hour. It kind of confirmed the niche that we were in," Olson said.
"What cities learned, and it was very important in this time period, is that to support their retail businesses they needed to have residential that was nearby," Olson said. "We have actually always tracked a couple of things. Number one, what do cities want to do with their commercial retail base? And the second thing is, where is transit going in the way of light rail?"
The Olson Company began tracking the development of light rail in Southern California, and worked closely with transit agencies and cities in the development of their communities. "I would say we've consistently been probably the largest builder of transit stops in the state," Olson said. "In the early part of our career we were in Northern California and we worked a lot with BART. We also worked in San Diego with their agencies. And here we've worked with MetroLink and [other] light rail in terms of transit stops," he explained.
"When we looked at the grid and where proposed transit stops were going to be, and then we superimposed on that your job base and where employment actually was, we saw a disconnect between where people were living and where jobs were being created," Olson said.
"If I had to describe what is a quintessential Olson community, it is one that is transit-oriented, it is near retail and amenities, it is entirely walkable," Olson said, adding that Olson community garages typically accommodate just one car, with some extra space. "It basically is something that is eco-friendly and affordable to a buyer. And it also would be close to jobs so people don't have to drive very far." Long Beach has two Olson communities, which are all dubbed "Walks," including Promenade Walk in Downtown Long Beach and Renaissance Walk along Atlantic Avenue.
The Olson Company uses outside firms to conduct demographic studies of the markets they build in.
"The changes that are occurring are in a way less at the city level and are a lot more at the neighborhood level. Some of those are ethnically driven. Some of those are driven in terms of Millennials. It is also age driven," Olson reflected. The firm commissions the studies to get a better understanding of the patterns of where people work and live, and buyer preferences. "There are probably 90 markets that we study in Southern California today," he noted.
Moving forward, Olson said the company will continue to work in many of the communities it has in the past, but is also now looking to the South Bay for building opportunities. "If you look at South Bay, there is an employment base there that is strong. Some of that is actually related to the port activities, but there is [also] technology, software and other things that exist in those areas," he observed. "We look at some of the affordable housing, or lack of affordable housing, in those markets [to see if] there are places that we can actually be helpful to people in terms of providing a home that they can buy."
One of the challenges of building affordable communities in California is that surrounding higher-income community members often believe they will dilute property values, according to Olson.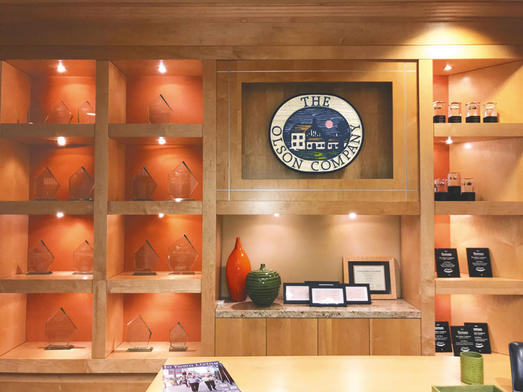 The Olson Company is a highly-awarded housing developer, as evidenced by this wall in the company's Seal Beach office lobby. This year, the firm was named the top single division builder in the nation by Eliant, an experience management company that has surveyed buyers of new homes for more than 30 years. (Photograph by the Business Journal's Samantha Mehlinger)
"The best long-term property play in a community is one that is well balanced," Olson continued. It is best to have communities that have entry-level properties as well as higher-value move-up properties for when those homeowners begin earning more money and choose to move up, he explained. "When you get into communities where you're blocking certain elements like that out, it doesn't make sense because you hit problems along the way in terms of liquidity. You're not teeing up the next round of liquidity for somebody that is at a higher price point."
Olson pointed out that if higher-end communities do not have housing that is affordable for middle or lower wage income earners, the workers who perform important services to the community including police, firefighters and nurses cannot afford to live in the areas they serve.
Olson said he is concerned with the scarcity of affordable housing in Southern California. "I would say housing in Southern California today is really a crisis. It is nothing less than that," he said. He cited a pervasive homelessness issue in Los Angeles County, as well as the difficulty Millennials have had breaking into rental markets, as evidence of the problem. "Anybody who says it's not a crisis is not being real about the numbers and what is going on in the communities," he said.
To tackle this crisis, the magnitude of the problem must be better understood, Olson said. Additionally, he suggested that the state should establish codes and guidelines that would allow any developer whose plans were in compliance to build affordable housing. "You [should] give cities some ability to craft architectural and design needs, because ultimately . . . you want people to have power where they live because they know their communities better than anybody else. But you have got to have things that streamline the entitlement process," he explained.
"In California, as it relates to housing, we are in a crisis that we can't wish away. It will not end," Olson said. While The Olson Company is doing its part to provide affordable housing, he said their approach is not enough to solve the overall crisis. "The long-term implications are that, if you don't solve it, you'll have people leave the state. They will be in search of employment and more affordable housing and other places like Texas, potentially Arizona, [or] potentially the Carolinas or Georgia. And people will just quietly leave." He emphasized, "California is in jeopardy today. We have to solve the problem."