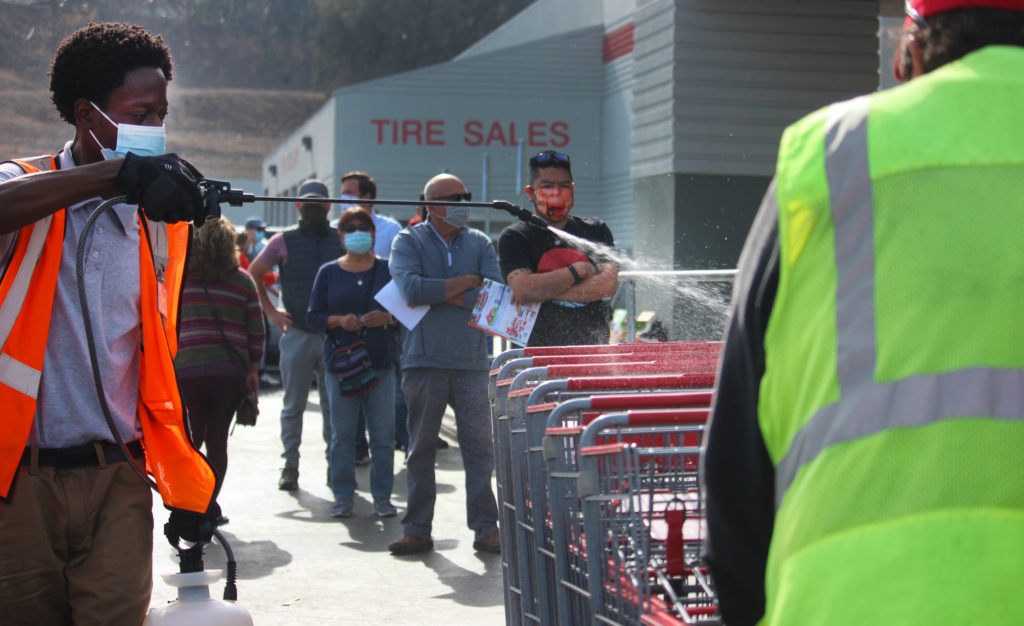 The parking lots of stores across the city were full on Friday, with shoppers once again stocking up on some of the supplies that flew off the shelves at the start of the pandemic. In March, the run on packaged water, cleaning supplies and paper goods—towels, toilet paper—left shelves empty for weeks, with stores struggling to restock.
So far, panic purchases have remained moderate ahead of new restrictions for Long Beach and Los Angeles County that went effect Friday, including a 10 p.m. curfew for bars and restaurants, as well as stricter capacity limits on outdoor dining.
Separately, Gov. Gavin Newsom announced Thursday that Los Angeles and other counties with widespread infection rates would be under a month-long curfew from 10 p.m. to 5 a.m.
While some stores saw longer lines after this week's developments, many said stockpiling has not yet risen to the level seen during the early days of the current public health crisis.
"It's picking up, but it's not anywhere near where it was," said Denise Hahn, store manager of the Vons grocery store on Broadway. As for water and paper goods, Hahn said "it's just low, but I'm not out."
Shoppers at Costco locations, however, are once again faced with empty shelves.
"What I'm seeing is exactly what happened before," said Jaime Morris, a shopper at the chain's Lakewood store, said. "I was hoping that the hoarding mentality was gone and people could leave enough for everybody," he added. "But apparently not."
Nate Rose, a spokesman for the California Grocers Association, said after the events of this previous spring, grocers and companies up and down the supply chain have taken measures to better prepare for an upsurge in purchases of certain products.
"We learned a lot from that as an industry," Rose said. Suppliers have staffed up, added production lines to get more products to market and zeroed in on especially in-demand items, he said. Many grocers have stocked up.
Still, stockpiling puts added pressure on grocery stores, which are already preparing for a heavy influx of shoppers ahead of the Thanksgiving holiday.
"We're really encouraging people not to overbuy," Rose said. "There's plenty to go around."