"Mobility" has become something of a buzzword in Long Beach, thanks in part to the efforts of the city government.
In 2013, the city adopted the Mobility Element, a visioning document incorporated in the General Plan which outlines potential projects and initiatives to support all types of mobility and connectivity within the city: cars, buses, the Blue Line, bicycles, pedestrians and more.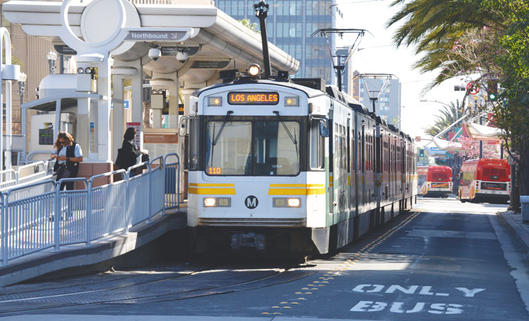 The Metro Blue Line, which has eight stations in Long Beach, is going to receive all new rail cars over the next few years due to a $1 billion investment by Metro, according to Mayor Robert Garcia. (Photograph by the Business Journal's Larry Duncan)
"I think that Long Beach is definitely progressive when it comes to transportation," Mayor Robert Garcia told the Business Journal. "I think that we understand that there needs to be options. For those that drive, they need to be able to get around the city. . . . For those who bike, they need to be able to get around the community safely," he said. "And those who want to take light rail or buses, we need to make sure that the network is strong and expanded. So I would say we're making improvements as we go."
The city has already brought several of the bicycle infrastructure projects within the Mobility Element to fruition, including creating bike lanes on Alamitos Avenue, Broadway, 3rd Street, Artesia Boulevard and other locations, according to Christopher Koontz, advance planning officer with Long Beach Development Services.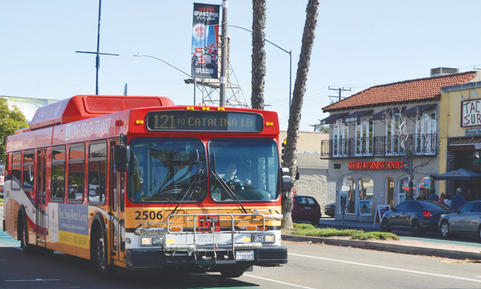 Long Beach Transit operates 34 bus routes within Long Beach, Lakewood and Signal Hill, with most running seven days a week. The bus service also connects to Metro light rail service, and offers connections to other neighboring cities.  (Photograph by the Business Journal's Larry Duncan)
Alamitos Avenue has new bike lanes between 7th Street and Pacific Coast Highway, and Koontz said the city is planning to expand that infrastructure south to Ocean Boulevard and north to where the street turns into Orange Avenue, making it a north-to-south "backbone" path for bicyclists. A similar plan to create an east-to-west bicycle thoroughfare along Spring Street is also being considered, he noted.
Koontz pointed out that there is "no secret plot to take people's cars away" but that the city simply wants to create the opportunity for those who wish to travel by other means to do so.
Long Beach recently won a grant to make mobility improvements along Anaheim Street, including within both the East Anaheim Street and Midtown business improvement districts, according to Koontz.
"We will be looking at the median, looking at the sidewalks, really doing what we can to reduce pedestrian collisions and injuries on Anaheim," Koontz said. "Long Beach Transit is going to be looking at their bus service and their bus stops and how they can move people efficiently and in a way that's attractive to people along Anaheim."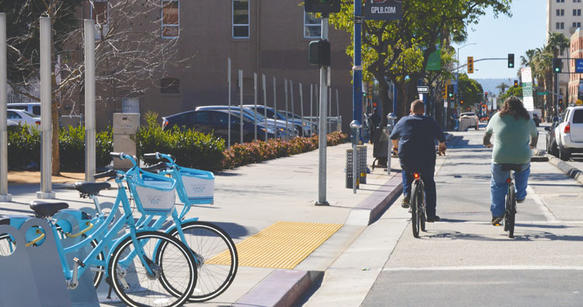 The Mobility Element of the city's General Plan features projects and initiatives aimed at improving mobility by multiple modes of transportation, including by bicycle. There are 141 miles of bikeways in Long Beach, with another 29 miles slated for construction, according to Assistant City Manager Tom Modica. (Photograph by the Business Journal's Larry Duncan)
He added, "Hopefully, those two pieces go together to help the two business improvement districts on Anaheim kind of develop the street at a next level and help business to grow along that corridor."
The City of Long Beach is wrapping up a study on citywide wayfinding signage, Koontz noted. "If you walk around downtown or anywhere near the beach right now, there is all kinds of signage, but it's all different and all inconsistent," he said.
Plans are in the works to implement new, consistent signage for visitors and residents to be able to better navigate Long Beach. Gateway signs at the city's borders are also being revisited. "We forget about those things, but they do make a huge difference, especially if you are a visitor to town," Koontz said.
The city has also begun focusing on ways to increase transit-oriented development, a concept Garcia supports. "I am very supportive of transit-oriented development. I think that's the smart approach," he said. In particular, he believes developing affordable housing along transit lines is a good approach because it would assist working individuals who do not have access to cars.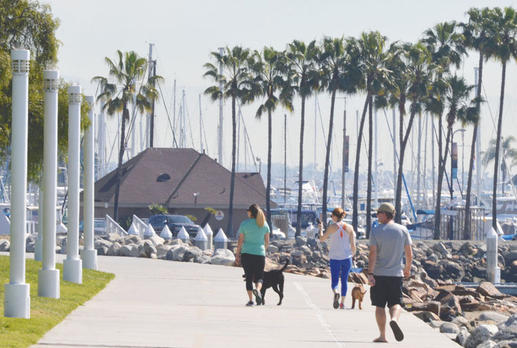 In 2016, Long Beach was named the 10th most walkable city in the United States by Redfin, an online residential real estate company.  (Photograph by the Business Journal's Larry Duncan)
As new developments and businesses within the city continue to pop up, Koontz said a focus is ensuring that they feature bicycle racks and are appealing to both pedestrians and drivers.
Garcia's appointment to the Metro Board of Directors in 2016 gave Long Beach a voice in decisions related to countywide transportation matters like the Metro Blue Line, which has eight stops in the city. Garcia said his work with Metro represents the most significant step the city has been able to take towards fostering mobility since he took office in 2014. "I think it's great for Long Beach to have a seat, and I think that it's great to be active," he said. "And we're already getting a lot done."
On February 23, the Metro Board of Directors approved a contract with the Long Beach Police Department to patrol the Blue Line within Long Beach. Metro is footing the bill to hire 30 police officers for this task. Garcia called the contract "a big win" for Long Beach.
"I think clearly the biggest fix that we need to make to our transportation system is fixing the Blue Line," Garcia said. "The Metro has also committed to spending about $1 billion into the Blue Line over the next few years, and that's going to include all new rail cars. It's going to include improvements to some of the stations. It's going to improve some fare evasion stations. So it's going to do a lot."