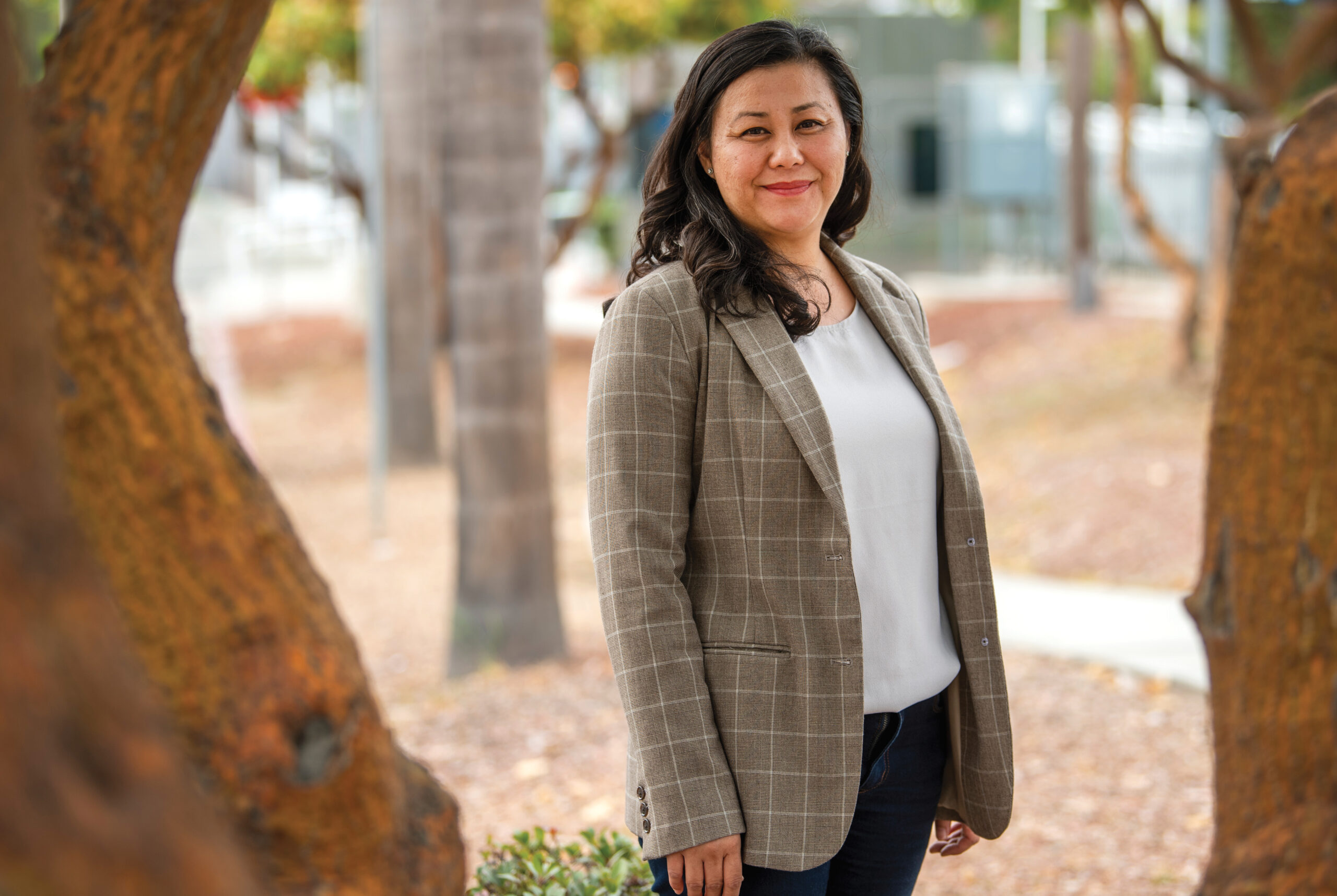 Central Long Beach was already an area in transition when Suely Saro began campaigning for the City Council's 6th District seat in early 2019.
Metro's $300 million renovation of what was then called the Blue Line, which pulses along Long Beach Boulevard in the middle of the 6th District, was underway. A slate of new affordable housing projects were breaking ground. And on the political front, Cambodians in the area were celebrating the first election victories of members of their own community.
Saro, who would later add to those achievements by becoming Long Beach's first Cambodian American City Council member, saw an opportunity to use her background in community organizing to unite the area and build a new sense of pride for 6th District residents.
Then came COVID-19.
Saro had to pivot to virtual campaigning last March, and after she won the November 2020 election, she had to learn how to be a City Council member—and how to address the fallout of the worst pandemic in a century—without meeting anyone face to face.
"It's already a unique experience, I think, to have won an election and become a council member," Saro said in a recent interview. "It's been another layer in the midst of the pandemic, because I don't really know what's normal."
Saro faced a steep learning curve on the machinations of what quickly became a completely digital City Hall. But virtual representation aside, the issues that led her to seek office—homelessness, unemployment, education—were magnified by the public health crisis, especially in the largely low-income 6th District.
"What's amazing about my district is we are made up of a lot of essential workers," Saro said, so the pandemic "really lifted up the value and need of essential workers. But it also demonstrated, too, the economic disparity that they face."
Saro said the challenges in her district have mirrored the challenges in the city as a whole. But her constituents have felt the impacts more deeply than folks who live in wealthier parts of Long Beach.
When it comes to homelessness, for example, "it's not a challenge that is unusual," she said. "It's a challenge facing the whole city that's just more exacerbated in my area because it's already had these challenges."
Saro said she's hopeful, though, about more services opening up in conjunction with affordable housing projects that are wrapping up construction. More support and housing for people who are homeless will also help businesses, she said, that have struggled due to a lack of customers.
"A lot of times, when I talk to small businesses, their concerns are not only about their actual business activities, but the impact that homelessness has on their business," Saro said. "One of the issues that comes up a lot is: What can you do to keep their trash out, or why isn't someone picking up their trash fast enough, or why are they allowed to do this? Because it makes it harder for customers who want to go in their business."
Saro said she's working to address the issue on multiple fronts. One of the methods she's trying is working with the city's Economic Development Department to offer more direct support to business owners.
"Part of that, too, is me thinking about the Pacific Avenue corridor and Wrigley Village—they have always had challenges with vacant properties," she said. "So I'm working out, how do we get more business navigator support so that they have a consistent person to communicate with? But meanwhile, it's also important to be hosting regular cleanups and engaging neighboring residents."
Forging those types of connections between residents and the city was one of the themes of Saro's campaign, and it's an approach to civic engagement that has become even more crucial during the pandemic.
As she looks ahead to the rest of her four-year term, Saro said she hopes that fostering better relationships between neighbors will build a foundation to better address whatever problems the 6th District may face.
"While we have a very diverse district, we're also kind of unorganized," she said. "We don't have evenly distributed neighborhood associations. There's a lot in the Midtown area, and then there will be some in Wrigley, but there's not a lot in between. So I've been working very hard to figure out: How do we have groups that can come together and address some of these quality-of-life issues?"
Saro said bringing in new activities, like a festival celebrating the arts and culture the Wrigley neighborhood has to offer, could be one way to start that process.
"A lot of negative things have been lifted up in our district in the past, and I just think there needs to be a balance," she said. "That's what I'm intending to do, is just change the perception of the 6th District—and by doing that, people will feel more pride in living here."
"And hopefully then, they'll want to keep it more clean, and you know, improve, maybe, their doorstep area. I mean, every little bit helps," Saro added. "You notice when you're like, 'Oh, they did something new there, there's a gate there today,' when you're passing by your area. Or, 'Oh they painted their mailbox,' or something. All of that adds up to making people feel comfortable, and also proud of living where they do."
For Saro, that sense of pride in the 6th District is the ultimate goal. And as Central Long Beach—along with the rest of the city—begins to slowly emerge from the pandemic, she's optimistic about achieving it.
"I think that people in the district are not feeling like they have to wait anymore, and they can actually plan for the future now and live their lives," Saro said. "I feel positive vibrations gradually pulsing through the district as I'm able to connect more with people and support them."
"I'm feeling good because there's just the energy and the vibrations of how people are feeling and reacting to each other," she added. "There's a sense of hope and relief."