A few weeks before turning over her seat in council chambers at Long Beach City Hall to the next 2nd District councilmember, Vice Mayor Suja Lowenthal stood in the center of a vast pit of dirt that was once a Los Angeles County courthouse and realized – for the first time, she said – that in her 10 years in office she has helped reshape the downtown skyline.
In several years, that pit will be transformed into a gleaming new civic center, complete with a new city hall, port headquarters, library, retail and more. After she posed with shovel in hand for the Business Journal's photo, she sat down in her office – full of stacks of paperwork and empty boxes waiting to be packed – and explained that when the civic center is completed, when a new hotel is built at Pine Avenue and Ocean Boulevard, when the second tower of the Shoreline Gateway project at Alamitos Avenue and Ocean Boulevard comes on line, and when many other developments are completed, all those projects will have forever changed the skyline of the City of Long Beach.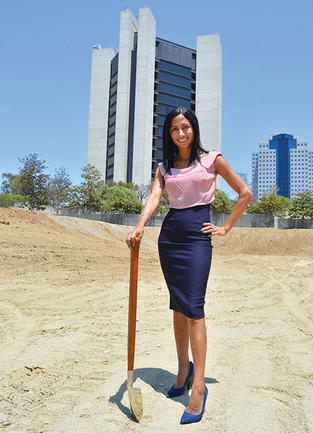 Vice Mayor and 2nd District Councilmember Suja Lowenthal stands before Long Beach City Hall on the site of the new civic center – a development she said will alter the city's skyline. (Photograph by the Business Journal's Larry Duncan)
"In visible ways like that, the city is much better off than when I first arrived," she said. "I do believe the city as a whole is better off today than when I first came into office."
Before running and winning a special election for the Long Beach City Council 2nd District seat in 2006, Lowenthal served in another elected role on the Long Beach Unified School District Board of Education. She has also served as an alternate on the California Coastal Commission and is currently on the board of directors of the Metropolitan Water District of Southern California. She is also a boardmember of the water quality advocacy organization Heal the Bay.
Professionally, Lowenthal has held positions as the coordinator of the domestic violence unit in the Los Angeles City Attorney's Office and at the City of Los Angeles Department of Aging. An urban planner by trade, she currently manages the planning and community engagement team within the City of Santa Monica's Big Blue Bus department.
"I have a deep passion for the city that took root long before I decided to run for council," Lowenthal reflected. "When we moved here in '97, it was dicey. We bought the most expensive residential property in a multi-family structure, and I think people thought we were fools," she recalled. Back then, people – especially those living in East Long Beach – rarely visited downtown "because you just didn't," she said. "But we knew when we moved down here that it was really at the precipice of something happening."
That "something" turned out to be what Lowenthal and many others have come to refer to as the "downtown renaissance" – a more active downtown area thanks to new restaurants, bars and other businesses, and what has now become an onslaught of investment from private developers.
As Lowenthal tells it, her push to revise the Downtown Plan, the planning document for the Downtown Long Beach development area, was crucial in moving this renaissance forward.
"None of this would be possible if we didn't spend five years revising the code for the downtown planned development area," she said. "Our codes, if left alone, would have required that every single project that's appropriate for a thriving downtown would have had to be done on a variance and an exception because the old codes didn't allow for this kind of density and height."
Without this foundational work to revise the city's planning code, none of the high-rise residential developments planned or underway in the downtown area would have been possible, she explained. "That's a big deal," she said. "I feel really fortunate that, as someone who is a planner by education and profession, I had this magical opportunity for 10 years to be the councilmember of an area where planning and building are fundamental to its resurgence as an area and the resurgence of the entire city."
Another visible change Lowenthal's efforts have made in the district – although visitors might not notice it so much as the new developments underway – is creating more parking opportunities. "The immediate need that I heard when I was running for office for the 2nd District 10 years ago was parking," she said. "The parking reform plan brought forward 1,300 to 1,400 spaces without building a parking structure."
To accomplish this, Lowenthal and her team canvassed her district, forming verbal contracts with business owners who agreed to let residents park in their lots overnight so long as the cars were gone before business hours. Parking lots on the beach were opened to residents, and perpendicular parking was implemented to create more spaces on city streets.
"The 2nd District is not better off if we take vacant parcels and just build a parking structure," Lowenthal said. "No good downtown in any great city in the United States or around the world does that. . . . It actually is like this Midas effect of drawing more need. In that regard, I think we have definitely done a great job and have moved the city forward in thinking about what solutions exist outside of building parking."
Urban planning elements – like the Downtown Plan and new parking – have created a visible mark on her district, but Lowenthal noted that she is also leaving behind a less visibly apparent, but still impactful, legacy in the way of policy change.
One such policy change was making the city's shopping cart ordinance enforceable. "My staff commented today that 10 years ago there were shopping carts all over the 2nd District because there was no incentive for the markets to pick them up," Lowenthal said. "Now, there's a huge fine if you don't pick them up and you don't collect them. You hardly see them in the 2nd District."
The vice mayor has also been a long time champion of improving the city's water quality. "When I joined [the city council], Heal The Bay pretty much gave us D's and F's across our entire coastline," she said.
So Lowenthal took action. "I asked the mayor to transfer the city manager's water quality task force to a mayoral task force because I think having that sort of backing of the political body of the city takes the effort to a different level," she said. "I worked on that group and made sure the city was actually working with Heal the Bay and scientists and firms that actually do this type of work to point out where our weak points were and what we could do to improve our water quality. Ever since then, it's always been A's and B's."
Pushing for and succeeding in passing an ordinance to ban plastic bags has also helped the city's water quality, she noted.
Policies like these have benefited the entire city, Lowenthal pointed out. "When we look at the animal care reform, that was a sweeping set of reforms," she said as an example. These reforms included mandatory spaying and neutering of cats and dogs, requiring cat owners to license their pets, funding a city veterinarian, and expanding subsidies and vouchers to make spaying and neutering more affordable. As a result of these reforms, the number of animals euthanized by the city has decreased, she noted.
There are some things Lowenthal wasn't able to see through in her time on the council that she'd like her colleagues to take up in the future. One major project would be creating "the next generation" of the city's Southeast Resource Recovery Facility (SERRF), a plant where refuse is converted to electricity via combustion. The facility is nearly at its maximum output, and because a new combustion facility or expansion wouldn't be permitted, the city needs a new solution, she explained.
"It's something I worked on for a couple of years, initially," Lowenthal said. "So that's something I would love for the next councilmember or the city to pick up. It has to be done." She added that because the city doesn't have the funding for such a project, a public-private partnership similar to the one being used to build the civic center would likely be necessary.
Another issue the city has yet to resolve is how – and if – to allow and regulate the sale of medical marijuana. Lowenthal has spearheaded ordinances in the past, one of which was approved and then repealed. "I feel I worked on that so long – six or seven years," she said. "Then there was a ban. Then we tried it again with this new council. And then last week, it was on the [council] agenda.
"A couple of councilmembers brought forward an item to have a competing measure alternative to what signature gatherers believe they have enough signatures [for] to put on the ballot," Lowenthal continued. "That was the last straw for me. I said, 'We've had our chance, we failed miserably, and we don't get to now go against voter intent.' If you have 35,000 to 37,000 people who signed to have this put on the ballot, you don't now get another bite at the apple to say, 'Oh, but we have an alternative for you.'
"Is there a way to improve what might be going to the ballot? Absolutely . . . but the way to do it wasn't the item that was brought forward last week. So we voted that down." She added, "I don't think it's over just yet. I have two weeks left."
Medical marijuana regulation is among one of several policies Lowenthal advocated for while in office that have drawn ire from certain constituencies. The plastic bag ban was another, as was an ordinance to regulate motorcycle noise. Oddly enough, in her view, policies to expand urban agriculture rules as well as the requirement to license cats also caused some heated debate – although Lowenthal said she's glad the dialogue took place.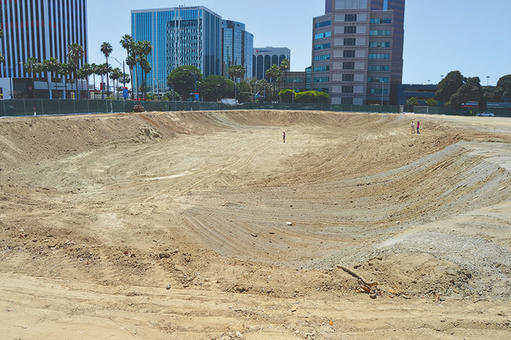 A vast dirt pit is all that remains of the former Los Angeles County Courthouse in Downtown Long Beach, which was recently demolished to make way for the city's new civic center. It's a project for which Vice Mayor Suja Lowenthal – pictured in the distance at center – has strongly advocated. (Photograph by the Business Journal's Larry Duncan)
But it was the motion Lowenthal least expected that ended up coming back to haunt her later on – not that she regretted it. "You know, it's interesting. Sometimes you do things because it's the right thing to do, and it will come back and sink you somewhere else," she said.
In 2011, Lowenthal brought forward an item to the city council to discourage the dental use of mercury fillings. It wasn't an ordinance or policy – just a statement by the city council that it was their preference that mercury not be used in fillings, Lowenthal explained. In essence, the statement was, "You still have a choice, but just know that your city leadership would prefer if you phased out mercury," she said.
Fast forward two years later. Lowenthal was running for state assembly, and the groups who came out hardest against her were those she least expected – the state's dental association and the California Medical Association. "That brought this onslaught. I mean, the negative, misogynistic mail pieces that came out in that campaign from a team of medical professionals. . . . I just didn't expect that. But it was a favor done to me to kind of know the realities of how politics, financing and policy kind of collide."
Passing the mercury filling-related resolution, the bag ban and other controversial policies was worth it, Lowenthal said. "I would not do that differently. Being vilified personally, being called names, having campaign pieces against me because somehow all my policies seem liberal, that's fine," she said. "Because having passed those measures, they're not just for the next five or six years. That's a lifetime. Those are legacy changes. Just like civic center. . . . It is for generations ahead."
Upon preparing to leave her position as vice mayor and councilmember for the 2nd District, Lowenthal is most proud of her community development work. "I didn't just do large scale development. I believe if you do the corridors right, everything else fills in," she said. Lowenthal used one-time funds to finance visioning studies, conducted by professionals, to revamp the Broadway, 4th Street, 7th Street and 10th Street corridors. The first three of these have been completed, and the 10th Street study is about to wrap up.
"It's for physical space improvements, treatments to the street and corners of the sidewalks, lighting. All the little pieces that make the public space much more relevant to the community that's living there now," Lowenthal said. For each of these studies, Lowenthal provided seed funding to kick-start initial projects. And now that Measure A, the sales tax increase to fund citywide infrastructure and public safety, has passed, the visioning plan for Broadway is likely to be funded through that source, she noted.
Lowenthal has also played a major role in growing the city's bicycle infrastructure, from separated bike lanes to the creation of the Bicycle Master Plan, she noted. The city has since been recognized nationally for its bikeability.
Now that she's leaving the council, Lowenthal does have some advice for her colleagues on what they'll need to look out for in the years ahead. "In the next few years, when we look at the price of oil, we will . . . have hit a hurdle," she said. "This city council will have to remember its fiscal prudence history and be disciplined about it."
So, what's next for Suja Lowenthal?
"As radical as this sounds, I am going to try one full-time job for a change," she said. "My son starts high school this fall, and that will be exciting for him and for me. And it will be great to not be so pressed in the evenings and the weekends."
Asked about political ambitions, she said, "I don't have my eye on a higher office. I would love to serve in a capacity that I think taps into what expertise I may have." While she hasn't spoken with the mayor about serving on any commissions, she noted, "I would be honored to serve in whatever capacity he requested."
"This will probably be the first time where I'm gladly walking down a path of uncertainty knowing that purpose can be wherever you show up," Lowenthal said. "I think a lot of times we decide that purpose is here and only here. But you can just show up and find purpose. I'm looking forward to doing that."