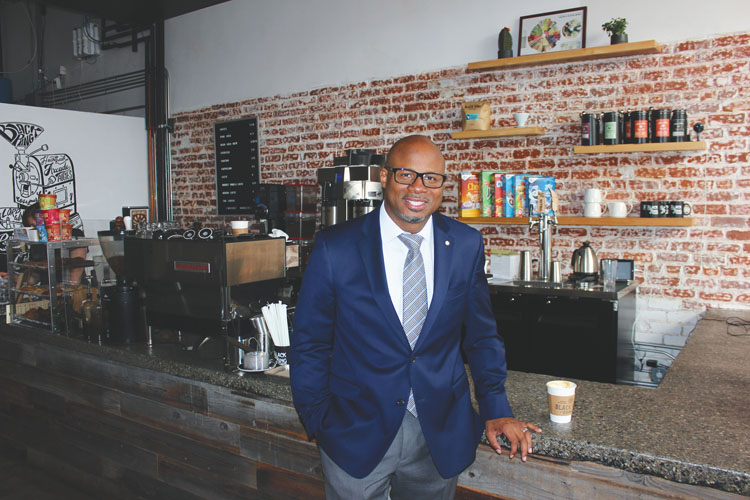 LBBJ: Do you feel business owners in your City Council District are happy with the direction the city is going?
Austin: I think they are happy with the direction the city is going, particularly with our investment in infrastructure and the development of business improvement districts. The businesses in those areas have benefitted tremendously. No business wants to see new taxes or any sort of new regulation, but it's a give and take. If we're going to improve our infrastructure, if we're going to improve the quality of our city, we have to invest in infrastructure and public safety as well. . . . I got a lot of gripes about Measure A from local business. But folks are seeing the results, and that is making people more confident about what we've done as a city and the direction we're going in.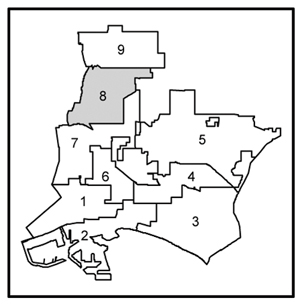 LBBJ: In your years on the city council, how have you worked to build relationships with businesses in your district?
Austin: I support most of the businesses in my district. I support them financially with my own resources. . . . I have knocked on doors to advocate for new businesses in the area. My staff will tell you I have a "getting to yes" approach to business, and particularly small business. I ask city staff and I ask my staff: instead of saying "no" or "this can't be done," let's figure out how to get to yes. If we have that mentality, we're going to be viewed as business friendly, and it's going to make it easier for small business [owners] . . . . We set up the Uptown Property And Business Improvement District. I have been very supportive of that and very supportive of our Bixby Knolls Property And Business Improvement District. I have great relationships with both Tasha [Hunter, executive director of the Uptown Business Improvement Association] and Blair [Cohn, executive director of the Bixby Knolls Business Improvement Association], and they can count on my office for support in any way possible. When there are barriers for business, we work very hard to eliminate them.
I hold community meetings. I try to host coffees and try to have events where our businesses cater. I like to showcase my district to the best degree possible. As a city councilmember, it's my responsibility to be an ambassador for the businesses in my district, but also citywide. I get very defensive when somebody has something disparaging to say about Long Beach or any area of the district, particularly when I know the hard work that went in and the vision that's going in to change things. We're really working to improve the corridors here. The 8th District is really a neighborhood-centric community . . . but we also have a lot of great businesses that complement our neighborhoods. That's what we want to continue to build on.
LBBJ: What are businesses in your district telling you are their biggest challenges?
Austin: Parking is always a challenge for this corridor. We need to do more, particularly in these business corridors, to be creative with parking. Vandalism. Things that are beyond [business owners'] control, where they wake up and come in in the morning and their windows are gone, or things of that nature that add to the cost of doing business. We want to improve our public safety to minimize and mitigate those types of occurrences. If businesses are brand new and aren't sure how to navigate the city and the bureaucracy, it can be very difficult. They don't know what the permitting process is or the business licensing process. I have seen many of our small businesses get over-anxious or get ahead of themselves, and they have to backtrack. That becomes an area of frustration.
LBBJ: You mentioned working on improving public safety. What do you see as some potential avenues for that?
Austin: I'd like to see more cameras in the corridors. That has gone a long way to solve many crimes, when businesses actually are equipped [with cameras] and our police department can access film. I'd like to see the city investment more in some of our high-performing business corridors and districts [to supply] more cameras to send the message . . . that public safety is going to be a high priority. Right now, our emphasis in on body cameras for officers, and that's a significant investment. The next step should be cameras along some of our corridors, particularly high-traffic corridors that will help mitigate crime.
LBBJ: As the elected representative for the businesses in your district, what steps have you taken to make Long Beach business friendly?
Austin: I have supported and been an advocate for streamlining our CUP [conditional use permit] process. I have created and been an advocate for business improvement districts throughout the city, not only in my district. We have a strong model, particularly in Bixby Knolls, that other cities are actually looking at implementing. With my work with city staff, I am an advocate for small business. . . . I want the attitude to be a "get to yes" attitude with small business. Because for many of these folks who open small businesses, it's their first venture. They are unaware of the processes, and we often times need to be mindful of that, to walk them through and make sure they are successful.
Any time there is a new business opening, I try to profile it in my newsletter. I see my role as a city councilmember as an ambassador for my district, but also to promote the best virtues of my district. If there is a new business opening in my district – if it's a fun new business like this one [Black Ring Coffee] that's creative or collaborative, I want people to know about it. Using my newsletter and other vehicles, even my relationship with the Business Journal, I want to make sure that we profile the best of the 8th District.
LBBJ: What sorts of businesses do you feel your district has a need for, and do you have a plan to attract such businesses?
Austin: More restaurants and retail establishments [are needed] in North Long Beach – establishments that people can walk and bike to that are near their neighborhoods. That's very important, particularly for North Long Beach. We have that model in Bixby Knolls, and it seems to be working very well. The community has embraced it. I think it will happen, particularly when we get our LAB development off the ground. We're very excited about what they have planned with the Canvas development happening between South Street and 56th Street. That is going to be transformational. I was the very first person to meet with Shaheen Sadeghi from LAB. I walked him around the North Village. I could see his eyes opening and his vision from the first time we met. He was very interested in purchasing properties and crossing South Street into the 9th District and looking at properties there. LAB's property holdings will have a significant impact on the future of North Long Beach, so we're really excited about that project.
What I am interested in is promoting business, but being smart with our land use as well. It's important that anybody who wants to invest in my district look at both housing and business. I'm a big proponent of mixed-use development. If we can encourage that in key strategic areas, we'll have better neighborhoods throughout the district.
LBBJ: Is there anything you would want to add or emphasize?
Austin: The 8th District has really transformed over the last six years in terms of business. We have a lot of new businesses that want to invest here, that are confident about the community. New housing developments are happening here as well. That's largely because of an attitude that we have employed over the last several years: again, let's get to yes. Let's figure out and encourage investment, not discourage. Let's figure out how to make it work and attract the type of businesses that are going to complement the great neighborhoods that we have throughout this district.