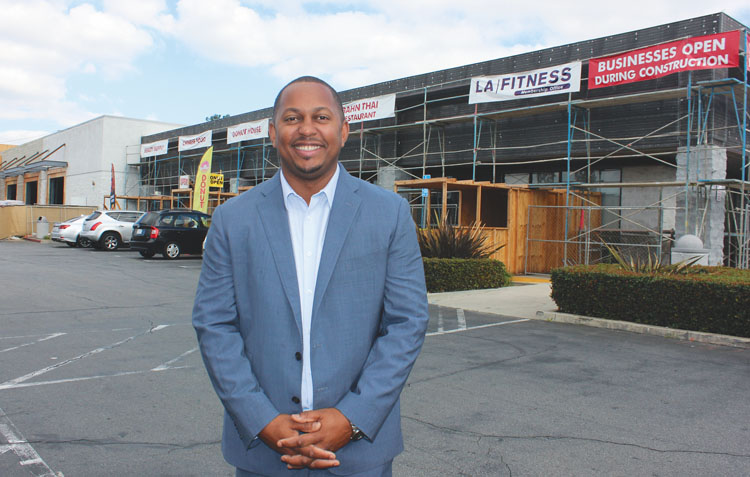 Note: This is the last in our series, Talking Business With The City Council, which launched with the July 31 edition. Previous interviews are available at lbpost.com/lbbj. Click on Past Editions.
LBBJ: Do you feel business owners in your council district are happy with the direction the city is going?
Richardson: Absolutely. North Long Beach businesses – new businesses, small businesses, legacy businesses – are doing better today than they were before we began our work. That's evident by the improved focus on our area, from the infrastructure improvements in major corridors, to amenities like libraries and fire stations. Better [fire department] response times help our businesses as well. Our response times in North Long Beach when I took office were three minutes slower than the rest of the city. Now we're on par.
When I started as [former Councilmember] Steve Neal's chief [of staff], there was no Uptown Business District. I knocked on every one of those doors, gathered almost every one of those petitions to create it. When we first started talking about a business district in North Long Beach, the pundits said, "North Long Beach isn't ready." They said it would take us 10 years. We got it done in two, and we have now renewed it for 10 years. Now we can think about what's next, what enhanced economic development activities we can do. . . . The private investment that's happening now is our best shot at creating the next thriving business corridor in the city.
Higher education is a key piece. The Long Beach City College board voted to explore North Long Beach for its next satellite [campus]. . . . When you bring in higher education, it brings in an entirely different civic actor to the corridor.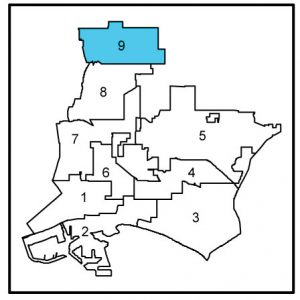 LBBJ: In your years on the city council, how have you worked to build relationships with businesses in your district?
Richardson: Businesses in my district feel a big disconnect from downtown. Businesses have to go above and beyond just to be engaged. We have done a few things. We have served as our own local business council, our own chamber, if you will. We're leading this conversation around economic inclusion. . . . What are the needs of small businesses and minority-owned businesses across the city, including those in my district? Earlier this year, we launched Everyone In [an economic inclusion initiative]. We did a series of five policy meetings . . . to help scope out a game plan around economic inclusion in the city. Separately, we conducted a listening tour with 10 focus groups and different demographics. We brought in consultants to create a report . . . . The types of [suggestions] that came back were making the city more intentional about conducting outreach in certain areas. [Improving] access to capital was a big one. . . . Our regulations and permit processes, making those easier to do. . . .
The vision is ultimately to create a minority business council in the city. . . . We are a big enough city to have more than one chamber. These guys may not be able to pay big dues, but they still want to be engaged. That's a big gap in our city.
That's why I launched the Kiva [microloan crowdsourcing] platform. We have businesses engaging in it already. The city council started with a simple $25,000 startup fund. We have already deployed $110,000. We have gained 800 new lenders in six months. . . . We were able to bring in LA LISC [Local Initiatives Support Coalition] to match it dollar for dollar, so a business raising $5,000 is then getting a $10,000 loan.
LBBJ: What are businesses in your district telling you are their biggest challenges?
Richardson: Investment and attention. North Long Beach hasn't received a lot of investment historically, and not a lot of attention from an economic and infrastructure standpoint. It has been challenging for new businesses to establish here as well. This isn't a community where you can turn on the lights, open your door and people are going to walk in. You have to have a draw or a loyal base. Making sure that they are connected to resources and that there is economic activity and synergy is important. . . .We have to start thinking about equitably investing in economic development because we're not going to grow the pie if we're not investing in new areas. Yes, it's a risk. We have to get back to investing in catalytic projects. On Atlantic Avenue, there are a lot of catalytic projects. We're talking multiple coffee shops, eight or nine restaurants, two breweries, a bank. It took work, it took the city's leadership, investment. It didn't just happen. . . . The improvements here take cooperation between the property owners and the city.
LBBJ: As the elected representative for the businesses in your council district, what steps have you taken to make Long Beach business friendly?
Richardson: I have taken steps to make Long Beach small business friendly with a lot of the economic inclusion work. I proactively engage with them. . . . This is about making it whole, a complete community. North Long Beach is one-fifth of the city's population: 20% of all the residents in the city. We don't get the economic resources that we need. A fifth of the city's students go to school here.
There's not a lot of philanthropy taking place. We're changing that. When I started, we only had one nonprofit in the whole district, Pools for Hope. But now Long Beach Opera is right here in the district, Long Beach Community Action Partnership. . . . We've got some really cool active churches. . . . Now every geographic inch of my district is covered with 13 neighborhood associations, plus community watch groups, plus a business improvement district. None of this was here five years ago. All of this creates synergy between businesses, the civic actors, and even agencies working together.
LBBJ: What sorts of businesses do you feel your district has a need for? Do you have a plan to attract such businesses?
Richardson: We're the one district in the city with no bank. By focusing on financial and economic inclusion and engaging with the banks. . . . we now have a commitment to bring a bank in 2019 to North Long Beach. It's going in at Atlantic and Artesia [Boulevard].
We're proud of each of the developments we're bringing to North Long Beach. We're bringing Frontier [Real Estate Group's] development called Uptown Commons, which is bringing a bank, a shipping container style courtyard similar to Steelcraft, a Starbucks, and two to three restaurants. At Atlantic and 61st Street, we have a coffee shop, a brewery, a number of really cool restaurants coming in. We are working with Lab Holdings [on another, large-scale development]. . . . I was a little difficult with them initially because it's a massive opportunity for North Long Beach, and I wanted to make sure that the community had a voice. . . . We got that done. We have three major developments all in my district. If you put that together with the public investments . . . we have a real opportunity to transform that corridor in about three years. Two of these projects are breaking ground in spring.
Long Beach historically did not have a lot of grocery stores, but a lot has changed in recent years. Across the street is a massive WinCo. Just on our Northern border you've got Northgate Gonzalez Market, which is a full grocer, and a Grocery Outlet [Bargain Market]. . . .Then you have the three grocery stores that were already here. Since I have been in North Long Beach we have created four community gardens and a new crop swap event. . . . My office at the old Fire Station 12 has a full farm with an orchard and at least 12 different types of fruit trees, tomatoes and herbs.
LBBJ: Is there anything you would like to add or emphasize?
Richardson: Given the history of North Long Beach, what we have accomplished, where we are going, I think this is a case study for economic inclusion and we need to do this in more areas of town.