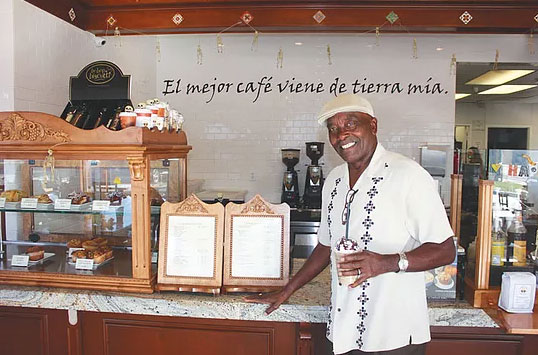 LBBJ: Do you feel business owners in your Council District are happy with the direction the city is going?
Andrews: Yes, for the most part, because business is booming. They do have concerns on quality of life issues. But there is a lot of potential in my district. We have the Anaheim [Street] corridor, the Pacific [Avenue] corridor, and the Willow [Street] corridor. Pacific Coast Highway is a work in progress. We have new development coming in these areas, and they will be attracting consumers, not only for the district, [but] for the other areas as well.
LBBJ: Which projects are you referring to?
Andrews: Here at Pacific Coast Highway and Pacific [Avenue], we are planning on bringing in one of the finest marketplaces that has ever been in the City of Long Beach. I am hoping that we can get low-income housing on the top. It has been many years in the works. Hopefully this will come to fruition before I get out of office.
LBBJ: You mentioned there are some quality of life issues people are concerned about. What are those?
Andrews: In my district and in most of the districts, that's the homeless issue. We all know that is one of the largest issues we have, especially along the Willow corridor and Anaheim corridor. There is a lot of vandalism occurring there. As a matter of fact, I have walked these corridors myself, and I have seen windows being etched. I have seen also carts being left behind. In order to be there to address it, you have to be there to see it.
I think if you ask any of the council people, it is a large concern. We are trying to address it, but that is going to take a long time. Because it comes with policy on building. . . . I don't think we can build fast enough and long enough to be able to really completely eliminate homelessness, because it's not just here; it's all over the county.
LBBJ: In your years on the city council, how have you worked to build relationships with businesses in your district?
Andrews: During my time on the city council I have worked with business corridors to provide them with information and the tools the city provides. Any business that reached out to me, I have directed to business licensing. I have attended ribbon cutting ceremonies and welcomed them into our district. Recently, I have been reaching out to business license applicants, and notifying the residents about the new business coming not only to promote their business but to keep the residents informed about the new face that they may encounter. Another thing here in our 6th District is the fear factor. But we are trying to get away from that. You can come to the 6th District and feel safe. You can feel comfortable. We want you to feel like any other place you go in the City of Long Beach.
LBBJ: What are businesses in your district telling you are their biggest challenges?
Andrews: It's always the same thing. You're talking about homelessness. I have been here for 75 years, right here in the 6th District. So I know my community. I know the people in my community. And that is one of their biggest concerns, because it wasn't like this maybe 10 or 15 years ago. It was just like an explosion. That is the biggest challenge we're trying to work on. And in order to get that taken care of, we need to get permission to be able to build. And we have to build high. We can't just build low, we have to build high. And it has to be affordable. I think that's one of the biggest cries, because if you are living in a residential area you don't want to see a big old high rise put up. It's along the corridors we're talking about building high rises, not on the side of your residence. You wouldn't want that. But at least we can try to do something to try to break that blight of homelessness that's going on now. . . . We have to be compassionate enough to know we must do something about that. And we must build.
LBBJ: As the elected representative for the businesses in your Council District, what steps have you taken to make Long Beach business friendly?
Andrews: I always try to encourage my staff to be understanding and work diligently. And I do not like to hear from potential business owners that their applications have not been taken and the process is too long, so they have to submit applications several times. I put one-time dollars behind the kick-start of a BID [business improvement district] along Pacific. . . . You know the BIDs in Belmont Shore and Naples? Well, we want ours to look a little like that too. We don't have that kind of taxpayer money, but at least we have people out there concerned enough to say, 'We want to keep our streets clean.' You keep your streets clean, and the homeless find another place to go. . . . That's sad but that's what a lot of them do.
Stakeholders who have businesses along the corridor, we would like for them to be more involved. A lot of them talk about, 'Why should I put money into these streets?' Well, this is where your business is. Why wouldn't you want it clean? . . . . We're trying to let you know, if you don't do it, we will do it. . . . We want to make it as clean and as safe as we can for any people that go out in those corridors.
LBBJ: What sorts of businesses do you feel your district has a need for? Do you have a plan to attract such businesses?
Andrews: I want everyone in my district to have a healthy food option. We would like to see a  supermarket, gyms, coffeeshops. For me, it's about activating space and making it attractive to the business owners to come into our area. We are going to have a thing called Wrigley Wednesdays. It's coming soon, and we're planning to roll it out to Wrigley stakeholders and let them give their input. . . . We have clean-up activities twice a month. We let people know and pass out flyers on the block we're going to clean up. Twice a year, we have a big cleanup. But twice a month we go to every part of our district. And a lot of those individuals who need community service, that's where we get a lot of our help. Those individuals give us a big hand. It goes a long way. And people are thankful. But I just don't think that's enough. You have to get more involved. Don't expect for us to do it all, because this is your community, it's not just ours.
LBBJ: Is there anything you'd like to add?
Andrews: When you have lived here as long as I have, there are a lot of things you like to see and don't like to see. But it's there. Even as rough and tough as they say it is, it's a family. And it's getting much better. I can remember times when it was really tough. But we have come a long ways. I think people now are getting much more concerned. They're getting involved . . . to make our district and our community a much safer, cleaner place. . . . We're doing well.
You know my slogan: a job will stop a bullet. . . . We put money into a program to make sure kids get jobs every summer. They can't work all day, but at least we get them off the streets. . . . I cannot tell you how grateful I am to our local businesses who give these teenagers an opportunity to learn what a real job is like