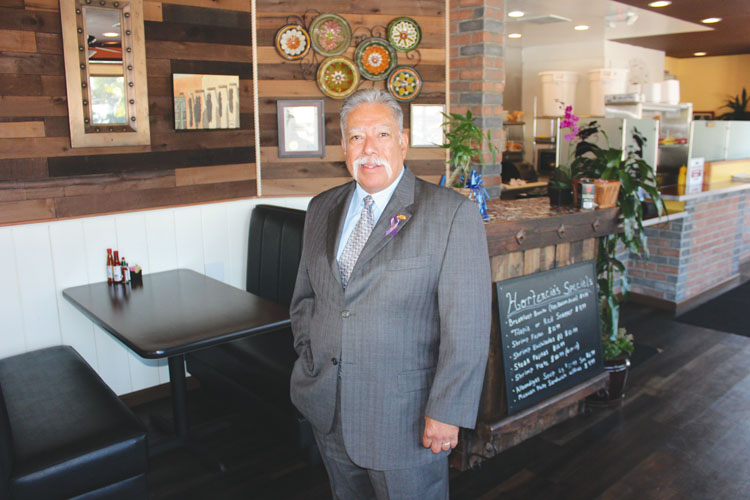 LBBJ: Do you feel business owners in your council district are happy with the direction the city is going?
Uranga: Absolutely. We're able to convert a lot of businesses into something that's going to be thriving, that's going to be economically feasible, that's going to provide a profit for them. That's one of the reasons why we're here at Hortencias [Mexican & Seafood], is that it was a business that unfortunately had some issues and had to leave. But then these proprietors came in, and it's doing very well so far. . . . There have been other businesses we have done some ribbon cuttings for in the last four years that are still doing very well and looking at expanding. It's a great opportunity to have these businesses coming to the 7th District and be successful. For example, the Long Beach Beer Lab opened two-and-a-half to three years ago, and they're expanding. They don't have enough space to store all their product, so they are looking at expanding into next door. We're working with them to try to make that happen. That's what we do with all the businesses. Anybody who comes to Long Beach wanting to establish a business here, we meet with them, we ask them what it is they want to do and how we can help. We provide them with some guidance as to how to maneuver around city hall in getting the necessary permits. . . . It's a holistic approach to try to get businesses into Long Beach and to be successful.
LBBJ: In your years on the city council, how have you worked to build relationships with businesses in your district?
Uranga: I meet with them on a pretty regular basis. We go to their businesses. There is nothing more telling about how we feel about businesses than patronizing their establishments . . . . We try to patronize the businesses as much as we can, especially those that are newly open, so that they can get the feeling that they have support and they have a friend in city hall. When we have community meetings, we invite [business owners] to come, such as the Wrigley Association in West Long Beach. . . . We try to feature them at some meetings.
LBBJ: What are businesses in your district telling you are their biggest challenges?
Uranga: Maneuvering through the complexities of permits. When they want to expand a business, getting through the red tape in terms of additional space or [addressing] any kind of environmental issues. . . . But then again, we try to help them as much as possible by having [city] staff be aware that this is a new business, and we want them to thrive and work with them.
One of the things that has really come out recently, and it's because of the success of the BKBIA [Bixby Knolls Business Improvement Association] in the northern part of the district, is expanding it further down south this way. I have talked to [BKBIA Executive Director] Blair Cohn about that, and he's basically saying, 'Yeah, we want to do that.' These businesses want that support as well, because the BKBIA provides additional services such as being able to clean up parking lots and sidewalks, and providing security. Then when they have special events, being able to include these businesses as part of that. . . . We have businesses opening up in the West Long Beach area, which is an area that we really want to get going in terms of being able to get more businesses and more services out there.
If you've seen the map of my district, you have seen how crazy it is. It is very difficult to determine what types of businesses [should] go where. Retail doesn't work well right here in this part of it [on Atlantic Avenue just past Wardlow Road], but it might work well . . . [near the former Boeing C-17] Globemaster manufacturing area. We're looking at trying to infuse some retail and other kinds of operators out in that area. With our participation, the city has been having a few scoping meetings to talk about what the neighbors would like to see. . . . They want it to be neighborly, walkable. They want establishments where they can go in and feel comfortable. That involves getting more business districts in other parts of the district, like the Wardlow corridor, the Willow corridor and the Santa Fe corridor. . . . We are trying to get that off the ground. It's not easy. There's a lot of reluctance on the part of business owners, especially those that just opened up. They're a little reluctant to put in additional funding for a business district because it costs money, and they haven't established themselves that well yet to where they feel comfortable participating. We're working with them and letting them know the benefits of it and what it can do for them in their business growth.
LBBJ: As the elected representative for the businesses in your Council District, what steps have you taken to make Long Beach business friendly?
Uranga: We are working with our staff in trying to cut some of the red tape, and providing interested entrepreneurs [opportunities] to establish a business here in Long Beach. We have had some incentives for businesses to come into Long Beach and relocate. We also have businesses that are already here, and we like to have them apply for contracts within the city. The biggest one we have is in the 7th District: Laserfiche. It's a global company, and they are established here in Long Beach. We love to have our local businesses do well locally. And if that's [by] working with the City of Long Beach, all the better.
LBBJ: What sorts of businesses do you feel your district has a need for? Do you have a plan to attract such businesses?
Uranga: The neighborhoods want family-friendly, walkable districts. We're talking about some retail, some restaurants, coffee shops. . . . We do not have a Starbucks in my district. Not one. . . . We have one boutique coffee shop . . . . But none in Wrigley, none in the Westside. My district is very convoluted and gerrymandered. The West Long Beach area, for example, is an island. In order to get there you have to go across bridges. . . . That creates somewhat of a barrier, and it's difficult. But we are working on getting new businesses over there. . . . And I'm talking to markets and other retailers about opening up out there, including like a Starbucks, which would be great. We are working also with the Gold Star Manor. They have a huge development taking place. We have been talking with them in terms of what we would like to see them develop, and they are listening. In fact, they are looking at putting a coffee shop there or a pharmacy, or even a market, which is what is very much needed in that area.
LBBJ: Is there anything you would like to add?
Uranga: The 7th District, because of the way it shaped, we're the little engine that can in the sense that we don't have a big thriving marketplace like Los Altos or 2nd Street or downtown or Towne Center. We don't have any of that in the 7th District, so the challenges we face are a lot different than what my other council colleagues have. . . . It's going to be a lot of family-owned mom and pops that will be the ones to make the economic engine in the 7th District run.