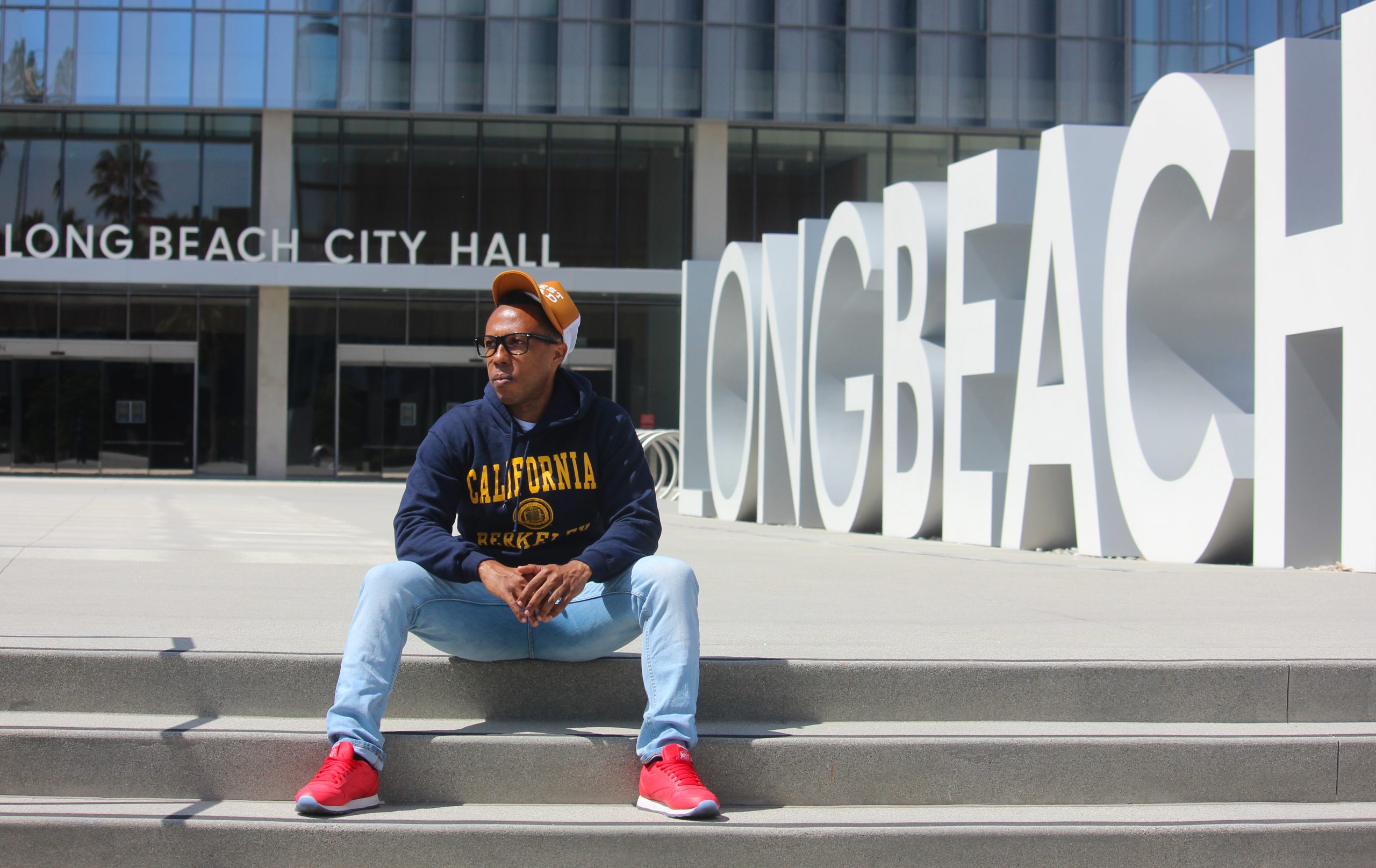 Armed with a small portable speaker and microphone, Franklin Sims was surrounded by hundreds of protesters hanging on his every word during multiple demonstrations over the last month.
He speaks about a lack of accountability within city government, particularly on the part of Mayor Robert Garcia. He speaks about the corrupting influence of police association contributions to city politicians. He speaks about multiple issues that disproportionately impact the city's communities of color.
During a June 16 demonstration outside Long Beach City Hall, Sims announced the beginning of an effort to recall Garcia, after starting a GoFundMe for donations to the cause eight days earlier. His public addresses have been met with approving chants of "Defund the police!" and "Recall Mayor Garcia!"
Sims' political activism in Long Beach began four years ago around a single issue—his opposition to a proposed city tax measure that he called discriminatory. Though his opposition to the measure ended in eight counts of violating state campaign law, Sims is undeterred in his newest cause. He has also broadened his message and his agenda in positioning himself as a voice for reform at recent protest marches. 
His recently created Instagram account, @lb.strong, has quickly grown to more than 1,380 followers, with his videos garnering hundreds of views.
"Thousands of residents are righteously outraged," Sims said in an interview. "[I'm] helping them to target their outrage on specific functions, to channel it to enact change."
At the top of his to-do list is the mayor's recall. Sims dismisses Garcia as a "steward of systemic racism," who favors downtown gentrification while ignoring housing inequities, fails to hold brutal police accountable and shows little compassion for the poor, especially around issues of environmental justice.
He has gone so far as to compare the proposed development of an $85 million aquatics complex in an affluent beachfront neighborhood in Belmont Shore to the racial segregation imposed by Jim Crow laws in the south.
On June 29, Sims served the mayor with a notice of intent to launch a petition drive for his recall and filed his intent with the city clerk. As required by law, the recall notice will be published in a local newspaper Friday, he said. After publication, Sims must submit proof of publication and two blank copies of the petition to the city clerk for accuracy verification. Once verified, Sims can begin to gather the roughly 26,500 signatures required to force a special election.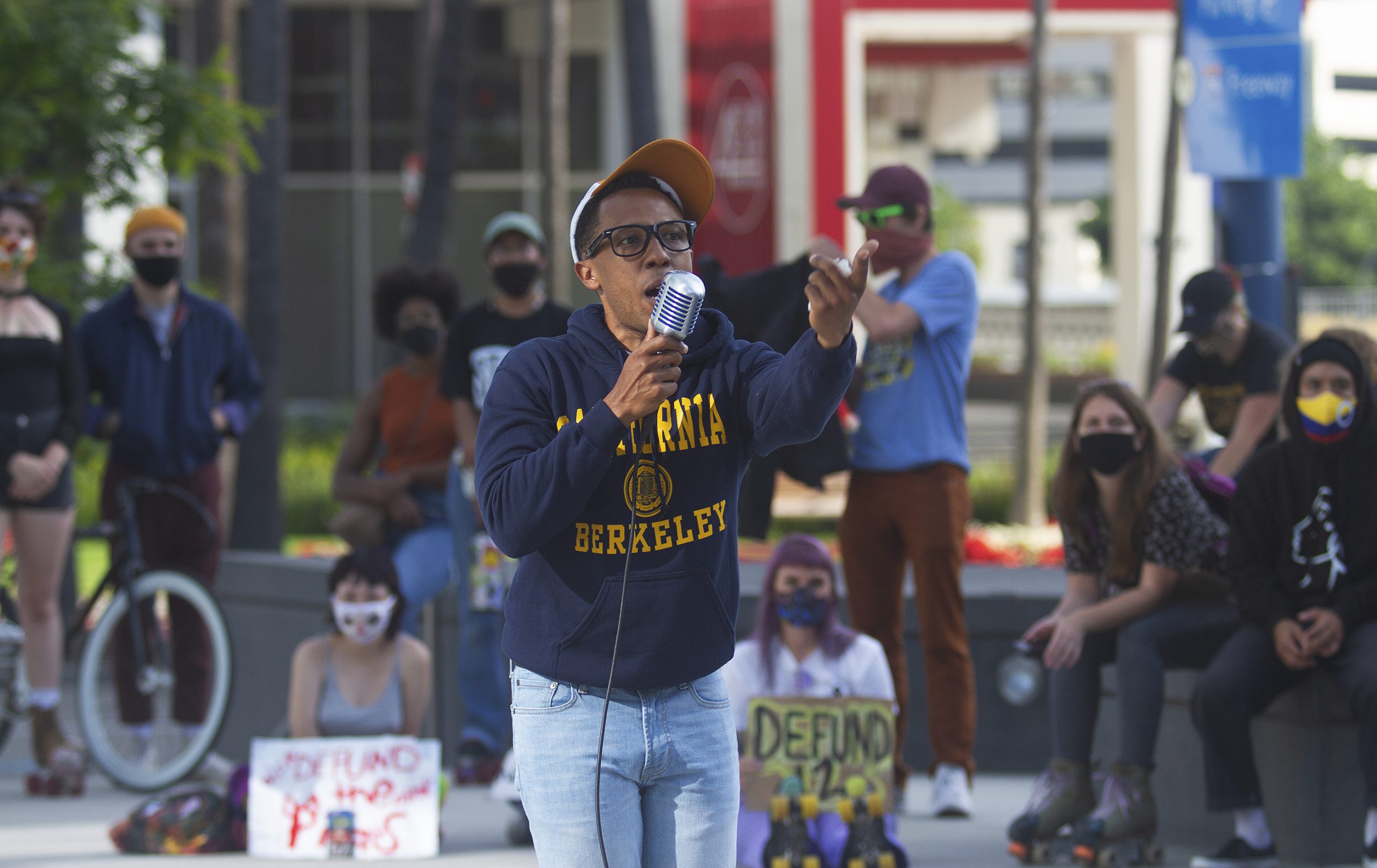 "What's happening at the top is filtering down to our children," Sims said of the mayor. "I care about this city and my daughter who lives here, who is breathing this air and who is going to intersect with the police. Those are the issues, not some vendetta with Mayor Garcia."
Garcia did not respond to multiple requests for comment for this story. His chief of staff, Diana Tang, provided a statement: "Mr. Sims, like any member of our community, has a right to his opinions. The mayor is focused on the major emergencies facing our city, including the COVID-19 pandemic, racial injustice and economic insecurity."
Originally from Ohio, Sims, 38, grew up in Long Beach, where he attended middle and high school.   
He attended Cal State Long Beach, then law school at UC Berkeley. Rather than becoming a lawyer, he chose to professionally mentor people transitioning from undergrad or other professions into law school.
Sims' 10-year-old daughter attends elementary school in Long Beach and is the reason, he said, that he became interested in city politics.
"She has been called a n—– in Long Beach every year that she has been a student. At Bixby, which is a Blue Ribbon school, my daughter is called a n—–," Sims said, adding that a teacher used one incident as an opportunity to educate students about historical Black figures, such as Jackie Robinson, who broke the color barrier in Major League Baseball.
Sims' first foray into local politics was his fight against Measure A, a sales tax increase to fund infrastructure projects and public safety approved by Long Beach voters in 2016. Sims argues that the tax increase is regressive and disproportionately impacts communities of color, home to many who cannot drive out of the city to do their shopping.
"I was sounding the alarm," Sims said. "Then I learned about the characters and the players here in Long Beach and became increasingly disgusted by it."
Sims says the political machine in Long Beach—from the mayor to the media—is silencing the interests of the people.
As an example, he said a local news organization—he did not recall which one—sent him a cease and desist letter at the mayor's request demanding Sims remove a YouTube video over copyright issues during the 2016 Measure A campaign. Cindy Allen, the former owner of the Long Beach Post who is now running for the 2nd District council seat, said that she sent the letter requesting the video be taken down, but that the mayor, who has endorsed her recent candidacy, "absolutely did not" have a role in the matter. 
Allen, who bought the Post from Garcia years after he cofounded it, sold the publication in 2018. Neither have had any further involvement with the Post.  
Sims and his supporters also claim that the mayor has received at least $500,000 from the Long Beach Police Officers' Association, but that claim is misleading. According to public records, the association has donated $13,600 directly to Garcia. The group has donated hundreds of thousands of dollars to numerous committees, including the pro-Measure A campaign in 2016. While the mayor actively campaigned for police association-backed initiatives, such as measures A and BBB, the monies were not donated to him.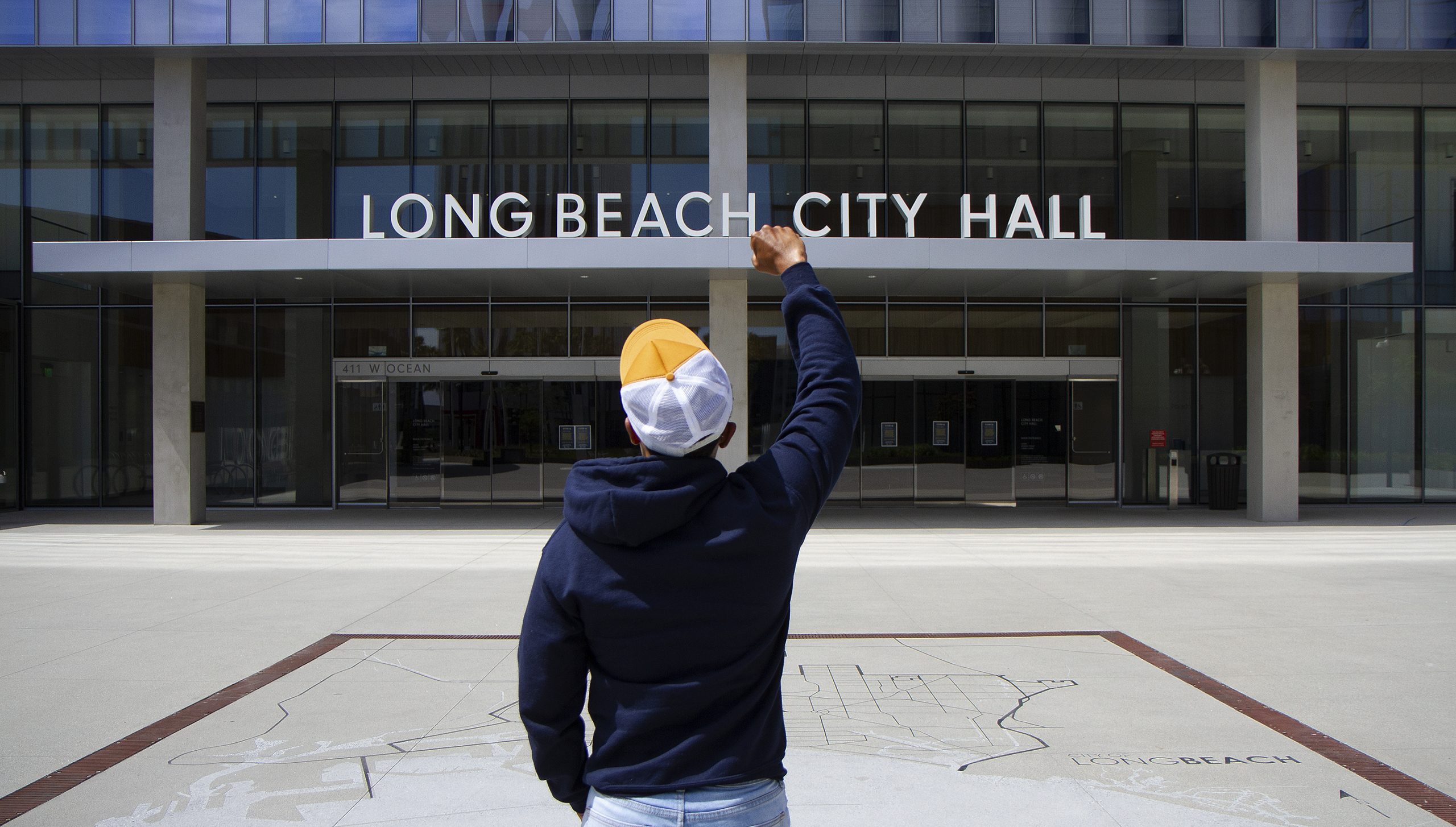 As part of Sims' mayoral recall, he has urged young Long Beach residents to register and vote, which, he said, could swing election outcomes. For example, a March 3 ballot initiative to extend Measure A indefinitely passed by a slim 16 votes, an outcome Sims said could have easily been changed by an influx of young voters.
"The reason young people haven't voted is that they are disillusioned with politics and politicians," Sims said. "By educating that potential electorate on how corruption works locally in their lives, they automatically feel empowered and invigorated to vote. If I can get the skateboarders and roller skaters and the punks to come out, we can choose the people who represent us."
Sims said he is not affiliated with any other political groups with similar goals, including the Long Beach Reform Coalition, which is headed by political consultant Ian Patton and Robert Fox, a candidate for the soon-to-be-vacated second district council seat.
In 2016, Patton, whose  "No on Measure A" committee was separate from Sims' effort, discovered that Sims did not follow campaign law requirements.
"Having a competing committee was not helpful," Patton said of Sims' organization. "When I saw that it was not properly registered, I made a complaint."
Patton reported Sims to the California Fair Political Practices Commission. In November 2019, the commission found eight violations by Sims, including not filing a statement of organization, not filing pre-election campaign statements, not filing donation contribution reports and vendor information, and not disclosing certain information on yard signs and in advertisements. 
"I was new to campaigning and I didn't know all the rules," Sims said.
Since filing the initial complaint, Patton said he has asked the commission to drop the case. He said he believes Sims "genuinely tried" but simply "misunderstood" the process. Nonetheless, the case is ongoing, Sims said, adding that he did not agree to a proposed settlement by the agency and that no fine has yet been imposed.
Patton said that, although he and his coalition have not taken a stance on the mayoral recall effort, he appreciates Sims being an active member in the Long Beach community.
"It's good that we have people getting involved in accountability. I've actually given him some advice about the [recall] process," said Patton, who championed a failed recall effort against Councilwoman Jeannine Pearce.
"I'm encouraged to see what Franklin and his supporters are doing," he added. "They are taking what started out as a national Black Lives Matter protest and keeping it going in a practical way."
Long Beach activist Michael Brown, a co-founder of the local Black Lives Matter chapter, said he welcomes Sims' voice to the growing movement for change in the city. Brown, who parted with BLM in 2016 but remains an advocate for Black and Brown communities, said he does not know Sims personally but has watched many of his videos since learning of the recall effort.
"He's highlighting good issues," Brown said, but added: "Is he being genuine or is he trying to hop on the wave? Only time will tell. [Regardless], the critiques he's raising are all valid."
Brown also questioned Sims' approach to bringing about rapid change. The "real power is not in recall campaigns or electoral politics right now," Brown said. The mass protests of the last month and the pressure it has put on politicians, he said, has already "won more concessions" across the country than the last "six or seven years of electoral politics."
Sims, for his part, maintains that real change is attainable through the electorate and that difficult topics such as race relations must be brought before city government because, ultimately, it's up to elected officials to create systemic change through laws and policies.
"When I speak about … inequality or how the construction of the Belmont pool … promulgates segregation in our city, it leads to uncomfortable conversations," Sims said. "But if we're going to move the ball forward, we have to have the uncomfortable conversations."