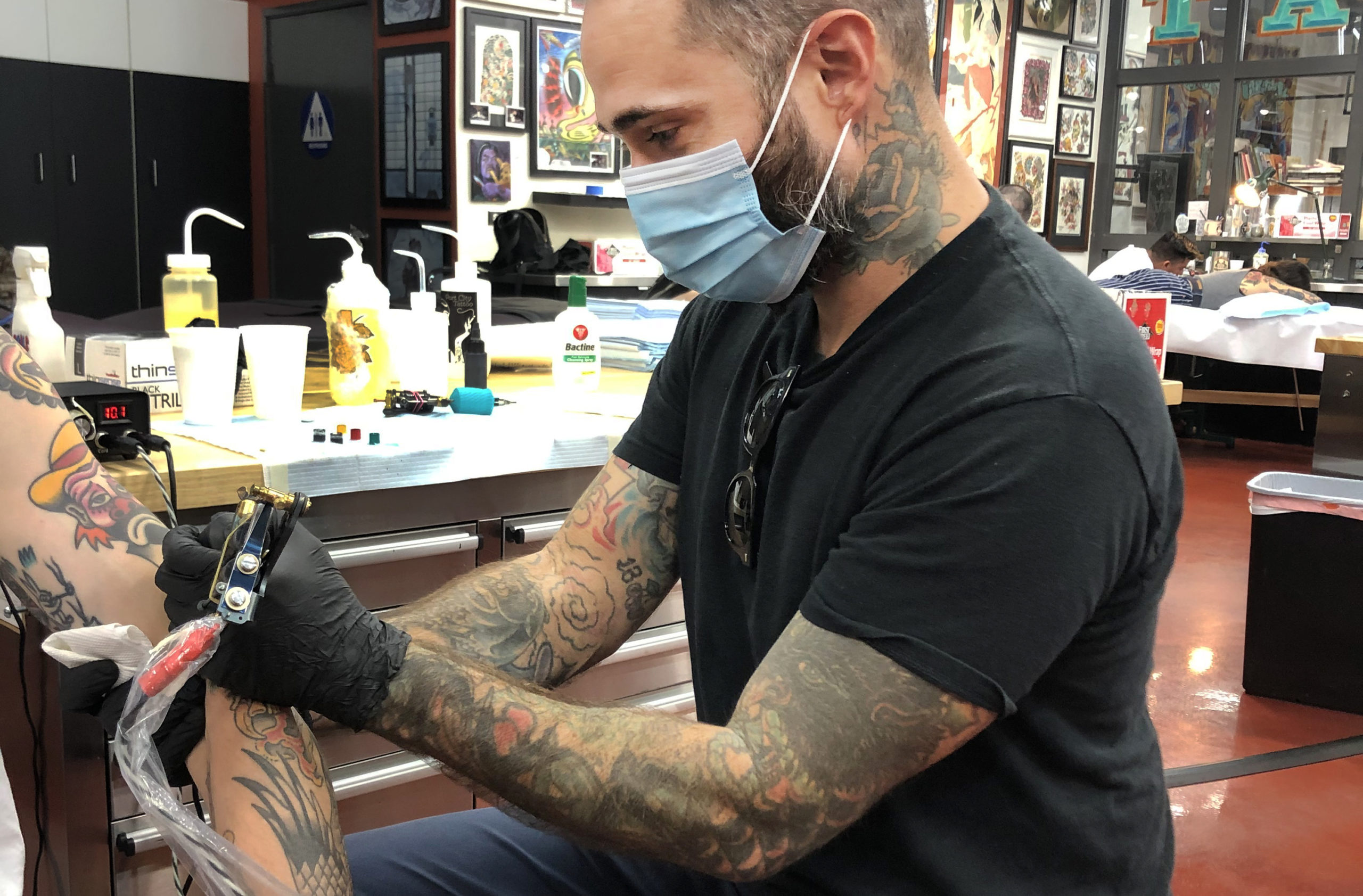 Three Los Angeles County tattoo shop owners, including one in Long Beach, filed a lawsuit against Gov. Gavin Newsom and two state health officials over the ongoing closure mandate imposed on the industry.
"We feel like we're being discriminated against," said Tom Moser, owner of Port City Tattoo in Long Beach. "I'm under the impression that they've kind of put us to the side because we don't have a big lobbying group in Sacramento. We don't have enough people up there pressing them on the issue."
Nail salons, card rooms and bars are the latest businesses to be permitted to reopen, as long as they follow strict guidelines such as limiting capacity.
A spokesperson for the Long Beach Health Department said the decision is not theirs to make, referring questions to the state, which has established a tiered system for reopening that depends on each county's positivity rate and the number of COVID-19 cases per 100,000 residents. Los Angeles County remains in the most restrictive tier.
A lawyer representing the state in the lawsuit did not respond to a request for comment.
While the tattoo industry is hyper-focused on diseases that spread through the blood, such as Hepatitis and HIV, Moser said the protocols should be more than sufficient in the era of coronavirus.
Since the onset of COVID-19, Tiffany Mitchell, owner of Black Raven Tattoo in Torrance, said she has spent nearly $10,000 to reconfigure, renovate and improve the technology in her shop. During the brief time tattoo shops were allowed to operate with additional health and safety guidelines, Mitchell said she completely altered shop operations to ensure the safety of artists and customers.
Similar to other personal service businesses such as hair and nail salons, tattoo shops are highly regulated, particularly when it comes to safety. The Safe Body Art Act outlines all requirements to operate a tattoo and piercing business.
At the best of times, sans pandemics, tattoo shops must adhere to stringent cleanliness protocols—personal protective equipment, single-use razors, approved disinfectant solutions and keeping a log of each sterilization cycle, among the slew of other specific requirements.
Outside of operational mandates, each tattoo artist is required to register with the local enforcement agency annually. Along with the registration application, each artist must show proof of completion of a county-approved blood borne pathogens exposure control training and vaccination documentation.
Moser's second Port City location in Costa Mesa, meanwhile, has been allowed to reopen, as Orange County is in a less restrictive tier.
But L.A. County owners and artists have grown increasingly more frustrated after being closed more than half of 2020. In August, Mikey Vigilante, owner of Paper Crane Studio in Long Beach, opened his shop for a day in protest of the state mandate—but no customers were tattooed.
Moser said he hopes the stigma often associated with tattoos and the people who sport them is not a cause for shops remaining shuttered. He said that when he asks Long Beach officials why he can't open, he gets referred to the county, and when he asks the county he gets referred to Long Beach.
"Nobody's been able to put me in touch with anybody that can give me any type of information," Moser said. "I get these generic boilerplate COVID emails back."
Attorney Robert Moest is representing Mitchell, Moser and Glenn West, owner of Palace Art Tattoo in Thousand Oaks, in the suit. Deputy Attorney General Maureen Onyeagbako is representing the state.
Moest said the state is infringing on the First Amendment rights of those wanting to tattoo and be tattooed.
A hearing date has not been set.
In the end, Moser and other shop owners—along with their artists—just want to be able to open for business and create art during a chaotic year.
"It's a crazy time. Everybody is all worked up. People are depressed," Moser said. "With tattooing, there is a cathartic feeling of the releasing of that pain. It helps mentally. It helps get people's minds off of the day-to-day and … the feeling that there's never going to be any type of normalcy."