More than two decades ago, a Cal State Long Beach professor, who doubled as one of the leaders of the grass roots organization Long Beach Area Citizens Involved (LBACI), began an unexpected journey that would take him from the council chambers at city hall to the floors of the assembly and senate in Sacramento and, finally, to the Halls of Congress.
This slight-of-build, gray-haired activist with a heavy New York accent, who often changed subjects mid-sentence, had, through LBACI, repeatedly been critical of city leaders over a variety of issues including crime, housing and how the city's poor were being treated. The Long Beach establishment, which included much of the business community and entrenched city councilmembers, who at that time leaned to the right on issues and never feared losing reelection since term limits were not yet in place, paid little attention to 53-year-old liberal Alan Lowenthal.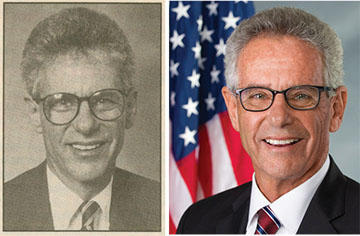 Convinced new leadership was needed, Lowenthal decided to run against one of those lifelong councilmembers, the 2nd District's Wallace Edgerton, a stockbroker, friend of business and 16-year incumbent. The year was 1992. Reapportionment the year before had put the Port of Long Beach within the 2nd District. It was an important race. Lowenthal took on the establishment and, against all odds, won, and won easily. He showed that with very little money, but shoe leather to burn, an underdog could succeed. His upset win was, many local political observers believe, the beginning of a shift on the city council that would soon reflect the rapid changes in the community's demographics.
In November 1992, the term limit issue, Proposition G, made it to the ballot as one of four hotly contested measures. The others were: approving a card (gambling) club, a tax to hire more police and expanding the powers of the mayor. Only Prop G won. And it wasn't even close. With term limits going into effect, councilmembers could no longer look at the local seat as a career. Enter the California Legislature and Lowenthal's political future.
Following is one of the first candidate interviews of the professor of community psychology – Alan Lowenthal – presented in the April 7, 1992, edition of the Long Beach Business Journal. The parallels to today's issues may surprise you.
LBBJ: Why are you running for city council?
Lowenthal: I am running for several reasons. First, I feel there is a basic lack of leadership in the 2nd District. A voice for neighborhoods really needs to be provided. Second, I think I can provide the leadership on public safety issues. And finally, I am concerned about the density in the district and I feel I can protect our neighborhoods.
LBBJ: What do you feel is the most important issue facing the 2nd District? How do you plan to address this issue if elected?
Lowenthal: Without a doubt, I think crime is the most important issue. People are locked in their homes. I've walked this district for the past seven months and I am overwhelmed by the fear that people have. They are frightened of coming out of their homes. They've seen a rapid deterioration of their community. I'm convinced that after working on the Police Complaint Commission that the solution is to move us at a policy level rapidly towards community based policing with substations where police will be visible and accountable.  Then we can begin to engage in prevention and we can make those streets safe. I don't believe the downtown will be economically successful unless the neighborhoods immediately adjacent to it are safe.
LBBJ: What can or should be done to stimulate business in the 2nd District?
Lowenthal: Again, I think the first thing we have to do is make the area safe. That would be a tremendous incentive to bringing business to this community. We must also have good schools. Businesses do not want to come to Long Beach because they don't want to put their kids in our schools. We have to confront this issue. We cannot attract business without having adequate urban schools. I think Long Beach is 10 to 20 years ahead of the wave. We have had tremendous demographic changes in this city, which will be occurring throughout the rest of the country in a very short time. If we can begin to demonstrate how we can solve some of these problems – by having an adequate school system that prepares students to go on, by having a system that has incentives for students to stay in school and learn the necessary skills to enter our work force – we will be a model for other cities. And I think we can do it.
LBBJ: What you are talking about will likely come with a heavy price tag attached, but the city is already facing a budget shortfall. What approach would you take to solving the city's budget deficit?
Lowenthal: When talking about the budget, I think we need to look at two things. One, I think we have a city council that tends to practice crisis management. We have to begin to not only deal with this initial crisis, but we have to begin to think about how we're going to put ourselves on a sound financial basis again. How are we going to increase our retail sales tax base? How are we going to make the city more user-friendly to businesses? How are we going to have an equitable assessment of business licenses? Long Beach's culture has been one that has not been inviting for business. I think we need to change that. The first thing I would do is establish a training program for all city employees who engage in contact with businesses. In part, the people who provide things like business licenses or planning from a regulatory perspective. They are constantly getting hung up on standards and policies. I'm not saying that we don't need regulations to protect the public, but we also need people who are trained in problem solving and who can work to attract business. The second part of this is that we need to recruit business that will not only attract retail sales, but those that generate business-to-business sales as well. We should be trying to attract clean manufacturing to this city that has sales attached to it.
LBBJ: What about the immediate budget problem? How would you address that?
Lowenthal: I think it's important to look at where we can trim the existing fat. I don't favor privatization and I don't favor contracting out for services. We need to look at management salaries and at council and staff perks. We should work with the city employees association in terms of establishing an equitable way of cutting if it comes down to cutting salaries or personnel.
LBBJ: What is your position regarding Long Beach Police Department vs. L.A. Sheriff Department citywide patrols in Long Beach?
Lowenthal: I'm very opposed to contracting out for police services. I fought against this because I think it violates the City Charter. A city of this size needs to maintain quality and control over this service. By going to more community based policing, we can save just as much money as if we contracted with the sheriffs. Ultimately, prevention will save us a great deal of money.
LBBJ: Do you feel that the city council has demonstrated good leadership over the past four years?
Lowenthal: No. There's no consensus on the council. We have a council of bickering. We have a council that cannot forge any identity, one that cannot develop goals. It does not create a positive climate. Leadership is based upon the people believing that their representatives actually can find solutions to some of these problems. Right now we do not have a council that people believe in.
LBBJ: Is there anything you would like to add?
Lowenthal: I think that people need to regain their trust in government. This election is about integrity. It's about an incumbent who has been in office 16 years and is only now discovering that there are things that need to be done. This election is about finding solutions and engaging in action.