As major tech firms become more prominent in the financial services industry, they are positioning themselves to promote policies that foster their innovations in this arena through the formation of a coalition called Financial Innovation Now.
Google, Apple, Amazon, Intuit and PayPal announced in early November that they were forming the alliance to "modernize the way consumers and businesses manage money and conduct commerce," according to a statement on the organization's website. "We believe that technological transformation will make financial services more accessible, safe and affordable for everyone, and we promote policies that enable these innovations," the statement continued.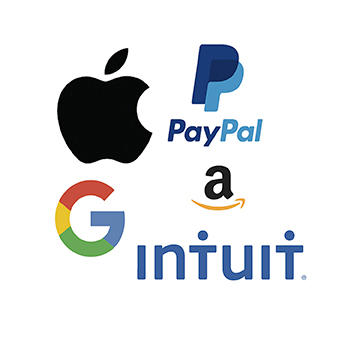 Brian Peters, former director of government relations for BlackBerry, has been tapped to lead Financial Innovation Now. "Innovation is coming to financial services, and now is the time for Washington to help enable a modern financial system that is more accessible, affordable, and secure," Peters, who is the organization's executive director, said in a statement.
"This alliance of remarkably innovative companies brings a new voice to Washington's financial conversations, and we look forward to engaging on a wide range of opportunities," Peters' statement continued. "Whether it is protecting consumers, growing small businesses, or promoting financial literacy and savings, Financial Innovation Now wants policymakers to understand how new technologies can help solve today's policy challenges."
Currently, Financial Innovation Now is focused on promoting security and authentication rules and standards that are "based on principles and consensus to continue to allow innovation." Other policy issues the organization is concerned with include developing "open security and fraud reduction standards" and increasing transparency of fraud and security costs of payments.
Robert Morgan, vice president of emerging technologies for the American Bankers Association (ABA), told the Business Journal he thinks the formation of Financial Innovation Now is ultimately a good thing for the financial services industry.
Morgan went on to say that new digital technologies are creating useful financial services tools for consumers, but that there is a lack of oversight in this arena. "Ultimately I think it's really a good thing that these groups are now engaging with regulators to see how the regulatory framework needs to evolve to include them, and make sure that you're still meeting all the demands of customers and doing so in a way that provides them the protections and safety that they've become accustomed to," Morgan said.
Moving forward, as banks and nonbanks such as credit unions or tech firms continue to innovate in the area of digital payment tools, Morgan said it is key that consumer protections are maintained. "Consumers are afforded very significant protections when they make electronic transfers by federal law, and they have come to be accustomed to those protections," Morgan said. "So consumers largely expect that they will receive those same protections that they get from their bank from these other companies."
In the end, what Morgan and the ABA want is fairness among financial service providers, for the benefit of consumers. "You need to make sure that there is some sort of a level playing field in that you don't have one set of regulations on one group and a separate set of regulations on another, which provides different incentive sets for consumers to pick one over the other – particularly when that is pushing consumers toward one that might not offer them as much in the way of protection," he explained.
Tech firms aren't necessarily banks' competition, though.
"Tech companies and some of these startups are looking to partner with banks to help offer these products and services," Morgan said. "And banks, given their strict regulatory regime, need some sort of assurance that they're complying with all the appropriate regulations in order to do that."