Scientific and technologic advancements that decades ago were the stuff of science fiction are now the groundwork for the development of a new wave of human prosthetics – devices that can communicate with the human body's nervous system, be controlled by the mind, and potentially even transmit sensations to the wearer.
As these devices are under development and in testing across the country, technology is also helping prosthetics users achieve the highest level of functionality possible, and improving access to replacement limbs among underserved individuals.
Towards Science (Non)Fiction
Engineers at Stanford University announced last month that they had succeeded in creating an artificial skin capable of sensing differences in pressure and delivering those signals to living brain cells. Their hope is to develop the technology to a point where it can be applied to prosthetic limbs.
"We are hoping it will make prosthetic devices simpler and give people a natural and intuitive sense of touch like they would have had before," Alex Chortos, a Stanford Ph.D. candidate and a member of the research team working on the project, told the Business Journal.
The artificial skin has two components. The first is a pressure sensor made of medical-grade rubber and carbon nanotubes, which are "tiny conductive materials . . . thousands of times smaller than human hairs," Chortos said. The second component is a flexible circuit made of plastic that relays sensations of pressure via "pulses similar to Morse code."
In the study, pressure signals picked up by the artificial skin were transmitted via light impulses to neurons, which had been genetically modified to respond to the light impulses. In other words, the neurons responded to sensations of pressure picked up by the artificial skin.
The experiments with the artificial skin were done on a small scale in petri dishes, but Chortos said his research group, led by Dr. Zhenan Bao, is working to modify the design and test it on a larger scale.
"So far the only thing we have demonstrated is a single receptor. In reality, skin has lots of pressure receptors. . . . So we would like to scale up the skin so that it has more sensors," Chortos said. "We would also like to add a couple different functionalities. For example, pressure is one of the things that the skin senses, but it also senses things like temperature."
The Stanford team is planning animal tests to see if their artificial skin is compatible with animals' nervous systems.
Other labs at organizations and universities across the country already have futuristic technology for prosthetics in testing phases.
The Alfred Mann Foundation, a nonprofit based in Santa Clarita, has developed a prosthetic arm that wearers can control with their thoughts. Sensors are embedded in wearers' skin in muscle groups that control arm and hand movement. Impulses in the muscle groups, generated by thought, are picked up by a controlling mechanism for the arm, which then translates the signals into movement. A handful of amputees have been outfitted with the arm.
Dr. Miguel Nicolelis, co-director of the Center for Neuroengineering at Duke University and a Duke professor in neurobiology, biomedical engineering, and psychology and neuroscience, has created a mind-controlled prosthetic exoskeleton that enables paralyzed individuals to walk. The equipment is essentially a full body suit rigged with sensors to pick up brain signals to enable movement. The technology was demonstrated to a world audience in 2014, when a paraplegic man wearing the exoskeleton started off the World Cup by walking onto the soccer field and kicking the ball.
How Technology Is Improving Prostheses' Quality Today
In the Gait Laboratory at the VA Long Beach Healthcare System, U.S. Army Airborne veteran Alberto Leoncias Armas, who served in the Vietnam War between 1968 and 1970, tried on a new prosthetic limb for his lower left leg. It was his second fitting in a couple of weeks, and already he could tell this limb would likely be the one for him. It would be his fourth prosthesis.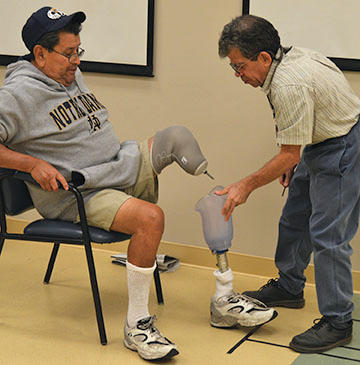 Vietnam veteran Alberto Leoncias Armas is fitted with a prosthetic foot by Russell Ward, who heads up the Gait Lab at the Veterans Administration Long Beach Healthcare System. (Photograph by the Business Journal's Larry Duncan)
"When I tried this new foot, it was a big difference between that one and the one I am wearing now," he said. For him, the difference is in the balance. "I was able to get down in what we call a three-point stance in football, which I couldn't do with the other one," he said. He turned to Russell Ward, director of the Gait Lab, and told him that if he could take the foot home he'll have to try out for a team.
Armas's leg was amputated three years ago due to complications from type II diabetes, a late-onset disease that was linked to his military service. During the time period he served in Vietnam he had been exposed to an herbicide called Agent Orange, used by the U.S. military to kill off dense vegetation. The chemical was linked to his diabetes, and later to a heart condition. "They found out that there were a lot of us who were coming down with diabetes, heart conditions, Parkinson's, you name it," Armas said.
Armas had purposefully avoided going to the VA prior to his diagnosis of diabetes in 1996. "Prior to that, my daughter was always telling me, 'Go to the VA.' I said, 'Hell no. I am not going to go. They don't do anything for us – just tell us to bend over, and that's it.' I was very anti-VA at the time," he recalled.
Following his surgery and rehabilitation work with VA staff – who Armas said are willing to try anything to improve the functionality and quality of his prosthesis for his life – his attitude changed. "That's the one thing about Russ [Ward] and his crew. They have always been really good to me as far as giving me the right tools to work with, and that's the big difference.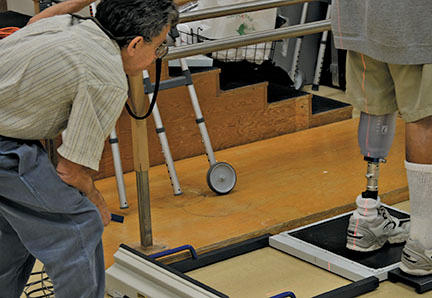 Ward directed Armas through a series of tests designed to measure how naturally he is able to walk and balance while wearing the prosthesis. During the tests, Armas expressed that he was more easily able to balance with the new foot, and that it was lighter than his current prosthesis. (Photograph by the Business Journal's Larry Duncan)
The Gait Lab is a permanent fixture at VA Long Beach. Outfitted with cameras, floor sensors and computers, the equipment in the lab helps Ward analyze how lower-limb prosthetics and orthotics wearers are moving. The technology has been around for 10 years, he said. "It's not terribly new but, on the other hand, not all facilities by any means have this kind of equipment; not even all VA facilities, not even all hospitals or large rehab facilities have it," Ward said.
One of the key pieces of equipment in the Gait Lab is an electronic floor mat. "The mat is essentially an electronic version of walking on sand. It provides an electronic reading of footprints, the spacing between the footprints, and the timing," Ward said. "So we can tell for example if a person is walking with an asymmetrical gait." Other equipment consisting of a smaller mat and a laser helps Ward determine how well prosthetic wearers are balancing. Tape on the floor outlines a series of walking tests.
"We as clinicians were used to assessing how well people walk just with eye and crude, old-fashioned measuring devices – rulers and tape measures, essentially," Ward said. "This [lab equipment] is an additional means that gives us numbers, a quantitative assessment of a person's gait."
"The purpose of all of this assessment is to make sure that for each individual we have provided the best hardware, and that will vary from individual to individual," Ward said, adding that there are around 200 different prosthetic feet from which to choose.
The foot Armas was trying on in the lab is a new prosthesis made from stiffer composite, carbon fiber material, according to Ward. "The manufacturer has attempted to make changes in the shape of the carbon blades that the foot is constructed from and how they are attached to each other to provide more natural gait functions," he explained.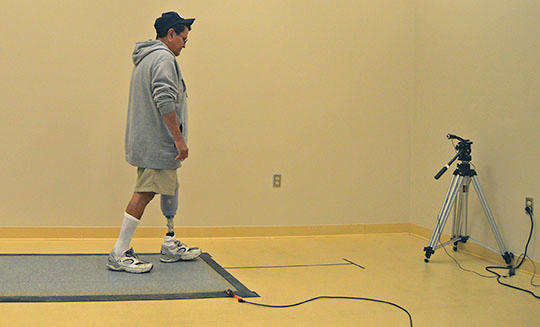 The Gait Lab is outfitted with cameras and electronic sensors to help quantitatively assess how well VA patients are able to walk with prosthetic devices. (Photograph by the Business Journal's Larry Duncan)
As Armas went through Ward's series of tests, walking throughout the room and balancing on electronic pads, he noted the limb felt significantly lighter than his previous one. In the end, he says, he's just happy he can dance. "I can just about do anything," he said. "If I get the new foot, I am really going to be more functional."
In a separate interview with the Business Journal, Derek Reichardt, assistant chief of prosthetics at the VA Long Beach, explained that the VA System is caring for more and more amputees, often those who were injured by improvised explosive devices buried in combat zones. "As combat medicine becomes more practical and viable and on-the-spot, we are seeing greater numbers of veterans surviving these injuries but also needing care afterwards," he said.
"Here in the prosthetics department, we get consults for about 300 different durable medical equipment ideas per day," Reichardt noted. "This could be anything from glasses to power chairs or high-end prostheses or even adaptive sports equipment."
"I think our Gait Lab is certainly one of the VA's most preeminent research labs and it does allow us to focus on those groundbreaking prosthetics and wearable technology devices for patients' rehabilitation," Reichardt concluded.
Increasing Access
Thanks to teamwork, volunteerism and ingenuity, technology is increasing access to prostheses among underserved and low-income individuals. The e NABLE Community Foundation, a nonprofit, is pioneering this effort by providing free downloadable instructions to make upper limb prosthetics with 3D printers. In addition to producing and providing the open source documents online, the foundation connects volunteers with access to 3D printers to people in need of prostheses.
"As you know, traditional prosthetics might cost $5,000 to $15,000. We give ours away for free," Jon Schull, founder of e-NABLE, said. "They probably cost about $50 and they probably take about 15 hours to make, but all of that is donated by our volunteers."
Schull estimated that around 6,700 volunteers worldwide use designs available through e-NABLE to make prostheses for under-served individuals. The foundation operates a Google+ community, an online social network where volunteers and those in need of a prosthesis are able to connect. In this way, the Internet, as much as 3D printers, are advancing e-NABLE's efforts, Schull noted.
e-NABLE's designs are lightweight and not as functional as more expensive prostheses, but they are ideal for people who cannot afford more expensive options, according to Schull. The designs are predominantly used for children, for whom prostheses can be quite expensive, as they must be continually refitted with new ones as they grow, Schull said.
"These are lighter, cheaper, more breakable, less robust, more kid-friendly. And they are getting better all the time," Schull said. "We do now have an adaptive grip, which is a feature that, even though it has got only the one actuation through wrist movement, it can actually adjust its grip mechanically to grasp a variety of shapes."
There are nine designs for hand and arm prosthetics available on e-NABLE's website, www.enablingthefuture.org, and more are coming. "We do plan to expand to other prosthetics, orthotics and assisted technologies. And eventually even going beyond 3D printing," Schull said.