Workers at the San Pedro Bay ports and logistics operations across the region are amid a major shift in the global trade industry in which larger container ships are pushing ports to become more efficient and, therefore, more technologically advanced.
Technological advancements in cargo handling stand to greatly benefit the local ports by increasing efficiency and improving competitiveness while also helping U.S. West Coast ports to repair what some in the industry see as a bruised reputation from work stoppages brought on by stalled labor negotiations last year and into spring of this year.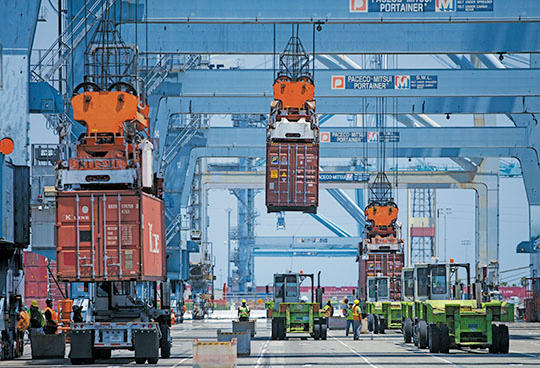 (Port of Long Beach photograph)
Labor unions, although cautious about how technology will impact the workforce, also realize that technological changes, such as automation – which will likely reduce manual labor jobs but also create new technology-based higher paying jobs – are inevitable, according to industry experts.
"Technological advances and automation are not an option or a choice; they're a requirement," said Peter Friedmann, executive director of the Agriculture Transportation Coalition (AgTC), the largest national trade organization for agriculture and forest product exporters.
Technological advances are already becoming apparent at the Port of Long Beach's Middle Harbor terminal, which is set to be the most automated, efficient and greenest terminal in the United States, and at the TraPac terminal in the Port of Los Angeles.
The first phase of the $1.3 billion Middle Harbor project, which involves consolidating two terminals into one for Orient Overseas Container Line's (OOCL) Long Beach Container Terminal (LBCT), has been completed. After testing new equipment and systems, the terminal is preparing to open around April of next year.
Friedmann said members of AgTC, which is hosting its annual meeting in Long Beach next year, recently visited with International Longshore and Warehouse Union (ILWU) leadership at the Middle Harbor terminal to see how union dockworkers are being incorporated into new jobs that technology is creating.
He said the highly advanced terminal shows how the Port of Long Beach is progressing technologically along with the union's "cooperation and engagement" faster and more effectively than any other port in the United States.
Although the new jobs may be more mechanical or technology based, such as gate operating, the longer-term benefit is that technological advances will help keep cargo moving through West Coast ports rather than through U.S. Gulf, East Coast and Canadian ports as has recently been the case because of work stoppages caused by labor disputes, Friedmann said. If changes aren't made, the trend of cargo moving to other ports will only "accelerate," he said.
"Labor as well as the port authorities understand that there is a major shift in global cargo flow taking place right now," Friedmann said, adding that the U.S. government's new Trans Pacific Partnership (TPP) deal if approved would only encourage more cargo to be diverted from West Coast ports if technological advances aren't made.
He pointed out that U.S. West Coast ports have benefited from having naturally deep harbors that enable larger ships to dock. However, up to six other ports on the East Coast are working to deepen their harbors while the Panama Canal has already been widened for larger ships to pass as well, Friedmann said.
He added that goods for U.S. consumers are no longer coming just from China but also from Vietnam and India, which are closer to the Suez Canal. In addition, two-thirds of U.S. consumers live on the eastern one third of the country, Friedmann noted.
"Automation or any other advantage that the West Coast can bring to bear is essential," he said.
With regard to exports, technological advancements are also critical, Friedmann stressed, adding that farmers and forest product producers in California may lose the global marketplace if local ports don't become more efficient since such goods can't be exported through any other ports.
In Southern California, automation is already being used in some warehousing facilities, according to John Husing, an international trade economist for the Inland Empire.
Shoe company Skechers, for instance, operates a more than 1 million-square-foot distribution center in Moreno Valley that is fully automated, Husing said. While the facility employs 600 people, all the employees handle technology that does all the manual labor, he said.
Husing said that, throughout history, technological advancements have reduced the use of labor but have also increased efficiency and productivity, leading to higher pay for the people who can handle the new technology.
"It's changing the nature of the jobs in that it takes fewer people to do things," he said. "But somebody has got to take care of all that equipment. So what you end up with is a different kind of job being created than the jobs we've had before."
While labor unions have concerns about how technological advancements, such as automation, will change the workforce, industry leaders say companies have no other choice but to automate in order to stay competitive.
B.J. Patterson, CEO and founder of Pacific Mountain Logistics, LLC and member of the International Warehouse Logistics Association (IWLA), said work stoppages at local ports caused by labor disputes between the ILWU and the Pacific Maritime Association (PMA) were "devastating" to the industry and harmed the local workforce's reputation.
The only way to rebuild trust in the dependability of U.S. West Coast ports long term is to become more efficient by implementing new technology and automation, he said.
"We have to protect ourselves, our business and our industry from these mind-numbing stoppages," Patterson said. "It's unfortunate. We lost a lot of business. It's going to take a long time to recoup that."
According to PMA officials, the new five-year contract reached with the ILWU earlier this year comes with a new arbitration system that will help reduce work slowdowns and stoppages while providing a "clear path forward for automation projects."
(The Business Journal made numerous efforts to reach out to the ILWU for comment, but calls were not returned.)
Barriers to implement technological advancements at the ports, however, go beyond just labor, Friedmann said. He noted that local governments enforcing burdensome permitting processes and environmental regulations in California have also stymied various technological advancements, such as making rail connections more efficient.
For instance, Burlington Northern Santa Fe Railway (BNSF) has been prevented from building its Southern California International Gateway (SCIG) rail yard as the City of Long Beach and other entities have sued the Port of Los Angeles over potential environmental impacts.
Friedmann said local governments should have allowed the rail yard to be built years ago, adding that the project would implement new technology and automation, both which would help reduce emissions.
He said technological advancements in cargo handling are inevitable, adding that both labor unions and local governments should realize that other ports now have more of a chance to take cargo away from the U.S. West Coast ports.
"The rules are changing whether we like it or not, so you might as well take advantage of the efficiencies it offers," Friedmann said. "Because, if California doesn't, other areas will."